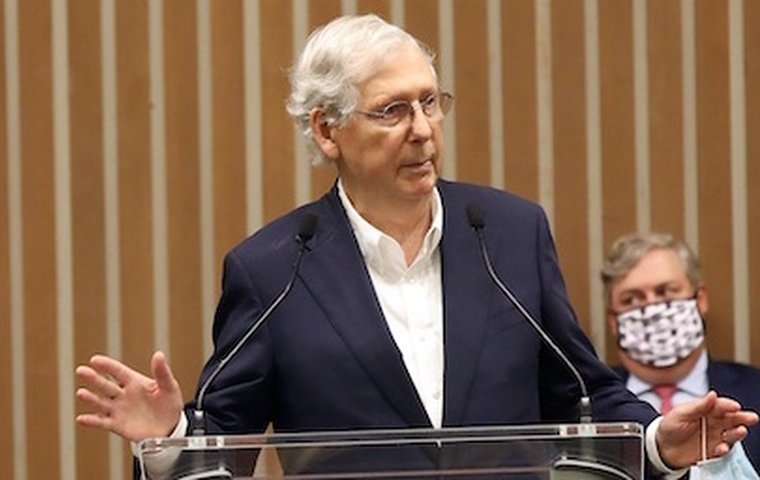 The weekly TRC industry digest - a round-up of the international racing news from the past week.

Is this the legislation so many in U.S. racing have been waiting for?
North America: What could turn out to be a landmark moment in the battle on raceday medication, drug testing and track safety in the U.S. came on Monday, when Senate Majority Leader Mitch McConnell promised to introduce a new Horse Racing Integrity and Safety Act this month.
The Kentucky Republican had been seen, along with Churchill Downs, as an obstacle to the success of the Horse Racing Integrity Act (HRIA), which has considerable support in the House of Representatives but much less in the Senate.
McConnell's bill, which would supersede the HRIA and add legislation on racetrack safety, is set to propose setting up an independent Horse Racing Integrity and Safety Authority, governed by a nine-member board featuring five non-racing people and four representing owners, breeders, trainers, jockeys, tracks, veterinarians and state racing commissions. Drug regulations would be enforced by the U.S. Anti-Doping Authority.
McConnell announced the plan at Keeneland on Monday, when he said, "We've seen painful tragedies on the track in recent years Doping scandals have rocked the horseracing community. These challenges pose a threat, not only to this industry but also to the 24,000 Kentuckians who work in it.
"If we want to preserve horseracing and its future, we need to act. We owe it to the horses, we owe it to the jockeys, we owe it to the trainers, breeders and fans to make Thoroughbred racing as fair and as safe as possible."
However, Eric Hamelback, CEO of the National Horsemen's Benevolent and Protective Association, which represents trainers, warned later, "Senator McConnell claims to have found compromise within the industry, yet no representative horsemen's groups, horseplayers or veterinary leadership organizations seem to have been consulted in the collaboration.
"Because the legislative text has not yet been released, the National HBPA will reserve final judgment, but we caution our elected leaders to not be misled by the wealthy few who continue to promote federal legislation in service to their own, private interest. Based on what we heard today, we are concerned these elite few continue to hold the reins."
Shock as Jockey Club chief exec is forced to quit
Europe: British racing was rocked at the weekend when Delia Bushell, chief executive of the Jockey Club, resigned after an independent inquiry upheld allegations of bullying, so-called racist comments and sharing offensive material with work colleagues.
Bushell had been told that disciplinary action had begun "on the grounds of gross misconduct". The Jockey Club board decided it was untenable for Bushell, who was also accused of witness tampering, to remain in a job she had held for less than a year.
The Jockey Club, which operates 15 racecourses, including Aintree, Cheltenham, Epsom and Newmarket, has appointed Nevin Truesdale as acting group chief executive.
Bushell said in a letter to the Racing Post: "I have been subjected to unmerited, dishonourable, bullying behaviour by people I previously held in high regard and trusted.
"Given the toxicity of the working environment I find myself in, the predetermination of the disciplinary and the clear and ongoing threats to my reputation, I have no choice but to accept the repudiatory conduct described in this letter and to resign with immediate effect."
The 48-year-old, who has a strong background in media rights, took over from longtime chief executive Simon Bazalgette at the Jockey Club. She is also a director of the England and Wales Cricket Board and a board member of Commonwealth Games England. Both organisations said they were reviewing the situation.
Will they play My Old Kentucky Home?
North America: Whether the traditional My Old Kentucky Home will be played before Saturday's Kentucky Derby was still up for discussion on Thursday, according to Churchill Downs Incorporated (CDI). The song has come into focus because of current social justice tensions in America.
"We are taking a close look at our practices, community partnerships, and traditions to ensure we are carrying out the Derby in a way that honors and respects our city and all of the people in our community, including close consideration of how the singing of My Old Kentucky Home is presented at the Kentucky Derby this year and moving forward," said CDI's Tonya Abeln.
The lyrics to the famous song have been the subject of controversy for some years with some suggesting it diminishes the inhumanity of slavery.
The death in March of Breonna Taylor, who was shot by Louisville police executing a no-knock search warrant at her home, and the death of George Floyd in Minneapolis have led to daily protests in Louisville and throughout the country.
Protests are allegedly being planned in the city this weekend. Some groups have called for the race to be cancelled.
No spectators will be on the racecourse for the Derby.
'Collective relief' as Goffs sale gets ball rolling on Euro yearling circuit
Europe: The numbers at first sight look alarming, but in truth the bloodstock industry will have taken some encouragement from the two-day Goffs UK Premier Yearling Sale, which closed in Doncaster on Wednesday.
Turnover at a sale that has been increasingly successful in recent times - since 2015 it has produced Advertise, Laurens, Harry Angel, Barney Roy and Golden Horde, winners of 15 G1s between them - fell by 38 percent to £11.5 million, the average dropped by 27 percent to £34,035 and the median by 23 percent at £27,000. There were just 12 six-figure lots - compared to 35 in 2019. Yet there was a clearance rate of 84 per cent, with 338 of 403 offered lots selling,
A number of significant buyers were absent, most notably Shadwell, the sale's leading buyer for the last five years. Hamdan Al Maktoum's operation have spent £9.5 million, a tenth of the total turnover, in that time.
Goffs UK MD Tim Kent said, "We share everyone's collective relief that we have been able to conduct the sale and provide an opening to Europe's yearling sales circuit during these difficult times.
"There is no doubting that trade across the last few days has not been straightforward, but the important thing is that horses are getting sold and the collective view from vendors and purchasers has been that this was a good sale, even though 'good' may currently be difficult to quantify."
New quarantine policy means Buick can ride Ghaiyyath in Ireland
Europe: Longines Irish Champions Weekend received a boost yesterday, when it was announced that foreign jockeys riding in Group 1s in the country would not have to serve a mandatory 14-day quarantine period when they arrive in the country.
Anyone entering Ireland is required to self-isolate on arrival, but Horse Racing Ireland (HRI) chief executive Brian Kavanagh confirmed that riders will be subject to a risk assessment for each time they intend to compete abroad and will undergo three coronavirus tests, once before travelling and twice on their return.
The exemption means British-based William Buick will now be able to ride world #2 Ghaiyyath in the Irish Champion Stakes at Leopardstown a week on Saturday (September 12) should connections decide to run.
Kavanagh said, "The protocols apply to Group 1 races in any country, subject to the risk assessment, which [IHRB senior medical officer] Jennifer Pugh will do."
Ryan Moore, who has been in quarantine in Tipperary since last Saturday night ahead of Irish Champions Weekend, has now been booked for three rides at Haydock on Saturday before flying to Ireland.
Elsewhere in racing …
North America: Art Collector, who had been second favorite for the Kentucky Derby, misses the race because of a minor foot injury. More here
North America: The Preakness Stakes, which will be the final leg of the U.S. Triple Crown this year when it is run on October 3, will take place without spectators, it was decided this week. More here
Oceania: Cambridge Stud has put up the book full sign for the 2016 European champion 3-year-old Almanzor for the third consecutive year. The son of Wootton Bassett is standing his third season in New Zealand at a fee of $30,000 + GST. More here
North America: The 2020 edition of The Real Rider Cup — an annual competition designed to showcase off-track Thoroughbreds and raise funding the Retired Racehorse Project, New Vocations Racehorse Adoption Program and the Fair Hill Thoroughbred Show — will take place virtually with the winner being crowned on October 24. More here
Europe: Jump racing has been suspended at Southwell Racecourse until further notice after eight equine fatalities in a month at the Nottinghamshire track. More here
North America: The Breeders' Cup has launched the $10K Derby Spin to Win, a new fan contest tied to the Kentucky Derby at Churchill Downs on Saturday (September 5). The digital campaign grants fans in the U.S. and Canada the chance to win $10,000. More here