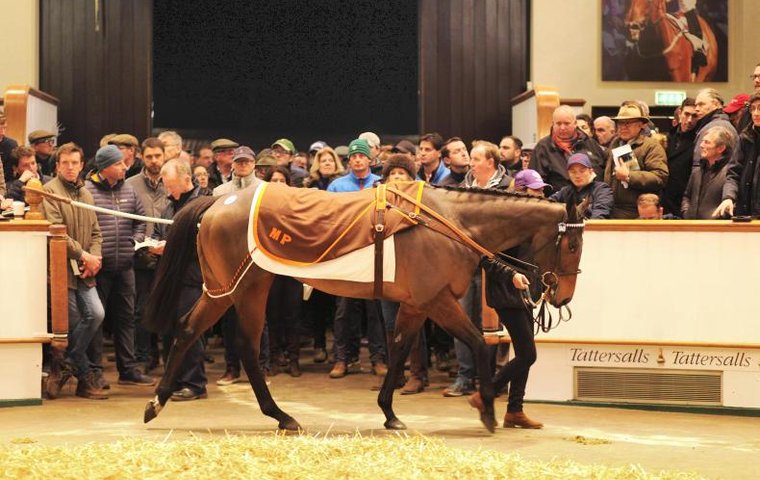 There was an impression of how the 2017 season could unfold for Tattersalls only a few weeks into the year when the high-class sprinter Easton Angel sold for a new sale record of 500,000gns to Mick Flanagan at the February Sale.

With a record-breaking aggregate of 5,735,200gns banked over the two days, the company's curtain raiser set a trend of record levels that would continue throughout the year. Each of their auctions hit a new benchmark in some shape or form, led by Book 1 of the October Sale, where an unprecedented 102.29 million guineas worth of stock changed hands. No fewer than 17 yearlings realised seven figures, among them the Galileo filly out of G1 winner Dank who became the dearest yearling sold anywhere in the world in 2017 at 4 million guineas (bought by Godolphin).
That momentum carried on over into Book 2, where another sale record was set by a Sea The Stars colt, bought for 850,000gns by Shadwell Estate Company.
And then there was that electric evening at the December Mares' Sale. A record 45.665 million guineas was turned over during the second session of that sale alone, approximately 35 million guineas of which was spent in the space of just three hours.
Classic candidate
M V Magnier outbid Godolphin at 6 million guineas for the Elite Racing Club's Nunthorpe Stakes winner Marsha, making the daughter of Acclamation the most expensive horse ever sold at auction in Europe, before going to 2.1 million guineas for another top sprinter, Quiet Reflection, in conjunction with Blandford Bloodstock.
Both of those fillies have headed to the paddocks, but in Albany Stakes heroine Different League, for whom Magnier paid 1.5 million guineas in partnership with Peter Brant of White Birch Farm, the Coolmore partners also walked away with a legitimate classic candidate for 2018.
As for Godolphin, they had better luck in their pursuit of Man O'War Stakes heroine Zhukova, who commanded 3.7 million guineas, and added a highly promising racing prospect to their armoury in Leicester maiden winner Aim Of Artemis, a one-million-guinea purchase who was one of the highlights of the anticipated Ballymacoll Stud dispersal.
That draft in itself, which represented 58 years of cultivation by the Weinstock family, was a coup for Tattersalls and went on to generate a total of 8.408 million guineas for 34 horses sold over the course of the yearling, horses in training and breeding stock sales. In addition to Aim Of Artemis, they included her dam Justlookdontouch, who sold for 1.2 million guineas to Peter Brant, and her Kingman yearling half-sister, who made 1.7 million guineas to Moyglare Stud.
Insatiable appetite of pinhookers
While Book 1 and that evening of the Mares' Sale will live long in the memory, it would be wrong to underestimate the performances of various other auctions.
The Craven Breeze-Up Sale returned a record aggregate of 14.12 million guineas and featured 57 six-figure lots, up from 34 in 2016.
The Autumn Horses in Training Sale attracted the usual melting pot of buyers and in turn ended with a clearance rate of 85 percent from 1,255 horses offered. That sale also hit a new high as G2 winner Elizabeth Browning, offered to dissolve the partnership between Coolmore and the China Horse Club, set a record benchmark when knocked down to Alex Elliott for 700,000gns.
Then there was the ever vibrant Foal Sale. Buoyed by the activity of new high-end player Capital Bloodstock and the insatiable appetite of pinhookers, the four-day sale ended with a record average of 44,027gns and 75 six-figure youngsters.
Tattersalls' year was naturally reflective of today's bloodstock market. As we saw at various other auctions around the world, including Fasig-Tipton's November Sale, at which 19 seven-figure lots changed hands, Arqana's August Sale, which set a record average of €165,587, and Goffs' November Sale, where the bloodstock belonging to Coolmore and the China Horse Club highlighted a productive renewal, there is a voracious domestic and international demand for boutique stock. However, beyond the top end, the market remains selective and in some cases unforgiving, especially towards the smaller breeder.
Even so, anyone present during that Tuesday of the Tattersalls Mares Sale, when 45.665 million guineas were spent on 175 horses, would have been left in no doubt as to the market strength for those horses that 'tick all the boxes'.
"2016 had been a very good year for Tattersalls, with record annual turnover to mark the company's 250th anniversary, and while every year we strive to achieve gains, we could not have predicted the massive rises in 2017," says Jimmy George, marketing director of Tattersalls.
New faces
"We put together some very strong catalogues consistently throughout the year and particularly at Book 1 of the October Yearling Sale and the December Mares Sale. There is no doubt that the outstanding quality of the catalogues attracted buyers in unprecedented numbers and, with the weakness of sterling, there was an element of the 'perfect storm'.
"The combination of very strong catalogues with a weak currency is the perfect scenario for overseas buyers and we campaigned very strongly to attract new faces from throughout the world, with an emphasis on Japan and the USA."
Such campaigning certainly bore fruits. While elite European auctions have long been a magnet for international buyers - it was at the 1952 Mares' Sale that George Blackwell bought Lady Angela, the dam of Nearctic, on behalf of Canadian E. P. Taylor - their level of activity, particularly at the higher end of the market, stepped up a notch in 2017 to provide competition to a domestic buying bench that is invariably led by Godolphin and the Coolmore team and its associates.
Productive trip for Brant
For instance, Peter Brant, the former part-owner of Fasig-Tipton, who made a big return to the sport in 2016, made his first buying trip to Tattersalls for Book 1 a productive one, coming away with six yearlings worth 1.865 million guineas. His principal American trainer, Chad Brown, also struck on behalf of Seth Klarman's Klaravich Stables, while there was also welcome participation from Bob Edwards' E5 Racing, which paid 635,000gns for three yearlings.
Meanwhile, Japanese investment featured prominent first-time buyer DMM.com, a Japanese racing club, which paid 1.4 million guineas for the Frankel half-sister to G1 winner Sarah Lynx. DMM.com's Yohann Gainche also came off second best on the Frankel half-sister to Epsom Oaks winner Talent at 2.5 million guineas to Alastair Donald - the SackvilleDonald agent was acting on behalf of Vichai Srivaddhanaprabha's King Power Racing, another new major buying force whose spending power last autumn resulted in a number of good turns for vendors at both Tattersalls and Goffs.
DMM.com returned in December for the final yearling sale of the year to buy the joint most expensive colt, a 150,000gns Dawn Approach half-brother to Trading Leather.
Brant also made his presence felt on a return trip to Newmarket the following week, when purchasing the aforementioned Justlookdontouch, dam of the listed winner Abingdon, for 1.2 million guineas and Rockfel Stakes winner Spain Burg for 650,000gns in addition to Different League. Abingdon herself also changed hands to American interests, in her case to regular Tattersalls player Greg Goodman of Mt Brilliant Farm for 1.05 million guineas.
"It's funny how it works," says George, "as every year an enormous amount of effort goes into targeting specific buyers and markets, but in 2017 the stars definitely aligned. Sometimes targeted buyers respond and other times, for whatever reason, they don't, but in 2017 we saw a significant number of new faces at the flagship sales of October Book 1 and the December Mares Sale and, alongside the traditional superpowers, they made a huge contribution to the success of the year.
"The American contingent at October Book 1 was particularly notable. The impact of the likes of Peter Brant, Bob Edwards, Chad Brown and Mike Ryan was enormous. They all came with genuine intent to buy and they went home with some very smart yearlings, as did the very strong team of Japanese buyers."
The December Sale as a whole turned over a record 105.225 million guineas in gross sales and concluded a year that saw 331,489,750gns of stock change hands; the figure smashed the previous record of the approximate 265 million guineas set in 2016.
Pure theatre
Just as the February Sale set the tone for 2017, the December Sale provided a fitting conclusion to a year that was highlighted by tumbling records, G1 graduates such as Highland Reel (Book 1), Rekindling (December Foal), Barney Roy (December Foal) and Battaash (Book 2), and on occasions, a sale ring that was pure theatre.
"The highlight of the year was without doubt the three-hour period on the Tuesday of the Mares Sale which saw more than 35 million guineas traded on 60 very special fillies and mares at an average of around 585,000 guineas," says George.
"To see Marsha sell for a new European auction record of 6 million guineas was the individual standout, but it was more than just the Marsha show. The Ballymacoll fillies and mares, Zhukova, Different League - the list goes on. It was an extraordinary few hours. Pure theatre, handled beautifully by the auctioneers, which will live long in the memories of all of us lucky enough to be there."
TOP THREE GROSSING SALES AT TATTERSALLS IN 2017
OCTOBER BOOK 1
Aggregate: 102,290,000gns (record figure) for 349 horses sold
Average: 293,095gns
Top price: 4,000,000gns for bay filly by Galileo out of Dank, sold by Norris Bloodstock to Godolphin
DECEMBER MARES
Aggregate: 68,315,300gns (record figure) for 675 horses sold
Average: 101,208gns
Top price: 6,000,000gns for MARSHA, sold by Heath House Stables to MV Magnier
OCTOBER BOOK 2

Aggregate: 48,022,000gns (record figure) for 613 horses sold
Average: 78,339gns
Top price: 850,000gns (record figure) for bay colt by Sea The Stars out of Biz Bar, sold by Allevamento Le.Gi., Italy, to Shadwell Estate Company