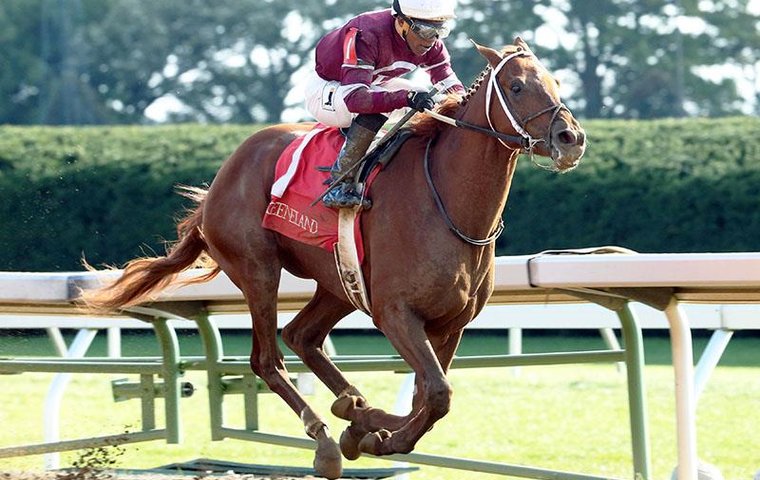 Gun Runner, who recently entered the Kentucky Derby conversation following his stylish win in last month's Risen Star Stakes, represents a first-time collaboration between two industry giants — Three Chimneys Farm and Winchell Thoroughbreds.

But the partnership between these long-established Kentucky-based entities has a twist: Gun Runner is not a direct product of either of these famously successful breeding enterprises.
Three Chimneys, a pre-eminent stallion station and full-service breeding operation in Midway, Kentucky, acquired Gun Runner when he was a yearling as part of a package deal with the colt's breeder, Benjamin Leon Jr. of Besilu Stables. The August 2014 transaction involved Three Chimneys buying majority interest in the Besilu mares, weanlings, and yearlings. The acquisition of those horses came less than a year after the Brazilian Borges-Torrealba family obtained a controlling interest in Three Chimneys from the farm's founder, Robert Clay.
'A win-win for all sides'
Initially earmarked to be sold as a 2-year-old at auction, Gun Runner, a son of Candy Ride, out of a Giant's Causeway mare, caught the attention of Dr. David Lambert, who utilizes a comprehensive criteria set forth by his company, Equine Analysis Services, to select horses for his clients. Dr. Lambert recommended the colt to Ron Winchell, who owns Winchell Thoroughbreds with his mother, Joan. Three Chimneys did not put the 2-year-old through the auction ring, opting instead to sell a half-interest in him to the Winchells.
When Gun Runner's racing career concludes he will stand at Three Chimneys, whose stallion roster currently features, among others, Eclipse Award champion Will Take Charge and Belmont Stakes winner Palace Malice.
"The idea of teaming up and just going racing was thrown on the table, and everyone said, 'Great', and the rest of the story is hopefully that of a good team in history," said Doug Cauthen, Three Chimneys Farm's vice-chairman. "Three Chimneys is very commercial and probably sells a majority of its crop, but when the chance to partner and take a little bit [financial responsibility] off the table presents itself, and still stay in the game, it's a win-win for all sides."
The Steve Asmussen-trained Gun Runner won two of three starts as a 2-year-old, and successfully launched his 3-year-old campaign by defeating 10 rivals in the Risen Star at the Fair Grounds on Feb. 20.
Now for the Louisiana Derby
Gun Runner will continue his preparations for the Kentucky Derby in Saturday's $1 million Louisiana Derby, a race won by Winchell Thoroughbreds in 2008 with their homebred and Risen Star winner Pyro, who went on to finish eighth at Churchill Downs.
The Winchell name was first associated with sugary treats. Ron's father, Verne, opened a chain of wildly popular donut houses, bearing the family name, first in the western United States, and then later globally, in the 1940s. The elder Winchell, who died at the age of 87 in 2002, was also passionate about horse racing, and campaigned scores of stakes winners, including Grade 1-winning homebreds Olympio and Fleet Renee, and champions Tight Spot and Mira Femme.
David Fiske, the racing and general manager for Winchell Thoroughbreds for the past 35 years, said the family farm, Corinthia, located in Kentucky's Fayette County, does not resemble a typical breeding operation.
"We are unique in a lot of ways," Fiske explained. "We don't have any boarders. We don't stand any stallions and we are not a commercial yearling operation, per se. There really aren't many of those type of operations left. Usually, somebody does one of those three things, and we do none of them."
Rooting for Tapit
In the years since Verne Winchell's death, his son and widow have admirably built on his legacy. The Winchells bred and raced the 2014 Eclipse Award champion 3-year-old filly Untapable, whose campaign that year was punctuated with wins in the Breeders' Cup Distaff and Kentucky Oaks. Tapizar is another Winchell homebred, who left his mark at the World Championships when he captured the 2012 Dirt Mile.
Both Untapable and Tapizar are progeny of Tapit, who was purchased as a yearling by Verne Winchell, less than a year before the owner's death. The colt finished ninth in the 2004 Kentucky Derby while racing for Ron Winchell and a partner.
These days no discussion concerning stallions is complete without mention of Tapit. The leading stallion in the United States in 2014 and 2015, Tapit stands at Gainesway in Kentucky and commands a stud fee of $300,000. Following his racing career, Winchell Thoroughbreds retained a 50-percent stake in Tapit, who is the sire of this year's early Kentucky Derby favorite, Mohaymen.
"I would love to see a Tapit win the Derby because I think that would be an excellent part of the horse's legacy," Ron Winchell said. "It's like having a side rooting interest, indirectly. If we're so fortunate to go ahead and run in the Derby with Gun Runner, and we're not fortunate to win it, I would love for a Tapit to win it. In an ideal world, we would a have Tapit of our own to win the Derby."
Confidence from Steve Asmussen
The 43-year-old Winchell, a Las Vegas-based gaming and real estate entrepreneur, attended his first Derby in 1981, and saw his father's initial starter in the race, Classic Go Go, finish fourth. Since then the Winchell name has been associated with an additional eight Derby starters — some owned in partnerships — but they have never enjoyed a better placing than that of Classic Go Go.
"[A Derby win] is what we strive for every year," Winchell commented. "My father's goal was to win the Kentucky Derby, and he passed away before he could do it. We're trying to carry it on to complete that task."
Gun Runner's trainer is also in the hunt for his first Kentucky Derby win. Asmussen, 50, has trained for the Winchells since he first took out his trainer's license in 1986, and he has saddled four Derby starters for the family: Pyro, Sabercat, Tapiture, and Zanjero.
Asmussen is of the opinion that Gun Runner, who will be ridden by Florent Geroux in the Louisiana Derby, will continue to progress.
"The Risen Star was a very good first race of the year in a competitive and full field, which I do think matters," Asmussen remarked. "With that being said, we have to continue to improve, and we have a lot of confidence our horse will continue to do so."
"What we're looking for [in the Louisiana Derby] is for him to go a little further [in distance], effectively," he added. "I would like him to step up to the mile and an eighth, and for him to come out of the race in as good as shape as we are going into it."