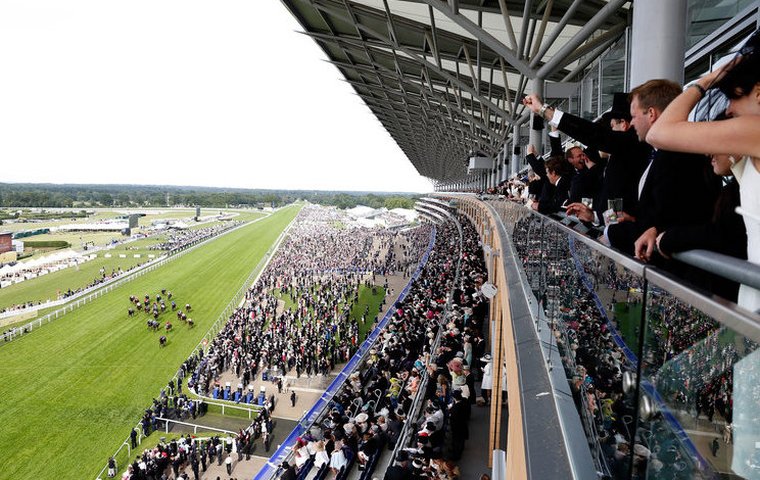 One of my friends, a turf writer known as 'The Legendary' Ed McNamara, holds the honored distinction of visiting more than 110 racetracks in his many years of following horse racing.

As for myself, I have never been much of a shipper. I've probably traveled more by plane or boat in my last ten years than I did in my first 50. So, it should not be much of a surprise that, in 47 years of being a horse racing fan, I've been to a significantly smaller number of tracks than Eddie Mac. Let's put the number at about 30.
It's hardly a staggering a number, yet last week I was able to add one racetrack that should rank near the very top of anyone's bucket list.
In rattling off the names of racetracks where I've wagered a few bucks, I can proudly add Royal Ascot to the list.
Yes, I can now say I have been to Royal Ascot, in top hat and tails, and spent a fabulous and unique day there taking in the Sport of Kings, and Queens, too.
As good as advertised
When you hear nothing but praise for a place, there's a tendency to be skeptical. You wonder if people are reading from a script instead of saying what they truly believe. Yet Royal Ascot was indeed as good as advertised. Perfect? Not really. We'll get into that later. It was, however, a day unlike any other I've spent at a racetrack, and even with my limited travels, I'll go out on a limb and say it's unlike any other race meet in the world.
It's difficult to imagine any other racetrack that can match the lavish grounds, the tens of thousands of elegantly dressed fans, the who's who of high society, the merriment, the 300 years of tradition, huge fields and the world-class level of racing rolled into a day at Royal Ascot.
Now before getting into the specifics of Royal Ascot itself, as an American, the travel has to be mentioned. You simply cannot hop into your car and drive there in an hour unless a Jedi loaned you the keys to a starfighter.
It's a long and expensive trip to London. The journey for my wife and I started at 7 p.m. in Connecticut, included a six-hour and 30-minute red-eye flight (watching When Harry Met Sally once again was a very pleasant way to spend a third of the trip – "When you realize you want to spend the rest of your life with somebody, you want the rest of your life to start as soon as possible" is such an amazingly great expression of feelings isn't it?) and ended at 4 p.m. at our London hotel (11 a.m. back in Connecticut) with no sleep in between for this chap.
Magnificent structures
Yet it was more than worth the time and effort, especially if you are a newbie to Europe like me. London, which is about an hour drive from Royal Ascot, is an amazing city so steeped in tradition and culture that history comes to life before your very eyes and vividly reminds you of how much we have progressed and what we have built on this planet during the last 2,000 years.
The royal castles are must-sees. They are magnificent structures and testaments to the wealth and power of England's monarchy for the last 1,000 years. The opulence of these palaces will stay with you for years, and for me there was one particular sound that will be long remembered.
It came while taking a guided tour of Windsor Castle with Queen Elizabeth II in residence at the time. As the tour guide began talking about William The Conqueror, a nearby band started playing a tune from my childhood that left me chuckling. You might have heard of it. The lyrics start with, "Flintstones, meet the Flintstones. They're the modern Stone Age family." And there I am, while the guide is detailing what happened at the Battle of Hastings, mouthing, "Let's ride with the family down the street, through the courtesy of Fred's two feet."
Then, as she detailed the functionality of the castle in that era, I began to wonder if it was for another famed cartoon character and starting saying to myself, "Homer, Homer Simpson. He's the greatest guy in history."
It might sound sacrilegious to some, but it was quite surreal to be in such a revered and historical spot while I was having "Yabba Dabba Doo time".
Excuse that diversion.
Back to the trip, even if you grew up in a huge metropolitan area such as New York or Los Angeles, it doesn't mean adjusting to life in London will be a snap. In particular, the streets in downtown London are an absolute maze and even Siri and Google Maps are no match for the small, twisting roads.
Personally, I do not want to hear a Londoner complain about getting lost in midtown Manhattan. In the Big Apple, the streets and roads are a grid, so if someone is looking for 48th and Broadway, you can point in a direction and say go three blocks that way, turn left and go two more blocks and you are there. In London, asking for a certain store on Charing Cross Road was met with a reply of, "Follow around to the left a bit, then cross over, follow back to the right and walk for about five minutes and you'll be there."
What?
Discretion over valor
An even better example came from the worker at the front desk of the hotel where we stayed. She recommended a nearby pub and directed us to leave the hotel, go left, cross the zebra crossing, then go left a bit and walk for two minutes." Upon walking out of the hotel, we saw that the pub was across the street from the hotel, no more than 30 yards from the entrance. Back home, the same instructions would have been a much simpler and more helpful, "It's across the street, next to Ladbrokes."
So, needless to say, despite getting instructions from the same hotel staff on how to take public transportation to Ascot, I opted for discretion over valor and arranged for a taxi.
Arriving in the English countryside, Royal Ascot was a sight to behold with a buzz of excitement around it and streams of people heading toward the entrance, even though the first race was about three hours away.
Inside, the grounds were a finely manicured garden, leading you past the lush paddock, or as it is known there, the parade ring. The huge grandstand was imposing and even more impressive when you entered it. You were no longer inside a racetrack, but rather a high-end hotel or mall. It was filled with dining rooms and shops, half overlooking the track, the other half with a view of the parade ring.
A decision to diet
The level of cuisine and income of the customers was best reflected in the menus and prices. In the Royal Enclosure, where the elite meet and greet, the Norfolk Restaurant offered an a la carte menu starting at £140, which equates to about $170. The Simon Rogan had a more affordable four-course luncheon starting at £93.50. Thankfully, the Queen Anne Enclosure offers club sandwiches for £13 a person, though you can wash it down with magnum of Laurent-Perrier Rose for £225 a bottle and some caviar beginning at £25 per person nearby.
Afternoon tea started at £35 in some rooms, with nary a Dunkin Donuts in sight.
The lunch in the press room was fine enough, until I spotted a platter of ox tongue and decided to diet.
As for the racetrack itself, it's not an oval. It's shaped more like a lopsided triangle. There was plenty of activity in the infield and, surprisingly, a parking area filled with cars at one end. Even more stunning was how close the grass course came to the grandstand, giving off the impression of being right on top of the horses as they cross the finish line, and how a main part of the course consisted of a hilly chute, long and straight enough to handle a one-mile race without a turn or curve. It seemed akin to the Widener Chute at the old Belmont Park, except that, in New York, the horses ran diagonally towards the grandstand while, at Royal Ascot, they come from the far right in a straight line, hugging the grandstand rail.
I was a bit out of my element handicapping the races, though, thanks to a tip from the aforementioned Eddie Mac, I followed the Pricewise selections of Tom Segal in the Racing Post (definitely a necessity for punters at just £2.90) and won enough to cover a night's hotel bill and dinner. The truth be told, a miscommunicated wager accounted for more than half of that profit, but let's not dwell on that, shall we.
Star of the day
The racing was superb. There were two Group 1 races on this Friday afternoon card, each worth at least £500,000, and all of them were stakes worth at least £90,000.
From the U.S., Zayat Stables' Gidu turned in a very determined effort to finish a game sixth in the G1 Commonwealth Cup. The star of the day was clearly Alpha Centauri, a 3-year-old grey filly owned by the Niarchos Family who romped home in the G1 Coronation Stakes and should be on a Breeders' Cup watch list given the connections.
Yet I can't call it the best day of racing I've ever seen. The Breeders' Cup still holds that distinction. The Belmont Stakes Day card featured six G1 stakes, plus a Triple Crown winner, while the upcoming Travers Day card at Saratoga also features six G1s and Santa Anita's Breeders' Cup Challenge Day had five last year, and that tops two G1s.
A neat touch is that, while the races are listed as first, second, third, etc., they also include the post time so that it's the 3:05 second race. This clearly shows no one from The Stronach Group is involved in the operation of Royal Ascot, otherwise it would have been The Somewhere In The Vicinity of 3:14 (Maybe) second race.
And of course, what truly separates Royal Ascot from any other venue in the world are the wardrobes and the people from high society.
Let's start with the clothing. A business suit is Royal Ascot's answer to jeans and a t-shirt and the majority of men are in morning suits with top hat and tails and the women are in dresses and hats from the finest stores.
Just think of it as a wedding with a bridal party numbering 70,000 members. It's that ritzy and fashionable.
Even members of the media, if they want access to horsemen in the Royal Enclosure and Parade Grounds, have to don a morning suit and top hat and this visitor from America was not excluded from those rules.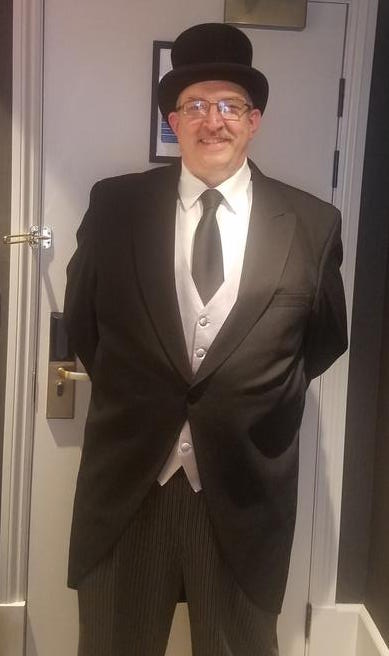 I'll admit it. Being a longtime sportswriter, I'm not a fancy dresser by any means and my early trips to Saratoga are fondly remember for the aforementioned jeans and T-shirt, bringing in a blanket, some sandwiches and a cooler of beer (Budweiser on Day One; Price Chopper on the final day) and spending the day in the backyard.
So, believe it or not, there's not a morning suit in my closet. I had to rent one and, given my girth, decided it was best to rent it in the United States and bring it to England with me, avoiding any last-minute snafus.
While it might seem fun to dress up in a such a stylish manner, it cost about $200 to rent that suit, which might equal the value of every bit of clothing in my closet, and that did not include the top hat, which was thankfully loaned to me by my TRC editor Chris Smith, who gets a tip of the top hat for being such a gentleman.
The rental, as you would expect, was not without its share of memorable moments. I found a Men's Warehouse near me that rented what would pass for a morning suit, thanks in part to saying I needed something like the people wore at Prince Harry and Meghan's wedding. When I went to be fitted, there was an interesting exchange between myself and the salesman.
Salesman: "We don't rent that one too often. It's just for you?"
Me: "Just me."
Salesman: "For a wedding?"
Me: "No, I'm going to a racetrack."
Salesman, with a puzzled look: "A racetrack? Car racing?"
Me: "No. Horse racing."
Salesman: "Is someone getting married there?"
Me: "No. I'm going to a racetrack in England and I have to wear this to get in."
Salesman, while shaking his head in disbelief: "You have to wear this to get into a racetrack? Glad I'm a basketball fan."
A week later, when I returned for my final fitting, the same salesman saw me and starting smiling.
"I was hoping you would come in while I was here," he said. "I wanted to see you in that suit."
A few minutes later, when I came out dressed to the nines, he smiled, and then laughed, which was the first of countless scenes like that. So many people smiled (and then laughed) when they saw me in that suit that I should be a Nobel Peace Prize finalist for momentarily brightening so many people's day.
Odd things
Anyway, the elegance of the crowd was rivaled only by the wealth and fame of the assemblage. The Queen herself was on hand, arriving in a horse-drawn carriage to huge cheers from the throng that gathered to see and wave at her. So was Sheikh Mohammed bin Rashid Al Maktoum of Dubai and too many other dukes and duchesses, including Sarah 'Fergie' Ferguson, dignitaries and business leaders to count.
This was as regal as it gets in horse racing and it was, as mentioned, nearly perfect.
Some things did strike me as odd. Unlike American tracks such as Saratoga, there are no small television monitors for watching the races in the backyard seating and dining areas. Instead there were big HD screens in the parade ring and the infield. I was told people in the backyard walk out to the track to watch the races.
Speaking of which, I'm sorry but watching the races can be problematic. Standing in the Royal Enclosure, trying to see what was happening as horses six furlongs to my right were coming right at me in a line and the track announcer was drowned out by cheering was an experience in futility worse than some of my wagering. Never again will I complain about American camera angles, even the ridiculous ones NBC can use at times.
Confusing mix
Then there was the confusing mix of program/betting numbers and post position numbers. In America, if a horse draws post 10, his betting number is 10, unless there's an entry. Yet at Royal Ascot, a horse who draws post five can, for some reason, be betting number 20.
While waiting to conduct an interview outside the jockeys' room, I asked someone about that. He didn't know and called over someone. He pondered the question for a minute and said, "I really don't know. I guess it's tradition."
An English jockey then called me over to explain and detailed how they assign handicap weights. When I pointed out that my question involved why betting numbers and post positions do not match, he too became puzzled. He then asked me how it's done in the United States. When I explained, he nodded and said, "That makes a lot of sense."
Indeed it does. While I'm sure there's a good answer out there, I'll leave it unresolved for now.
Finally, what struck me most as the day ended at Royal Ascot involved disappointment wrapped around a grand compliment. The day was simply too short.
Left wanting more
There were only six races on the card and it seemed like the card started and ended in an instant. For me, there was frustration that, when I finally learned how to communicate my wagers to tellers, the card was over. It was time to head home at a time when I was left wanting more.
In some corners of the racing industry it has become fashionable to opine that less racing is more racing, but on this day less racing was not enough. Given all the anticipation, cost and enjoyment woven into the day, I gladly would have been delighted to watch and wager on two or three more races, even if they were not stakes.
True, a 14-race card can drag on and on, but on great days of racing more will always beat less – at least that's how it seemed as I walking out of Royal Ascot. Judging by the horde of the people who stayed after the last race for music and singing at the bandstand – which to my ear included Pomp and Circumstance and concluded with God Save The Queen – and to revel in the festive mood after that sixth and final race, gambling is not the only thing that attracts people to Royal Ascot. It's all the grandeur and My Fair Lady atmosphere that brings them out, yet there are some of us who prefer wagering and rooting our horse home to donning a fancy bow tie and top hat. And what's so wrong with wanting to squeeze a few extra hours of racing out of such a marvelous day? Truly great days of racing are so few and far between that they should not be abbreviated.
Unforgettable and spectacular
That's why if someone asks me about returning to Royal Ascot, I would say I'd love to, but I'm not sure when it will happen. Without a million dollars in my bank account, the costs can't be ignored, especially for six races.
As unforgettable and spectacular as a day at Ascot might be, it taught me not to overlook what you have right in front you.
A day at Saratoga will never match the spectacle of Royal Ascot, but when you consider that I can drive three hours from my home and spend a full afternoon watching some of the nation's top horses in several renowned stakes compete in a serene setting such as the Spa, that's a joy, too. I'm sure there are plenty of people who live near other major tracks who feel the same way about their centerpiece day of racing.
Beauty is definitely in the eye of the beholder, and I definitely found it at Royal Ascot. I only wish there was more of it, not less.