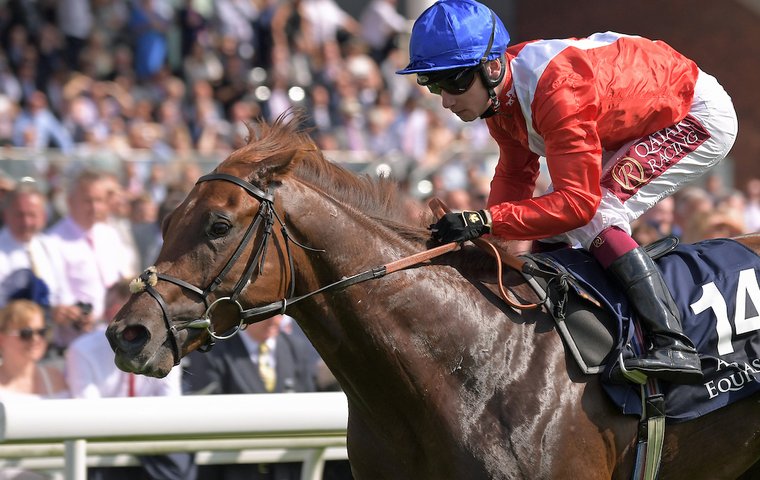 The G1 Darley July Cup at Newmarket tomorrow (Saturday) is a race full of possibilities. It's an absolute pleasure to watch the replays of the runners and crunch the numbers because each minute heightens the anticipation for the race.

At the head of the market are two G1 winners and another who went close to earning those brackets. Golden Horde is the most exciting horse after a thoroughly convincing win against fellow 3-year-olds in the Commonwealth Cup. This was a race he finished with an exclamation mark, never more powerful than crossing the line.
Hello Youmzain has won two G1s. At Royal Ascot last month, he held off Dream Of Dreams and Sceptical in a finish of heads and necks to the Diamond Jubilee Stakes, with a highly promising run coming from fourth-placed Khaadem. He's a pace-setter or presser with a strong rally and his tenacity was on display as he battled back to defeat the well-backed improver Sceptical, who had looked as if he were going to win.
For his part, Khaadem is easy to make a case for. He is trained by Battaash's handler, Charlie Hills, who has no peers when it comes to sprinters. He travelled smoothly for a long way at Ascot and looks primed to return to the kind of form that saw him land the valuable Stewards' Cup Handicap at Goodwood last year off a BHA mark of 107. That won't mean a lot to international readers, but suffice to say it needed a solid G2-quality performance to do that. And this is a horse on the up.
The horse I like though is THREAT. First and foremost, he is priced around 9/1 at time of writing, which appeals as offering a few percentage points of value. But, I have backed him because he fits the way I think about racing, which seems really important when you are betting.
A snapshot of Threat's in-line form on racingpost.com may help to explain:

After winning his juvenile maiden as early as May, Threat ran in five consecutive tough Group races. Look at his Racing Post Ratings in the rightmost column. These are class-based figures that indicate the level of form Threat was reaching in some of the best 2-year-old races around. See the pattern? He got better in steps of 2lb to 3lb each time, presumably using the seasoning and conditioning of each effort to get stronger and see his races out better.
The third row up from the bottom merits discussion. This was the G2 Richmond Stakes at Goodwood and Threat started 11/8 favourite. He lost out in a battle with Golden Horde, himself a progressive 2-year-old, now having carried that forward into his second season with the Ascot win mentioned above.
After four big efforts, Threat took a step back in the G1 Middle Park Stakes at Newmarket on September 28 last year. If you weren't a believer in figures, you might reason it was the G1 company that really caught him out. In which case you might toss him from consideration today. But not so fast.
Very few horses can sustain the kind of improvement Threat was showing going into that race. He really needed the pause that refreshes, but trainer Richard Hannon did not have that luxury and it so happened that the race he needed to find the most improvement for came at a time when Threat was most vulnerable.
What makes the son of Footstepsinthesand a value bet in today's July Cup for me, though, is his reappearance. Hannon sent him for the G1 St James's Palace Stakes rather than stick with sprinting. TRC Global Rankings for sires make it obvious that the longer the distance of a race in this part of the world, the higher the quality of the competition because the pedigrees of horses get a whole lot better.
Here is the St James's Palace result, again from Racing Post: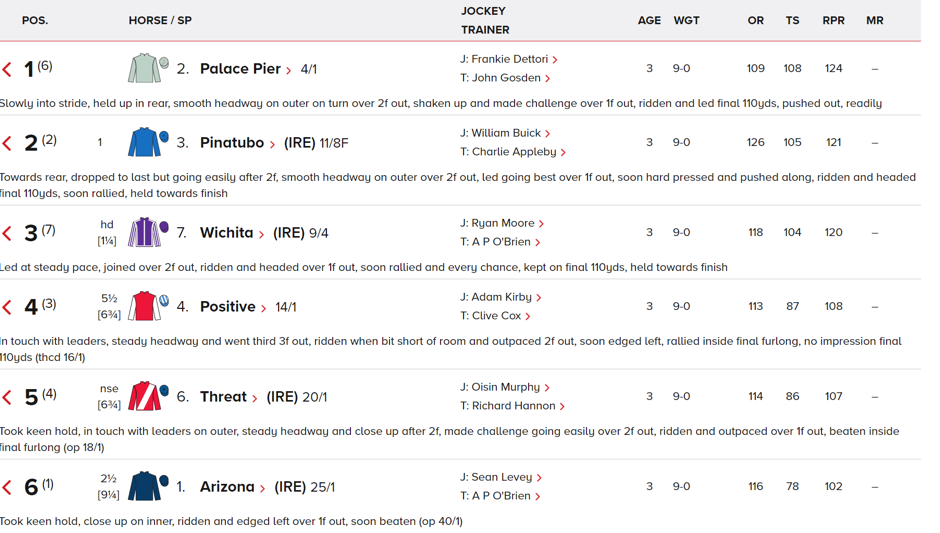 Palace Pier is by world #15 Kingman, Pinatubo is by #6 Shamardal and Wichita and Arizona are by #35 No Nay Never. These are some of the best stallions in the world. By the time they are finished, both Kingman and No Nay Never will rank in the top ten stallions on the planet. It is a strongly held belief of the writer that in Europe races over a mile-plus are a lot stronger than sprints.
This is backed up by the winning times of Group races when they are compared with mere handicaps. Group sprints are barely faster than top handicaps, which is why a horse like Khaadem really has no class barrier to cross. But the gap is wider for milers and middle-distance horses.
Back to the race above. Now read Threat's comment: "made challenge going easily over 2f out, beaten inside final furlong". The race-reader that day is screaming at you that he thinks Threat did not stay the stiff mile! And that's exactly what I think too. See if you agree when you watch the video below. (Threat is in the red, white and blue of owners Cheveley Park Stud.)
Now, Threat turns up for his third crack at G1 company at the trip that suits him, and he really has the first chance to throw in a peak effort at the highest level.
This time, he is fresh and should move towards another big effort. He will need to run to an RPR of 120+, but in this spot we can reasonably expect a career-best effort. Look back to Threat's in-line form above. Notice the sequence of RPRs he recorded: 107, 110, 113, 115, …
In this race, we should find out the number that Threat would have run in the Middle Park, had that race come in a spot when he was fresh. Will it be 120+? Well, that's why this game is greater than the stock market: they have to run the races for us to find out.