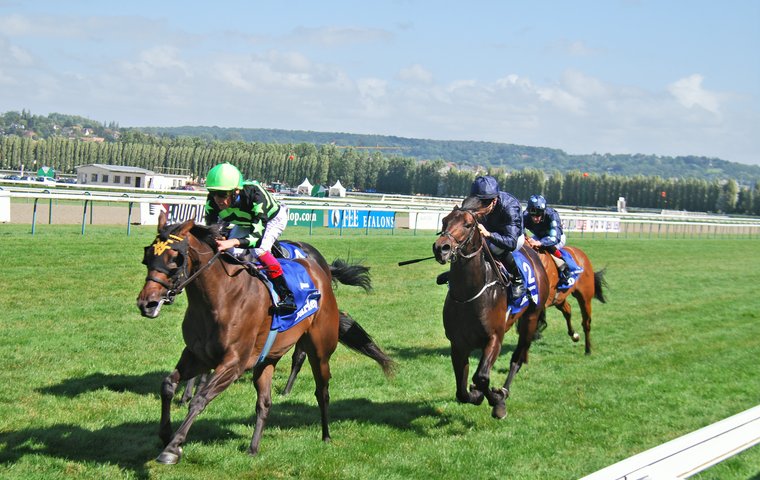 It was the performance that made it impossible for every other 2-year-old. Lady Aurelia's scorching Royal Ascot victory in June was so good, so astonishing, so far beyond anything we had seen in recent times that nothing any other youngster could do during the rest of the season would ever be able to compare.

Just look at the YouTube video below and you'll understand why she absolutely had to be named champion 2-year-old filly last week at the Cartier Awards, the first U.S.-trained horse ever to win a title at Europe's equivalent to the Eclipse Awards.
The Wesley Ward-trained wonder filly followed that victory in the G2 Queen Mary Stakes with another trip to Europe, her breathtaking speed providing another pillar-to-post success (even though she put her foot in a hole a furlong out), this time in the G1 Prix Morny at Deauville. That made it three wins in a row - she won a maiden by seven and a half lengths on her debut at Keeneland in April.
The daughter of Scat Daddy was sent on a third mission to Europe for the six-furlong G1 Cheveley Park Stakes at Newmarket in September, but it may have been one race too many, the travelling may have taken its toll. She blitzed clear in trademark style, but faded in the last 100 yards to finish third behind the staying-on Aidan O'Brien pair of Brave Anna and Roly Poly.
Lady Aurelia ended the season rated three pounds clear of O'Brien's dual G1 winner Churchill as the outstanding European juvenile of 2016 on Racing Post Ratings, and the team behind her are now looking forward to an exciting 2017.
Eyeing Royal Ascot again
Part-0wner Peter Leidel said Lady Aurelia showed no ill effects after her run in the Cheveley Park, although she did bleed. He added: "The plan is to give the filly the rest of the year off, and Wesley Ward, myself and the other two owners have our eye on perhaps a return trip to Royal Ascot in 2017."
Those other two owners are Stonestreet Stables and George Bolton, and Leidel has an invitation to a dinner in New York five years ago to thank for his involvement with them in the story of the remarkable 2-year-old - and indeed in ownership at all.
Leidel is a founding partner of Yorktown Partners LLC, a New York City-based private equity firm that invests in the oil and gas industry. He has been involved in racehorse ownership for five years, since a chance meeting at a dinner reception in 2011. "I was invited to a dinner at Gramercy Tavern in Manhattan organized by Chauncey Morris, then of Keeneland, where I met George Bolton.
"George is a successful horseman and he encouraged me to consider owning Thoroughbred racehorses with him. A month or so later, he called me and asked if I would like to buy a 50 percent interest in two proven European fillies. Together we bought two 3-year-old fillies, Future Generation and Miss Liberty, and shipped them both in September 2011 to Belmont Park, where Christophe Clement trained them."
Future Generation, by Hurricane Run, proved a particularly astute investment, winning first time out in the States. "The filly had already won three times in Ireland, when trained by Ger Lyons, and I flew to Gulfstream Park in Florida for her first race, a one-mile allowance on the turf," said Leidel.
'Terrific partners'
"At the three-quarter-mile pole, she was in fourth place, but by the top of the stretch she had taken the lead and won by a length and a half. A fantastic experience for my first horse race. Future Generation went on to win the Serena's Cat Stakes at Belmont Park in October 2012 and finished fourth in the Grade 1 Matriarch Stakes at Hollywood Park a month later. We sold her in 2013 for close to what we paid for her, which proved a good first-time experience."
Leidel acknowledges he is fortunate to have partners of the calibre of George Bolton and Barbara Banke, of Stonestreet. "They are both experienced and successful horse owners, and terrific partners."
Around half the purchases Leidel has been involved with have been yearlings. There has also been a 2-year-old in training, and three have been proven European winners. "We mostly use John Moynihan as our bloodstock agent, except for the three European fillies, bought on the advice of David Ingordo."
Leidel had interests in eight Thoroughbreds this season, one of which is a broodmare. Four were entered in the Keeneland November Sale (which finishes on Sunday).
Three of them have already been sold: Sweet Victory (who was bought at the Fasig-Tipton sale in August 2014 for $285,000) went to Boomer Bloodstock for $400,000; Unbridled Bull was bought by Zach Madden agent for $15,000; and Prominence was sold to Thomas Foley for $6,000. Miss Liberty, who is in foal to The Factor, is due to come under the hammer tomorrow.
Other successful fillies
"I like to maintain an interest with between four and eight horses at a time, half of them of racing age, and sell horses that don't run well in claiming races or auctions," said Leidel. "I may buy a weanling and/or a yearling at the November Keeneland sales. My purchases are usually in the $150,000-$500,000 range, but a couple have exceeded that."
Certainly Lady Aurelia is by some way the best racehorse Leidel has been involved with, but some others have also been quite successful.
"Sweet Victory, trained by Todd Pletcher, is a 3-year-old filly I owned with George Bolton who has won three of four races this year, including two stakes races and $184,065 North American earnings in 2016," said Leidel. "Two other successful fillies I owned with George were Future Generation and Annecdote, who won the Grade 3 Noble Damsel at Belmont Park in a thrilling race, coming from last to first down the stretch in a nine-filly field.
"Overall, I have been involved with six fillies to date and four have won stakes races. I have not fared so well with colts."
Lady Aurelia, bred by Stonestreet Farm in Kentucky, is out of the Forest Wildcat mare D'Wildcat Speed, a G2 winner who was purchased by Stonestreet at the 2005 November Keeneland sales for $1 million. Lady Aurelia was entered in the September 2014 Keeneland yearling sales and, for the partnership of George Bolton and Peter Leidel, ticked all the boxes.
"We know that Stonestreet has great mares and John Moynihan advised us to buy Lady Aurelia," said Leidel. Although Stonestreet sold Lady Aurelia, they quickly acted to have a piece of the future action, after the filly was purchased by Bolton and Leidel for $350,000. "Yes, after the auction, Barbara Banke bought a third interest, so it became a three-way split," said Leidel.
"I have also owned three colts (Trail Blaze, Prominence and Unbridled Bill) and an unnamed yearling sired by The Factor with both George Bolton and Stonestreet."
Immediate impression
Almost at once, Lady Aurelia's natural racing ability began to show when she was sent for pre-training. "The filly was taken to Ian Brennan, who manages Stonestreet's training farm in Ocala, Florida," said Leidel. "He immediately recognized her potential, as did John Moynihan and Wesley Ward.
"George Bolton chose Wesley Ward to train Lady Aurelia due to Wesley's superb record with 2-year-olds, and an eye towards racing at Royal Ascot. During the filly's racing career this year, the partnership has followed Wesley's advice on running plans."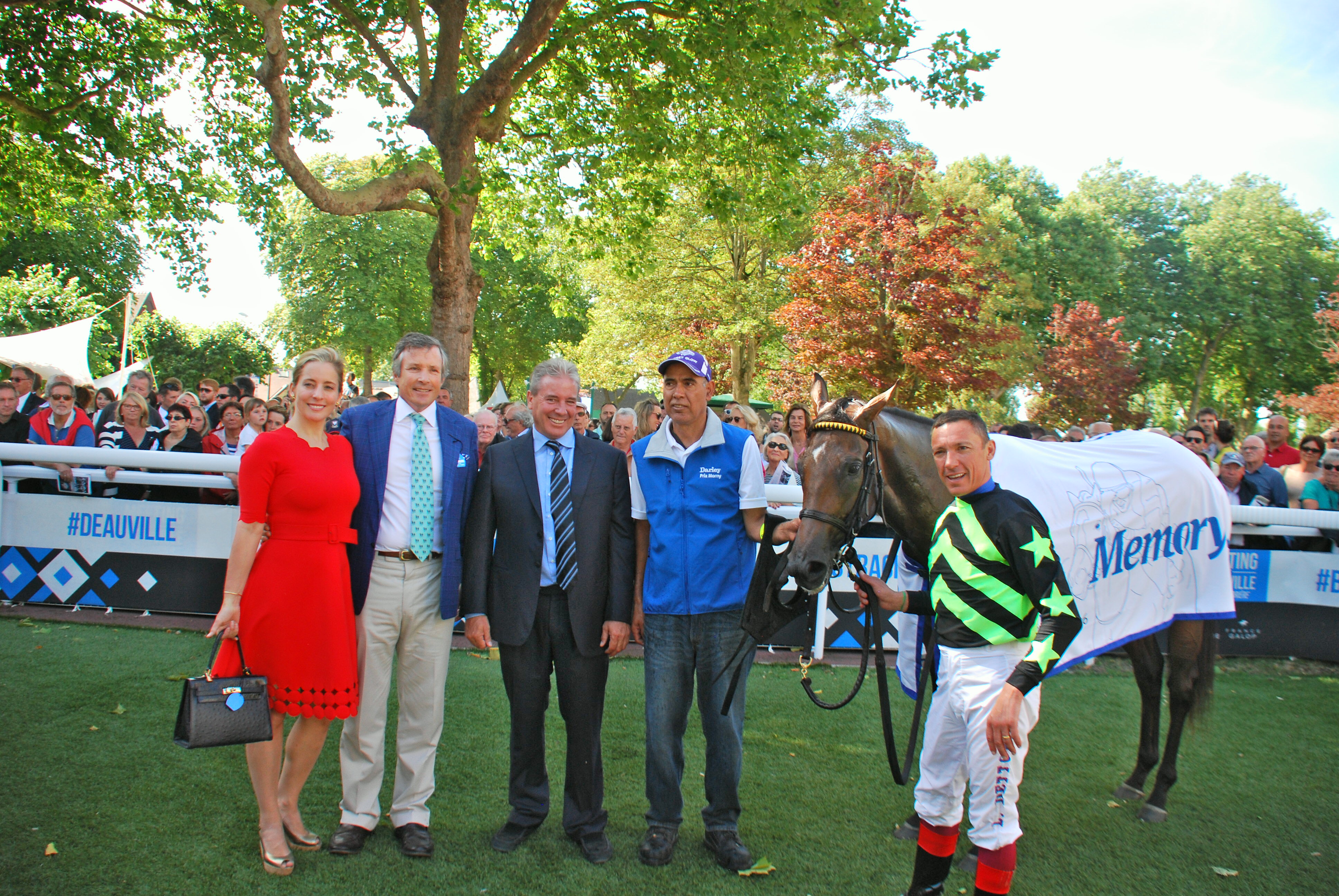 Lady Aurelia winning the Prix Morny also gave Leidel the opportunity of a memorable first time visit to Deauville in France.
"Deauville is a charming seaside resort with a beautiful beach, good restaurants, a farmers' market and great shops," said Leidel. "Our hosts from France Galop and Deauville racecourse ensured that we had a wonderful visit. The track facilities are first rate, as are the paddock and the stables."
But racing for Peter Leidel is not just about the cost of ownership and having the luck to own a winner.
"Horse racing is highly competitive, expensive and risky for owners," said Leidel. "But the monetary and psychic rewards can be great, and it is somewhat like venture capital investing, where I began my business career. To succeed in horse racing, you need to own a few big winners to make up for the majority of horses that lose money. But, saying that, there is no bigger thrill than being at the track and seeing one of my horses compete.
"The feeling to win a big race at Royal Ascot and the Prix Morny is euphoric. I have met many terrific people, including other owners, agents, trainers and jockeys. Overall, it is fun and I enjoy the challenge and stiff competition."