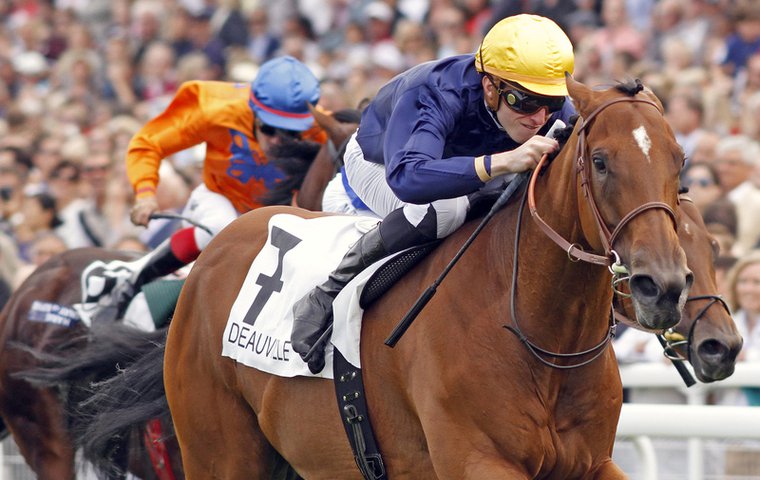 Olivier Peslier's record doesn't leave much room for doubt that he's one of the best riders in the world. With over 3,000 wins to his name - 116 of them at G1 level - the 42-year-old has won Sunday's €700,000 Haras de Fresnay-Le-Buffard-sponsored Prix Jacques Le Marois three times, which means he knows as much as anyone what is required to win the race.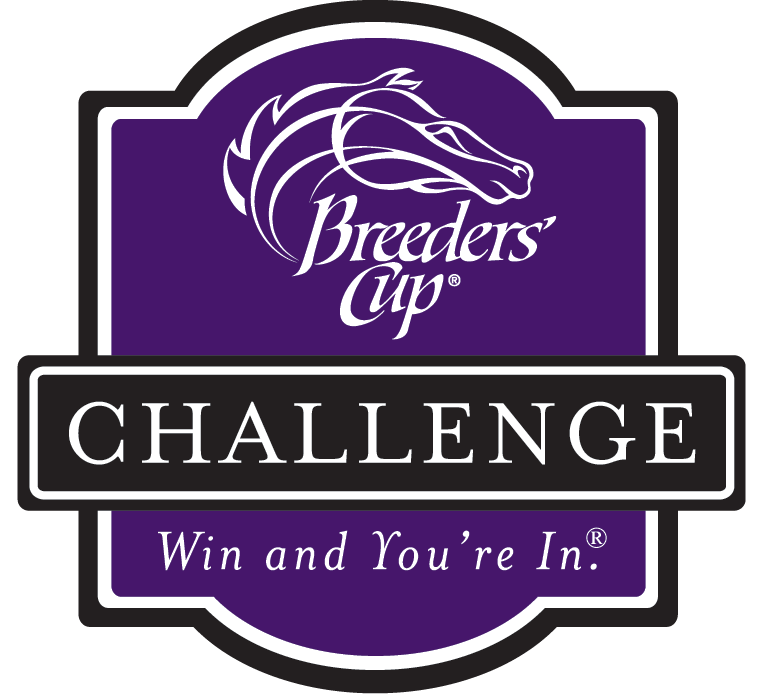 Two of these victories came on Goldikova and Banks Hill, both also Breeders' Cup winners. Indeed, France's famous midsummer mile contest over Deauville's straight course, which has been the battleground for some of the best since its creation in 1921, is a 'Win and You're In' qualifier for the Breeders' Cup Mile.
"I think Goldikova's win in the Marois was one of the easiest of her career, and one that will forever remain etched in my memory," the French jockey remembers of his 2009 victory, when the daughter of Anabaa went on to win by six lengths from Aqlaam.
"The difference that made her such a good racehorse was her acceleration. We had set off pretty fast, but she was going well within herself. I thought to myself at the time that it was lucky that Only Green was making the pace for us, because we were well above the others.
"We arrived at the 600-metre mark and I realised that we had come far too early, but I didn't have a choice because I had so much left in the tank. I pressed the button but was worried that she might not last home. However, she just went again at the furlong marker. It was an unbelievable sensation." The former first jockey to the Wertheimer Brothers smiles at the memory.
'You need a horse you can place anywhere'
After their first victory in the Breeders' Cup Mile at Santa Anita the previous November, Peslier and Goldikova went on to finish third in the G1 Total Prix de la Foret after the Marois before returning to Santa Anita to record a back-to-back wins in the Mile. She became the only horse to win three times at the Breeders' Cup when taking the Mile once more in 2010.
"There isn't too much correlation between the Marois and the Breeders' Cup in terms of the racecourses, but it does take a very good horse to win both," Peslier says. "You need a horse that is easy to ride and that you can place anywhere.
"The most important thing is that they do what you expect of them, and don't pull. This is a key point because the [U.S.] tracks are also a lot tighter then we have here in France. Banks Hill turned really well and we made up a lot of ground through this when she won the Filly and Mare Turf in 2001 by five and a half lengths."
Sunday's edition of the Marois looks to be another top-class event, with two of the principals from the G1 Qatar Sussex Stakes at Goodwood last month making the trip over from England, both Breeders' Cup possibles.
Newmarket 2000 Guineas winner Galileo Gold and Ribchester, close second and third behind The Gurkha at Goodwood, head the betting market with British bookmakers. Along with G1 Prix Jean Prat runner-up Stormy Antarctic they head a strong British contingent taking on a home team featuring three-time G1 winner Ervedya, last year's winner, Esoterique and the progressive 5-year-old Vadamos.
Now a six-year-old, the Andre Fabre trained Esoterique was unbeaten over the straight mile at Deauville until her last run, when, after going down on her knees after breaking out of the stalls, she recovered to finish fourth behind Qemah.
The daughter of Danehill Dancer is owned by France Galop's President, Edouard de Rothschild, and will be attempting to equal the record of dual winners Miesque and Spinning World, both of whom also went on to win the Breeders' Cup Mile - Miesque twice.
Why the British and Irish have an advantage
Although seven of the last 10 runnings of the Marois have gone to French-trained horses, Peslier maintains that British and Irish horses have an advantage coming into the race.
"We have less opportunities to race on a straight course over a mile in France than in England, and if a horse runs well at Newmarket, the chances are that they will adapt easily to Deauville," says Peslier, who won the Newmarket 2000 Guineas on Cockney Rebel in 2007.
"In the Marois, you really need to have a horse that stays a mile but also has stamina because they start accelerating earlier to get a good position. In comparison, when riding a mile around a bend, you can leave it a little to chance.
"You can't steal a race like this if the horse isn't good enough, and you need to avoid becoming trapped because you won't recover. As a rider, you also need to be extremely good at judging the pace as our horses are used to sprinting only in the last 400 metres.
The key to beating the French
"To beat the French, you need to take the acceleration out of them, hence why the English are always ridden handily. If they go too slowly and then quicken, we will always have something more up [our] sleeve. We are always given orders to go as late as possible."
Another key element to the Marois, according to Peslier, is having a horse that ideally doesn't pull and knows how to breathe naturally. "When we ride races around a turn, you come around the final bend into the home straight and the horse changes leg, forcing them to breathe," he explains. "This doesn't happen in a straight line, so they need to know how to do it themselves."
Unfortunately Goldikova was to find one too good the following year in the Marois after her outstanding victory, this time going down by two and a half lengths to that season's 2000 Guineas winner, Makfi. "She made a few mistakes, but we were beaten by a super horse," Peslier says.
"I would have preferred that the ground wasn't as soft, but she ran very well despite that and she wasn't beaten by that far. The race did her good and, despite also being beaten in the Foret on her next run, it didn't stop her winning the Breeders' Cup Mile again.
"She wasn't a 14 times [G1] winner for nothing, and she clearly has an enormous heart. Obviously she was a nice-looking filly, but in her slower paces she wasn't much to sit on. When she started galloping, however, she was a machine."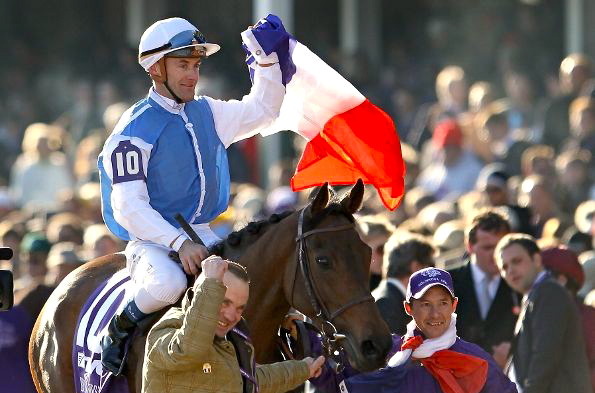 The Marois roll call of subsequent Breeders' Cup performers also includes Six Perfections, who achieved the Marois-Mile double in 2003. Two years earlier, Banks Hill finished second to Peslier on Vahorimix (promoted through the disqualification of Proudwings) before going to win the Filly and Mare Turf under the jockey at Belmont Park later that season. They went one better in the Marois the following year.
It was in that race at Deauville in 2002 that the Juddmonte filly beat Domedriver by a length and a half - and he went on to take the Breeders' Cup Mile for the Niarchos Family later that year.
Peslier, who was first jockey to Fabre at the time, remembers Banks Hill: "She had huge ears," he says. "The year before, when she won at Belmont, I thought we were going to do another lap we were flying that fast! The following season, she won the Marois very easily and people were applauding her up to 300 metres before the post. It was an amazing feeling."
On Sunday Peslier will be riding French 3-year-old Dicton, who was third in both the Poule d'Essai des Poulains and the Prix du Jockey Club.
The Lawman colt faces a huge task. "It is one of the best races in the world over a mile, and of course in France," says Peslier. "It has seen a lot of international runners in the past, and everyone wants to win it.
"It's hugely difficult to win with the best 3-year-olds and upwards competing, and I'm looking forward to passing the post first in it again soon!"