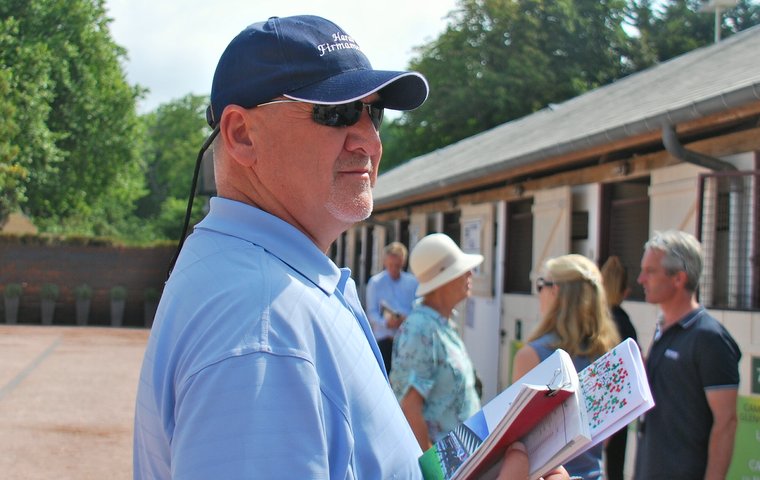 A first-time trip to shop for yearlings at the big Arqana Sale at Deauville this month was something of an eye-opener for American trainer Kenny McPeek. He came away vowing to return - even though he didn't actually buy anything.

"I must say, from what I have seen and experienced here in Deauville, I think they have a great set-up and organisation for yearling horse sales," McPeek said. "The quality of horses on offer [was excellent], and the benefit of the good dollar exchange rate against the euro was an added bonus."
He added: "In the end, the two I bid for proved a bit too expensive. It's happened before and will happen again where I don't buy, but I will be back next year to concentrate on the less expensive third-day lower-priced domestic market.
"Overall, it's been a great experience and you always learn something in this game."
I caught up with the Kentucky-based trainer on his inspection tour of the yearlings that were set to go under the hammer during the first two days of the three-day auction.
Physical stature
"I checked all the horses during two days," he said. "I look at quality and conformation, rather than sire power, and [looked for] those that have the potential physical stature to be capable of performing to Grade 1 level. It doesn't matter whether they are European-breds or have American blood."
McPeek buys for a number of clients with different budgets. "My job is to sort through the list on physical requirements and deliver a short list to my 15 clients," he said. "I prepared a resume of 18 yearlings initially I was keen on, forwarding this information to all my clients. This was then whittled down to four that I was extremely interested in, and, after further discussions with clients, I ended up with two to bid for."
McPeek also runs the Magdalena Farm Racing Partnership, for which he normally retains a 20 percent interest in each horse he purchases, but he had not considered buying one for the partnership at Deauville.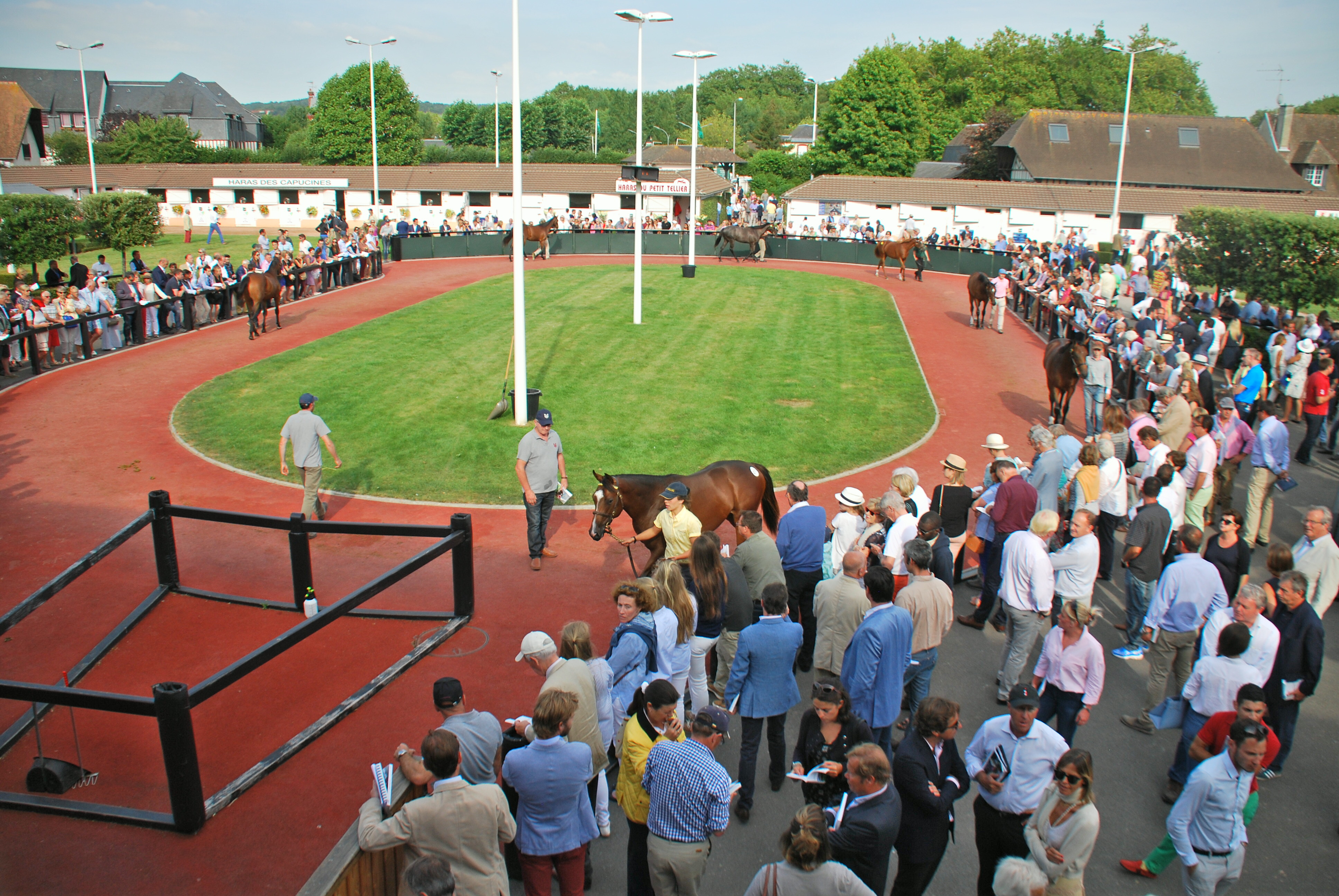 He said European horses are made slightly different from their American counterparts. "They are a bit longer in the hip in Europe, longer [in the] hind leg and more staying breeds," he said. "I believe a horse is made a certain way, and there are a lot of horses here with American sires or mares. I have no preferences and buy horses that can handle turf or dirt. In any case, all American pedigrees originated from Europe."
Big advantage
McPeek considers working in a stable day-to-day is a big advantage when it comes to buying horses. A bloodstock agent, for instance, may have no similar experience.
"I have been training horses for 31 years and you learn by experience," he said. "There is nothing better than having bought a horse and trained it to know what works and what doesn't. I have trained enough average horses to know what doesn't work and enough good ones to know the difference."
McPeek's record stands close inspection, with 15 G1 winners bought and/or trained so far.
"I bought Curlin as a yearling for $57,000, [and he] became [one of the] the all-time leading earners in North American history at $10,501,800. I bought Take Charge Lady for $175,000, [and she became] a multi-G1 winner with total race earnings of $2,945,238, and [I bought] Einstein at a Brazilian sale for $50,000. [His] racing career netted $2,945,238 in prize money."
McPeek's career earnings between 1985 and 2015 total more than $67 million, and he has 162 stake wins. "I love the challenge of working with good horses, though finding a good horse is much more difficult than training a good horse."
Active American buyer
But some things just don't work out as you would wish, and for all his efforts McPeek came away from Arqana empty handed after bidding for the two horses he liked but dropping out as they eventually proved too expensive in his judgement.
The two were a Dark Angel-Larceny filly presented by Haras De Louvière and sold to Broadhurst Agency for €600,000, and a Teofilo colt out of Vedela, presented by Ecurie des Monceaux, which sold to Charles Gordon Watson for €260,000.
Before returning to the States, McPeek, his wife and daughter took time out to visit the historic Second World War Normandy landing beaches.
McPeek may not have made a purchase, but fellow American Justin Casse, a bloodstock agent from Florida, who last year bought two expensive Galileo yearlings and has several years' experience of European sales, was active once again. Casse purchased one yearling on each of the first three days of the sale, including two by Frankel.
'The best Frankel'
On day one, he bought a Frankel colt out of Manerbe, sold by Ecurie des Monceaux, on behalf of Zayat Stables, owners of American Pharoah, for €410,000. "This was the best of the nine Frankel yearlings on offer at the sale," said Casse.
On day two, he purchased a Frankel colt out of Alta Sima, presented by Haras d'Etreham, for €420,000. Casse said he couldn't reveal the client, but the horse may possibly start his career in Europe before going to the States.
Day three saw him purchase a colt by Zoffany out of Happy Town, presented by the Coulonces Consignment, for €140,000, which Casse/Horse France bought for an unknown partnership. The horse will stay in Europe.
American owner-breeder Ken Ramsey's two Kitten's Joy yearlings on offer did not do as well as expected despite the recent success in France of the Kitten's Joy-sired Taareef (out of Sacred Feather), who won a G3 at Chantilly in June and ran creditably at Deauville on August 15 in the G2 Prix Guillaume D'Ornano over 2,200 metres, when a 4 ¼-length fourth to Prix Du Jockey Club winner Almanzor.
A Kitten's Joy colt out of Dynarthythm was bought back by consignor Ted Voute, and the other Kitten's Joy, a colt out of Sweet Harp, sold for €130,000 to Shadwell France SNCF.
Monceaux leading the way again
Voute purchased an Invincible Spirit filly out of Sun Bittern for €300,000. She represented the same cross as Signs Of Blessing, winner of the G1 Prix Maurice Gheest at Deauville on August 7. The indications were that, without that win, the price would have been half that.
Ecurie des Monceaux once again had the leading prices on each of the first two days, but a Dubawi filly out of Gracefully, expected to fetch well over €1 million, was bought back for that sum.
On the evening of the second day, another lot expected to realise a high price, a filly by Galileo out of Prudenzia, presented by the same stud, went for €1.4m to a partnership of Peter and Ross Doyle, MV Magnier and Mayfair Speculators. The grouping undoubtedly affected the price as none of the trio were bidding against each other.
The same group teamed up again to purchase a Galileo filly out of Quetsche, again presented by Ecurie des Monceaux, for €650,000.
The nine Frankel-sired yearlings at the sale had mixed fortunes, with the lowest priced, a colt out of Alix Road presented by Ecurie des Monceaux, going for €200,000 to Charles Gordon Watson, and the highest, a colt out of Pertinence also presented by Ecurie des Monceaux, for €850,000 to Shadwell France
Key facts
The Hong Kong Jockey Club purchased six yearlings for a total €1,560,000, the sixth highest figure over the three days.

Shadwell were top buyer, spending €2,970,000 on eight yearlings.

Jean Claude Rouget was next, spending €2,340,000 on 21 horses.

Eleven buyers spent more than €1 million each.

Overall in part one of the sale on the first two days, excluding private sales, 172 yearlings were presented and 140 sold for a total turnover of €29,861,000, at an average price of €213,293.

Total turnover was 4.92 percent down on 2015, when 127 from 166 went under the hammer for a total of €31,407,000 at an average price of €247,249.

The fall represents a more cautious approach. Last year four horses went for more than €1 million, including a buy-back of €1.2 million, and the top price €2.6 million. This year only one exceeded the million-euro barrier..

Irish- and English-based stallions were responsible for seven of the eight yearlings sold for more than €500,000 - four Irish (two by Galileo and one each by Invincible Spirit and Dark Angel) and three English (all by Frankel). The sole French stallion was Le Havre, whose colt out of Absolute Lady went for €520,000.

On the third day, 125 yearlings were sold from 167 presented at an average price of €80,976, with turnover of €10,122,000, down four percent on the 2015 figure, when 131 went through the ring at an average price of €81,115.

Overall for the three days, total turnover at €39,983,000 was down 4.73 percent on 2015.

Ecurie des Monceaux was the leading vendor for the fifth year running, selling the four highest-priced yearlings.