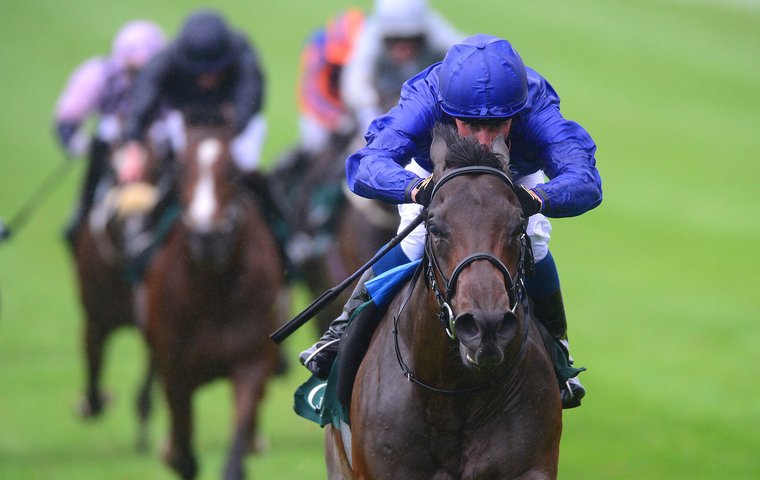 A very wise man once advised me that to label any racehorse a "great 2-year-old" is an oxymoron.

A 2-year-old may indeed become great, but to describe them as such during their juvenile campaign would be akin to suggesting a promising ten-year-old human athlete is a 'great'. (I paraphrase, but hopefully you get the gist; it's not necessarily 'don't believe the hype', just be wary about it.)
That very wise man was the Racing Post's John Randall, British racing's foremost historian and an individual who chooses his words with the precision of a forensic scientist. (Don't worry about the 'oxy'; he has frequently made me feel like simply a moron.)
Thus it can be suggested with a degree of certainty that Randall, unlike the rest of us, would not be wasting his time lavishing superlatives appropriate to describe Pinatubo's performance in the Goffs Vincent O'Brien National Stakes at the Curragh on Sunday (see video below).
"Freak", "monster", "a Ferrari of a racehorse" and the rather more prosaic "one of the most exciting 2-year-olds in years" were just some of the epithets flying about after Godolphin's newest star routed his Curragh rivals in a stunning display that lit up Irish Champions Weekend.
What is more, even handicapping experts – those unromantic assessors of weights and distances – were left drooling into their cagoules as the son of Shamardal dismantled seemingly top-class juvenile opposition – some of Ballydoyle's best, no less – for an explosive nine-length drubbing.
The Racing Post's 2-year-old guru Simon Turner, for example, assessed Pinatubo's victory as higher than anything achieved by Frankel as a juvenile. Frankel's best was a Racing Post Rating (RPR) of 126 in the Dewhurst Stakes; Pinatubo was 128. "We are dealing with an exceptionally gifted young horse who is nailed on to be this year's champion 2-year-old," wrote Turner.
Timeform have given Pinatubo a performance rating of 134, second only to Celtic Swing's 1994 Racing Post Trophy mark of 138 in the modern era in Europe.
By any measure, this was an outstanding performance, one to rank alongside the likes of Arazi (Timeform rating of 135 after the Breeders' Cup Juvenile of 1991) and Celtic Swing. And it is not as if it is the first time the colt had produced an eyecatching effort: he was odds-on at the Curragh for a reason - he had won the G2 Vintage Stakes at Goodwood by six lengths on his previous outing, beating subsequent Solario Stakes victor Positive in the process. But, if that was eyecatching, then this was startling indeed.
Pinatubo has already won five, and the Dewhurst Stakes now beckons; in some quarters, it feels as if they are already talking about next year's 2000 Guineas as something of a formality.
And yet, and yet … a small voice somewhere in the head just won't shut up. You know what? It sounds suspiciously like John Randall, sounding a note of caution.
"He's the best 2-year-old I've trained, no doubt about that," Charlie Appleby, whose European campaign has recently taken a distinct turn for the better after early disappointments with Masar and Quorto. But Appleby, like everyone else, probably can't help wondering just what we can expect when Pinatubo grows up.
After the Vintage Stakes, there were those who were suggesting here was a precocious individual who might lose his competitive advantage over the winter.
Cause for optimism
It would take a brave person to repeat that suggestion now, but Pinatubo will have had six races by the end of his 2-year-old campaign. That said, such a busy schedule reflects how he evidently doesn't over-exert himself at home, which augurs well for his future.
Pedigree also offers distinct cause for optimism. The homebred Pinatubo is a 24th G1 winner for his sire Shamardal, himself a top 2-year-old who went on to win the French Guineas and Derby and the St James's Palace Stakes at three before injury ended his career prematurely. By the way, that was 2005, the first year the distance of the Prix du Jockey Club was cut back to ten-and-a-half furlongs. He'd have been beaten by Hurricane Run over the old mile and a half.
Although Pinatubo is out of a Dalakhani mare, which suggests an influence for stamina, he looks too fast for anything beyond a mile to be contemplated in the foreseeable future. (Then again, in the interests of full disclosure, I am also on record saying Frankel would be a sprinter, so the form book isn't too kind.)
On this subject, what might be interesting is to consider what happened to other horses who posted similarly outrageous juvenile efforts. What does the form book of history tell us about them?
Well, it is a mixed bag. We might as well start with Frankel, who turned out to be not just everything he looked as a 2-year-old, but even more. While the nonpareil's most visually impressive juvenile effort was a ten-length demolition in the Royal Lodge Stakes, even such a noteworthy performance pales into insignificance given how his career progressed.
According to official handicappers, the highest rating ever achieved by a 2-year-old is the 130 awarded to Arazi in 1991 and Celtic Swing three years later.
Presumably nobody needs reminding, but Arazi posted the most spectacular performance in Breeders' Cup history when flooring the American dirt specialists at Churchill Downs in the Juvenile on the last of eight juvenile starts (he won seven after coming second on debut).
Made favourite for the following year's Kentucky Derby, Arazi was never the same horse again after knee surgery, winning a listed race on his 3-year-old debut before abject failure in the Run for the Roses. His only subsequent win came in G2 company at the Arc meeting.
No second coming
Celtic Swing, for his part, was lauded as a potential Triple Crown winner after his 12-length success in the Racing Post Trophy of 1994 at Doncaster, where owner Peter Savill instructed jockey Kevin Darley to ride him out as if his Timeform rating depended on it. Which, to be entirely honest, it did, resulting in a historic mark of 138 on their scale.
Celtic Swing's 3-year-old career was no disaster, but it was hardly the second coming either. After winning the Greenham, he was beaten by Pennekamp in the Guineas before bypassing the Epsom Derby in favour of Chantilly (prompting the notorious Sad, Mad, Bad headline over an article by Tony Morris in the Racing Post), where he scored by a half-length. Then he was only eighth at the Curragh on his final start in the Irish Derby, during which he sustained an injury.
Arazi and Celtic Swing are merely the highest-profile examples of horses who produced astonishing 2-year-old displays and then failed to seal the deal at three.
But what about Xaar, who won the Dewhurst by seven lengths in 1997 for Prince Khalid Abdullah? He got a Timeform rating of 132 - and never won again after scraping home in the Craven Stakes at Newmarket on his first outing of a Classic campaign in which he was only fourth to King Of Kings in the 2000 Guineas.
The Henry Cecil-trained Armiger, who earned a Timeform rating of 130 for a six-length win of the Racing Post Trophy in 1992, won only a weak edition of the Chester Vase in five subsequent runs.
Carbon copy
Others, however, have fared better. George Washington won the G1 Phoenix Stakes at the Curragh by eight lengths in 2005 and went on to land both the Guineas and the Queen Elizabeth II Stakes the following year.
Dream Ahead was rated the equal of Frankel at the end of his juvenile campaign in the same year after a nine-length win of the Middle Park Stakes despite languishing behind Frankel in the Dewhurst. He went on to win three G1s at three, ending his career by defeating Goldikova in the Prix de la Foret.
Lady Aurelia, whose Queen Mary Stakes victory was one of the most impressive ever seen from a juvenile at Royal Ascot, produced a carbon copy 12 months later in the King's Stand.
Less spectacular, yet emphatically top of the 2-year-old tree, was Too Darn Hot 12 months ago (he received an RPR of 126 - the same as Frankel). Unbeaten in four runs at two, he never made the Guineas after a setback, though he did at least add a couple of G1s to his resume before injury brought his career to a premature conclusion.
So where do the lessons of history leave us with regard to Pinatubo? All results are possible and nobody should be counting any chickens, even after a dazzling display that had 'superstar' written all over it.
Let's just enjoy it while we can. At this stage of his development, Pinatubo looks an immense talent; regardless of the future, what he did at the Curragh will linger long in the memory.
It might not have been great, but it was pretty bloomin' good.