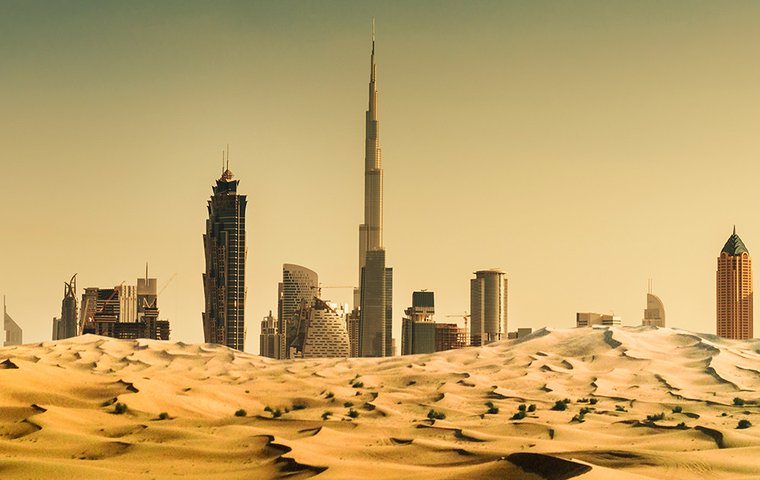 It has temperatures that regularly reach 50 degrees Celsius and one of the shortest racing seasons in the world (five months from the end of October to the end of March), so what happens to Dubai's thousands of racehorses during the off-season?

The season in the UAE ended when Thunder Snow crossed the line in the Dubai World Cup on March 31, and it won't resume until late October. While Thunder Snow (a likely runner in the Juddmonte International at York on Wednesday) and his Godolphin pals jet off to Europe during the warmer months, the vast majority of UAE-based horses remain there while the mercury rises.
They might not realise it, though, as all the stables have air conditioning, meaning it's not uncommon for horses to emerge from the summer with something of a winter coat.
That isn't to say that the seven-month off-season is one of complete inactivity, however. As is the case in most racing jurisdictions, every trainer does things differently.
Five-time UAE champion Doug Watson treats the summer as a time to get a proper break into his string, which numbers around 100. "We stop on them completely after their last race of the season," he says. "It's a difficult call, but, with training horses, they can get hurt at any time. Giving them four months without anyone on their backs is what we've always done, since [former UAE champion trainer] Kiaran [McLaughlin] was here.
"In one sense, we know we lose some bone density and get a few niggling problems when they start back, such as splints and things, but we keep them on minerals over the summer to try and alleviate those issues. We've run a fair few 10-year-olds over the years, so this way seems to work for us, but I wouldn't knock anyone for doing it differently."
Watson is slightly unusual in the UAE training ranks in that there is no swimming pool at his Red Stables base. Satish Seemar, who is based at Zabeel Stables, under the shadow of the iconic Emirates Towers, has no such issues and even has the luxury of some paddocks, a rarity in Dubai.
"They all go into one of the paddocks for an hour, maybe two, each day," says Seemar's assistant and nephew, Bhupat Seemar. "Some swim too, but this is really the time for us to give them a proper break. They will start tack walking on July 1 and then trotting on the 15th."
Seemar trains on a private track, so can effectively start up his string whenever he likes, but those at Meydan have to wait until the main track opens in August.
Former UAE champion Erwan Charpy is one of those based at the racecourse and he does things a little differently, keeping his string in light work until well into May.
"The main track shuts just after World Cup, but I kept my horses trotting around the 'lanes' [horse walks] until the end of May," he says. "Because a lot of them are older horses, I find it best not to give them too much time off. We'll start up again trotting in mid-July and do that for a month until the track opens again in August."
Charpy's fellow Frenchman, Jean De Roualle, who trains an Arabian string in Al Ain, is of a differing opinion, and is able to train on the dirt surface at Al Ain racecourse all year round. Some 90 minutes' drive from Dubai on the border with Oman, temperatures there are a couple of degrees cooler, but even so, he starts at 4am and is finished by 8am.
"Horses are athletes, you can't put them in the freezer and take them out two months before the season," says the multiple G1-winning handler. "Mine go out 365 days of the year. In May, I focus on recovery and building strength, but they all get ridden out for a minimum of one hour and 20 minutes each day, and then they swim in the afternoon.
"They will do that until August, and then they will go faster. It's a bit boring, as it's all the same, but it's extremely important, both mentally and physically. The gallops in September are important too, of course, but I get next season ready [from May]."
It might seem a long stint without racing, but the break does have its benefits. In March, Heavy Metal won the G2 Godolphin Mile at the age of eight, while Seemar's Reynaldothewizard was a listed winner at the age of 11. As Watson points out, seven months without the stress of competition seems to aid career longevity; horses in the UAE often racing until the compulsory retirement age of 12.
Things are about to change, however. The Emirates Racing Authority has responded to calls by trainers, owners and jockeys for a longer campaign, so the 2018-19 season will see racing in the UAE continue after the Dubai World Cup meeting.
It's only extended by a fortnight, however, so they'll still have a holiday longer than most.