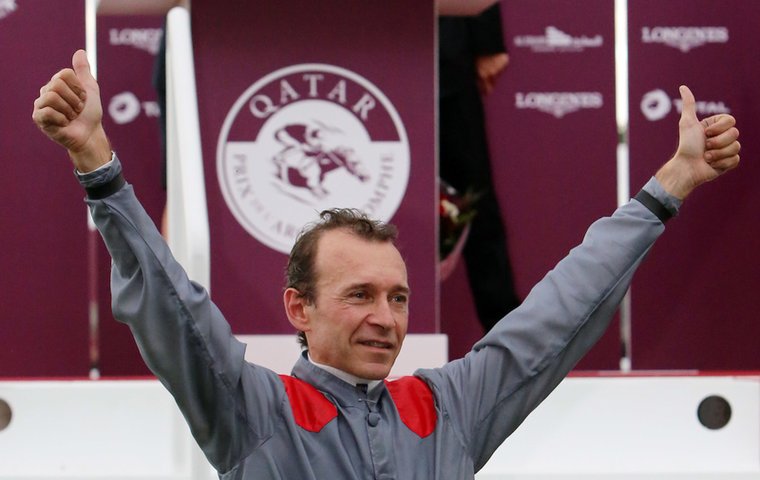 Professional but tough, unassuming yet dedicated, strong but polite … just some of the terms colleagues and peers have used to describe French jockey Thierry Jarnet, who recently announced his retirement.

A genius in the saddle and a gentleman out of it, his quiet manner resulted in success with some of the most talented French fillies of recent generations and long-term associations with some of the country's most respected trainers.
His retirement, which came just shy of his 50th birthday, was as discreet and lacking in fanfare as anyone who has met Thierry Jarnet would expect, but, as one of his biggest fans, I could not let this hugely influential figure slip from the French weighroom unnoticed.
Jarnet was Cravache D'Or (French Champion Jockey) for four consecutive years from 1992 to 1995 while riding for master trainer Andre Fabre.
Fabre and the Heads
The first of those titles coincided with his first success in the Prix de l'Arc de Triomphe on Subotica, a feat he repeated two years later on Carnegie.
Fabre and Jarnet continued their successful association over the next few years with the likes of Intrepedity (Epsom Oaks, Prix Vermeille, Prix Saint-Alary) and Pennekamp (2000 Guineas, Dewhurst Stakes). When the pair went their separate ways, Jarnet continued to ride winners at the top level for a host of different trainers, including Richard Gibson, Mikel Delzangles and Eric Libaud.
While hardly an international household name like the very popular Olivier Peslier or outspoken Christophe Soumillon, Jarnet's association with the Head family brought him into the limelight in more recent years.
"I have always worked for them," says Jarnet. "I rode for their father, Alec, when I was a young jockey and I used to sit beside Freddy in the weighroom when he was still riding. It was nice to continue on from our time as jockeys together and ride for him when he started training.
"They are more than colleagues to me, more than friends even, I almost feel like part of their family. We made a real team, something that existed more so in the past than it does in modern yards. The success I had with them was somehow more special."
And there were indeed very special successes.
Two amazing mares
Jarnet rode the Freddy Head-trained mare Moonlight Cloud to an incredible nine Group wins, six of them at G1 level. The bond they had was incredible. In fact, it looked as though his relationship with Moonlight Cloud would be the jockey's greatest racing legacy - and then another Head-trained filly came along.
Treve, of course, was trained by Freddy's sister, Criquette Head-Maarek, and her impact on the sport put her up there among a handful of the greatest racemares in history.
Jarnet was aboard when the Haras du Quesnay-bred daughter of Motivator won her first start at Longchamp in the red colours of the Head family's world-renowned stud farm, and, although he very briefly lost the ride when the filly was sold to Sheikh Joaan Al Thani, he returned to ride her to a remarkable five length success in the 2013 Arc.
'A great man and a top horseman'
Head-Maarek always maintained that Jarnet was the jockey for Treve, and the pair backed up her belief with five G1 wins, including of course that famous Arc double of 2013 and 2014.
"I am losing an excellent jockey but also a very good friend," says Heasd-Maarek. "Thierry and Treve had a beautiful relationship. He loved her, and that makes a big difference. He is a great man and a top horseman."
"Criquette was an easy person to work with," says Jarnet. "She always listened to what I had to say and was very open to suggestions, just like the rest of her family. It was very special to almost finish my career with Treve and Moonlight Cloud. I never imagined I would get two mares like that so close to the end of my career. They brought me so much joy, it was really magic. I always seem to have had a connection with fillies, I must be a ladies man!"
Difficult decision to retire
Jarnet's retirement was not completely unexpected as his struggles with an old knee injury were well known.
"I injured my knee 20 years ago, and I aggravated it in an incident in the starting stalls last November," he says. "An MRI showed that I have no cartilage left in my knee but, as a knee replacement only lasts around 15 to 20 years, it is too early for that to be an option for me. The doctor advised me to stop my career and it would have been complicated to continue in this situation.
"I knew I was coming to the end of my career, but I would have liked one or two more years. The decision to retire was not hard or easy but one I knew I had to make.
"To be honest, I was lucky to continue my career this long after my previous accident. I have to learn to be happy with what I have accomplished. I am going to take some time and care for my knee. I know I definitely won't become a trainer, that is certain! I am not sure if I will even stay in racing."
A personal tribute
I, for one, find it hard to imagine French racing without 'Monsieur Jarnet'.
I first met him during my summers as a teenager working in Chantilly for Head-Maarek and then again when I returned to the 'City of the Horse' to live ten years ago.
Riding as an amateur for Rupert Pritchard-Gordon, I learnt more from the gallops I rode alongside Jarnet than I ever could have imagined. He is a mentor and an idol to so many people of my generation, whether they be professional jockeys or otherwise. He is never one to raise his voice, and we all hung on his every quietly spoken word after pulling up on the famous Les Aigles grass gallops of Chantilly.
He always had a wealth of advice for those young apprentices and exercise riders interested in his opinion. More recently I found him an absolute pleasure to interview during my time working with French racing channel Equidia.
I will never forget the atmosphere at Longchamp and Deauville when he had those fantastic Group 1 successes with Treve and Moonlight Cloud. I feel very lucky to have been there to witness them. There was not a single racing professional who was not delighted for this gentleman of the French weighroom.
Jarnet is responsible for telling me my favourite and only French joke many years ago, and the look on his face when he greeted me with the punchline on his return from the winner's enclosure after his second Arc success on Treve, still makes me smile to this day.
Learning from others
"I am a little old school, I suppose," he says humbly when I emphasise how influential he was to me and many of my peers. "I used to sit between Freddy and Alain Lequeux in the weighroom and I learnt so much from them, as well as Cash Asmussen, who brought many new things to French racing.
"I have tried to help others who show an interest in seeking my advice. A few young jockeys have always been close to me, such as Greg Benoist, Mickael Barzalona and Ioritz Mendizabal, and I tried to share my knowledge and experiences with them.
"Unfortunately, I have found things have changed with the new generation, and they think they know everything already. They would rather play with their phones in the changing room than watch races they're not riding in or walk the track.
"Maybe I am retiring at the right time after all!"
'Impossible to replace'
Those younger jockeys who did look up to him do not agree, however, and a common theme in talking to them is just how much he will be missed.
"He was a shining example in the weighroom," says Mickael Barzalona. "He was never impulsive, never raised his voice and accepted victory and defeat with the utmost grace. He never changed, not even when he was at the top of his career, and I think he is a good example to any young jockey.
"He also worked with Andre Fabre and rode in top races for him, so, when I was starting out, it was very helpful to talk to him. He was always there for me and ready with advice on what I had done well or badly. I will miss him very much."
Gregory Benoist says: "I can never truly express just how much I appreciate everything he did for me. When I started riding in big races, he would always have a word with me beforehand to get me to relax and then watch the races back with me afterwards. He was always available when I was in doubt, almost never suspended during his long and amazing career and respected by everyone he worked with.
"I knew he would retire soon but it was still a surprise. He was a true racing personality and will be impossible to replace."
I wholeheartedly agree. Thank you for the advice, the laughter and the memories, Monsieur Jarnet. French racing will not be the same without you.