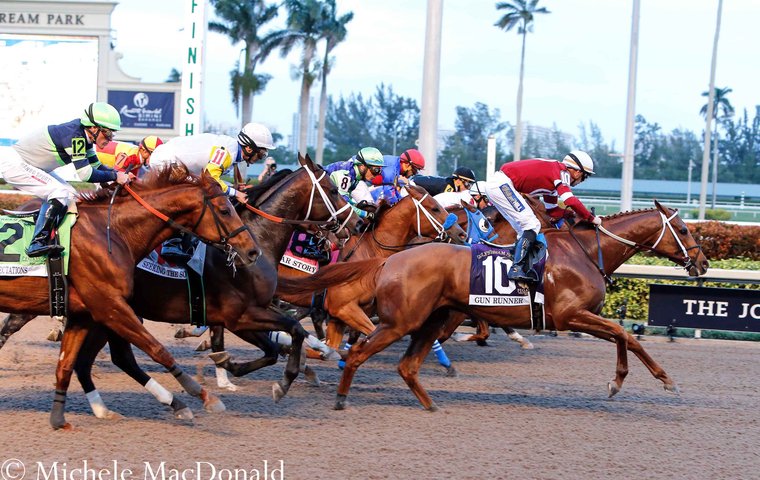 As a major Grade 1 stakes for the world's best dirt horses, the Pegasus World Cup has earned rave reviews. In each of his its initial two years at Gulfstream Park, first with California Chrome and then with Gun Runner, the world's richest race achieved its goal of using a gargantuan purse to coax the connections of the previous year's Horse of the Year into extending their champion's career by one more race.

"The truth is we believe we're a big part of the industry and to get these horses to make an additional start or in some cases run an extra year because of the Pegasus is a big win for the industry," said Tim Ritvo, the Chief Operating Officer of the Stronach Group.
The mile-and-an-eighth test also produced two outstanding efforts by a pair of Breeders' Cup Classic winners who stand as two of the sport's biggest stars of the last decade.
'Unbelievable pari-mutuel handle'
Arrogate's 4¾-length victory in 2017 was the third in his string of four awe-inspiring wins that included the Travers, Breeders' Cup Classic, Pegasus and Dubai World Cup. In January, Gun Runner, in the final start of his illustrious career, left the spotlight with a convincing 2½-length triumph in a race that featured an exciting rematch of horses who finished first through fifth in the Breeders' Cup Classic.
"Great races, whether it's the Breeders' Cup Classic, the Kentucky Derby, the Preakness, they have more than 30 years of experience with the Breeders' Cup and more than 100 with the Triple Crown races, and we feel exceptionally happy that after just two years we have been able to join the best races in the world," Ritvo said.
"We got so many of the top horses in the world and this year we got an unbelievable pari-mutuel handle ($41.9 million for the entire Jan. 27 card at Gulfstream) without Asian or international horses and, once we get into those markets and add a horse from Japan or Hong Kong, I think we can see the handle double and become as big as the classic races."
Yet, for all of the euphoria over the races, for reasons as different as night and day, the novel financial structure and conditions of the race have rankled the vast majority of the horsemen who have taken part in its two editions.
In Year One, a majority of the stakeholders who paid $1 million for the right to start a horse in the $12 million race were incensed over their unexpectedly massive losses.
The race was the brainchild of Stronach Group founder and Honorary Chairman Frank Stronach and became reality with his daughter Belinda, Chairman and President of the group, playing a lead role in its establishment.
Stakeholders fumed after Year One
It was originally pitched that, for a $1 million investment, stakeholders would divide the revenue from the handle, television rights and sponsorship so that they could offset the gap between their $1 million investment and the $250,000 paid to the fourth through 12th finishers. Yet, in 2017, the added income amounted to roughly $100,000 for each starter and most stakeholders fumed and did not return for Year Two after losing more than $750,000 in some cases.
"The first year, when they asked me to reach out to people in the industry to get stakeholders, I didn't think the economics of the model was that attractive to the stakeholders, even though we bought one," said Starlight Racing CEO and Managing Partner Jack Wolf, who served as the CEO of the Pegasus World Cup for the 2017 race, only to have the position eliminated and handled internally for 2018.
"Thank goodness we had a horse that finished third [Neolithic]. But we went in thinking the model would be tweaked and would be better the second year. It's a concept that can be advanced with some changes."
Different woes for Year Two
Change was the order of the day for January's race, but the problems did not disappear, even with a purse increase to $16 million. Instead, the race's woes became twisted in a different way. While the also-rans suffered a smaller loss – or none at all in some cases – the stakeholders of horses who finished directly Gun Runner received payouts well below what they would have received in a race with a conventional structure, such as the Breeders' Cup Classic.
"In its current format, I don't think the Pegasus has a future," said Gary West, owner of West Coast, who finished second behind Gun Runner. "The horses that did the best got penalized the most."
For this year's race, the $1 million stake existed only on paper. With the bigger purse, for the horses that finished sixth through 12th, stakeholders received $650,000. To make race more attractive for everyone, the Stronach Group accepted only $350,000 from each stakeholder. Therefore, since they did not pay the $1 million, stakeholders with horses who finished sixth or worse did not receive any purse money.
At the top of the pyramid, in the revised structure, Gun Runner received the same $7 million as Arrogate, despite the added $4 million in purse money. The payoff for second dropped from $1.75 million to $1.6 million, third through fifth increased from $1 million to $1.3 million, $250,000 to $1 million, and $250,000 to $850,000, respectively.
West: 'I didn't like what they did'
To complete the 12-horse field, The Stronach Group covered the $350,000 for three starters who ran under the banner of Pegasus Race Participants. Those horses would have received only 50 percent of the purse payments for finishing third or better, with the other 50 percent divided among the stakeholders. None, however, finished better than eighth.
As a final wrinkle, because stakeholders were not asked for $1 million, there were no added payouts based on revenues.
"In normal, customary every day racing, it's 60 percent to the winner, 20 percent to the second-place horse, ten percent for third and five percent and three percent for fourth and fifth," West said. "That's true with the Breeders' Cup, the Kentucky Derby, the classic races and every race known to mankind. With a $16 million race with a typical purse structure that would be a $3.2 million payment for second. We got $1.6 million, so we only got 50 percent of what we should have gotten if the race had been conducted the way every other race is conducted.
"Beyond that, the winners got $7 million when they should have gotten $9.6 million," added West, who received $2 million for West Coast's second place finish in the $10 million Dubai World Cup last month. "The third place finishers got $1.3 million and they should have gotten $1.6 million. I didn't like what they did.
"I was willing to put up my $1 million, but then they couldn't get enough horses and they created a very unusual format. Optically it appeared that the Stronach Group back-weighted the purse structure so that it minimized their loss and the optics of a race was that they did something to benefit themselves and I didn't like that. Can they do that? Absolutely. It's their race and we don't have to run in it."
Complete review of all elements
In response, Ritvo acknowledged the shortcomings in the purse structure and said a complete review of all elements of the race is underway with a full array of changes on the table, including the possibility that there would be a smaller field for next year.
"It needs addressing and Gary's comments about his share of the purse are correct. It's something we are dealing with," Ritvo said.
"We have a team of guys who are giving us input and we will really have to discuss this. Some guys think the top four should make a lot of money, the middle four break even and bottom four get killed. The problem is getting 12 horses with that kind of structure. It's easy to get the top six horses.
"Gary would have run under any distribution system since he had a good chance to win it. We may change things. If there's only nine in there next year, maybe we run it with nine. I don't know yet. We're going into Year Three and it's very early. When we're 30 years old, like the Breeders' Cup, we won't even remember these moves we made early on because they were just part of a learning curve."
Different perspectives
After reviewing the Year Two changes, Chester Broman, part owner of a 2017 slot whose loss was compounded by having to work out a deal to get Noble Bird (who finished sixth) in the spot, said that, without a legitimate candidate for the race in his barn, he was glad he did not return.
"It still doesn't make any sense financially," Broman said. "If I owned a horse that would have been competitive I would have tried, but, if you don't have a horse, you have to share the purse with the other owner. So you're either going to lose a whole lot of money or not make much. In the end, it was a foolish bet by me."
Finding the right solution could be complex due to the different perspectives of the various stakeholders.
Dean Reeves, along with Ron and Jerry Frankel and Coolmore (who sold their 2017 spot to Juddmonte Farms for Arrogate), was one of three non-Stronach Group original 2017 stakeholders who returned for 2018. In 2017, he was eighth with Breaking Lucky and then 12th after partnering with the connections of Toast Of New York. He has enjoyed the overall experience, despite losses of roughly $1 million, but unlike some stakeholders who want more money for the top finishers, he sees the payoffs as "top heavy".
'A fun bunch to be with'
"We haven't been too successful from a racing standpoint, but we thoroughly enjoyed meeting the trainer and owners of Toast Of New York. They were a fun bunch to be with, but we didn't get what we expected from the horse," Reeves said.
"As for the Pegasus itself, there are still some improvements that can be made. Financially, the most you could lose was $350,000 and that was more palatable than the previous year, when the loss was $650,000.
"What we have to do is the get the handle up so we can get money back off the handle. Overall, the payoffs are a little top heavy. I think $7 million to win is too much. It's a $16 million race, but you don't get paid like that. That's why the purse structure has to be adjusted. I think it's a great race and it's run at a great time on the calendar and I think it can get better once we have some conversations about spreading the money out better."
'I got my rear end kicked'
Ron Paolucci, who races under Loooch Racing Stables, switched roles in 2018. He teamed with stakeholder Dan Schafer to finish fifth with 49-1 shot War Story. This year, not only did he become a stakeholder, but he also acquired a second spot. Instead of running War Story in his spot, Paolucci worked out a deal with the owners of Sharp Azteca to run the Breeders' Cup Dirt Mile runner-up in his spot and then ran War Story as one of Stronach's three Pegasus Race Participants starters.
At the time, it seemed a shrewd move, but when Sharp Azteca finished a disappointing eighth as the 4-1 third choice, and War Story wound up tenth, Paolucci wound up losing $350,000.
"It wasn't any good financially for me. I got my rear end kicked," he said.
One solution popular with some stakeholders is to scrap the stakeholder format and contest the Pegasus World Cup with a purse of $8 million or more with the standard entry fees and purse payments.
"The middle ground that can make it work is to make it more like a legitimate race. Don't make it so bottom heavy. If a guy's willing to put up the money to run, he's willing to put up the money to run. Don't sacrifice quality for quantity.
"They are barely getting 12 horses and, if you have eight horses that do not have a shot of winning, what's the point of doing it?" Paolucci said. "Make it a $250,000 entry fee, make it an $11 million race so it's still the richest race in the world and pay down to sixth, so if a guy finishes third he makes $900,000."
'We would have run if it was an $8m race'
Ryan Exline, a co-owner of Giant Expectations, who was ninth as a Pegasus Race Participants starter, said a large purse would have been a strong enough lure for him.
"It's tough to ask people to buy $1 million spots months and months ahead of time. It's not a position that is good for prospective buyers. They want a full field, so they had to be creative to get 12 horses and I don't know if there's a solution. But, if it was simply an $8 million or $10 million race, we would have run," said Exline, who received no purse money and estimated he lost about $10,000 for shipping his horse and other expenses.
"The Breeders' Cup, where you have to pay to get in, unless you get a 'Win and You're In' spot, is a very successful program, and they get full fields without people complaining, so I guess that model works."
Peter Eurton, who trains Giant Expectations, agreed that a traditional structure would be a welcomed change. Though trainers, jockeys and horses of the sixth through 12 finishers were credited with $650,000 of earnings in their industry statistics, Eurton did not receive any money from the race. Jockey Jose Ortiz, who rode War Story, said he received $1,000.
"I get a commission on the net and no one made any money, so how could I charge anyone?" Eurton said. "I don't think they should add any earnings to yearly totals because you didn't really earn anything. Overall, it wasn't worth it unless you had a top one, two or three horse. I think it will be more prestigious if you come up with a net amount, charge a nomination fee, or make it an invitational, whatever they want to do. The way they do now, it it's hard to make any money at all. It would be an awesome $10 million race [without the stakeholders]."
West also believes it would be wise to scrap the stakeholder concept in favor of a rich race with standard conditions.
"Getting a dozen people to put up a million dollars is not going to happen anymore," West said. "I would have run for $6 million. The Breeders' Cup is a $6 million race and they get the best horses in the world. I think Gun Runner would have run for a purse like that, too. Instead, we had a race with side deals where everyone had a different financial risk.
"I think they are letting their ego get in the way because they want to say they have the richest race in the world but then they're going to fiddle around with the numbers to make it the world's richest race when it really isn't. This was like a Chinese auction. I've never seen such a bizarre thing in all of my life."
'I don't know what it will look like next year'
Realistically, since no purse money was paid to the sixth through 12th finishers, this year's Pegasus cost the Stronach Group roughly $8.6 million, a figure based on the $11,750,000 paid to the top five finishers minus the $3,150,000 paid by nine stakeholders (figures do not include Stronach Stables' share in the $350,000 stake for Kathleen Amaya and Raffaele Centofanti's Fear The Cowboy, who ran in a spot belonging to Stronach Stables and the Frankels, and earned $1 million for finishing fourth). Under that scenario, the Stronach Group could have funded an $8 million race at a similar corporate price tag without any of the messy wheeling and dealing for spots.
"The results for Year Two would indicate the model still needs some work. I would agree 100 percent that a conventional $10 million race would be better," Wolf said. "Even if you clear $4 million on the betting, how do you make up the rest? Make it $7 or $8 million race and you will get the big dogs. I think Frank came up with a great idea, but, as far as the way the purse is distributed, it needs to change."
Ritvo defended the structure of the Pegasus but reiterated that all aspects of the race are under review.
"The concept was to make people a shareholder. Our thought was imagine if you could have become a shareholder in the Breeders' Cup at the beginning. The thought was the 12 shareholders would be invested into the day and they would be renting the racetrack for the day in putting on this spectacular event. In the end I don't know what it will look like next year, but we will listen to input and strategize with some of the brightest minds in the business to see what works," Ritvo said.
"Everything is open. The success of the race is important to us, and we'll make adjustments accordingly to make it successful. We feel it has become an iconic event on the racing calendar and we want to keep the momentum going, that's for sure."
Post position issue
Another major issue has been the mile-and-an-eighth distance with a short run to the first turn that can cause horses in the outside posts to be carried wide.
"If I have a speed horse, unless I have the two best horses in the race, and I draw posts 10-12 I'm dead," Paolucci said. "The outside posts are a humongous disadvantage."
Exline, whose horse drew post 12, said if he had known that the outside post was awaiting the New York State-bred, he would stayed put in California.
"If we could have paid more not to get post 12, I would have," he said. "It's tough to win from post 12 at that distance. We drew the short straw and we were up against it."
Gun Runner was victorious from post 10 in a field of 12, but West stressed that a speedy Horse of the Year being able to work out a winning trip does not lessen the challenge for most horses and that a longer race would create a better run-up to the first turn and fitting challenge for the world's best horses.
Outside post 'a distinct disadvantage'
"Even though Gun Runner won the race from an outside post, it doesn't change my thinking about the problems of having an outside post. He was the Horse of the Year and he had a pretty easy trip. Statistics show that the outside post at that distance is a distinct disadvantage, and I don't think in that kind of race you should have factors that put horses at a disadvantage," West said.
"All the great races are at a mile and a quarter. If you want to have a great, classic race that separates the great horses from the good ones, they should consider running the race at a mile and a quarter instead of having horses rush into a short run to the first turn."
Ritvo believes the flap about post positions is not completely warranted.
"I understand and we could maybe back it up to a mile-and-a-three-sixteenths or a mile-and-a-quarter, but the intent was to be inclusive to all horses, including milers. The idea behind the mile and an eighth was to see if a true miler might take a chance because there's so much money on the line. That hasn't really worked, with the exception of Sharp Azteca," Ritvo said.
"People have complained about the post positions and I still think it's overstated. We just had the Fountain of Youth winner [Promises Fulfilled] come out of post 9 going a mile-and-a-sixteenth, which is even closer to the turn."
Qualifying races a possibility
Looking ahead, Ritvo said that added qualifying races with guaranteed spots in the Pegasus are a distinct possibility to help fill the starting gate.
"We are 100 percent thinking about qualifying races," he said. "That will make it easier to get a 12-horse field. So maybe there will be three Stronach Group races across the country that can get you into the Pegasus automatically."
Ritvo said there could also be Pegasus-style races at Stronach tracks Laurel and Santa Anita in the future, but added the world's richest race will not be leaving Florida anytime soon.
"The team talked to Belinda, who is orchestrating it as an event, and she feels it is really growing as a Miami event and she's excited about the continuation of it in Miami.
"We will look at a new race at Laurel, which could be an international turf race we start next year, maybe even one at Santa Anita, but for the foreseeable future we will be at Gulfstream Park putting on this great event," Ritvo said.
Race could move to Super Bowl Saturday
"We're looking to see how we can make the fan experience better at the track and also how to sell this race internationally to everyone in the world in order to give it total exposure.
"We're also looking at the placement of the race. With the Super Bowl coming to Miami in 2020, maybe we'll push the race back a week and do it on the Saturday of Super Bowl Week to give people in town another entertainment option. Everything is discussed openly with a good group of people on our team, so we can provide everyone with a better experience from top to bottom."
In the end, all of those discussions about the experience underscore the true essence of the Pegasus.
'I had the best time losing that anyone can imagine'
On one hand, the event has been a spectacular success and a memorable experience, likened to an episode of the old Lifestyles of the Rich and Famous television show by Paolucci.
"My summary of the weekend as a whole was that, despite going a long way from California and my horse not running the race we wanted, or getting the trip we wanted, I had the best time losing that anyone can imagine.
"On the fun side, hospitality side and as an experience side, Gulfstream and the Stronach Group really made it a world-class day of racing and the best day that I've had at the races when my horse doesn't win," Exline said. "I think they are onto something with it. The experience they created is unlike anything else I've seen in horse racing, which is good from a fan's perspective. Hopefully they can figure out the right solution for getting the best horses in the race so that people aren't talking about the process."
Far Eastern challenge 'a game changer'
And yet, as Exline alluded, for all the excitement, there are still many wary eyes cast on the Pegasus, looking for changes that will allow horsemen to focus on getting their horse ready for the race instead of fretting about the troubling terms and conditions of the world's richest race.
"I thought the execution was flawless again, I give my team a lot of credit, but I think what we learned the most again is that the purse structure it's not conducive to what we want. So we have to figure out a better way to spread the purse money, and then how do we get an international horse here from Asia or Hong Kong, that's the holy grail. That's a game changer," Ritvo said.
"Once we get television payments, once we get sponsorship payments and an international presence, the race will be a very, very valuable race and shareholders will come flocking in or wish they had stayed in from the beginning. For me, it's exciting to try and build on this. We won't perfect it next year either, but each year we'll learn a little bit about it and in the near future we'll have it perfected. We're excited about the future."