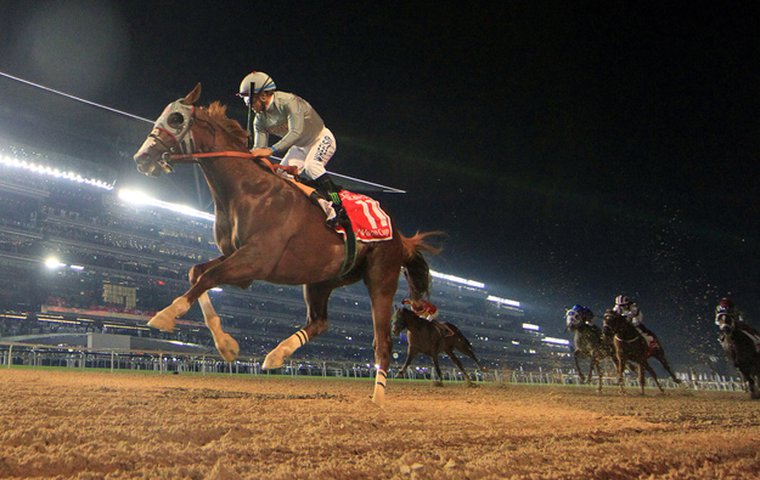 California Chrome's stunning victory in the 21st Dubai World Cup will do the race's reputation the power of good. This much is obvious. It capped a Dubai Carnival which, for my money, has been the most interesting and exciting by far.

Watching California Chrome blithely sail wide throughout under Victor Espinoza reminded me of the time an athletics pundit said of the 400m world record holder Michael Johnson (photo:iaaf.org): "He could win from Lane 8 without a start." Okay, it wasn't quite that marked, but California Chrome actually did a similar thing.
Tracking data produced by the technology company Trakus reveals that California Chrome covered 25m more than runner-up Mubtaahij, who didn't chart a course bang on the rail himself. In imperial measurement, this is a staggering 82 feet which, depending on your idea of the average horse, is eight to nine lengths.
This is no criticism of Espinoza. He was drawn wide in stall 11, and it has long been considered by those closest to California Chrome that he doesn't run well in between horses. The point here is a better estimate of his superiority than that afforded by the result. A better estimate is "he crushed".
So, California Chrome was a great winner and the right winner. It is to be hoped that U.S. racing can produce enough top-class horses to sustain a similar reaction to future Dubai World Cups for, make no mistake, the eggs are now in the American basket.
It might look the right call to rip up the Tapeta now, but that would be like judging Champions Day at Ascot right after Frankel had just won.
The end of a noble ambition
What synthetics promised – but ultimately have failed to deliver – was to engender confidence as a surface on which dirt horses and grass horses can do fair battle. In the end, the nature of these tracks too closely mimics turf. And now, it seems, we are stuck with dirt racing and turf racing as discrete disciplines of the performance horse, no more a similar challenge to some minds as Royal Ascot is to Cheltenham.
The ambition to produce "one surface to favour them all" was a noble one. The more Thoroughbred racing is compartmentalised into divisions, the more that the talent is spread, the more the best horses have an excuse not to meet on the track.
This is an insipid trend in the sport, in my view. Remember Liam's Map dodging the Breeders' Cup Classic for the Breeders' Cup Dirt Mile? This escape clause of a race would never have been ordained but for commercial greed, its absence from the line-up of races in the first few years of the Cup hardly being a source of consternation.
A great example of the dangers of fragmentation was played out at the recent Cheltenham Festival, referred to above. If you concentrate the talent among a relatively small number of owners and create a plethora of divisions, you end up with a parade of seemingly unconquerable champions winning at short odds. Except that most of them wouldn't seem half as unconquerable if they, well, actually had to run against each other on the track.
When the magnificent five-year-old Postponed (disclosure, he's my favourite horse) won the Dubai Sheema Classic, I was reminded of just how far apart the worlds of turf and dirt now seem.
The desire to see face-offs
Unusually for a Briton, it is dirt racing which is my true love, and the highest personal tribute I can pay Postponed is that he is just too tough for turf. He travels like a tremendous machine, accelerates willingly and comports himself like a thorough professional. In short, he is a reminder of the reassuring truism that racehorses were born to run. And he reminds me of the great dirt champions who run round my head.
When we tried Curlin vs The Euros at Santa Anita in 2008, it wasn't satisfactory. Yes, it is small-sample theatre from which to sink into depression that multi-surface behemoths will ever again do battle, but I can't help feeling that California Chrome's victory condemned that ideal for a long time, for it was in Dubai that its most prominent platform seemed to reside. And that platform has been dissembled in favour of dirt.
Probably the last-ever winner of the Dubai World Cup on synthetics, African Story in 2014, became the rod to beat synthetics with, so infeasible was he as a putative world champion. But this year's result shouldn't erase the fact that Prince Bishop – another nobody in global racing terms – won on the dirt last year. Stuff happens, and Dubai is far from impervious.
How many people thought to themselves after the World Cup: "So, who is better: California Chrome or Postponed?" Likely a very small number, and it seems like as a racing nation we don't have the same desire to see face-offs to produce singular champions. When was the last high-profile match race? It's easy to forget that the best horseracing novel written, Seabiscuit, had a match race as its effective denouement.
It's not even that top horses can't go on both turf and dirt. Secretariat could, Giant's Causeway could, Swain could, California Chrome can. And the list goes on. But, most times, it represents too great a risk of lost reputation or revenue to take on the challenge
In most years, ratings do a pretty solid job of identifying the best horses around. But, as a ratings man myself, I do not believe that turf horses and dirt horses can be compared adequately by the same methods. Races are run too differently.
California Chrome's victory was both one for the ages and the end of an era: it might have marked the death of synthetics. The status of World Champion seems forever destined to need the surface-specific qualification "on ….".