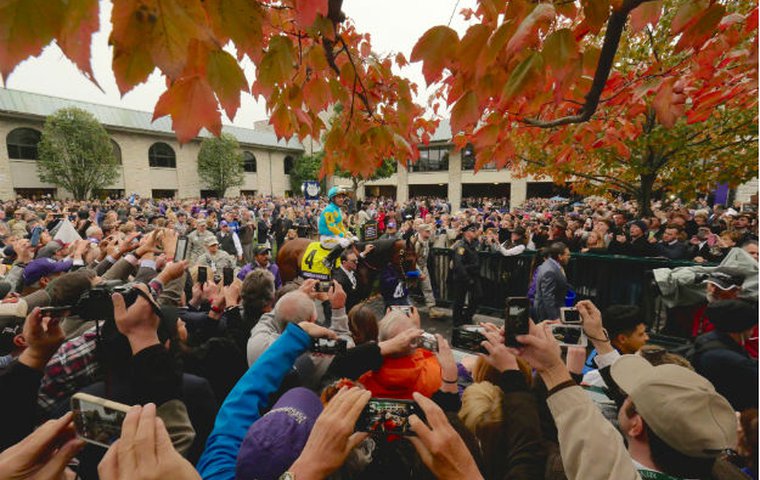 If nothing else, the Breeders' Cup Classic did one significant thing for me on Saturday – it dispelled one of the great myths about American racing.

After just shy of 30 years in racing journalism in the U.K., I had come to accept what appears to be understood fairly universally as a truth – that the sport in the U.S has one foot in the grave.
Handle is collapsing, attendances are thinning by the hour, tracks are closing. Interest in the sport is in freefall. Newspapers and the TV channels seem to have forgotten it even takes place, other than on a certain five days each year.
In short, America had better start getting used to not having horseracing at all as we know it.
Just one trip to watch racing Stateside has opened my eyes. The sport, the industry may be in crisis in the U.S., but don't worry it's going to disappear. It won't. And its future is probably a lot rosier than the one facing many of the racing nations in Europe, including the U.K.
And no, I don't believe the mere fact that there's been a Triple Crown winner after a 37-year wait is going to turn things around, pull back the crowds, provide a long-term fix for all the problems.
American Pharoah may have been magnificent on Saturday afternoon, bludgeoning the field into submission before he even reached the finishing straight (and I'm not going to tarnish that tribute by trying to compare him with Golden Horn or Treve, or even Frankel or Secretariat), but his fleeting career on the racecourse can be no more than a short, sharp shot in the arm for racing's morale. It will mean not a jot to the shape of its future.
I was prepared for all that before I set foot on the premises at Keeneland. What I wasn't prepared for was the crowd.
Moment that will stay with us for ever
I've been there for the Cheltenham roar, the explosion of sound at the start of the Epsom Derby and the Grand National, I've heard the unfettered joy of the Irish as the winner comes in after a big race at Punchestown, Leopardstown, the Curragh or Cheltenham (especially Cheltenham). I've seen the adulation of young and old as legendary steeplechasers like Arkle, Desert Orchid and Kauto Star produced barely credible feats of athletic prowess on the jumps tracks of Britain and Ireland. I've seen people squashing together for a split-second glimpse of Frankel.
But I've never seen or heard anything before remotely like the reaction to American Pharoah at Keeneland on Saturday.
And I don't just mean the wonderful, happy, deafening tumult as he drew further and further clear in the straight, or as Victor Espinoza raised his arms to the fanatical, enraptured stands in glorious, orchestrating triumph in a moment that will stay with most of us who were there for the rest of our days.
They were just as cacophanous before the race, just as buzzy and wondrous and excited as they lined the parade ring seven or eight deep even before the great horse appeared. A mighty, sweeping roar told you the instant he was led in – well before he came into momentary view over shoulders and round heads.
Bob Baffert has said it's like being with the Beatles. Now I know what he means. Maybe it's like that when One Direction or Taylor Swift are in town.
And I'm well aware that what happened at Keeneland pales by comparison to the reaction at Belmont after American Pharoah clinched the Triple Crown. But I wasn't there for that. I hadn't totally understood what it meant when I read about it.
So there I was on my way to Lexington believing Americans don't like racehorses as much as Europeans. They do. And then some.
In Britain, the Triple Crown (2,000 Guineas, Epsom Derby, St Leger) hasn't been won for 45 years (Nijinsky in 1970). It's arguably harder to win than the U.S. Triple Crown, stretching a horse from a mile in May to a mile and threequarters in September. Three years ago, the Ballydoyle colt Camelot went to Doncaster for the Leger seemingly certain to do it after winning the first two legs. There was a big crowd that day – the authorities had worked hard to publicize the attempt. Doubtless Camelot would have received a rapturous reception had he done it (he was second). Doubtless he'd have been the subject of a few column inches on the general sports pages the next day. That would have been it, though.
That same year – 2012 was a PR dream for racing in Britain – there was also Frankel. Totally awesome, totally capable, utterly unbeatable. Unbeaten in 14 runs, mostly over a mile, all but four of them Group 1s, he made all the best horses in Europe look woefully substandard, and he built up a following way beyond that of most British flat racers. The crowds swelled wherever he ran. Even non-racing fans began to recognize his name. But that was all. The passion, the noise, the sheer love for the horse, was barely a tenth of what I witnessed in Kentucky.
Deep Impact and Black Caviar
You probably need to experience racing in Japan or Hong Kong to see anything comparable. The top racehorses are public heroes there. In 2006, up to 10,000 Japanese made the pilgrimage halfway across the world to Paris to watch the great Deep Impact try to win the Arc. They put so much money on him through the tote windows that at one point he was 1-10 on the pari mutuel. And still they backed him. Most of them didn't intend to cash in any winnings anyway – the betting slips were souvenirs. They sobbed when he could only finish a below-par third.
Or Australia. Racing is so central to their culture that Melbourne Cup day is a public holiday. When the remarkable mare Black Caviar was running, Aussie Rules football games were rearranged to avoid clashing with her races, and big screens were regularly erected at other venues to give adoring fans around the country the chance to watch her run.
Certainly horseracing still flourishes in both those jurisdictions (the prize money in Japan dwarfs that of the U.S. – American Pharoah may have won more than $8 million, but that wouldn't break into the top 10 on Japan's all-time list), but less than it did. They are having problems too. Handle is falling, attendances are down, tracks are struggling. The same, of course, is true all across Europe, only more so.
Everywhere there are more and more other ways to lose your money gambling, and all of them providing the providers with a more secure margin than horse racing. Everywhere, every day there are more and more alternative ways to spend your leisure time. Everywhere team sports carry much more appeal to most than individual ones do.
After Saturday, though, I don't believe racehorses are adored anywhere more than they are in the United States.
This is a country where 50,000 people sometimes show up for steeplechase meets where there is no betting. Make no mistake, that wouldn't happen anywhere else. And it's a country where people ring their hands in despair at the thought of ex-racehorses being sold for slaughter on their way into the food chain. Very few elsewhere care one way or another.
It's also the country where 15,000 people missed their breakfasts to watch American Pharoah do a gallop at Saratoga one Friday in August.
It's a level of passion, of pride, of optimism that may just be unique to America. Okay, there are many, many things wrong with U.S. racing - it's a sad, uncoordinated mess organizationally, the public have lost confidence because they think most of the runners are drugged, there are fears that the breed has become weaker, and so on - but you can't tell me it's beyond the wit of America to adapt and innovate and come out the other side with a slicker, healthier product.
That will happen eventually. It's inevitable. There's a vibrant heart beating powerfully at the core of the invalid, and that means it will never die.