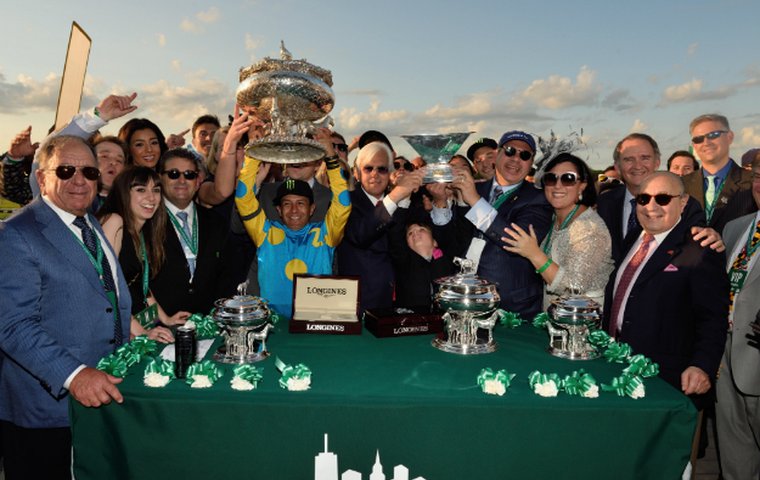 Last year, before California Chrome attempted to complete the Triple Crown, I wrote about whether and how racing could capitalize on his potential success. On Saturday evening, American Pharoah finally ended the drought and provided American racing with its twelfth Triple Crown winner. Although his breeding rights already have been sold, his connections have vowed to keep him in training at least through the end of his 3-year-old season.

In a Sunday morning press conference at Belmont Park, owner Ahmed Zayat elaborated: "Money plays an important factor in this game. I've already sold his breeding rights. But my genuine desire, as a fan, somebody who loves horses, is to race him as long as I possibly could… And with this horse, we owe it to the sport to campaign him properly and as often as we possibly can. This is a pledge that I've got for my family, for the industry, for the racing, and we take it really seriously."
The economics of this game are hard on the racing public. Few would be surprised to see the first Triple Crown winner in 37 years immediately retired to the breeding shed, yet -- at this very early stage -- we are promised something different.
This promise brings me back to California Chrome, who, after amassing legions of loyal fans in the states, has embarked on a world tour, running a credible second in the Dubai World Cup en route to an expected start on turf at Royal Ascot later this month. Chasing success in such venues might be seen as an effort to bolster the stud value of a talented horse with a modest pedigree, but who cares? He's healthy, he's competitive, and he's taken a popular show on the road. Last year's other top 3-year-olds have remained similarly visible on local ovals. On Saturday at Belmont alone 2014 Belmont Stakes winner Tonalist was defeated in the Metropolitan Mile by Honor Code, who had displayed much promise before being sidelined by injury ahead of last year's Kentucky Derby. Wicked Strong, winner of the 2014 Wood Memorial, finished fifth in the Met Mile, and earlier on the card the reigning Travers winner, V.E. Day, was narrowly beaten in the Brooklyn Invitational. Although currently injured, Shared Belief started off his 4-year-old season with two notable victories on the West Coast, including defeating California Chrome in Santa Anita's G2 San Antonio back in February.
These are horses people remember, horses they want to see again, horses we can all appreciate still having around. American Pharoah, having actually completed the Triple Crown, wields even greater box office appeal. It appears that his connections genuinely appreciate this fact.
"We're just going to share him with everybody," Baffert said Sunday. "Everybody wants to get a good look. Trainer Bill Mott came over, he wanted to get an up close and personal look at him, it was really nice…I remember going to Bill Mott's barn; I wanted to see Cigar up close. Even as trainers we still are in awe of the superstars of our sport, so it was really neat this morning to be able to share this horse with everybody else. Me, as a fan, I know when I started training Thoroughbreds I loved to go see the good horses up close, and that's what this horse is all about."
A full day has not yet elapsed since America witnessed its most recent Triple Crown, but racing has a way of quickly turning the page following defeats and victories. American Pharoah's future exploits are only imagined at the moment, but that his connections encourage us to imagine them? It's a start.