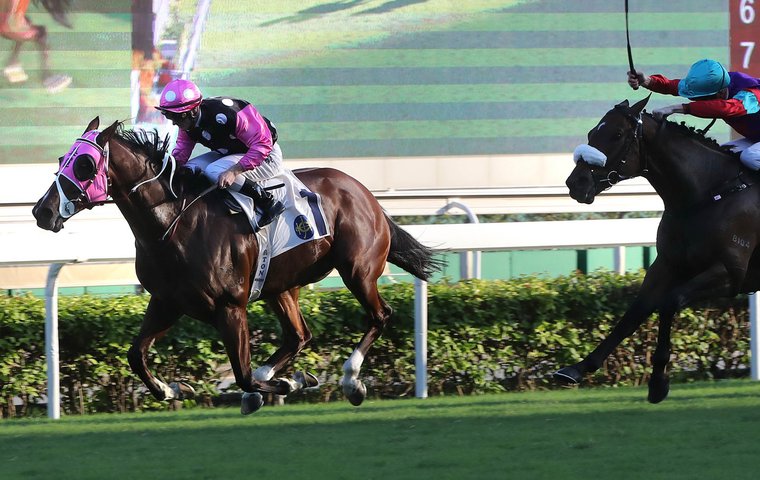 Since TRC Global Rankings began in 2011, a total of 42,080 horses have run in global Group/Graded races included in our numbers. That is a staggering amount, but it is less amazing than the fact that one of those horses won 35 times.

That mare, of course, is the mighty Winx, who ran 41 times in counting races between 2014 and 2019 and was the winner of 25 G1s in Australia. Yet, in terms of greatness, it can be disputed that Black Caviar is at least her equal, especially as the start of her career predates our rankings window and she was unbeaten in a further five Group races in addition to the 17 we have on record.
The details of the top 51 runners by Group/Graded wins appears in the table below, counting only races since 2011 that qualify. We include details of their modal (most common) distance, surface and the country in which they most often appeared. We will soon be publishing rankings of horses in addition to those for sires, jockeys, trainers and owners that already appear every week.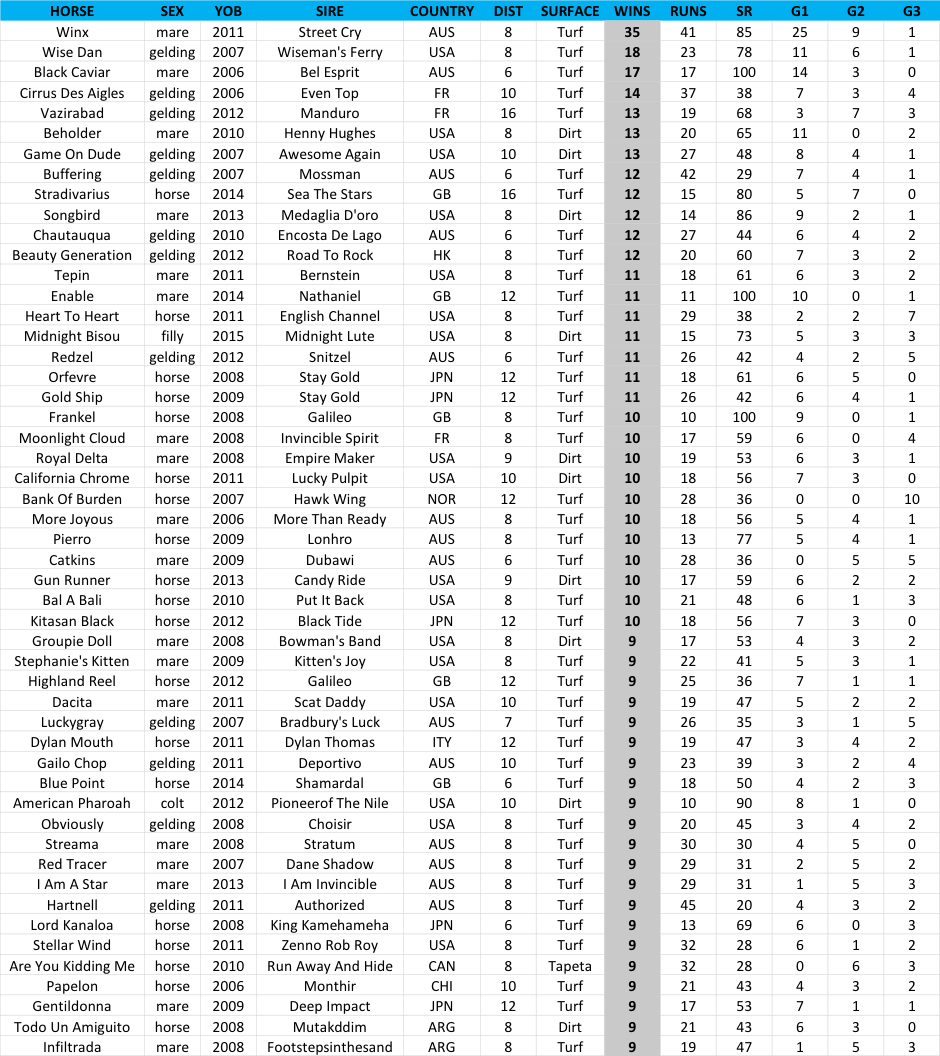 Scanning down the list is a reminder of how fortunate it is to be a fan of racing in the modern era.
Like Black Caviar, the career of Frankel started before our rankings and we have only the final ten outings of his contained in our classifications. As a result, he won't be included in our horse rankings when they appear, but needless to say he would have been #1 in any era. At least we can track his stallion career, which so far is almost as peerless as his race record.
There are too many notable horses in the list to provide commentary here, but it is interesting to use the SR (strike rate) column as a reminder of which were unbeaten (at least in the 2011- window) in Group/Graded races, and after Black Caviar the eye alights on the horse we consider to be the greatest running around at the moment, dual Arc winner Enable (whose only defeat came in a conditions event at Newbury second time out).
Of course, an unbeaten record is not everything. International competition nowadays is such that horses face different levels of competition, and different challenges to their resilience in shipping to major races in different countries, continents and even hemispheres. One can only marvel at the buccaneering exploits of horses whose connections have embraced this challenge. That said, we don't believe for one second that greatness depends on this, as some have said.
As science and technology have advanced, so the co-mingling of the greatest Thoroughbreds on the planet has increased in lockstep. The maths that powers TRC Global Rankings depends on sufficient connections being made between the disparate pockets of racehorse talent around the world, and we go to an endless degree to make our classifications so-called 'context neutral'. In other words, by principled computation we attempt to remove the advantages some horses have from greater opportunity in countries like the U.S. and Australia, where top-level races proliferate, but we also try to augment the record of those with sparser opportunity or who must overcome a greater level of competition.
But that last consideration is not entirely straightforward.
Take the Hong Kong superstar Beauty Generation, for instance. It is the author's personal belief that this amazing animal pushes the envelope of what the equine athlete can achieve to the very limit. However, he just hasn't had the kind of competition needed to demonstrate the zenith of his capabilities. The clock tells us that what he is achieving has extraordinary merit and he is a joy to watch, even from thousands of miles away.
So, what is greatness in the racehorse? Well, of course, that comes down to semantics. An attempt can be made to quantify this property, so long as the criteria that drive the assessment are stipulated. We will be attempting to do just that in the weeks to come.