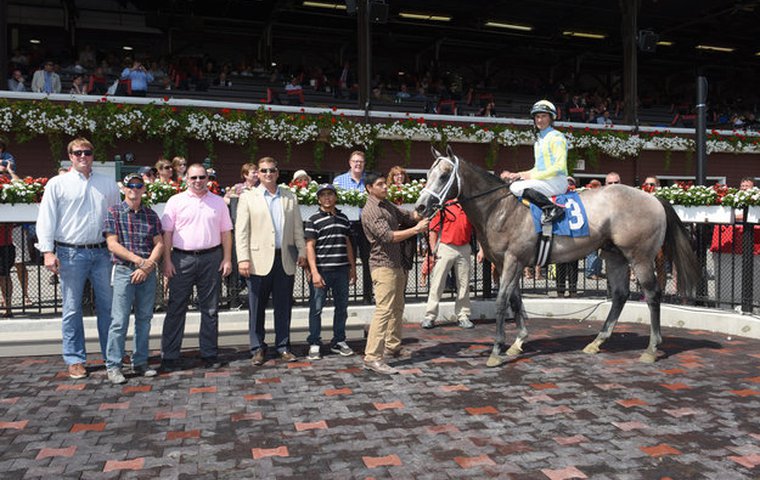 Owner Matt Schera recalls a time when he was a teenager and couldn't help notice the ever-growing, towering stack of Daily Racing Forms belonging to his mother.



"It was about four-feet high," Schera said on a recent afternoon at Saratoga Race Course.
Today, the 40-year-old hedge fund trader from Connecticut is amassing a large collection of his own — but his racing obsession is of the bigger variety. Schera, who bought his first horse in 2013, currently owns 77 Thoroughbreds.
While growing up in Pennsylvania, not far from Penn National Race Course, Schera caught the racing bug from his mom, who had no direct ties to the sport but rather was a fan of handicapping and going to the races.
"I started looking at the charts in the Racing Form and seeing who won," Schera said. "Then, I started to figure out how to handicap. I began going to the track when I was 18."
Two years ago, through a work acquaintance, Schera met owner Jake Ballis. Together they bought a couple of horses at that year's Fasig-Tipton Saratoga sale of selected yearlings.
"But I realized, probably a month later, this isn't fun if I'm not racing anything right away," Schera said. "The night of the sale, I met a trainer, James [Chuck] Lawrence, who was a really nice guy. I called Chuck a few weeks later and we talked, and I told him I wanted to get a horse who could run sooner than the yearlings I bought."
That horse turned out to be Waynesborough, who Schera purchased privately on the advice of Lawrence. In his first start, the Lawrence-trained Waynesborough finished second at Penn National on Sept. 21, 2013. Soon after, Schera, again on the advice of Lawrence, bought Street Slang from a horses-of-racing-age sale in Saratoga. In November that year, at Parx Racing, Street Slang became the owner's first winner.
Lawrence, who is based at the Fair Hill Training Center in Maryland, currently trains 28 horses for Schera. He also serves as an advisor to Schera at horse sales, and was part of the team that earmarked the four horses the owner bought at this year's Fasig-Tipton Saratoga sale of selected yearlings.
"Matt has been a big boost to my stable," said Lawrence, a former two-time champion steeplechase jockey. "He has so much enthusiasm for the game. For someone who has just been in the game a few years, he's done a lot better than some people who have been in it 20."
Schera runners have won nearly $3 million in purses since Waynesborough got things going two years ago.
The owner has sprinkled his wealth of horse stock, which runs the gamut from graded winners to claimers, among several New York-based trainers as well, including Abigail Adsit, Carlos Martin, Bill Mott, Todd Pletcher, and George Weaver.
Schera's first graded winner was the Pletcher-trained Race Day, who won this year's G3 Razorback Handicap at Oaklawn Park, which the colt followed with a victory in the G2 Oaklawn Handicap. The owner's most recent stakes winner, Syntax, won the G3 Kent Stakes at Delaware Park in July for Mott.
There is a reason that many of Schera's horses have weather-related names: Cyclogenisis, Isotherm, and La Nina, to name a few.
"I started my career as a meteorologist," Schera explained. "I went to Penn State and got my degree in atmospheric sciences. I'm such a weather geek."
"For two years, I was with a company called AccuWeather, working with television weather personalities, doing newspaper forecasts, and warning clients of storms," he continued. "I then got a job at an energy company, where they traded national gas, power, and weather derivatives. From there, I met another trader and we moved to Connecticut together and started working at a hedge fund as a team. We've been there almost 10 years now."
Schera admits the size of his equine holdings, combined with the fact they were acquired so quickly, does cause him anxiety at times. But ultimately, Schera said, he can't help himself.
"I'm totally nervous; very nervous about it," he said. "When I started, my friends joked around, because they know I go all-in on things. They said, 'You're going to have 20 horses before you know it.' I said, 'No way, I will never have that many.' Then they would say, 'You're going to have 30 horses.' And I would say, 'No, I'm done. I'm not buying another horse.'"
He added: "At the yearling sale, the other night in Saratoga, I promised myself, I'm just here to look. I'm not buying anything. And then I saw a couple I fell in love with …"
Schera didn't finish the sentence, but instead turned his gaze to the sky. Whether he was pondering his next equine purchase, or checking for rain, was anybody's guess.