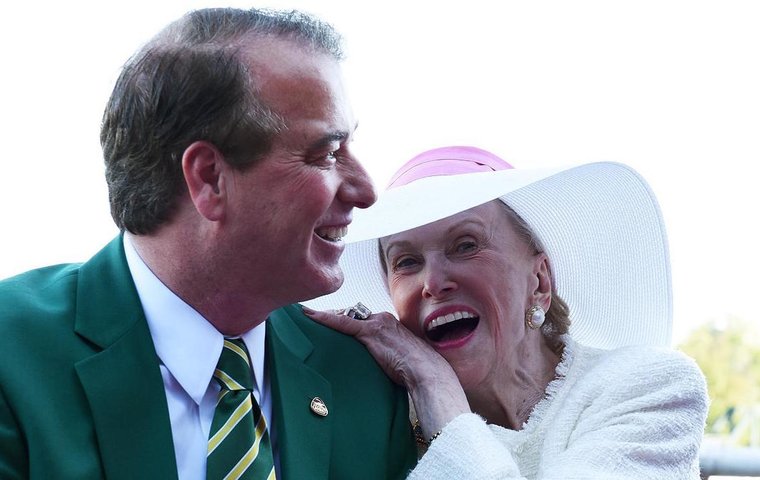 On Friday afternoon (July 19), I was sitting in the Saratoga Clubhouse seats when Larry Collmus, the track announcer, stated that Marylou Whitney had passed away earlier that day.

There was an elegant photograph of Marylou and John Hendrickson on all of the infield screens and televisions throughout the track. Larry spoke briefly about how important Marylou's legacy had been for the Saratoga community and throughout the Thoroughbred racing industry.
He then asked all patrons to observe a moment's silence, and after that most people in the stands stood and applauded in recognition of how beloved and important Marylou Whitney was to the Saratoga and Thoroughbred racing communities. This was a true, heartfelt recognition of their collective appreciation for Marylou's many contributions.
As one would imagine, a tremendous outpouring of appreciation of Marylou's long and fascinating life appeared across the media: television, radio, newspapers and social media. Click here to read Enid Nemy's obituary in the New York Times on July 19.
Marylou's husband of many years, CV Whitney, was one of the leading owners of his generation. Not wanting to burden his wife, he dispersed his racing and breeding stock in the late 1980s in advance of his death in 1992. Marylou had played a role in the Thoroughbred racing and breeding operation, and after Whitney's death she spent a substantial amount of time and money trying to buy back a number of the 'Whitney Mares'.
Fortuitous timing
During the time that she was buying a broodmare band to start a new racing operation, she met and fell in love with John Hendrickson, a young tennis champion and a former aide to Governor Walter Hickel of Alaska. Hendrickson proposed to Marylou at Buckingham Palace, and they were married in October 1997.
The timing of the wedding was fortuitous for the racing industry as Marylou was in the process of assembling a broodmare band of 14 mares and retained the services of Nick Zito, a top-notch New York trainer who would subsequently be elected to the Hall of Fame in 2005.
While Hendrickson did not have a background in Thoroughbred racing and breeding, he worked very closely with Zito, who researched the pedigrees and matched stallions to the 'new' Whitney broodmare band. The operation runs under the name Marylou Whitney Stables.
But make no mistake, Marylou was actively involved in the racing operation. She had remembered a race mare named Hush Dear, who had been successful as a runner and a broodmare for CV Whitney. Marylou went in search of a daughter of Hush Dear, Dear Birdie, who happened to reside at a farm near the Whitney farm in Lexington, and they were able to purchase Dear Birdie for $50,000.
In 1999, the team bred Dear Birdie to first-year sire Cape Town, who produced a filly in 2000, which they named Birdtown. She went on at three to be a multiple G1 winner - of the Kentucky Oaks at Churchill Downs and the Acorn Stakes at Belmont Park.
As remarkable as this achievement was, even more impressive things were to come.
In 2000, the team bred Dear Birdie to the Kentucky Derby winner, Grindstone, who produced a colt in 2001. This was Birdstone, who captured the prestigious G1 Champagne Stakes as a 2-year-old in the fall of 2003. He came back as a 3-year-old to win the Belmont Stakes at 36/1, beating Smarty Jones, who was trying to sweep the Triple Crown.
Here is an excerpt from an article that Tom Pedulla did for NYRA to promote the 150th anniversary of the Belmont Stakes. This is Marylou speaking …
"Birdstone was always special to me. I used to go to the foaling barn every night. It was one of my favorite things to do. There is nothing like seeing a new life come into the world. You feel so alive. I was there when Birdstone was born …"
Later in describing the race, Marylou said, "Everyone was cheering for Smarty Jones when he led turning for home. I never heard so much noise. Birdstone was the only horse with a chance to catch him. He was gaining on him all the time - and then he swept past him. It was a wonderful race. You get into racing for races like that.
"I almost fainted. I couldn't believe it … I apologized to Mrs [Patricia] Chapman [owner of homebred Smarty Jones with her husband, Roy]. She was a wonderful lady. "I'm sorry we beat you," I told her. Edgar Prado apologized and told reporters that he was just doing his job. Mrs Chapman was very gracious. "You had the best horse," she said. "You deserved to win."
Sweet Travers victory
As good as the Belmont Stakes win was, I have to believe that the subsequent win in the Travers was even sweeter. It was, after all, the Travers Stakes, the Summertime Derby on the home track, Saratoga Race Course. Once again, Birdstone was not the betting favorite and went off as the fourth choice at 5/1. These wins were both the first wins for Nick Zito of the Travers and the Belmont Stakes, although Nick had finished second in the Belmont Stakes a remarkable five times. Marylou Whitney Stables remains active as it had 47 starters in 2017 and 50 starters in 2018.
For decades, one of the highlights of the Saratoga Springs social calendar was the black-tie Whitney Gala Ball held the night before the Whitney Stakes. In 2011, John and Marylou made the decision to discontinue the gala and to direct their efforts and resources to a more charitable cause, the Backstretch Appreciation, run in cooperation with the Backstretch Employee Services Team (BEST).
The Backstretch Appreciation Program was started in 2008 by John Hendrickson and Marylou Whitney with support from BEST and their executive director, Paul Ruchames. I was working at NYRA at the time, and I can tell you that there is no other program at a racetrack in America that provides these amenities and services for the backstretch workers.
The couple funded this all along with their own significant contributions, as well as donations from a group of breeding farms and horse owners. As Hendrickson told Lenny Schulman of The Blood-Horse in July 2017, "We are honored to be involved with this.
"We wanted to change the way we interact with backstretch workers. It's had a great impact, and it couldn't be done without all the donors and hundreds of volunteers. Everyone wants to contribute. It takes hundreds of thousands of dollars to put it on each year, and not one penny has ever been paid for administration or salaries. It's all for food and fun."
Subtle lessons
Marylou was very direct in a separate statement: "I would rather take the money it cost me to have the gala and spend it on the backstretch."
The program is truly remarkable. For example, every Sunday evening during the race meet, there is a catered sit-down dinner from some of the best restaurants in the Saratoga region that serves in excess of 1,000 backstretch workers.
Monday is normally a sponsored soccer game in cooperation with the Race Track Chaplaincy of America. Tuesday is reserved for bingo games with great prizes that have often been called by former NYRA announcer Tom Durkin. During the rest of the week, there are movies in both Spanish and English, language classes in English and Spanish, a Karaoke singing contest and bowling night, plus basketball and billiards tournaments and more.
There are more subtle lessons we can learn from John and Marylou. Perhaps, the most important thing I have learned about operating a racetrack is that there are a tremendous number of inter-dependencies that must be in place and working for the enterprise to thrive. For example, there are no races if there are no horses to run, which requires jockeys, veterinarians, stewards, trainers, owners, breeders, backstretch workers and track employees.
There would be no betting without betting customers, mutuel clerks, technicians, IT experts, etc. There would be no racing without a properly run track management team and operations staff. There needs to be communication and respect between all the participating racing and community constituents.
One event that Marylou and now Hendrickson hosts is the Saratoga Race Course Opening Day Luncheon, which was unable to take place this year due to the early opening of the meet. As a NYRA executive, I was always invited to attend this celebratory event, along with people invited on behalf of local businesses, Saratoga city county and state officials, breeders, owners, media members and racetrack customers.
Of course, the food is always good and the venue aesthetically appealing. However, I have come to understand that, in an industry with so much complexity and so many moving parts, the development of trust, communication and respect is essential. Events such as this luncheon truly help develop collaboration, respect and goodwill among stakeholders.
Clearly the couple were way ahead of me in comprehending these important points.
Finally, we are all going to miss Marylou. We should be thankful for all of the good things she brought into so many lives.
The good news is that we have John Hendrickson taking part in our industry and contributing leadership for our community and the racing industry. I had the great pleasure of working with Hendrickson as a NYRA executive and fellow board member. He was forceful, fair and sincere. However, we did lose a strong advocate for the community and the racing industry in June, 2016, when he resigned his post as Governor Andrew Cuomo's Advisor to the New York Racing Association Board of Directors.
Justified resignation
As Maureen Lewi, Chair of the Concerned Citizens for Saratoga Racing stated at that time:
"His resignation leaves a significant void. John is one of only a few notable figures who speaks the truth despite any personal consequences. He is one of the most vocal advocates for Saratoga and our state's Thoroughbred racing industry. He has certainly not been shy about publicly stating his differences with NYRA, the administration or anyone else."
Hendrickson was completely justified in his decision to resign for at least two reasons. If your boss was not listening to any of your advice and if your boss had not visited a NYRA racetrack to watch a NYRA race in the five-plus years he had held his position, there would be no reason to stay in your position.
Click here for an insightful opinion on Hendrickson's resignation from Tom Noonan, a lawyer, horse owner, breeder and bettor, a student of the business of Thoroughbred racing, and an expert on state politics of New York racing.
Fortunately, Hendrickson still has an active, high-profile management position in Thoroughbred racing and breeding. In August 2017, he was elected as President of the National Museum of Racing and Hall of Fame in Saratoga Springs. He has undertaken a number of new initiatives there, the most significant of which is a $20 million capital campaign for a new multi-screen theater in the round.