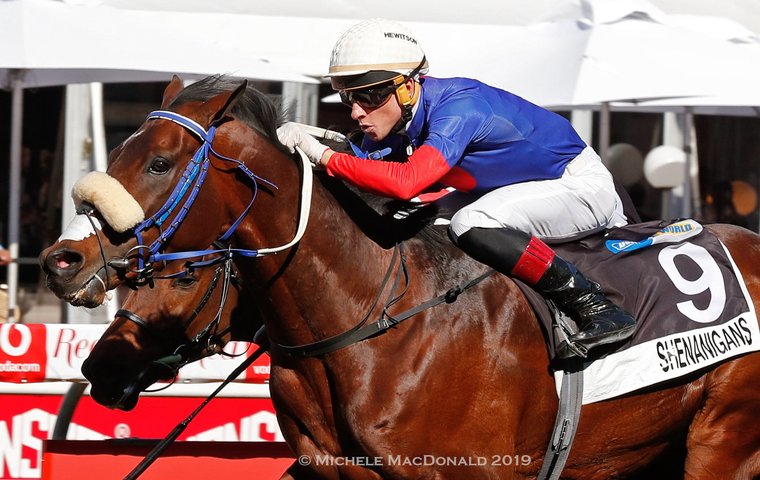 As the African winter sky faded from indigo to black while the cloak of evening settled, Lyle Hewitson stood near the Greyville Racecourse paddock, his smile brighter than the glaring track lights.

He had just finished riding in 11 of the 12 races on the prestigious Durban July Handicap program, winning three stakes, including the Grade 1 Garden Province on Gainesway Farm owner Antony Beck's Celtic Sea, but he wasn't in any hurry to leave. Instead, he continued enthusiastically greeting friends and well-wishers — and looking ahead to his future.
At age 21, before many people have even decided on a career, Hewitson has broken records already and earned multiple jockey championship titles in his native South Africa. And now he is aiming to make his mark on the rest of the world, beginning with a six-month contract to ride in Hong Kong.
With his upbeat personality, keen competitiveness and a natural ability that allows him, as he says, to get along with most any horse in the mad rush of competition, his hands and balance light and encouraging, there appears to be no stopping him.
"There is nothing like horse racing and being a jockey. I've got such an exciting career," Hewitson said with an earnest friendliness and poise. "It's a dream come true to go to Hong Kong, and I'll stay as long as I possibly can and then we'll see where things go.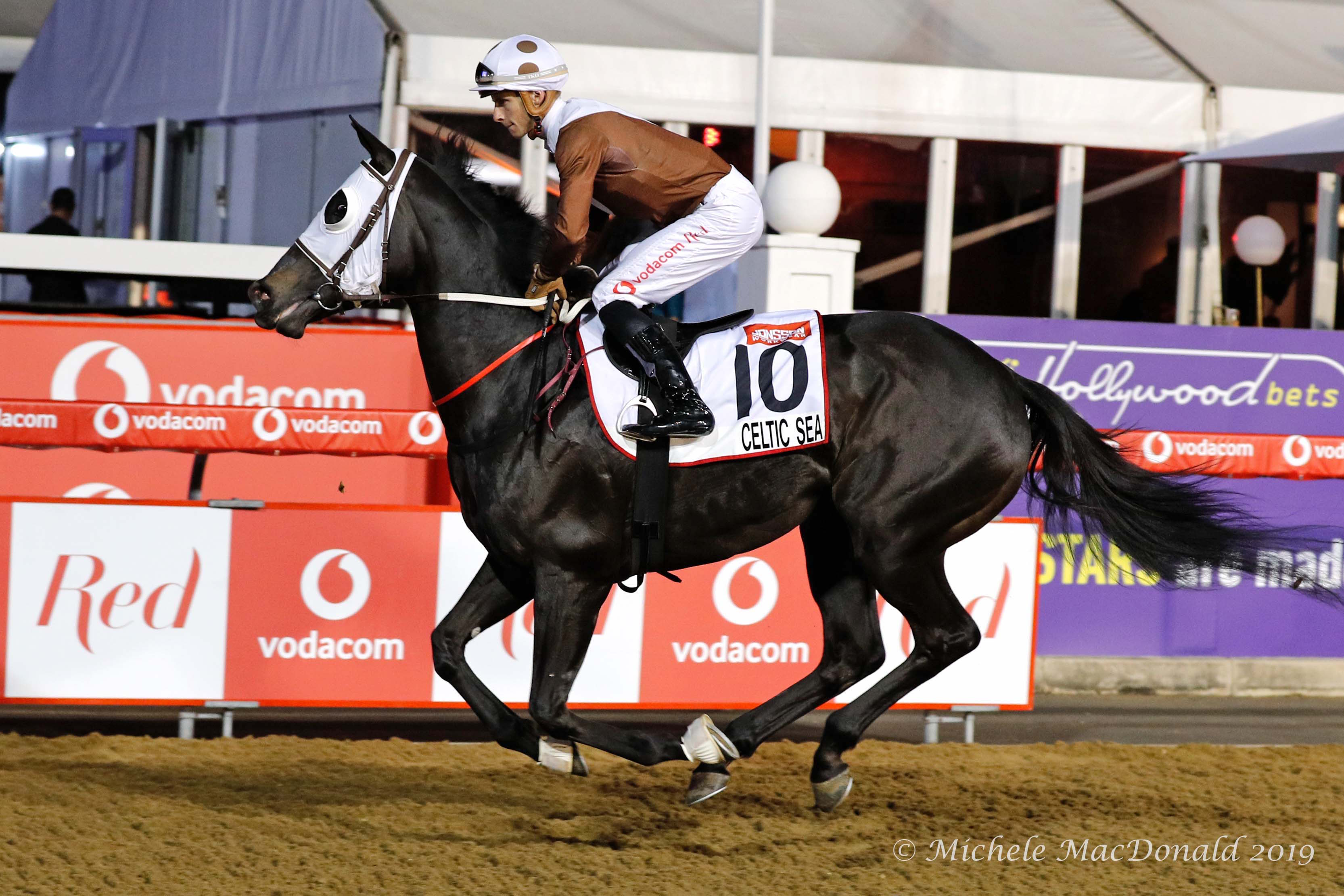 "I think having the exposure from Hong Kong will set the platform for me to go and achieve," he added, mentioning the booming vibrance of the sport in Australia and the glamour of globally prominent festivals such as Royal Ascot. "Not necessarily to leave Hong Kong, but since I will be exposed to the international stage, maybe one day I can go and ride in other top events too."
Hewitson, who flew to Hong Kong mid-August and soon began working horses for trainer Tony Millard to prepare for the 2019-20 racing season that opens on Sunday (September 1) at Sha Tin, is attempting to take up the mantle of other South African jockeys who changed history in Hong Kong racing.
Douglas Whyte, known as the 'Durban Demon', captured 13 consecutive Hong Kong leading rider titles extending through the 2012-13 season, while Felix 'The Cat' Coetzee soared into legend with his rides on Silent Witness, the Hong Kong champion who was rated the world's top sprinter for three seasons.
Hewitson began dreaming about blazing his own path in Hong Kong while still a teenager, just before he was officially crowned South Africa's champion apprentice for the first time after the 2016-17 season.
"I really hope I can end up in Hong Kong as soon as possible. If that opportunity comes along, I'll definitely take it with both hands," he told international journalists while speaking during an impromptu session arranged so he could gain media experience and so racing writers could be introduced to the budding phenom.
At that time, Hewitson acknowledged how difficult it would be to ride against the likes of Zac Purton and Joao Moreira and said he imagined he would stay briefly in Hong Kong at first and return to South Africa to gain confidence while seeking a jockey championship in his homeland.
Since then, however, Hewitson proceeded first to obliterate the all-time South African record for wins by an apprentice jockey with 285 in three years, surpassing the marks of Gavin Lerena, set in 2007, and Michael Roberts, who had previously held the standard for almost 40 years. Both Lerena and Roberts had achieved their records of 284 and 260 wins, respectively, while serving apprenticeships for approximately five years.
By the end of the 2017-18 season, Hewitson had reached another pinnacle, becoming the first rider since Gerald Turner in the 1960s to win South Africa's champion jockey title while still an apprentice. Roberts, who would be champion jockey in the UK in 1992, had achieved in similar fashion, but had lost his apprenticeship before the conclusion of his own banner year in 1972-73.
For his distinctive feat, Hewitson earned a special Equus Award to go along with his trophies as champion apprentice for the second consecutive year and overall champion jockey.
Before departing for Hong Kong, Hewitson earned yet another Equus Award as South Africa's champion rider of 2018-19 with 219 wins from 1,560 mounts — even after spending two months on the sidelines due to injury. Thus, he is far ahead already of where he thought he might be two years ago, when he envisioned just a short initial stint in Hong Kong before a more competitive return later. He is the second youngest jockey the TRC Global Jockeys' Rankings top 100, just nine months older than Aidan O'Brien's son Donnacha.
Ultimate objective
Hewitson's ultimate objective remains the same, however.
"My biggest goal in terms of my riding career is not just to compete in Hong Kong but to top the logs," he said at the time, which may have seemed bold at the moment but now could be just a predictable continuation of his upward trajectory.
While Hewitson radiates an amiable confidence, he frequently uses words like 'fortunate' and 'grateful' in talking about how far he has journeyed in his profession at such a young age and how much he appreciates those who have helped him along the way.
"Truly blessed and very humbled to achieve champion jockey of South Africa for the second consecutive year," he wrote recently on his social media accounts. "Thank you to my family, friends, colleagues, Avontuur [Estate, the vineyard and Thoroughbred breeding farm that sponsored him] and the public for the invaluable support. Thank you to each and every trainer, owner, work rider and groom that played a role and helped to make this possible.
"Last but not least, well done and thank you to the amazing horses we are lucky enough to ride day in and day out."
Hewitson has frequently stated that he is fueled by an abiding passion for horses and racing. In many respects, he was born to be a jockey as his father, British-born Carl Hewitson, was a professional jockey, and his mother, Samantha, is a polocrosse player who also rode in amateur races.
For virtually as long as he can remember, Lyle Hewitson wanted to be around horses.
"I could never feel nervous of horses. From a very young age I would go down to the stables and spend time with them," he told a South African newspaper last year, recalling that, when he was ten, his mother's favorite horse at the time suffered a bout of colic, and he insisted on staying in the barn.
"I refused to go. I didn't want to leave, and I slept in the stable with the horse," Hewitson related.
At about the same time, he began riding Thoroughbreds in morning training while under the diligent tutelage of his father, who upon retirement as a jockey had become assistant trainer for Yvette Bremner, based in Port Elizabeth in the Eastern Cape.
"He taught me to ride racehorses. The first time I ever did pace work upsides, I was 11 years old and I nearly put him over the bank," Lyle Hewitson related to the Sporting Post. "He had all the attributes to be a great rider, which he's passed on to me and touched up where he might have gone wrong. He's not just a great rider, he's a horseman as well, and I've learnt a lot. He's my number one supporter, but I'm truly grateful to be his number one student."
Although Hewitson's parents divorced, they both supported his hopes to become involved in racing. He spent his holidays and whatever other time he could working racehorses with his father, although staying primarily with his mother in Ballito, which is north of Durban in KwaZulu-Natal province.
While other aspiring jockeys generally join the famed South African Jockey Academy in Summerveld, on the outskirts of Durban, around age 14 Hewitson came to an agreement with his parents that he would finish his high-school education at nearby Kearsney College. He graduated in 2015 with five As and awards for excellence in cricket and hockey.
During the time he was studying and getting good grades and playing sports with friends, Hewitson continued to exercise racehorses, and he became a licensed work rider before joining a program in which exercise riders can compete in races organized for them to polish their skills.
He recorded his first winner in this amateur competition with his second mount when just 15 in October 2013, and he began traveling to Johannesburg to ride since there were more amateur races conducted there than in Durban.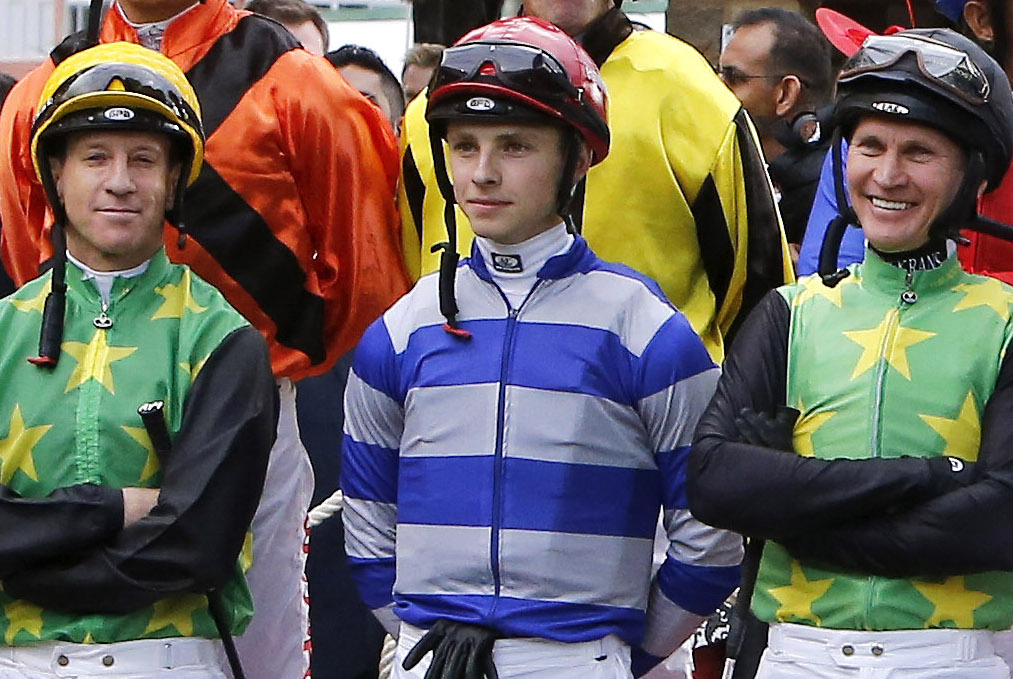 Hewitson achieved top rank in the 2014 season for work riders and followed up by winning a special challenge series the following year while also completing his exams for graduation.
He won 23 of his 88 races in the work rider program, but just as importantly Hewitson boldly forged a link with Sean Tarry, the at-times formidably serious and goal-focused trainer who has ruled as South Africa's leader among his peers in four of the past five seasons.
Hewitson recalled that he persevered after his first message to Tarry went unanswered. When he reached the trainer on his second attempt, Tarry agreed to put him on a horse, albeit one with little aptitude, and he gave strict instructions about what the young rider should do.
When Hewitson followed his guidance to the letter, Tarry praised him and said he could call him for more rides in the future — and a partnership that would lead to many significant wins began to take shape.
"He's very hard to work for, but not in a bad way. He's a sheer professional — he wants everything to go according to plan. And he's such a top trainer and everything is planned out so well," Hewitson said when nearing his first apprentice jockey title. "It goes from when you work up to the races. He wants you to follow your instructions and your gallops to be timed perfectly.
"And you can't be a minute late for work either," Hewitson added with a guilty laugh. "At the start of the season, he said, 'Are you going to work here? Or are you going to only take one or two horses (for morning work)? If you want to be part of the team, I'm going to work you.' I came late once or twice and he said, 'Boy, I'm doing my part. You'd better do your part.' It's that serious.
Huge influence
"With saying that, he's been a huge influence in my career and he's lovely to work for, and I put up with it. He's a top trainer with top horses," Hewitson said, smiling, while always respectfully referring to his employer as "Mr Tarry."
Tarry's influence on Hewitson has been clearly evidenced ever since the rider entered the South African Jockey Academy in January 2016. Hewitson has become known for his detail-oriented approach to race-riding, dutifully studying every mount's past performances for each race and then reviewing any mishaps in the aftermath.
"Success makes you feel good, but learning from your mistakes is what makes you good," Hewitson has said.
Since he had graduated from high school already, Hewitson and the academy agreed to a special three-year program in which he would be linked to the school — which has produced the likes of Whyte, Coetzee, Lerena, Roberts and other South African champion riders, including Anthony Delpech, Anton Marcus, Jeff Lloyd and Pierre Strydom — rather than the standard five-year plan.
During that time, part of Hewitson's income went back to the academy in the typical arrangement it has with its apprentices as the staff provided him expert coaching and advisory services, but, in this case, often there were extraordinary — and sometimes even storybook — results.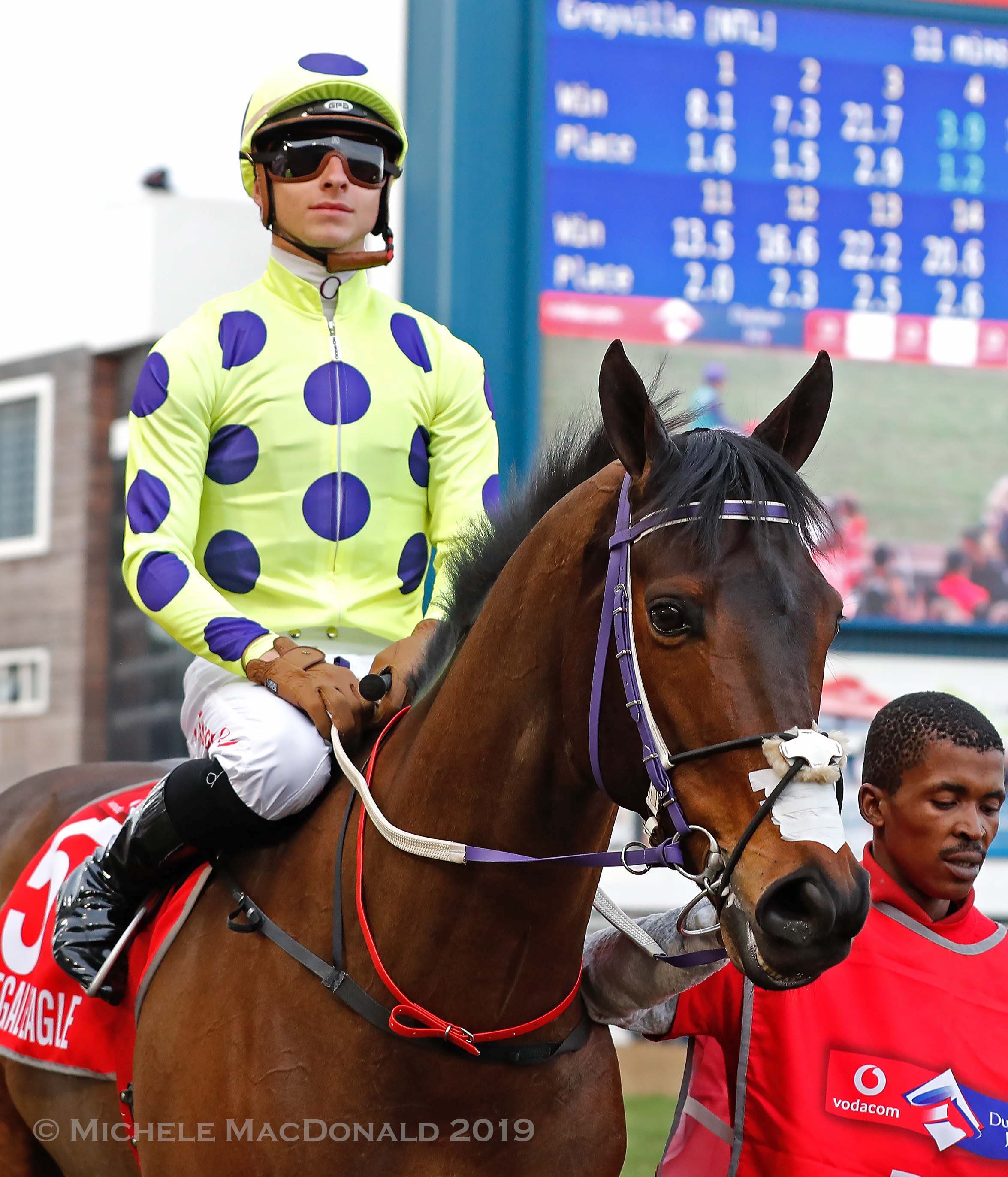 Hewitson won his first race as a professional on March 18, 2016, while piloting Blizzard Belle at Fairview Racecourse in Port Elizabeth. The Western Winter mare was co-owned by his father and trained by Bremner, who the jockey said has been like a 'second mother' to him.
At age 18, Hewitson earned his first mount in South Africa's most famous race, the Durban July, taking the ride on Dynamic from another of the nation's most accomplished trainers, Justin Snaith. Even though they would not win, headlines in one local publication described his participation as a "very special achievement" and referred to Hewitson as "the boy jockey of the Durban July".
When he broke the record for wins by an apprentice, Hewitson scored on the Tarry-trained Shenanigans, a son of Dynasty owned by champion South African owner Chris van Niekerk. Hewitson teamed with Shenanigans again this summer when gaining the first stakes win for the horse in the Grade 3 Betting World 2200 on the Durban July program.
Tarry and Hewitson have combined with other winners that neither will forget. Hewitson rode Flash Burn to be Tarry's 2,000th career winner as a trainer in February at Turffontein, and last December steered Tilbury Fort to victory in the Summer Cup at the same track, marking Tarry's 50th Grade 1 score.
Another major assistance in the development of Hewitson's career came from former three-time South African champion jockey Delpech, prior to his retirement earlier this year. After Hewitson met Delpech's son, Damon, at Kearsney, the veteran jockey helped him refine his style.
Common ground with Dettori
"I used to mould my style around his, and as soon as I got comfortable, I sort of made my own style. Anthony has been a big influence," Hewitson said.
"And I must say Frankie Dettori is someone overseas that I really admire," he continued. "I might not have his flamboyancy in terms of character, but I really enjoy how he rides and the passion he has, and I think that's probably where we have common ground, a passion for racing. Between Anthony and Frankie, those are two top riders. And I couldn't leave out Joao Moreira, but he's hard to emulate. They are all great people."
Hewitson, who is a shade over five feet four inches tall and can ride at about 115 pounds, says his own greatest strength may lie in his ability to handle any type of scenario or horse.
"I'm pretty versatile in terms of riding off [the pace] or from in front or from the middle of the pack. I don't think I've become someone who is better from here or from there," he said. "And one of my assets is that I'm able to get along with any horse, which is kind of how my style has developed."
Since Tarry has emphasized getting horses to relax after breaking from the gate, Hewitson said he also has concentrated on this tactic while seeking a favorable position and reserving enough energy for a strong finish.
A degree of controversy
Not everything has unfolded for Hewitson without some degree of controversy, however. He had to fend off a stiff challenge from veteran rider Muzi Yeni that turned a bit ugly in order to win the champion jockey title for the just-completed season.
The two riders and their mounts tangled, bumping repeatedly, during a race at Greyville near the end of the season, and Yeni appeared to elbow Hewitson. Yeni — who also claimed it was unfair for an earlier suspension imposed on Hewitson to be postponed (as is customary under South African procedures) — ultimately was suspended for 90 days for the Greyville incident.
For his part, Hewitson typically maintains a sunny demeanor. His manner is such that it seems impossible for anyone — horse or human — not to find hm appealing, and even when cameras are focused tightly on him before big races, when stress can be high, often he is seen smiling and riding with his reins loose.
"Beyond his extraordinary natural ability in the saddle, Lyle's most endearing characteristic is his humility. He has made us so proud … With his academic ability, he could have pursued any career, and it was a very brave choice choosing the tough life of a jockey," declared Avontuur General Manager Pippa Mickleburgh.
While he clearly relishes his life, Hewitson knows that venturing to the high-stakes world of Hong Kong racing will ramp up the challenges and competition. But he takes his passion, personality and professionalism with him, qualities that could carry him far on what could become a global ride to glory, along with 609 career winners to date from 4,879 races.
Meteoric ascension
Acknowledging that there is a large degree of luck involved in breaking through in the Hong Kong system, Hewitson pointed out, as his own harshest critic of his riding, that he feels he has come a long way in just the last year, improving both physically and mentally in the practice of his craft.
With a personal best number of seasonal winners (219) as well as his highest seasonal win strike rate from rides to date (14 percent), Hewitson finds confirmation of that assessment in his statistics.
He also knows that his outgoing, pleasant nature, fortified by the public speaking course he took at the jockey academy, will be at least as important in navigating the new jurisdiction as it has been in South Africa.
"From learning to be confident in yourself, your judgment, your public speaking, your manners — I think half of the good rides I've had are not because I'm a good rider but because I speak well," Hewitson said.
He is also a realist.
"Like most sports, just as quick as racing can pick you up today, it can drop you down tomorrow. A pat on the back this morning, can be a stab in the back this afternoon," Hewitson told the Sporting Post last year. "I'm lucky to have grown up in a family that was involved in racing and that taught me the right principles. I try and apply those every day.
"Nothing that is worthwhile in life is ever easy. One has to remember that every day, I think," he said.
Despite that wise nod to the rigors of racing and life in general, Hewitson knows that his own meteoric ascension as a jockey with all the potential to become a star worldwide has been remarkable so far — and, considering his youth, his ride is just beginning.
"You can't set out to achieve these sorts of things. I think I've just got to realize that I am very fortunate. I am grateful for everything," he said. "It's been an amazing journey and I just hope the upward spiral keeps continuing."