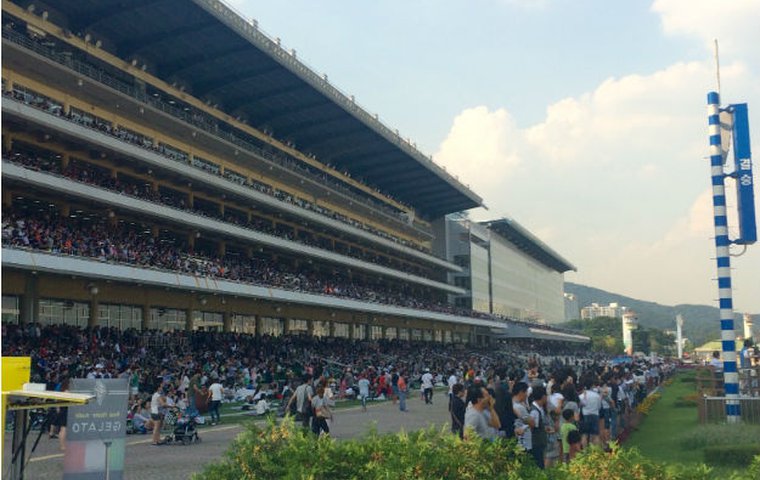 MARCH 1, 2019 NOTE: The impressive 9½-length victory of the South Korean 5-year-old Dolkong in the listed $160,000 Curlin Handicap on the dirt at Meydan yesterday is a good opportunity to remind readers of this article about the astonishing progress being made in Thoroughbred racing in that country. The details were current in January 2016.

South Korea already has the third highest average purse money of any jurisdiction in the world - at around $76,000 per race.

About $7 billion are wagered annually on racing alone - putting it seventh in the world, even though it has only three racetracks.

It stages a $1 million race this September, and this month it has sent two of its horses to compete on the international stage at the Dubai Carnival.

But that's just the start. South Korea has every intention of becoming a frontline racing nation very, very soon - and is going about it in impressive fashion, as Katherine Ford found out.
----------
"Three years ago, our racing in Korea had three lengths to make up on the rest of the world. Today we have two lengths to catch up, and maybe in five years we will be just one length, or even a nose away …"
Dr Seungho Ryu was speaking last August, on the day Seoul Racecourse hosted raiders from Singapore and Japan for the Asian Challenge Cup. The Korean Racing Authority's (KRA) Race Planning, International Relations and International Racing manager is on a mission to see South Korea recognised on the world racing stage and, if recent events are anything to go by, the country may well be figuring very prominently in the global racing stakes in five years' time.
On the opening day of the Meydan Carnival earlier this month, the participation of Cheongu caused a minor sensation on racing's international Twittersphere.
The American-bred colt made history by becoming the first South Korean-trained horse to race in Dubai. The buzz was quieter after the race, as the 4-year-old finished fifth of eight, beaten seven lengths after a slow start and shedding a front shoe. But these seven lengths represent a significant performance in Seungho Ryu's virtual international race.
The fact that two horses, Cheongu and the South Korean-bred Success Story, were accepted for the carnival and allowed to travel represents a major victory for the KRA. Ryu, a qualified vet who is universally known as "Batman", worked for two years to establish quarantine protocols with Dubai. It is also thanks to his efforts that the horses' performances received recognition for acceptance by the Dubai Racing Club.
As this superhero of South Korean racing admits, his nation has allowed the rest of the world a significant head start, but the KRA has plenty in its favour and is currently making rapid progress to close on global pacesetters.
A major factor when judging the health of any racing industry is prize money and, in this particular contest, the KRA is a distance ahead of the vast majority of important racing nations.
Indeed, 2014 figures from the IFHA (International Federation of Horseracing Authorities) list Korea as offering the third highest average purse money in the world with €69,436 per race, after Hong Kong (€134,202) and the UAE (€107,915), but clearly in front of Europe's leader, France (€24,691) and the USA (€18,499).
"We register over US$7 billion in wagers per year," explains Ryu, "which puts us in seventh place in the world in terms of betting turnover."
Quenching the Koreans' thirst for gambling
This figure is even more impressive when you consider that South Korea staged just 294 meetings in 2015 at its three racecourses - Seoul, Busan, and on the island of Jeju, where racing is reserved for a native breed of sturdy pony descended from the Mongolian horse.
Racing takes place on Fridays, Saturdays and Sundays, with two tracks active each day. South Koreans are not permitted into casinos and so their thirst for gambling is quenched by horse racing, either on the track or in one or the 30-odd OTBs of the peninsula.
The government-controlled KRA holds a monopoly over the betting market, on a similar model to that of the Hong Kong Jockey Club. Racing from South Korea is simulcast into Singapore on a weekly basis, and the French PMU has taken bets on December's Grand Prix de Seoul for the past two years.
Recently rebranded, Seoul Racecourse is now named "Let's Run Park", as indeed are the other two KRA tracks. While punters' needs are foremost, and catered for with a plethora of screens, interactive machines and betting counters, the KRA is also keen to attract a new audience to this site, which was originally constructed as the equestrian park for the 1988 Olympic Games.
"We are building a horse-based theme park in the centre of the track," said Ryu. "Young people in Korea do not have the opportunity to be in contact with horses while they are kids, so we want to give them that chance here. We hope that the racecourse can become a family day out."
A significant moment feted by a 40,000 crowd
More than 40,000 racegoers attended Let's Run Park Seoul for the third edition of Asian Challenge Cup last August, a race that marked a significant advance for the KRA.
Against opposition from Singapore and the Japanese NAR (National Association of Racing) circuit (as opposed to the higher quality Japan Racing Association competition), locally-trained Choegang Schiller stole the show, beating Singapore's champion and G1-placed El Padrino, with the trail-blazing Cheongu fading into third.
Returning to a reception of flag-waving and K-pop, American import Choegang Schiller entered the record books as the first Korean-trained winner in international company.
This result will stand the KRA in good stead in its quest to achieve Seungho Ryu's primary goal. "We are doing all we can to attain IFHA Part 2 status, not only for the quality of our racing but also for our breeding," he said.
As a Part 3 country, South Korea's Group races are not yet recognised by the International Pattern Committee, but Ryu hopes the KRA may receive the IFHA's stamp of approval this spring.
As plans go ahead for the 2016 edition of the Asian Challenge Cup meeting, generous prize money could prove as attractive as international black-type. "We will have two races in September 2016, the US$1 million Korea Cup over 1,800m and the 1200m Korea Cup Sprint, worth US$700,000," said Ryu. "Protocol establishments with Europe and Hong Kong are on the way."
Expat professionals brought in to speed development
Ryu and his colleagues are aware that prize money can go a long way in raising the profile of a country's sport, but it is also vital to improve the standard of horses and horsemen. To this end, the KRA has again looked beyond its own borders to recruit an army of expatriate professionals who are active in all areas of the industry.
Australian-born Peter Wolsley made the move to South Korea in 2007 and is now a leading trainer in the Busan standings, while more recent additions to the ranks at this south-coast track are South African Bart Rice and Irishman Thomas Gillespie. The KRA advertised in the autumn for further applications from foreign trainers, so a first international handler could soon be seen at Seoul.
The most obvious area for improvement is among the jockeys, with abilities and styles varying widely as the field fans out in the straight of Seoul's sand track. Foreign visitors are common in the jockeys' rooms of Seoul and Busan, with the best-known international visitor being Briton Darryll Holland, who partnered 66 winners while based in Korea for 16 months in 2013-14.
There is always a handful of jockeys from neighbouring Japan active in South Korea, and current licence-holders also include Italian Nicola Pinna and Serbian Djordje Perovic, who have both enjoyed success.
Korean apprentice's triumph in 'Young Guns' series
The new generation of Korean jockeys benefits from the experience of expat instructors Robert Moore (a South African) and Colin Rayner (from Britain) at the Wondang Let's Run apprentice school (pictured below) outside Seoul.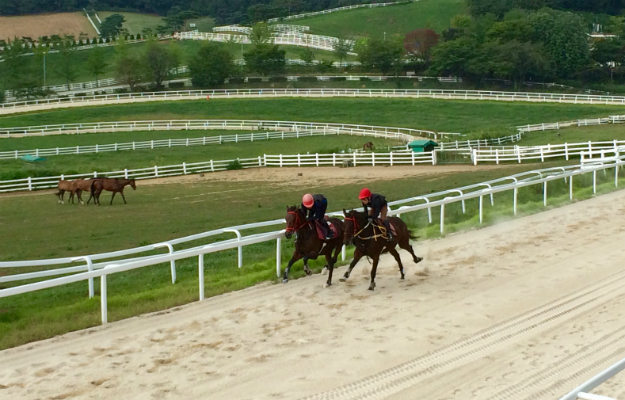 Rayner explained: "It is so important in a country like Korea, where there are only three racecourses, to bring in professionals from abroad to teach the youngsters. We currently have a group of seven apprentices in England and I am getting very positive feedback. There is no doubt that the level here is improving."
As proof, on the eve of the Asian Challenge Cup, the Young Guns Apprentice Series, held for the first time at Seoul, was won by local rider Kim Dong Soo with two successes in the four-race series. Although Seungho Ryu admits that the draw may have played a part in the outcome, this victory is yet another sign of the coming of age of South Korean racing.
The next marker pole for South Korea's progress will be passed at Meydan on Thursday (January 21) as the appropriately named Success Story is set to become the first Korean-bred Thoroughbred to race in Dubai.
The 5-year-old entire perfectly epitomises the KRA's breeding policy, as he is by Kentucky Derby third and three-time G1 scorer Peace Rules, imported by the organisation to its Let's Run stud farm on Jeju Island in 2009 as part of a programme to improve national bloodstock.
If Success Story were to inch his nose into the frame at Meydan, this would equate to a decisive move for the KRA in its pursuit of the leaders in the worldwide race.