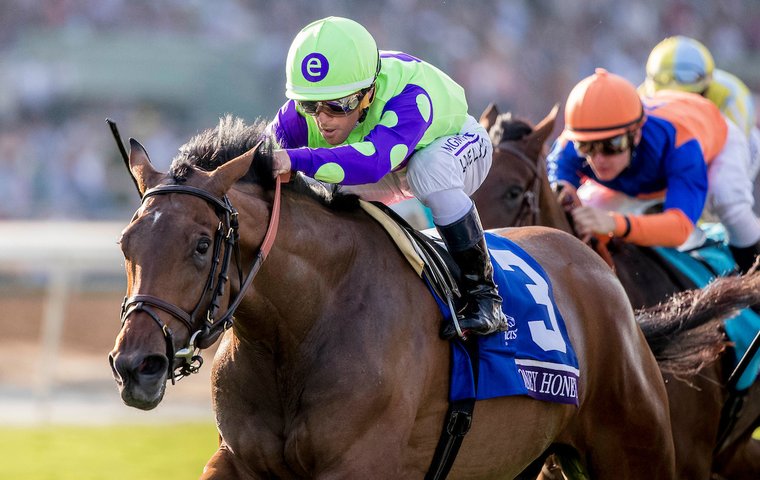 When Bob Edwards sold his share of a thriving pharmaceutical company two years ago, he had no idea that all that 'new money' would change his life through a 'honey' of a racehorse. But fate can work in strange ways.

Such as the chain of events that started innocently enough with a 2015 family reunion in Saratoga and has already propelled Edwards into the winner's circle at the Breeders' Cup and could do it once or twice more before Saturday night, when the curtain comes down on the 34th edition of the World Championships at Del Mar.
"I actually got involved in racing by accident," Edwards said. "I had no interest in racing for a long time."
Edwards can chuckle as he says those words because racing now plays a major role in his life. He has become a new and highly successful force in racing through his e Five Racing Thoroughbreds stable (already on the verge of breaking into the top 100 in the world owners' rankings), giving the sport a fresh face and a young, innovative thinker who enjoys wearing a baseball cap, cargo shorts and flip-flops more than a finely tailored suit.
Enthusiastic entry into racing
"Bob Edwards and his family being involved in racing is nothing but good for the game," Eclipse Award-winning trainer Chad Brown said.
In an amazingly short period, the 49-year-old Edwards has become an owner who has enjoyed success at the highest levels of the sport, which came as no surprise to longtime friends and business associates.
"Bob is a genius," said business partner Joseph Anzalone, who followed Edwards' lead and now races under the banner of Magic Cap Stables. "He's a genius. You knew he'd hit it big in racing, because anything he gets involved in, he excels at. He's an amazing guy."
Edwards' enthusiastic entry into racing was rewarded when he won the 2016 Breeders' Cup Juvenile Fillies Turf with New Money Honey, one of the animals that comprised his first crop of horses.
Even though he has less than 30 horses in training, his second package of 2-year-olds features Rushing Fall, a favorite to win Friday's $1 million BC Juvenile Fillies Turf at Del Mar and give Edwards back-to-back wins in the Grade 1 stakes, and Good Magic, a $1 million colt he owns in partnership with Stonestreet Stables who was second in the Champagne Stakes and is a major player in the $2 million Breeders' Cup Juvenile.
"Bob is the type of owner you want to have around. He pays close attention to everything and always wants to learn. He asks a lot of questions and picks up on what's happening very quickly," trainer Rudy Rodriguez said. "A lot of people spend a lot of money and a lot of time trying to win a Breeders' Cup race and can't do it. He did it in his first year in the sport. That's amazing."
In time, Edwards' impact on the sport could extend far beyond the wins and losses by his stable. He has already put some scientists at his Florida-based e5 Pharma pharmaceutical company to work on a pre-race botanical supplement to help horses who bleed that has yielded promising early results.
"Bob is very involved in wanting to do things to benefit the welfare of a horse," trainer Jimmy Toner said. "That's the type of person he is."
As much as Edwards has made a huge splash in racing, only a short time ago he was oblivious to it.
That all changed during the summer of 2015.
Fateful trip to Saratoga
Edwards' wife, Kristine, grew up in Saratoga and on occasion they and their three children would spend a day at the races with relatives.
"My trips to Saratoga used to consist of bringing in a cooler of beer and taking a stab at picking winners. I didn't even know how to read a Racing Form. I knew nothing about the sport," Edwards said.
Then came a fateful trip to Saratoga for a wedding and family reunion. At the time, Edwards was in the process of selling his ownership stake in Boca Pharmacal and, during the weekend, decided to visit his business partner, Steve Weston.
Weston owns horses and has a summer house on Fifth Avenue in Saratoga Springs, a block where the backyards of homes overlook the Oklahoma training track and give residents an incredibly panoramic view of morning workouts and backstretch activities at the historic track.
Edwards arrived at Weston's house with his daughter, Cassidy, and one look at the vibrant activity at Oklahoma had both of them of them hooked.
"Steve took me and my daughter around the backstretch, and it was a great experience to see what was happening there, the business side of it, shall we say," Edwards said. "To see the horses up close, it was infectious."
Busy at a wedding reception
At the time, Fasig-Tipton was conducting a sale in Saratoga and Weston helped introduce Edwards to bloodstock agent and advisor Mike Ryan. Edwards and Ryan quickly formed a business relationship that had Edwards poised to buy a horse at the sale.
"Mike Ryan didn't know me, but he took me around the sales ground and spent a lot of time with me, even though he didn't know who I was," Edwards said. "It was a lot fun and a great experience, so I decided to buy a horse."
Shortly afterwards, Edwards found himself continually stepping out of a wedding reception to talk with Ryan about bids on horses, and by the end of the day Edwards had a new relative through marriage - and a racehorse.
Through Ryan, Edwards bought a New York State-bred filly out of Lookin At Lucky for $255,000 that he would name Lucky Bug and later turn over to Rodriguez.
"My wife said to me, 'You're not just going to get one horse. I know you,'" Edwards said. "I told her, 'Nah, it's just one horse. No worries.'"
Astute observation
Clearly Kristine Edwards knows her husband quite well because it wasn't long before Edwards' voracious appetite for knowledge had him studying all aspects of the sport and learning about the odds stacked against his one-horse stable.
"I looked at the stats and saw you can't succeed with one horse," Edwards said.
Which was a highly astute observation since, to this day, Lucky Bug has started only once and finished eighth.
"I knew I had to get more horses," said Edwards, who also bought a home on Fifth Avenue, not far from Weston's house. "I spent a lot of time reading about the history and the pedigrees. I'm lucky to be paired with Mike and we made a plan for the Keeneland sale. The rest is history."
History shows that, with Ryan at his side, Edwards purchased seven horses at the 2015 Keeneland September sale.
A couple of months later, Edwards took some advice from horseman/agent Ian Brennan and paid $550,000 for the stakes-winning filly Zindaya at the Keeneland November sale then sent her to Brown's barn.
Two races - then a stakes win
When 2016 rolled around, Edwards named his stable e Five Racing – a name based on the five members of the Edwards family, Bob and Kristine and their children, Cassidy, Riley and Delaney – and Zindaya became his first starter, finishing second in the $100,000 License Fee Stakes at Belmont Park. Then, on June 9, in Zindaya's second start for new connections, she won the $150,000 Intercontinental Stakes, also at Belmont.
Just two races into his new life as an owner, Edwards was already a stakes winner.
And the best was yet to come.
One of the horses he bought at the Keeneland sale was a filly by Medaglia d'Oro that sold for $450,000 and gave him the thrill that convinced him to become even more actively involved in his new passion.
Named New Money Honey, in a tip of the hat to the wealth Edwards amassed from selling his business, the 2-year-old filly finished second in her Sept. 5 debut at Saratoga. Then Brown entered her in the G3 Miss Grillo Stakes at Belmont and New Money Honey won by nearly three lengths to gain an automatic spot in the Breeders' Cup Juvenile Fillies Turf by prevailing in a 'Win and You're In' stakes.
Going from a stakes winner to the owner of a Breeders' Cup starter was a whirlwind for Edwards, but the experience became even more surreal when New Money Honey rallied from fifth to win the $1 million Breeders' Cup race at Santa Anita Park.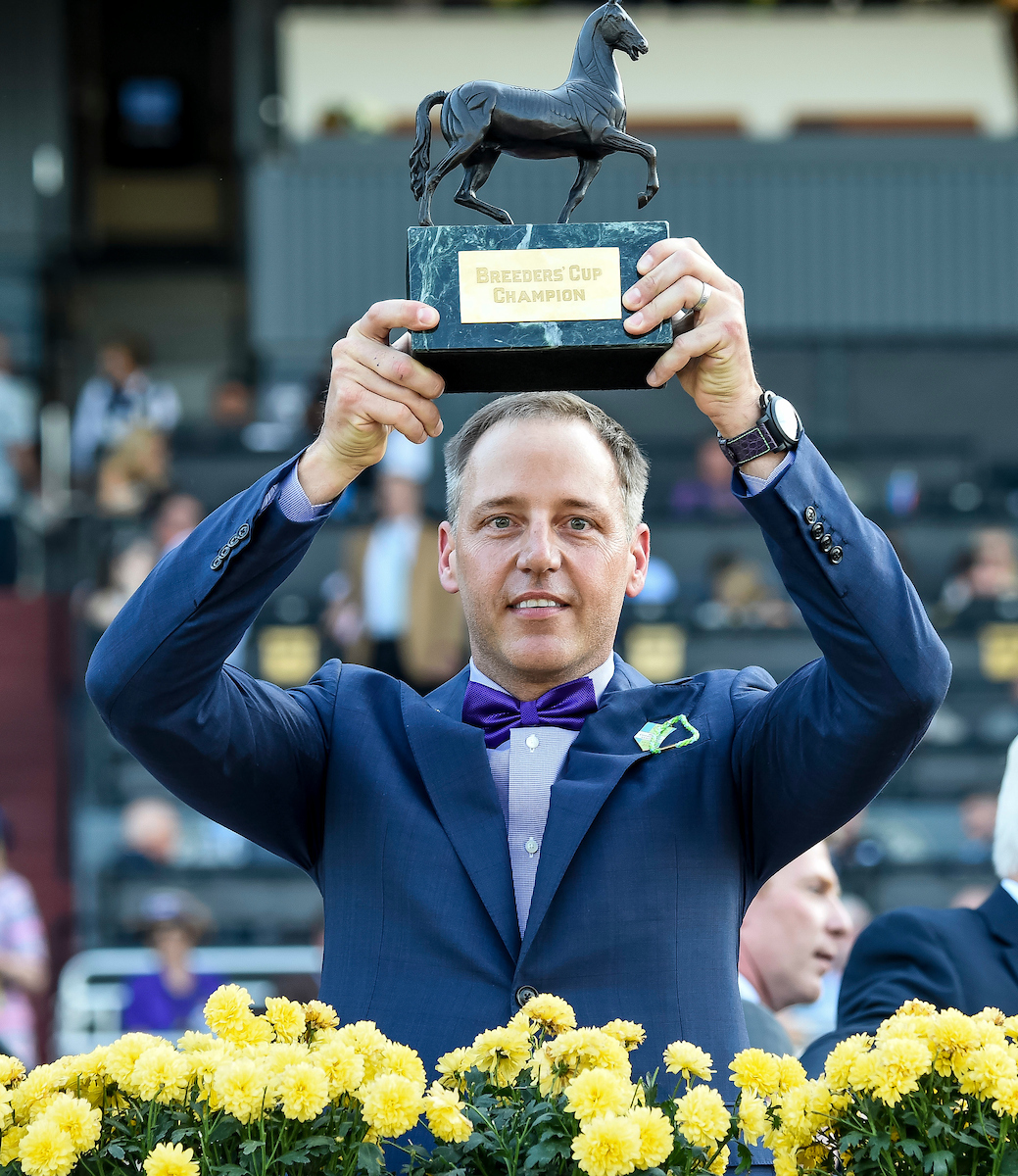 "It was unbelievable when we won. We didn't know what to do," Edwards said. "There's no coaching for it. It just sort of happened. I watched the race and got goose bumps watching it and seeing [jockey Javier Castellano] make that winning move on her. I watch it a lot of times and sometimes I think it's a lot of times to watch a race, but I get that same adrenalin, goose-bumps feeling every time I see it, even though I know the outcome."
While Edwards knows racing luck plays a role in success at the racetrack, at the heart of his winning formula has been a willingness to surround himself him with a great team of people like Ryan, Stonestreet, where his horses are broken, horsemen Ian and Niall Brennan and a roster of trainers that has expanded to include Brown, Rodriguez, Steve Asmussen, Brad Cox, Toner and David Fawkes.
"I have a great team. There's no secret to it," Edwards said. "Mike picks the horses. I send them to Stonestreet, then give them to Chad. Javier rides them and it's a winning team. There's no magic. It's the team. I like to surround myself with people smarter than me. It makes me look smarter. These are the best people in the business and you should just let them do what they do best."
After working with Edwards for the last two years, Brown understands why he thrives at the racetrack and in the business world.
"Bob has a very good approach and he's very intelligent. He has a high learning curve and you can see why he's so successful in business and he's transferred that over to horse racing," Brown said. "He knew enough to form a real good team right off the bat."
Edwards' Midas touch was also reflected last year, when he and Anzalone claimed Arella Rockstar, a first-time starter at Saratoga for $50,000. A little more than a month later, Rodriguez won the G3 Matron at Belmont Park with the filly in her first start for her new owners.
"There's a lot of rich people in this sport but what makes them successful in business doesn't always work in horse racing," Rodriguez said. "Bob wants to learn something new every day and that makes him so successful. He's all in and does it in a first-class manner."
Reaping the benefits of his approach
Edwards' sensational roll has continued in 2017 as New Money Honey won the G1 $1 million Belmont Oaks and pushed her earnings past the $1.3 million mark. His expanding presence in the sport also included a trip to the Newmarket sale in England with Brown and Ryan. He bought a trio of horses.
While Edwards has become more involved in the decision-making process for his yearling purchases, he still buys only about ten horses a year and relies heavily on input from his team. Needless to say, he has continued to reap benefits from that approach.
This year's crop of 2-year-olds includes a pair of horses who will carry his neon green colors at the Breeders' Cup.
Edwards bought Rushing Fall for $320,000 as a yearling and, the first time Brown saw the young daughter of More Than Ready, he insisted Edwards send her to his barn when she was ready to embark on her racing career.
"Chad told me he would get Rushing Fall to the Breeders' Cup, so I gave her to him," Edwards said.
Something special
A victory in a Belmont maiden race and a sensational victory in the JP Morgan Chase Jessamine Stakes at Keeneland made Brown a man of his words as it earned Rushing Fall an automatic spot in the BC Juvenile Fillies Turf, where she's listed at odds of 7-2 in the morning line.
"In both of her races she came off the pace and blew by everyone like they were standing still," Edwards said. "You don't see that all the time. It's something special. Even New Money Honey never showed a run that explosive."
Edwards has another prized 2-year-old in Good Magic, a colt he bought for $1 million in partnership with Stonestreet Stables at last year's Keeneland September sale.
"Mike Ryan sees everything and he liked the horse," said Edwards, who also partnered to buy a $500,000 Tapit filly with Anthony Beck of Gainesway Fam at the recent Keeneland September sale. "I had talked with people at Stonestreet about getting a horse, so we discussed it for a while and bought Good Magic together."
Trained by Brown, Good Magic finished second in his career debut at Saratoga, then returned in the G1 Champagne Stakes at Belmont Park and again finishing second, this time convincing his connections to send him to Del Mar for the Breeders' Cup, even though he's still a maiden.
Exceptional talent and potential
"Well, it's a tall order," Brown said about the Juvenile, a race in which Good Magic is 8-1 in the morning line. "He has only run a couple times but is improving, and has a pedigree to improve with some more distance. His numbers are improving. I feel like he's a horse that's going to run even better in his third start than he did in the second. And, if that happens, from the numbers I'm looking at, that could put him right there. I've always felt this horse has exceptional talent and potential. And I think the reward is much greater than the risk in this particular situation."
As busy as his stable and breeding operation keeps him, Edwards could not resist getting back into the business world, ending his retirement about four months after it started.
"A buddy of mine told me I'm good at everything except retirement. I was the oldest guy surfing and youngest guy playing golf. There wasn't enough action for me," Edwards said.
That prompted Edwards and Anzalone to open e5 Pharma, a pharmaceutical manufacturer, developer, and distributor located in Boca Raton, Florida. Back working with a highly skilled scientists, Edwards looked at his veterinary bills and put his scientists to work on some equine projects during some free time.
One of the results was a paste that trainers say can help combat bleeding in horses.
"It dries out the capillaries and lowers a horse's blood pressure," said Toner, who used the supplement on one of Edwards' horses and was pleased with the results. "Anything that can help a bleeder has a future in this sport and I think he's on the right track with this supplement."
That Edwards devised a plan which has showed great promise should come as no surprise at all. In just two years, he has enjoyed some of the biggest thrills racing has to offer, and could be ready for more this weekend and beyond.
All because of new money and a honey.