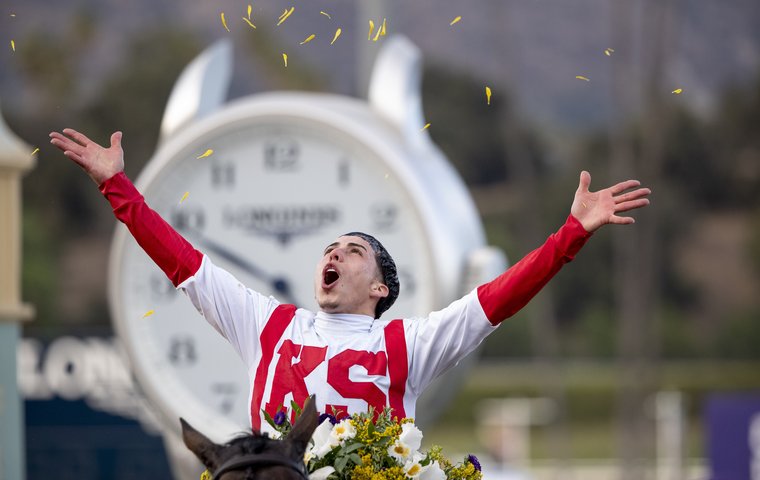 Aside from the Hong Kong International Races next weekend and the $5.6 million Arima Kinen and two big juvenile contests in Japan in December, the big Group/Graded action around the world over the next couple of months is pretty well focused on the United States - and more particularly on Gulfstream Park in Florida.

Just one look at the line-up of top jockeys illustrates perfectly what a big deal the track's Championship Meet, which begins its 89-day run today, has become.
Step forward Hall of Famers Javier Castellano (world #10) and John Velazquez (#19), Jose Ortiz (#10), Luis Saez (#47), Paco Lopez (#49), Julien Leparoux (#57), Joe Bravo (#37) and Florida native Tyler Gaffalione (#58).
But the one they all have to watch just now is Jose Ortiz's elder brother, Irad Ortiz Jr.
Take no notice of what the IFHA's Longines World Best Jockey standings say - they will be finalised on Sunday with the award headed the way of Frankie Dettori for a superb record in an IFHA list of the world's 100 highest-rated races (he won eight of them) with Zac Purton next on seven. Ludicrously, Irad languishes in 24th place with just two of his G1 scores counting (the Breeders' Cup Classic and Turf). But that is no way to assess a year's work.
It is arguable that even the TRC Global Rankings don't do full justice to his excellence. The man from Puerto Rico is currently world #8, although remember that takes account of his rides in Graded races over the past three years, not just 2019.
Make no mistake, Ortiz is very much the rider of the moment. Anywhere in the world. And Gulfstream is the perfect place for him to underline that - and maybe improve his position in the rankings still further (39 Graded contests will be contested at the meet between now and the end of March).
The 27-year-old both started and ended a career year at Gulfstream Park in 2018, one where he was recognized with his first Eclipse Award as North America's leading rider. And now he's poised to do it all over again.
Favored to claim his second straight Eclipse Award during the January 23 ceremony at Gulfstream, Ortiz will be defending his 2018-19 Championship Meet title.
Starting on Thursday
It will be the third straight winter he has ventured south, having previously ridden primarily in New York, where the cold weather often plays havoc with the racing schedule. After honoring his commitments there, he is scheduled to begin riding at Gulfstream full time from Thursday (December 4).
"I won last year and I felt so good to be able to win my first title there. I appreciate all the help from all the trainers and owners to be able to do it," Ortiz said.
"It really helped me because I got a good start. Before, there were times when we didn't have that many days of racing and I didn't start like that. I think that helped me to keep going. I tried to get better and better every day and, of course, the horses helped me a lot. We were able to win some big races."
Already one of only four jockeys at Gulfstream to reach triple digits in single-season victories, Ortiz won 135 races last winter, one ahead of 2017-18 champion Luis Saez and just two away from matching Saez's track record total.
During one sizzling stretch, Ortiz notched 30 wins over a span of nine racing days in mid-February, highlighted by a six-win afternoon on February 18 that included four starter stakes, to overtake a suspended Saez for the meet lead. With Saez back and closing in, Ortiz won five times on the final weekend – four coming on Florida Derby Day, three in stakes, topped by the G2 Pan American – to clinch the title.
Ortiz was also first with $8,509,498 in purses earned, over $2 million more than the runner-up, five-time meet champion Castellano.
Of Ortiz's wins, 24 came in stakes, nine of them Graded, none bigger than the inaugural $7 million Pegasus World Cup Turf Invitational, the richest grass race in North America, won by leading Horse of the Year candidate Bricks And Mortar, who is undefeated in six 2019 starts.
"That day he ran an awesome race," Ortiz said. "We really liked the way he was going into that race and the way he was doing everything. He had a little layoff and he came back so good and he never got beat the rest of the year."
Other Graded wins for Ortiz last winter at Gulfstream came in the G2 Mac Diarmida, and the G3s The Very One, the W.L. McKnight, the Forward Gal, the Swale, the Royal Delta and the Orchid. For the second consecutive year, Ortiz also won three races on the Clasico Internacional del Caribe program, including a repeat triumph in the $300,000 Clasico del Caribe.
"It's very nice to be able to win for my country, especially here in America, because a lot more people come to see it," said the Puerto Rican. "It's like the Kentucky Derby for us. I feel so good to be able to win some of those races because I grew up watching those races."
Through November 26, Ortiz had already established a career high with $32.3 million in purse earnings, breaking the North American record of $28.1 million set by Castellano in 2015. He also ranked second with 285 wins, keeping him on track for a fifth consecutive season of 300 or more.
Another level
Ortiz earned the Bill Shoemaker Award as the leading jockey at the Breeders' Cup for the second straight year, leading all riders with four victories including the $6 million Classic with Vino Rosso and $4 million Turf with Bricks And Mortar – Ortiz's ninth win this year in races with purses of $1 million or more.
After ranking among the top four riders in North America in wins and purses earned each year from 2014 to 2017, Ortiz took his game to another level last year. Represented by agent Steve Rushing, he led all jockeys in mounts (1,616), wins (346) and purses earned ($27.7 million), and easily outdistanced his younger brother, 2017 winner Jose Ortiz (world #11), for the Eclipse Award.
"It meant a lot for me, for all the hard work and dedication. Thank God everything came out good, last year and this year," Ortiz said. "I'm blessed and thankful to be able to be safe and to stay in one piece to be able to keep riding the whole year. Every jockey wants to win the Eclipse Award. It's something that's very important to us."
Since coming to the U.S. in June 2011, Ortiz has established himself as one of the world's top riders with more than 2,300 wins and nearly $177 million in purse earnings. He has won nine Breeders' Cup races, and his lone Triple Crown victory came in the 2006 Belmont Stakes with Creator. He has led New York in races won in 2014, 2015 and 2017, and earned multiple riding titles at Aqueduct, Belmont Park and Saratoga.
At Gulfstream's 2017-18 Championship Meet, his first full winter in South Florida, Irad Ortiz finished second with 101 wins – joining Castellano, Saez and Paco Lopez in the exclusive 100-win club – and third with $4.8 million in purses earned. He won a total of 16 stakes, six Graded, including Promises Fulfilled in the $400,000 G2 Fountain of Youth.
"I want to work hard every day. I want to win the title again," Ortiz said. "It's a tough place to win because there are big fields and so many good riders. You need the horses first and you need the help from the trainers and owners, and they give me the help. If they give me the horses I can win races. Without them, it wouldn't be possible."