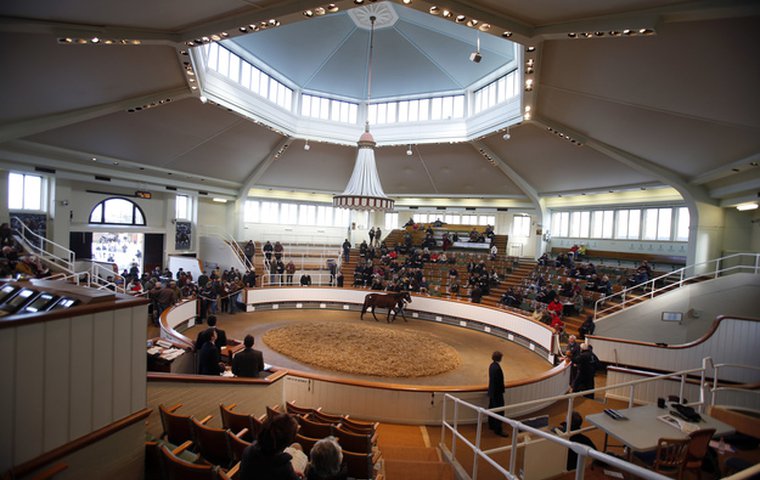 Book 1 of the Tattersalls October Sale in Newmarket scaled new heights last year when three days of electric trading resulted in records across-the-board.

Led by a Galileo colt that sold to MV Magnier for 2.6 million gns, the highest figure realised anywhere in the world by a yearling at auction in 2014, gross sales rose by 13 percent to 79,274,000gns - itself a record turnover for a sale in European auction history. The average and median also hit record levels, rising 14 percent and 15 percent respectively to 235,935gns and 150,000gns.
A total of 38 lots sold for 500,000gns or more, compared to 22 in 2013.
Yet with 18 yearlings from the eagerly anticipated first crop of Frankel as well as those by the likes of Galileo, Dubawi and War Front catalogued alongside the full or half-siblings to 37 G1 and classic winners, hopes will be high that the bar could rise even higher when this year's renewal opens on October 6.
The catalogue for 2015 is in itself a powerful attraction to leading buyers, both domestic and international. However, adding an even greater allure to this year's renewal is the launch of a £25,000 bonus scheme that will be awarded to the winners of any Class 2, 3 or 4 2-year-old maiden in the U.K. or an 'open' 2-year-old maiden in Ireland during 2016.
The scheme is open to all yearlings that are sold, bought in or unsold during Book 1 as well as those who are withdrawn and offered in the Tattersalls December Yearling Sale as an alternative. Eligibility is ensured by one single payment of £1,000 to Tattersalls by March 1, 2016.
Britain does not have the luxury of the lucrative prize money levels of various other racing jurisdictions and consequently the scheme - which in some cases will cover a year's training fees - has been well received across the spectrum of trainers, owners and agents.
"The feedback back in the spring was very good, as it was when it was first announced in May," said Jimmy George, marketing director of Tattersalls. "We canvassed a cross section of trainers, owners and breeders when we were devising the scheme and got a very good response from the different sectors."
Incentive schemes, in the guise of bonus races, have long been an integral element of Tattersalls' calendar. Book 1 has benefitted in recent years from the presence of a lucrative 'Millions' race series, run at Newmarket, and before that, there was the Tattersalls Houghton Sales Conditions Stakes, which - as its name suggests - was attached to the Tattersalls Houghton Sale, the forerunner to Book 1.
The launch of the £25,000 bonus scheme marks a departure from that sales race trend and in return provides the opportunity to 'spread the reward more widely'.
"Tattersalls has been committed to sales races since the 1980s and they have still an important role to play," said George, alluding to the fact that a sales race is still attached to Book 3 as well as the Tattersalls Ireland September Yearling Sale.
"But for Book 1, we felt that going down the line of attaching a £25,000 bonus to a maiden spreads the rewards more widely. It gives owners the opportunity to run in a maiden that has prize money which is greater than any other racing jurisdiction in the world that we can think of. And, once you factor in [other bonus scheme] Plus 10, there will be maidens that offer in excess of £45,000. That's huge."
Take the Convivial maiden run in August at York during the Ebor meeting as an example. This year's winner, Beautiful Morning, won her owner, the Californian-based Jon Kelly, £31,125 in winning prize money. Add in the owner's share of £7,500 attached to a horse registered for Plus 10 plus the Tattersalls £25,000 bonus, and the winner's share is boosted to close to £64,000 (or $98,000).
"The key to it is that it doesn't matter whether it's a precocious type of horse or a back end 2-year-old type," said George. "Both could be capable of winning a race at two."
One agent looking forward to seeing the impact of the bonus is Peter Doyle, who signed for 16 yearlings worth 3,947,000gns with his son Ross at last year's sale. "Anything that promotes racing has to be good for the game," he said. "Prize money can be weak over here so anything that boosts that side of it is good for the owners, good for the trainers and good for us - it's good for business."
George added: "We're excited by it. It will reward the best yearlings in a manner that reflects their status. And if down the line it encourages people to keep horses in the U.K. rather than send or sell them elsewhere, that will be a tremendous by-product."
This year's renewal opens off the back of another stellar year for graduates on the track.
Leading 3-year-old filly Legatissimo, purchased by MV Magnier from Newsells Park Stud for 350,000gns in 2013, recently complemented her victories in the G1 1,000 Guineas and G1 Nassau Stakes with an impressive success in the G1 Matron Stakes at the Curragh. Highland Reel, knocked down for 460,000gns to John Warren in 2013, took the G1 Secretariat Stakes at Arlington while Postponed, bought for 360,000gns by Sheikh Obaid al Maktoum through the partnership of Warren and Charlie Gordon-Watson, provided one of the summer highlights when outnosing Eagle Top in the G1 King George at Ascot.
At the other end of the price spectrum is the G1-winning miler Night Of Thunder, a mere 32,000gns purchase by Rabbah Bloodstock in 2012.
Recent visitors to Book 1 also had the chance to purchase another of this season's stars in Golden Horn, who failed to change hands in 2013 at 190,000gns. The Cape Cross colt is one of three Epsom Derby winners since 2012 to pass through Book 1 following Camelot and Australia.
TWELVE OF THE CHOICEST LOTS ON OFFER
24) b f Redoute's Choice - Yummy Mummy (Montjeu)
Redoute's Choice's first European crop was well received at the Arqana August Sale and, judging by the quality of his eight lots on offer at Book 1, that trend will continue. Particularly exciting is this filly, a half-sister to one of the stars of 2015 in Legatissimo.
A Book 1 graduate herself, Legatissimo followed up her victory in the G1 1,000 Guineas by running second in the G1 Epsom Oaks and G1 Pretty Polly Stakes before returning to winning ways in the G1 Nassau Stakes. Not only that, her reputation has been further enhanced since the catalogue went to press thanks to a highly impressive victory in the G1 Matron Stakes.
Out of a winning half-sister to multiple G1 winner Fame And Glory, she descends from German 1,000 Guineas winner Grimpola, also the ancestress of G1 winners Farhh and Gonbarda as well as other stakes winners of 2015 in Racing History and Greatwood.
Redoute's Choice's draft also includes a half-sister to top sprinter Tante Rose from the family of this season's Poule d'Essai des Poulains winner Make Believe (348). Newsells Park Stud
43) b c Galileo - Alluring Park (Green Desert)
Few pages come as strong as this one, bred and offered by the Burns family's Lodge Park Stud. Yearlings out of the Listed-placed Alluring Park have sold for a total of 7.7 million gns at Book 1 since 2010, among them the 2012 Epsom Oaks heroine Was, the 1.2 million-gns sale-topper of 2010, and G3-placed Al Naamah, who sold for an European record of 5 million gns in 2013.
The regal connections don't end there as Alluring Park is a sister to top Japanese sprinter Shinko Forest and half-sister to champion New Approach, now a leading young sire. Their dam, Park Express, was a dual Irish champion, whose five wins included the G2 Nassau Stakes. Lodge Park Stud
148) b c Frankel - Dar Re Mi (Singspiel)
No doubt crowds will gather to watch the sale of this colt, who is the product of two multiple G1 winners. The fourth of 18 Frankel yearlings catalogued to go through the ring, the Watership Down Stud homebred is the third foal out of Dar Me Ri, whose six victories included the Pretty Polly Stakes, Yorkshire Oaks and Sheema Classic. Her first foal, De Treville, justified his auction hype by selling for 850,000gns at this sale in 2013 and has since been G3-placed.
Granddam Darara, a half-sister to Darshaan, won the Prix Vermeille and later became an excellent foundation mare for Watership Down, for whom she foaled G1 winners Rewilding and Diaghilev, among others. The latter sold for a then record of 3.4 million gns at the 2000 Tattersalls Houghton Sale. Watership Down Stud
156) ch f Sepoy - Demerger (Distant View)
From the first crop of a champion Australian 2-year-old, this filly is bred to be quick as the half-sister to popular sprinter Sole Power. Still mixing it at the top level at the age of eight, Sole Power recently took the G2 Flying Five Stakes at the Curragh to bring his overall winning tally to 12; victories also include this year's G1 Al Quoz Sprint as well as two renewals of the G1 Nunthorpe Stakes and G1 King's Stand Stakes.
Sole Power isn't the only talented runner out of Demerger since the daughter of Distant View is also the dam of the G3-placed Cornus and Listed-placed Sotka. New England Stud
204) b f Dark Angel - Folga (Atraf)
Although none of Dark Angel's first five crops were bred off fees greater than €12,500, such has been his ascent that the son of Acclamation currently sits in fourth on the leading British and Irish sires' list. Two primary contributers to his excellent summer have been the flying filly Mecca's Angel and her brother Markaz, and a chance to purchase a full sibling arises with this filly from Yeomanstown Stud.
Seven-time winner Mecca's Angel, successful in the G1 Nunthorpe Stakes since the publication of the catalogue, and G3 Criterion Stakes winner Markaz are the first two foals out of Folga, a Listed-placed sprinter who won six races. Yeomanstown Stud
234) ch f Galileo - Homecoming Queen (Holy Roman Emperor)
Bred on the powerful Galileo - Danehill cross, this filly is the first foal out of Homecoming Queen, the runaway nine-length winner of the 2012 1,000 Guineas. In the process, she became the third G1 winner out of Lagrion following dual champion Dylan Thomas, whose six G1 wins included the Arc and King George, and champion 2-year-old filly Queen's Logic, subsequently dam of G2 winner Lady Of The Desert.
Another half-sister, Epsom Oaks runner-up Remember When, is the dam of this season's G2 Kilboy Estate Stakes winner Wedding Vow, who shares her sire Galileo with lot 234.
Galileo is also represented by a half-sister to Poule d'Essai des Pouliches winner Elusive Wave (346) and a filly out of American G1 winner A Z Warrior (30). Oaks Farm Stables
254) b c Oasis Dream - Izzi Top (Pivotal)
The first foal out of G1 Pretty Polly Stakes and G1 Prix Jean Romanet heroine Izzi Top, this colt is the product of Meon Valley Stud's brilliant Reprocolor family.
In all, Izzi Top won six races for the stud and also ran third in the Epsom Oaks. To date, the daughter of Pivotal is the best foal out of G1 Prix de l'Opera winner Zee Zee Top although she could yet be challenged in that respect by the mare's 3-year-old daughter Jazzi Top, who progressed again to take last month's G2 Prix de la Nonette.
One of 20 yearlings catalogued by Oasis Dream, this colt is bred on the same Pivotal cross as G2 winner Cladocera. Meon Valley Stud
264) ch c Dubawi - Kazeem (Darshaan)
Dubawi ended last year's renewal with a whopping average of 654,500gns for 10 sold and, given how his reputation has soared further since - he has sired six European G1 winners already this year, his draft of 13 yearlings will no doubt provide its share of fireworks.
Among the picks on paper is this brother to Al Kazeem from his breeder, Oakgrove Stud. An admirable campaigner who came back to perform at G1 level following a stint at stud, Al Kazeem won 10 races for John Deer and Roger Charlton, among them two renewals of the G1 Tattersalls Gold Cup (including this year's race), the G1 Eclipse Stakes and G1 Prince of Wales's Stakes.
Dubawi is also responsible for a half-brother to champion Chinese White from the immediate family of Invincible Spirit and Kodiac (123), and a sister to this year's Epsom Oaks third Lady Of Dubai (284). Oakgrove Stud
287) b c Oasis Dream - Last Second (Alzao)
The final foal out of Denford Stud's wonderful mare Last Second, the 1996 G2 Nassau and G2 Sun Chariot Stakes winner who died earlier this month.
A daughter of Alruccaba, Last Second was a half-sister to influential producers Alouette (dam of champions Albanova and Alobrada) and Jude (dam of G1 winners Quarter Moon and Yesterday), and upheld the family reputation herself by producing nine winners led by the Poule d'Essai des Pouliches scorer Aussie Rules. Last Second also bred Listed winner Approach and the G1-placed Intrigued, dams of the classic-placed colts Midas Touch and Michelangelo.
Another foal out of Last Second, the Kingmambo colt Bold Glance, topped the 2005 Tattersalls October Sale when selling for 1.25 million gns to Gainsborough Stud. Denford Stud
339) b c Frankel - Model Queen (Kingmambo)
Model Queen has been a grand servant for Highclere Stud and HMH Management since her purchase for 92,000gns through John Warren in 2001. The daughter of Kingmambo, who hails from the extended family of Zafonic and Midday, has bred seven winners for connections, led by G1-winning sprinter Regal Parade and G3 Acomb Stakes winner Entifaadha, while yearlings out of the mare have realised a total of 3.42 million gns at Tattersalls since 2005.
Frankel's array of first-crop offerings at Book 1 also includes the half-brothers to G1 Prix de l'Abbaye winner Total Gallery (160) and the high-class sprinters Swiss Diva and Swiss Spirit (482) as well as those out of American G1 winners Dynaforce (174; filly) and Icon Project (241; colt). Highclere Stud
367) ch f Nathaniel - Our Queen Of Kings (Arazi)
Bought by Charlie Gordon-Watson for 300,000gns at last year's Tattersalls December Foal Sale, this filly returns to the ring as part of Watership Down Stud's powerful draft.
She is a half-sister to G1 winner Spinning Queen - dam of Listed winners Trade Commissioner and Gallipot - and a granddaughter of Lady Blackfoot, dam of G1 winner Labeeb as well as G2 winners Fanmore and Alrassaam.
Nathaniel, whose first foals averaged 110,291gns last winter, has a healthy representation of 18 yearlings catalogued. They also include the half-brothers to G1 winner Sarah Lynx (472) and G2 winner Berkshire (267). Watership Down Stud
377) b c Galileo - Penang Pearl (Bering)
A year on from the 2.6 million-gns topping sale of Penang Pearl's 2013 colt by Galileo, subsequently named Pietro Testa, to MV Magnier, his breeder Nick Ooi returns to the scene with his younger sibling. The pair are the half-brothers to the European champion older horse of 2010, Harbinger, and out of Listed winner Penang Pearl. It is the further family of G2 winner Kind Of Hush.
Highclere Stud also offers a beautifully-bred Galileo colt in the form of lot 157, a three-parts brother to Breeders' Cup Juvenile Turf winner Wrote (157), while Camas Park Stud sends through a brother to recent G1 Secretariat Stakes winner Highland Reel (237). Ashbrittle Stud