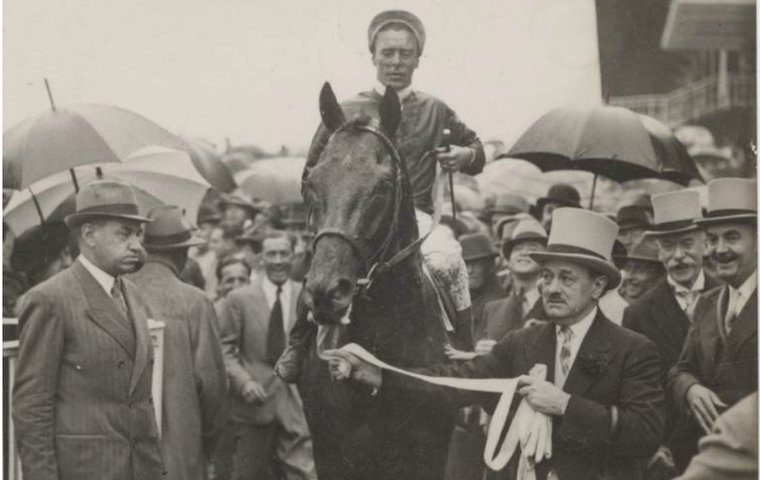 Ahead of Sunday's running of the €1.5 million Prix du Jockey Club (French Derby), John Gilmore looks at the great horses and memorable moments that have helped make it one of the most important races in the world.

It's 180 years since the inaugural Prix du Jockey Club took place on lush turf in front of the Chateau de Chantilly, where Franck, trained by Thomas Carter and ridden by Tom Robinson, triumphed for owner Lord Seymour in a five-runner race for 5,000 francs total prize money (€760) on April 14, 1836.
Things were very different in those days. Just 15 minutes later, Franck was back on the track, running again for a 5,000-franc cup offered by Baron Nathaniel De Rothschild. Not surprisingly after his earlier endeavours, the horse could only finish third - to Lord Seymour's other runner, Miss Annette.
But it sowed the seeds for Chantilly to become a top-class training centre and racecourse, aided by the arrival in the 19th century of stable staff from Britain, where the sport was already well developed.
In 1853, the filly Jouvence trained and ridden by R. Sherwood, completed the Prix de Diane (French Oaks) - Prix du Jockey Club double, one of only three fillies ever to do so.
The Illustrated London News report on the Prix du Jockey Club that year commented: "The big race of the day was the French Derby, which created great excitement, the attendance was full and fashionable as any previous [Epsom] Derby day, and the sport excellent. The turf is certainly looking up in France!"
The greatest of them all?
The race has never looked back, and 90-year-old Michel Bouchet, who lives just across from the racecourse, has spent a lifetime as a racing historian and journalist, seeing more than 80 runnings of the Prix du Jockey Club.
"As a young boy, I used to accompany my father to the stables, on the gallops and on the track - as he was the only horse vet in Chantilly," said Bouchet. "Pharis (Pharos - Carissimo), owned and bred by Marcel Boussac and winner of the 1939 Jockey Club, is the best I have ever seen."
Trained by Albert Swan, the horse never ran as a 2-year-old, which was common with Boussac's horses.
Race records show Pharis and jockey Charlie Elliott recorded an easy win by three lengths first time out in the Prix Noailles over 2,400 metres in May, becoming a leading fancy for the 13-runner Jockey Club on June 11. They duly won by 2.5 lengths, but the race was not without incident.
"It was just amazing the way he won," said Bouchet. "Blocked in at the back of the field, the jockey pulled the horse wide and, showing an incredible turn of foot, passed the whole field to win comfortably by 2.5 lengths from Galerian.
The horse's performance in the Grand Prix de Paris exactly two weeks later was even more dramatic. "The colt was nearly brought to his knees some 400 metres from the finish when blocked at the back of the 17-horse field by fading horses," said Bouchet. "Entering the straight, Elliott found a passage on the inside and once again his fantastic acceleration got him out of trouble, finally winning by a comfortable 2.5 lengths."
Sadly, it was to be the horse's last race. War broke out on September 3, and that put paid to a tilt at the Prix de l'Arc de Triomphe and a match race being considered with the English champion Blue Peter - winner of the 2000 Guineas and Epsom Derby.
"If it had ever taken place, I don't think Blue Peter could have troubled Pharis as this horse was undoubtedly Le Cheval de La Ciecle [Horse of the Century] and would have been capable of beating Sea Bird, the French 1965 champion, in the last 200 metres no matter what," said Bouchet.
Captured by the Germans
Pharis was sent to Boussac's Fresnay-Le Buffard stud in Normandy, but a year later in August 1940, along with a number of other top French stallions and mares, he was stolen by the German occupying forces for stud duties in Germany.
It was never clear how many foals he sired in Germany - Boussac would not recognise any of them. Foals born of French mares in Germany during that time and recovered after the war were marked with an X in the French stud book.
Pharis was returned in 1945, but the loss for Boussac between 1941 and 1945 was clear. His first crop of 13 foals, born in 1941, produced an amazing 10 winners of 48 races, including Ardaan (Pharis - Adargatis), the 1944 Jockey Club and Arc winner.
Pharis is thought to have sired just one top-class horse while in Germany - the filly Asterfluete, who went on to win the German Derby in 1949.
From his return to France until his death in 1957, Pharis sired three more Jockey Club winners (Scratch in 1950, Auriban in 1952 and Philius in 1956) and 37 stake winners.
The peerless Marcel Boussac
Pharis was a classic example of Marcel Boussac's pioneering policy of inbreeding by generally only using his own stallions and mares to maintain quality - assuming too much outcrossing weakens the bloodline. Boussac, the greatest French owner-breeder of the 20th century, won 12 Jockey Clubs (the most by any owner), five Prix de Dianes, six Arcs and a number of top races in England, including the 195o Derby with Galcador.
After that race he was heard to say he had "six horses better than that back in France".
Boussac (1889-1980), who became involved with racing when buying six horses in 1914, was the leading French owner 19 times, and the leading breeder 17 times.
The first foreign winner
The Jockey Club continued to throw up top-class winners through Charlottesville in 1960, Sassafras in 1970, Crystal Palace in 1977, Top Ville in 1979 and Bering in 1986.
Initially restricted to horses bred in France, the race was opened up to international competition after the Second World War, but the first foreign success didn't come until 1982 - through Assert, trained by David O'Brien (son of Vincent), ridden by Christy Roche and owned by Robert Sangster.
Champions of the 90s
The 1990s provided American jockey Cash Asmussen with four winners (Suave Dancer 1991, Hernando 1993, Dream Well 1998 and Montjeu 1999). It also produced three outstanding champions in Suave Dancer, Peintre Celebre and Montjeu.
Suave Dancer (Green Dancer - Suavite) was bought by Cash Asmussen for owner Henri Chalhoub as a yearling at Keeneland, costing just $45,000. It proved a fantastic investment.
Trained by John Hammond in Chantilly, Suave Dancer was a brilliant winner of the Jockey Club in 1991, beating future Arc winner Subotica by four lengths. Suave Dancer, like Pharis, had electrifying acceleration. Eight years later history repeated itself when the John Hammond-trained Montjeu (Sadler's Wells - Floripedes), ridden by Asmussen and owned by Michael Tabor, won the 1999 Jockey Club.
Like Suave Dancer, Montjeu went on to win the Arc as a 3-year-old. Montjeu also proved to be a top stallion - siring four Epsom Derby winners (Motivator 2005, Authorised 2007, Pour Moi 2011 and Camelot 2012) for owners Coolmore. He died in 2012.
Peintre Celebre (Nureyev - Peinture Bleue) won the 1997 Jockey Club for multi-millionaire art dealer Daniel Wildenstein. It was a race he had waited a lifetime to win
Peintre Celebre and jockey Olivier Peslier cruised into the lead to beat Oscar by two lengths. In the Arc, Peintre Celebre and Peslier were even even more impressive, breaking out of the pack with ease to win by five lengths from Breeders' Cup Turf winner Pilsudski.
Clash of the super stallions
The Aga Khan is another owner-breeder with a tremendous record in the Jockey Club. He has won it seven times: through Charlottesville 1960, Top Ville 1979, Darshaan 1984, Mouktar 1985, Natroun 1987, Dalakhani 2003 and Darsi 2006.
Indeed Darshaan's victory under Yves St Martin, battling past Sadler's Wells in the last furlong to win by 1.5 lengths with Rainbow Quest a further half a length back in third, had major implications for the breeding industry.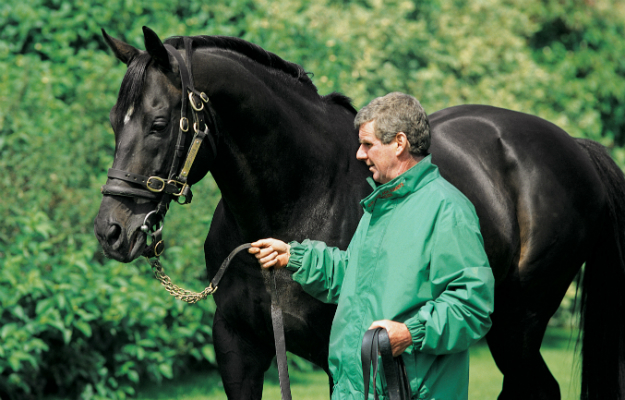 Sadler's Wells had prodigious success at stud, laying the foundations of the Coolmore empire as we know it today. He sired more than 100 G1 winners, including many triumphs in the English and Irish Derbys, and Old Vic, Dream Well and Montjeu in the Jockey Club.
Rainbow Quest went on to win the 1985 Arc, albeit in the stewards' room after losing by a neck to Sagace. He was awarded the race because of interference. At stud Rainbow Quest's 28 G1 winners worldwide included Knights Baroness in the Irish Oaks, Quest For Fame in the Epsom Derby and Saumarez in the Arc.
And Darshaan had 17 G1 winners, including the Aga Khan's 2003 Jockey Club and Arc hero Dalakhani, Yorkshire Oaks winner Hellenic, and 2000 Guineas and Queen Elizabeth Stakes winner Mark Of Esteem.
The most exciting renewal
The most exciting Prix Du Jockey Club race I have seen was in 1987, when Natroun, ridden by Yves St Martin, came like a train on the wide outside to catch Pat Eddery and Trempolino on the line. Nobody at the track thought Natroun had got up and it was a fitting climax to St Martin's career as leading jockey in the race history with nine winners. Tom Jennings is the leading trainer with 10.
Controversy over reduction in distance
In 2005, the Jockey Club was reduced from 2,400 metres to 2,100 metres by France Galop, which didn't go down well with the racing fraternity.
"It was a grave mistake to shorten the distance for the future of the French breeding industry as now it's possible to win the French Poule d'Essai des Poulains [French 2000 Guineas] and the Prix du Jockey Club with the same horse," said Bouchet. "All the Derbys are 2,400 meters, except in the United States, and the trainers I know regret the change of distance, which will only encourage breeders to produce fewer middle-distance horses."
Ironically, the first running after the change of distance, in 2005, helped stoke up the controversy when the Poulains winner Shamardal, who would never have been expected to stay a mile and a half, just held on from the fast-finishing Hurricane Run, who went on to win the Irish Derby, the Arc and the King George.
Triumphs for the underdogs
In 1992 Polytain (by 1981 Jockey Club Bikala out of Palistana), owned by Madame Bruno Houillion and trained by Antonio Spanu, won the Jockey Club at odds of 36.5-1, after first running as a 3-year-old in a claimer.
Winning his first two minor races at Maisons Laffitte and Saint-Cloud, Polytain was then stepped up in class and ran a promising close third in the G3 Prix De La Force at Longchamp. The owner stumped up the 200,000 francs late entry to supplement him for the Jockey Club and, on the soft ground the horse relished, Frankie Dettori made steady progress from the back of the field in the straight to take the spoils close home.
History repeated itself in 2012, when Saonois (Chichicastenango - Saonoise), ridden by Antoine Hamelin and trained by Jean-Pierre Gauvin, won Jockey Club at 25-1 after winning a claimer the previous October at Deauville. Fortunately for his baker-owner, Pascal Treyve, no-one was prepared to pay €25,000 to claim the horse.
There was more drama after Saonois won the Prix Niel, his sporting owner refusing to sell for several million euros. The horse subsequently ran unplaced in the Arc and never won again. Saonois was originally bought for just €8,000.
Chichicastenango also sired the 2008 Jockey Club winner, Vision D'Etat.
A racing man's lament
"The whole racing industry has changed since I was a young man," said Bouchet. "At that time there was no televised racing at home or in cafés and a regular crowd of 30,000-plus was the order of the day for the Prix du Jockey Club, which was a far more important race than the Prix de Diane.
"Before leading racing owners and breeders like Boussac, Strassburger, Volterra, Baron De Nexon and Stern were often on the gallops watching their horses and visiting the track to see their horses run - even in a small race. Now it's run as a commercial business, with leading owners only turning up for the big races."
Bouchet also considers a major problem over the past 40 years has been the practice of French owners selling their best horses to foreigners.
"No owner in the past would ever consider selling a Group winner or placed horse, especially in the Prix du Jockey Club, as they would want to have the pleasure of breeding from it and creating something.
"French breeding and racehorses were the best in Europe after the war because owners didn't sell their best horses, they bred from them."