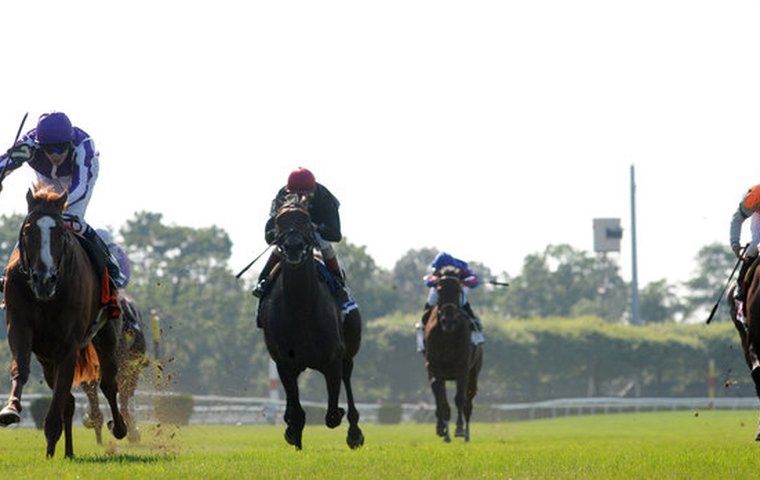 The Fourth of July celebrates America's declaration of independence from British rule, but foreign invaders are welcome at Belmont Park's recently-announced Stars & Stripes Day on July 5. In fact, that's the idea. The New York Racing Association's Senior Vice President of Racing Operations Martin Panza reveals the international aspirations behind Belmont Park's newest pair of 3-year-old turf races.

In a short time, The New York Racing Association, Inc. (NYRA) has significantly shaken up the spring/summer stakes program at Belmont Park. Following the announcement that the track's Belmont Stakes day card would be the second-richest day on the North American racing calendar, NYRA revealed a pair of G1 stakes for 3-year-olds collectively worth $2.25 million to be run a month later on July 5, the inaugural Stars & Stripes Day.
The Belmont Derby Invitational and Belmont Oaks Invitational were conceived by Martin Panza, NYRA's senior vice president of racing operations, as part of an effort to better align NYRA with global racing interests and create major race days.
"I've been fortunate enough in my career that I've gone racing in a lot of places and met a lot of people internationally," said Panza, who most recently served as vice president and director of racing at Betfair Hollywood Park before joining NYRA late last year. "I've been down to the Melbourne Cup, which is a wonderful day of racing, I've been to a few Arcs, to Royal Ascot, and I've been to Dubai several times. You can see the pattern of races around the world, and it's usually the same trainers and the same horses just jumping from location to location to location. The United States is sort of not in that group, and we need to work to try to get into that group. You've got to create those opportunities for top horses and top horsemen."
The concept is not new for Panza, who in 2002 created a similar race at Hollywood, the American Oaks. The new event swiftly gained international recognition and was awarded G1 status in its first year of eligibility. The American Oaks attracted runners from Europe, Asia, and Australia, and Panza has similar expectations for the new Belmont races.
"When we started the American Oaks at Hollywood Park, it was a learning experience for me, and from that experience I could see 'OK, this can work,'" Panza said. "In New York, we are obviously much closer to Europe, and Belmont is a wonderful place with two great big turf courses with wide turns, so it just seemed to me like a natural. It may take a year or two or three to let international horsemen know that these races exist, but I think in the long run it's the right step forward."
Another lesson learned from the American Oaks – which occupied a similar place on the calendar – was the importance of timing.
"Anytime you try to do something internationally, you try to do your homework and see how it fits in the rest of the world," Panza said. "July 5 works, timing-wise, because [Europeans] can still run in the Classic races at home, and then there are a lot of races in August that these fillies would go to. The Japanese – in July and August they're basically off because it's so hot – can send a horse, it can run, it can go home, and still have 60 days off to get ready for their fall races. So timing works, and timing is about everything."
In addition to the significant purses - $1.25 million for the Belmont Derby and $1 million for the Belmont Oaks - the 1 ¼-mile races benefit from instant G1 status afforded by a shuffling of the Belmont stakes calendar. The Oaks replaces the G1 Garden City, and the Derby the G1 Jamaica Handicap, previously run during the track's fall meet. Spring turf stakes – the G2 Sands Point and G3 Hill Prince – will be shifted to the spots the Jamaica and Garden City formerly occupied.
"First of all, it's hard to handle money in the fall," Panza said. "You're up against football, and so I wanted to really try and strengthen the Belmont summer meet. You need the Grade 1 status because if it's not graded or it's a Grade 3, it makes it much more difficult to get international horses to come. I was very lucky with the American Oaks that after two runnings it became a Grade 1, but the first two runnings it had to earn its way to a Grade 1, and we really had to work at it to get those top horses in there. So, NYRA has an advantage in that we did have two Grade 1's that we could use. That's going to help.
"People can say 'Well, would you get the same field for $750,000?' or 'Would you get the same field for $1 million?'" Panza wondered. "Sometimes you could say yes, and sometimes no, sometimes that top horse wouldn't have come if it had been $750,000, especially internationally. Every country has got defined races for these horses already, and so we have to make a bigger splash to get them to change that pattern and to say 'You know, we're going to go to the states.'"
Having built the American Oaks from scratch, Panza recognizes the challenges of international recruitment and has retained the services of the Newmarket-based International Racing Bureau (IRB) to assist, as well as a dedicated Japanese agent in Nobutaka Tada. NYRA's newly hired racing secretary for Belmont and Saratoga, Frank Gabriel, also brings international credentials, having spent the last nine years as CEO of the Dubai Racing Club.
"The races, and significant purses, that Martin and his team have put together are a definite intention to make a mark on international racing, and I'm really pleased that many of the new conditions will suit the European horsemen," said Adrian Beaumont, director of racecourse services for the IRB. "We want to make sure European horsemen know that NYRA wants them to ship horses over, and we will go out of their way to give them a good experience. Martin and the IRB go back a long way, and I'm delighted that we're back working with NYRA for the first time since 2005."
While serious recruitment is not yet underway, Panza is encouraged by early feedback from horsemen, and optimistic about international participation on both Stars and Stripes Day and Belmont Stakes Day, which also saw significant purse enhancements to turf races for older horses, though may not be ideally situated on the international calendar falling just ahead of Royal Ascot. For Panza, creating these showcase races is about more than attracting talented invaders from overseas.
"The Euros coming in to the states, they tend to be pretty tough in a lot of our turf races," Panza said. "I think, more importantly, as we begin to develop these million dollar races, it allows American owners to go and buy horses [internationally] and bring them here. It allows them to justify the price they need to pay. If you start to look around and you've got the Manhattan at $1 million, you've got the Arlington Million at $1 million, you've got the Breeders' Cup races at $2 or $3 million, now you can start to say 'OK, here's how I can get my money back.'
"As those horses are bought, and they stay, hopefully, with New York trainers or trainers in the country, they're going to continue to run in our other races here and continue to strengthen the program," Panza continued. "It's more than just the race, it's also allowing our trainers to go out and purchase horses or almost become sort of a marketing arm for us. If we've got these big races, it gives them a chance to go do what they do best and that's try to attract horses to their barns and make it financially feasible for their owners. I think it's a positive for American racing, and I think it's a positive for NYRA."
U.S. racing rarely has created events that captivate international attention, but with successful recruitment and marketing, Stars & Stripes Day should make New York the focal point on July 5.