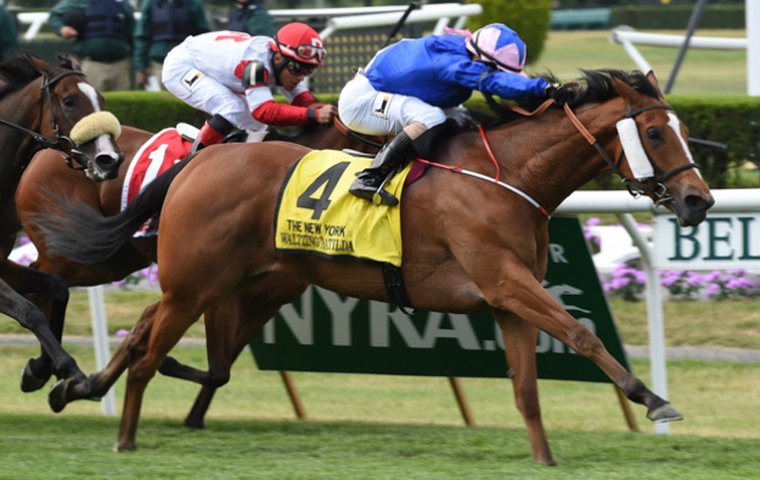 Waltzing Matilda's journey from Ireland to New York was not straightforward. She ran at the Curragh on Irish Guineas weekend, finishing fourth in the G2 Lanwades Stud Stakes on May 23, and she left Ireland at four the following morning. She got to Newmarket, spent two days there, got a flight from Newmarket at lunchtime on Wednesday, got to Liege in Belgium, then got a flight from Liege to New York, non-stop, and arrived on American soil on Friday. Lucky she's tough.

"Nothing fazes her," said Fozzy Stack, son and assistant to Waltzing Matilda's trainer, famed Irishman Tommy Stack. "She took everything in her stride."
But you don't need her trainer to tell you. Have a look at the filly's racing record, and you can tell that she is tough. She had run five times already this season, five times in less than two months, before she got on that plane in the small hours of that Sunday morning.
The G2 New York Stakes at Belmont Park on June 5 had been on the Stacks' mind for the Danehill Dancer filly since she finished third behind Fascinating Rock and Parish Hall in a G3 race at the Curragh in early May.
"I looked up the options abroad for her," said Fozzy. "There was a race in Canada for her a couple of weeks later, but the Belmont race was more suitable: a Grade 2 race for fillies aged 4 or older over 10 furlongs. You couldn't have written a better race for her."
Fozzy's journey to New York was not as arduous as Waltzing Matilda's. (That's direct flights for you.) And he travelled in hope. Stephanie's Kitten obviously set a high standard in the race, a multiple G1 winner and runner-up in the Breeders' Cup Filly & Mare Turf at Santa Anita last November, when she had high-class European fillies Dank, Just The Judge, Secret Gesture, and Fiesolana behind her. But Fozzy had faith in their filly, and he knew that she was well.
He watched as Waltzing Matilda settled nicely for rider Junior Alvarado through the early stages of the race, seventh of the nine runners behind a decent pace and along the inside rail with plenty of racing room.
The field tightened up a little as they neared the end of the back straight, but Waltzing Matilda made nice progress among horses around the home turn. Angled to the outside by Alvarado as they straightened up, she picked up nicely, joined leader Kitten's Queen at the 200-metre mark and surged forward to win a fairly cosy three parts of a length, belying odds of more than 22-1.
"It was a good feeling, it was great to win it," Fozzy said. "She picked up nicely and she handled the fast ground well. She's very versatile, a lot of Danehill Dancer's progeny are. She probably had to put up close to a career-best to win it, but her form going into the race gave her a big chance."
It wasn't the Stacks' first big win in North America. Fozzy was still in school when Tommy sent Kostroma to Arlington Park to win the G1 Beverley D Stakes in 1992, but he was very much a part of it when they took Fearless Flyer to Woodbine to land the G3 Natalma Stakes 12 years later. Then, in 2007, Alexander Tango won the G1 Garden City Stakes at Belmont Park.
"Alexander Tango was very good that day," Fozzy recalled. "She was a top-class filly, she was another Danehill Dancer filly. That was another great day."
There have been many great days for the Stacks. The day that Tommy rode the legendary Red Rum to victory in the 1977 Aintree Grand National, that was a great day. It was Red Rum's third victory in the race, the most famous steeplechase in the world.
"Rummy" had won the National in 1973 and in 1974, and he had finished second in 1975 and 1976. No horse had ever won the great race three times before, and no other horse has since. So, when Tommy Stack rode him over that four-and-a-half-mile trip and over those 30 fearsome fences and up the run-in, avoiding the two loose horses in front of him, all of his rivals well behind him, he rode him into the record books and into Grand National folklore.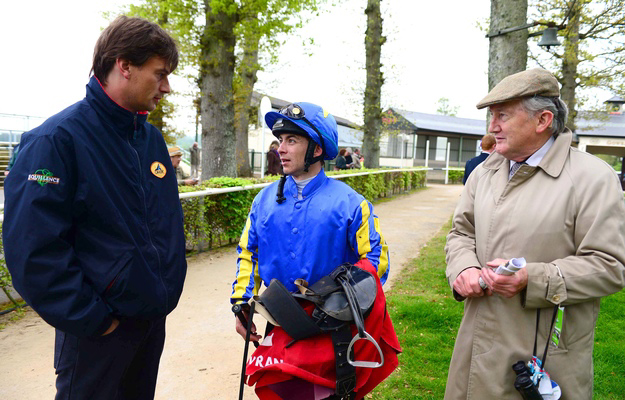 There have been bad days as well. Such as St. Stephen's Day 1998, when the doctor told Liz Stack that he didn't think that there was much hope for her husband. What Tommy had thought was a simple flu was actually the early throes of meningitis.
But Tommy is a fighter, and he battled through. He spent 13 days in a coma and three more months fighting the pneumonia that followed. It was a bruising encounter, but it was another battle that Tommy ultimately won. And, with the help of his son, together they have built their yard back up to be a serious player again.
There were other good days. Such as the day that Tommy sent out Las Meninas to win the 1,000 Guineas at Newmarket in 1994 as Fozzy watched on television from school. Robert Sangster's filly got up in a thriller from Balanchine, but the photo finish was so close that the television coverage had left Newmarket before Fozzy knew if the filly had won or lost.
Such as the day that Tarascon won the G1 Moyglare Stud Stakes in 1997, and the day that she won the Irish 1,000 Guineas under a fresh-faced Jamie Spencer the following year. Such as the day Myboycharlie won the G1 Prix Morny at Deauville in 2007, and the day that Lolly For Dolly won the Windsor Forest Stakes at Royal Ascot in 2011.
Last Friday will go down as another one of the good days, that's for sure. Waltzing Matilda will probably stay in the States for now.
"There are a couple of races for her there," Fozzy said. "There's a race at Monmouth Park that might suit her now. We'll have a chat with her owners. The prize money in the States is so good [the filly earned $163,000 for winning the New York Stakes], it makes sense to look for another race for her over there. She will make a great broodmare at the end of this season, but she deserves to take her chance in more top-class races now."
More good days ahead then.