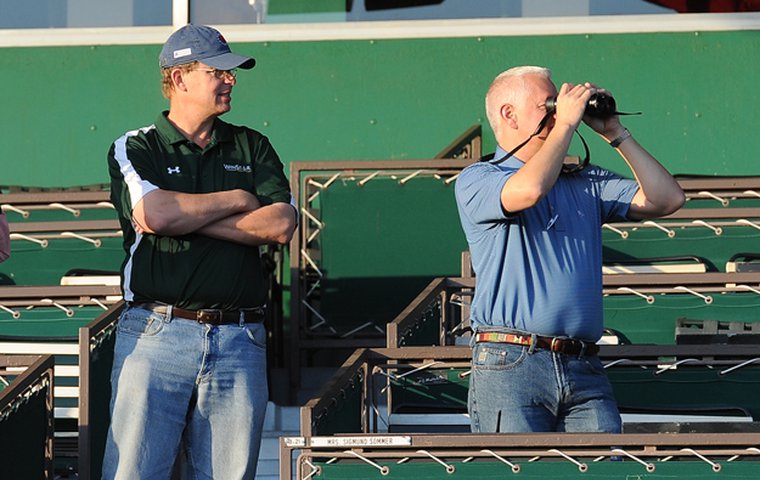 Elliott Walden, a third-generation horseman from the Bluegrass State, has experienced the Kentucky Derby from myriad angles during the course of his 30 years working in the racing industry.

The former trainer, who saddled Victory Gallop to a second-place finish in the 1998 Kentucky Derby before winning the Belmont Stakes with the colt, is now the president, CEO, and racing manager at WinStar Farm.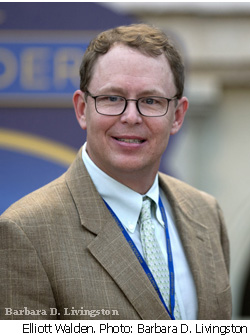 A decade ago, Walden retired as WinStar's private trainer to accept a managerial position at its Versailles, Kentucky farm, which is recognized as one of the world's preeminent racing and breeding operations. Owned by Kenny Troutt, WinStar is home to 20 stallions, including two-time Breeders' Cup Classic winner Tiznow, and Distorted Humor, the sire of 2003 Kentucky Derby winner Funny Cide, who was bred by Troutt and his then-partner, Bill Casner.
After just five years on WinStar's management team, Walden was part of a historic moment for the farm and its racing stable when homebred Super Saver captured the 2010 Kentucky Derby.
WinStar's fingerprints are all over the 2015 Derby field. The stable will be represented by Blue Grass Stakes winner Carpe Diem, who is owned in a partnership with Stonestreet Stables, and Upstart, in whom WinStar recently acquired a minority interest from owner Ralph Evans. Additionally, American Pharoah, the likely Derby favorite, is sired by Pioneerof the Nile, a horse that stands at WinStar Farm.
Walden, 52, is deeply involved in all aspects of WinStar's operation. When he's not at the farm overseeing daily operations at the 2,400-plus-acre facility, Walden is traveling to racetracks around the country to check in on WinStar's racing interests, or he is at sales, scouting young talent.
Karen M. Johnson caught up with Elliott Walden on April 15.
----------
WinStar was the underbidder, with a bid of $550,000, when Carpe Diem sold as a yearling. What attracted you to Carpe Diem?
"Carpe Diem has always been kind of a monster. He's been the horse who is bigger than everyone else and more imposing. He's well-balanced. He's got a lot of athleticism and charisma to him. I've seen him at a sale twice and when you saw him standing off in the distance, he towered over the rest of the horses."
What made you seek him out again when he went through the sales ring as a 2-year-old at the Ocala Breeders' Sale? And what is the story behind WinStar partnering with Stonestreet Stables, who signed the sales slip on the colt?
"I just happened to see John Moynihan [Stonestreet's bloodstock adviser] at the sale. I saw him looking at the horse and he saw me looking at the horse. We both agreed that we liked him and John asked if [WinStar] wanted to partner on him, and I thought it would be a great opportunity to do that.
"You use a different set of criteria when you go to a 2-year-old sale. It's more about how they move on the racetrack than it is their pedigree or conformation. Carpe Diem was as impressive on the racetrack as he was on the shank.
"The interesting thing about Carpe Diem is because of [his consignor] Northwest Stud's religious beliefs, they do not work on Saturday. He was scheduled to breeze on Saturday of the preview show based on his hip number. And Northwest Stud got permission from OBS to work all their horses on Friday that were originally scheduled to go on Saturday. In order to do that, though, they had to put their horses in at the end of the sets. Carpe Diem came out at the end of the first set -- he was the last horse on the racetrack. Usually, the last horse on the racetrack is reserved for the worse horses in the barn, not the best. Usually, the consignors stack their horses right after the break when people's eyes are fresh and the racetrack is good and clean.
"Carpe Diem was just like a head-turner when he came through the stretch. I was almost walking away to go to the bathroom when he breezed. I would say to you a lot of people missed his breeze, but, of course, they could go back and watch it on video and saw how fast he went [10 1/5 for an eighth of a mile]. It was like 'Wow, who was that who just went by?' Then I looked [at the catalogue] and I remembered that was the horse I was the underbidder on as a yearling."
Carpe Diem's price as a 2-year-old was $1.6 million, more than WinStar usually spends at sales for a racing prospect, even when in a partnership. What made Kenny Troutt decide to go that high?
"Kenny is a firm believer in economic principles. Typically he tries to stay in a sweet spot that makes us have the ability to have a nice horse, a stallion prospect, but not get so far behind if that horse doesn't work out.
"The real guiding principle to why we stepped up to buy Carpe Diem was Kenny felt the passion and enthusiasm I had for the horse and that made him reach. We talked through it a great deal, though.
"Kenny loves to tell a story about when he was a young man. He had an uncle he looked up to, who was a poker player. There was a time when his uncle was playing poker and the cards did not dictate that he should bet. Kenny asked him later, 'Why did you go all in when you didn't have the cards to back it up?' His uncle looked at Kenny and said, 'There is going to be a time when you can go against the odds.' And Kenny asked, 'When do you know when that time is?' And his uncle said, 'Well, if you don't know when the time is, it's not the time.'
"So, this is the time [with Carpe Diem]. And we're just fortunate that this horse worked out because most of them don't."
When Carpe Diem came into Todd Pletcher's barn last year what were your initial thoughts?
"Even in Todd's barn, where you see probably the best looking group of horses you can see in one barn, Carpe Diem still stood out."
In what ways has Carpe Diem developed from 2 to 3?
"There wasn't a whole lot to fault him on to begin with. Proportionately, he has gotten bigger and stronger. Mentally, he has grown up. He's had some gate issues in the past. They are not terrible and, in fact, he has no issues when he gets into the gate. It's going up to the gate, where he likes to set-step to the left. But in the Blue Grass, I was really pleased with how he progressed in that area."
What impressed you most about Carpe Diem's win in the Bluegrass?
"It was just more of the same. Every time he has run, he has been really impressive. For me, coming into the Derby, I like the fact he's winning these races with some ease and that he gallops out really well. You just have to feel there is more in the tank."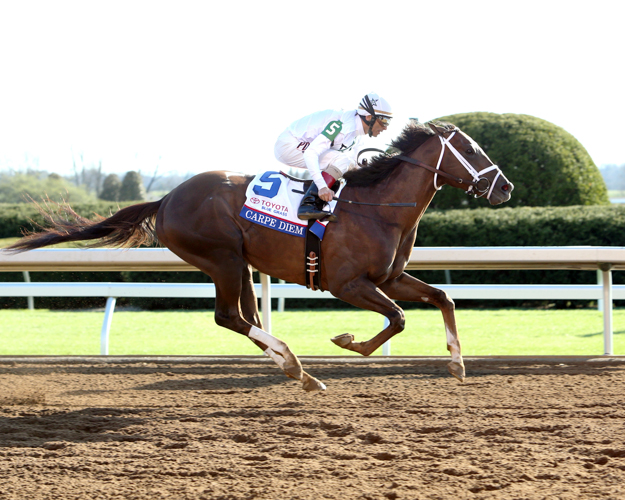 This year's Kentucky Derby field is shaping up to be one of the best in recent years. Which horses have impressed you so far. Who do you think will provide Carpe Diem with his stiffest competition?
"I think there are six horses who can win the race. American Pharoah is potentially a super horse. He is the horse I am most worried about. Of course, he's going to have to win the Derby to prove that. But all signs are that he is like Carpe Diem -- two horses who do things so easily, so we'll see what happens once they get into the gate. Dortmund is certainly a horse who has done nothing wrong. Firing Line just lost to Dortmund by a head twice, so if you like Dortmund, you can make a case for Firing Line.
"I think the horses who ran in the Florida Derby, Materiality and Upstart, could be in the play as well. I think Upstart is a sleeper-type of horse. He's a horse that has been at every dance and has been consistent. He has the racing background and experience to do well on Derby day."
Editor's note: Five days after Walden was interviewed, it was announced that WinStar purchased a minority interest in Kentucky Derby contender Upstart.
WinStar's participation in this year's Derby extends beyond Carpe Diem. The farm stands Pioneerof the Nile, American Pharoah's sire. Is it just as important to WinStar to stand the stallion of a Derby winner as it is to win the race with a horse it owns?
"That's a good question. This [scenario] is what is called, 'A great problem to have.' We would not be disappointed if American Pharoah wins."
What about Pioneerof the Nile made him an attractive stallion prospect, and how does he fit into WinStar's current roster?
"He and Super Saver are the horses for the next decade. We have been blessed with Distorted Humor, Tiznow, and Speightstown for a number of years. The next phase of that is Pioneerof the Nile and Super Saver. One thing we were very conscious of six or eight years ago was what is this farm going to look like after Distorted Humor and Tiznow. Thinking about a great farm such as Overbrook and what happened to them after Storm Cat, we purposely tried to do all we could to keep the stallion roster fresh, current, and popular. You can't always dictate those things, but you can provide resources to get the next Distorted Humor.
"The thing I really like about Pioneerof the Nile is the Empire Maker line. That line is a really good classic American dirt line. And also with Empire Maker being in Japan, it affords opportunities to his sons, like Pioneerof the Nile and Bodemeister, that you necessarily wouldn't get if the daddy was standing in the same spot."
WinStar bred the 2003 Kentucky Derby winner, Funny Cide, and stood his sire, Distorted Humor. Did Kenny Troutt and his former partner Bill Casner, consider this a breakout moment for the farm's breeding operation? In what measurable ways did this impact the farm?
"It was definitely a breakout. They were ecstatic. I remember standing in the suite at Churchill and Kenny was as happy as if he owned Funny Cide. It was a breakout moment for the farm because it elevated the status of Distorted Humor to being an elite stallion with his first crop. And that has always been the goal of WinStar -- to stand elite stallions and to have a roster that people would be attracted to. That one event probably did as much to cement Kenny's vision for the next 30 years -- and Bill's -- as anything they've ever done."
In what ways was it satisfying for WinStar to win their first Kentucky Derby with homebred Super Saver, rather than a horse bought at sale?
"It's always a little extra special to win with a homebred because there are so many more people who touch the horse as part of the team. If you buy a horse at a sale, the only people touching the horse are the breaking people and the training people. If you breed a foal, you've got the broodmare guys, the stallion guys who conceived it, and then you've got the yearling guys who raised it. It includes the whole farm a lot more."
A horse wins the Kentucky Derby and he becomes quite attractive as a stallion prospect. But that doesn't always mean he is going to be a good sire. Do you think stallion owners place an overemphasis on the importance of the Derby when recruiting winners of the race?
"I think probably they do. But you've got to understand what a stallion owner's job is: It's to fill that horse's book and give him the opportunity to have a second career. Winning the Kentucky Derby doesn't dictate success in the stallion barn, but it gives you the opportunity to get the number of mares you need to get foals on the ground, which puts you in the position to see what happens next.
"The Derby and the Breeders' Cup are what this game is all about. It's all about dreams and trying to get a horse to compete in those races. And it doesn't matter if it is WinStar or Beau Lane, who has 15 to 20 mares, and bred Carpe Diem and raised him on his farm. Everybody is after the same thing. People want to be attracted to Derby horses, and that's why breeders are no different.
"It's so hard to do it, but it's also what you strive for, and it is attainable. It's not just the WinStars, and the Darleys, or the Coolmores, who have these horses in the Kentucky Derby. Every year you have the Steve Coburns and Perry Martins [California Chrome's owners]. You have guys who have a dream and just get lucky, and that's the greatest thing about our business."
This July will mark 10 years since you retired from training. Why did you decide to leave your position as private trainer for WinStar and accept the role as racing manager in the organization?
"It was the right time to make that switch for a couple of reasons. One, I had three teenagers who were entering high school and I felt like it was a good time to focus on them, instead of anything else. Anybody that has raised teenagers will tell you, it's a difficult time, and it's where the rubber meets the road. Spending three months in Florida away from them was not attractive to me.
"The second thing was I believed in WinStar Farm and where they were going."
Did you ever have any regrets? What aspects about training do you miss? What don't you miss?
"I don't miss the seven days a week. I think the biggest difference for me is Sundays. I'm afforded the opportunity to go a little slower on Sundays. I go to church a lot more regularly and spend time with the family, which I relish. That has been a real benefit to not training.
"As for missing something, it's the camaraderie of the backside. I miss the personalities at the barn, the grooms, hotwalkers, exercise riders, and the trainer friends you have to work so closely alongside of and compete against."
On this past April Fools' Day, WinStar tweeted you were returning to training. Was that your idea? Did you hear from anyone who was fooled?
"There were some people fooled. It actually made it up on a national paper's website. No, it wasn't my idea. My idea was to say Carpe Diem was going to be scratched from the Blue Grass. But our marketing guys did not think that was a good idea. They came up with the idea that I was returning to training, and I liked that idea better anyway."
WinStar is a strong presence on social media, and very committed to engaging fans through Twitter and Facebook. Additionally, you offer StableMates, a membership-based program for fans to connect directly with WinStar's operation. Why are these marketing initiatives so important to WinStar?
"Twitter and Facebook are growing marketing arms that we can use effectively for our farm and for our racehorses and for our stallions. Stablemates and our other social media stuff is really just a vision to create fan interest for the business and to try to help our sport grow. We're trying to do our part to help the industry."