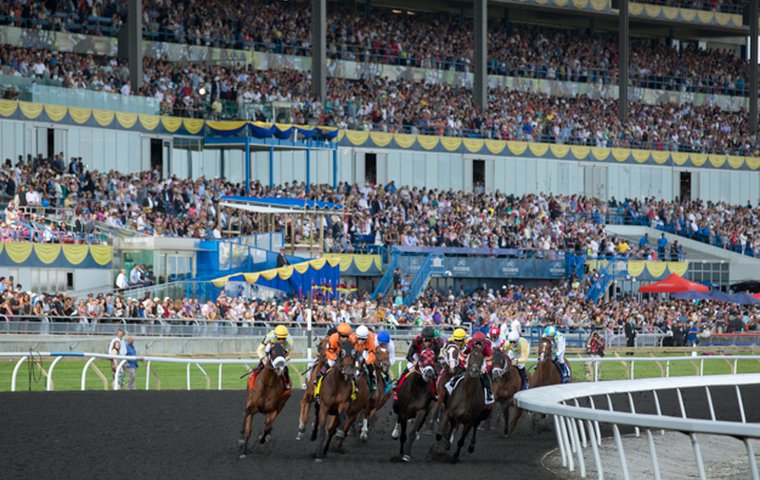 Ahead of Sunday's Ricoh Woodbine Mile, a "Win and You're In" race for the Nov. 1 Breeders' Cup Mile, Chris Lomon interviews Woodbine Entertainment Group's President and CEO Nick Eaves about the track's efforts to ensure long-term sustainability following the 2012 cancellation of the Slots-at-Racetracks Program (SARP), previously a major source of revenue.

There is an unmistakable note of optimism in the voice of Nick Eaves, president and CEO of Woodbine Entertainment Group (WEG), a hopeful tone that suggests Woodbine Racetrack, staggered by the cancellation of the Slots-at-Racetracks Program (SARP) two years ago, is on-track for better days ahead.
The tumult that came in the weeks and months following March 12, 2012, the day the Ontario Liberal government announced the ending of SARP, is still palpable across the province's horse racing landscape.
The program, which shared slot revenues between the Ontario Lottery and Gaming Corp. (OLG) and racetracks, directed approximately $345 million per year to the horse racing industry and $1 billion per year to the government.
An industry that once supported nearly 60,000 workers was left reeling.
Twenty-eight months after the demise of SARP, the challenges are still many, while a feeling of uncertainty still resonates at racetracks, horse farms, and the breeding sheds throughout Ontario.
The Horse Racing Partnership Plan, which came into effect on April 1, is the Ontario government's five-year blueprint to invest up to $500 million to support the horse racing industry in the province.
Although Eaves was pleased to see a short-term plan put in place, WEG's focal point is on long-term sustainability.
"We will continue to be focused on expanded gaming at our sites," Eaves noted. "It's certain that there will be gaming at our sites for years to come. There is a will on the part of the province to do that, which is key to the health and success of the racing and breeding industry. You can't question their commitment. But, we need to find a way to ensure a long-term sustainable model.
"We will also continue to look at ways for Woodbine and the OLG to work together," he continued. "Where it's not about competing against one another, but rather, supporting each other, for both to take advantage of what the other offers, to harness what each brings to the table, so to speak. WEG has long held the belief that expanded gaming at racetracks like Woodbine and Mohawk is vital to ensuring the sustainability of horse racing and the thousands of jobs it supports in the province."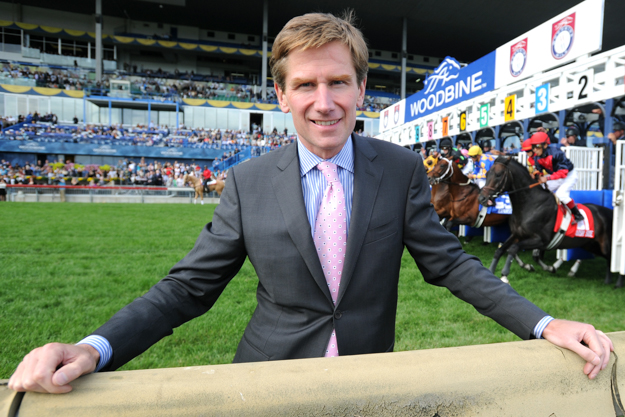 The plan also introduced the Standardbred Alliance, its mandate to provide a solid base for Ontario Standardbred owners, breeders, and horsemen. Essentially, the tracks work together to implement operational efficiencies, coordinate a year-round racing calendar, develop a program of racing that is attractive to foreign and domestic customers, and establish consistent purses.
Standardbred tracks in the Alliance include Woodbine, Mohawk, Flamboro Downs, Georgian Downs, Western Fair, Clinton, Hanover, and Grand River.
Additionally, to ensure a consistent customer-focused approach to improving the distribution, value, and appeal of horse racing across the province, in April, WEG was named the single operator of Teletheatres and Account Wagering in Ontario.
The consolidation of all off-track operations under WEG's Champions and HorsePlayer Interactive (HPI) brands allows for a consistent customer experience with the integration of a province-wide rewards program for horseplayers. [pullquote]
"Success, in certain areas, has been realized," Eaves said, pointing to an 8.95 percent increase in wagering on Alliance racetracks to date in 2014, year over year, since April 1, the date the Alliance took over. "We're seeing success in core elements of our business. But, we still need to rise to the long-term challenges.
"The challenge continues to be working inside a different business model," he continued. "I'm proud of how the organization has adapted in securing 133 days of Thoroughbred racing and 222 days of standardbred racing. We've seen pari-mutuel growth on the Standardbred side and need to see the same with the Thoroughbred side. Over the last two and a half years, we've seen pressure on field sizes for Thoroughbreds, and that will continue to be a challenge. The key is to continue to put on a compelling and creative racing product."
From 2008 to 2012, all-sources wagering on Woodbine's Thoroughbred racing was up more than 34 percent in a timeframe when numerous tracks saw dips in wagering.
In 2013, the 131-day meet produced all-sources per card wagering of $3,095,872, a 6.41 percent increase compared to the $2,909,394 per card recorded in 2012. The overall wagering was $405,559,284, compared to $453,865,564 in 2012, which featured 25 more race days.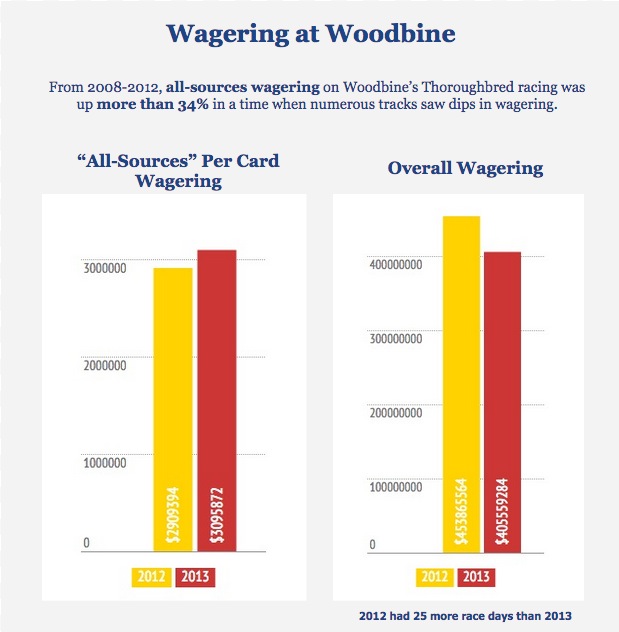 "I'm very proud of our 2013 Thoroughbred season," Eaves beamed. "We saw overall per card wagering rise for a fifth consecutive year. We delivered more value to the Woodbine customer than ever before. Our Queen's Plate-inspired Hats & Horseshoes party featured a red carpet, food trucks, and upscale lounges, which received wonderful praise. Our social media concepts, including #Woodbine360, in which followers were given a fascinating insider's look at horse racing, were prevalent throughout the season."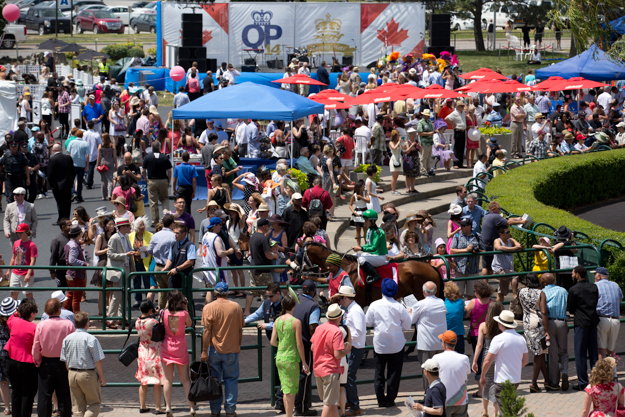 Long held in high regard across the world for its lucrative purses and marquee events, including G1 turf classics, the $1 million Ricoh Woodbine Mile and $1 million Pattison Canadian International, as well as the standardbred $1 million Pepsi North America Cup and $603,000 Maple Leaf Trot, WEG remains steadfast in its pursuit of attracting horse racing's top competitors, while delivering customers a strong and diverse wagering menu, as well as a first-class venue to watch live racing.
The last two runnings of the Mile, set for Sept. 14, 2014, were won by two-time multiple Eclipse Award winning Horse of the Year, Wise Dan.
"We'll continue to communicate regularly with the North American and European racing communities about our strong racing products," Eaves said. "With nearly $500,000 a day in purses (Thoroughbreds), combined with the reputation we've earned for our hospitality and first-rate facilities, we are well-equipped to attract new participants."
Woodbine has always been a popular spot for Europeans. Its filly & mare turf races such as the G2 $300,000 Canadian Stakes and the G1 $500,000 E.P. Taylor Stakes are offered adjacent to the Mile and International, respectively, making Woodbine an ideal destination for inernationals.
This year's Queen's Plate card, which drew more than 30,000 fans, saw a total of $9,079,520 million wagered on the 13-race card, the second highest handle recorded in Plate history. A record $3,074,410 was bet on the Queen's Plate race itself.
The Plate aired on TSN, the country's preeminent coast-to-coast, 24-hour sports channel. WEG recently signed a multi-year deal with TSN and its parent company Bell Media, who will broadcast every race from the Canadian Triple Crown series: the Queen's Plate, Prince of Wales, and Breeders' Stakes, plus the Mile and International, and is the exclusive Canadian broadcaster of the U.S. Triple Crown: the Kentucky Derby, Preakness, and Belmont.
Woodbine's live racing broadcasts have been aired in high definition since late June.
"It's so spectacular to see our product in HD," Eaves said. "We've converted our in-house studios to HD, and it's been fantastic. To be able to showcase our great content in that format is something our customers certainly appreciate."
Horseplayers of Woodbine racing no doubt appreciated the news that WEG lowered the takeout on win wagers to 14.95 percent before the start of the 2013 meet, then the lowest number offered in North America.
The Jackpot Hi-5 wager (15 percent takeout) has also been eagerly embraced by fans.
The bettor is tasked with selecting the top 5 finishers in a race in the correct order, with one twist: There is a full pool plus a jackpot carryover that will pay out if and when only one single winning ticket exists. On this year's Plate day, $653,423 was wagered on the Jackpot Hi-5.
Customers have also been quick to praise a revamped and revitalized HorsePlayer Interactive Rewards program, one that enhances the rewards they receive through their membership with HPI, Woodbine's online wagering and racing information website.
Woodbine is especially buoyed by the growth of its share of handle via mobile after it launched its HorsePlayer Interactive app in 2012.
"We are constantly striving to provide our core customers with innovative ways to enhance their racing experience, while also looking at ways to attract new fans to our great sport," Eaves said.
A sport that's faced great unrest and upheaval in Ontario, but one Eaves believes will eventually find the stable ground it needs.
"There were a lot of changes that we didn't want to make, but had no choice," he said. "There was a lot of pain and unpleasantness for people affected by what transpired through the cancellation of SARP. But, I'm remarkably proud of everyone at Woodbine, who remained focused on maintaining the high standards associated with our racing products. We'll continue to work hard in every way to ensure success for our industry and value for our customers. We can certainly see some good things happening now."
With the hope that the coming years will be even better.