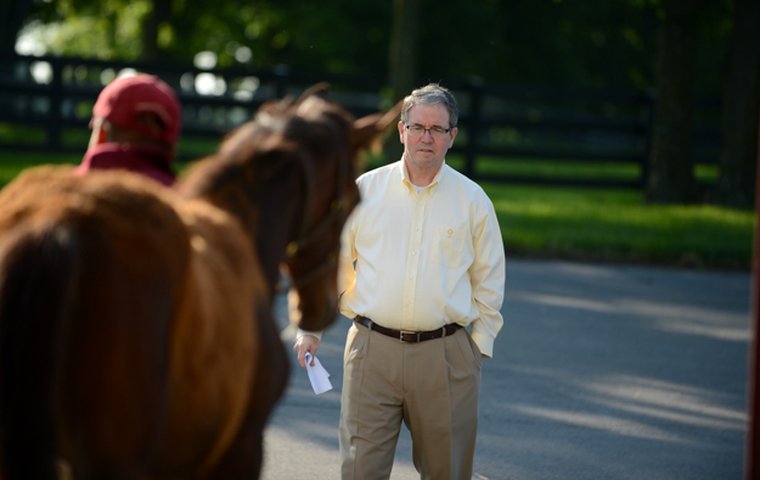 Duncan Taylor is one of the most influential horsemen in America. The President and CEO of the 1,600-acre Taylor Made Farm in Kentucky, one of the world's leading consignors of Thoroughbreds, he is also a director of Keeneland, Horse Country and the Kentucky Equine Education Project. Taylor owns and operates the two arms of the business - Taylor Made Stallions and Taylor Made Sales - with brothers Ben, Frank and Mark. The brothers learned at the feet of their father, Joe, who ran nearby Gainesway Farm for four decades. Duncan founded Taylor Made in 1976 at the age of 19 with business partner Mike Shannon.

Among the outstanding stallions to stand at Taylor Made have been the late Unbridled's Song, sire of Arrogate and U.S. champion sire in 2017, and, currently, the two-time U.S. Horse of the Year California Chrome.

Who do you think is the most important figure in the history of racing around the world?
I have chosen two people who I believe have impacted America's racing. Both of these individuals I admire because their efforts were focused on what any industry's focus should be on: the customer.
The first is Harry Strauss, a horse bettor and an electrical engineer, who started the company Am Tote. Harry was frustrated with the current way of horse betting in the late 1920s. He was quoted as saying, "I was just tired of going to the races and having my day spoiled. I got to thinking what a great thing it would be to have an efficient system of betting so that you would always know the correct odds on your horse and not be disappointed by the payoffs.
"I was fast losing faith in the old pari-mutuel system because it was always and continually incorrect, and that agitated me greatly."
His refinement of the totalisator system improved and increased wagering by creating a better customer experience. And, yes, he knew the customer was the horse bettor.
The second person I believe is John R. Gaines. He created the Breeders' Cup, a year-end world championship of racing for the horse bettor and the fans. John not only had the vision, he was able to unite a bunch of competitors who really weren't the best of friends around a good idea with the Breeders' Cup World Championships, which is still growing today.
Unfortunately, John had to step down as the President so that others could take the credit they so greatly desired. I have always admired his brilliance and character to step aside to ensure what was best for him and his competitors was accomplished.
His vision was only partially achieved. He wanted to use the Breeders' Cup platform to grow the business by focusing on the customer, not having another day for the insiders.
Which is your favorite venue and race (anywhere in the world)?
My favorite race is the Kentucky Derby. It is the race that can change lives, a horse's value by tens of million dollars. It usually is a great betting race because young horses come from all across the USA and sometime other countries, all running a mile and a quarter the first time.
The atmosphere is electric and, when My Old Kentucky Home plays, the emotions are so strong you feel like you could reach out and touch them. A good glass of bourbon and a great horse race, it doesn't get any more Kentucky than that.
As far as the venue, it is Saratoga Springs. It's the history of America's wealthy, migrating before air conditioning to upstate New York to find comfort in the summer, bringing their best horses to compete against each other at Saratoga. You can actually feel the satisfaction and love the Saratoga racegoer has for our sport. The fans and horse bettors at Saratoga know how to have a good time.
What is your fondest memory in racing?
It has to be California Chrome's Dubai World Cup win in record time, although, if ownership bias was put aside, my favorite memory was watching the race between Seattle Slew and Affirmed (1978 Jockey Club Gold Cup. See video below.)
I was watching the race with my father, Joe Taylor, who was so pro-Gainesway Farm, where he managed for 40 years, and my mentor at Taylor Made, partner Mike Shannon. Seattle Slew and Affirmed went to the lead. Affirmed's saddle slipped and he started to run off. Seattle Slew stayed with him step for step. Seattle Slew finally put Affirmed away.
Meanwhile, Willie Shoemaker on Exceller was 30 lengths behind and closing. He passed Slew deep into the stretch by surprise. Slew started to fight back but Exceller, a Gainesway stallion, won by a nose. I don't believe I ever saw my father happier in his life.
What do you see as the biggest challenge racing faces today?
The lack of a central authority that is focused on current customers and the most probable next customer. For example, if everyone who worked at the Taylor Made organization had an equal say in every decision when the person approached the company with a great idea that would serve our customers well, you would have to get all 130 people to agree to implement the idea. By the time you approached all 130, the first people you asked would have forgotten the idea or changed their minds.
This is how it works currently in the Thoroughbred Industry, where no one is in charge and everyone has an opinion.
If you could change one thing in racing, what would it be?
The horse owners would form an organization that was democratically run that would own their own racetracks. A board would be elected and a CEO would be hired to focus on attracting new customers with new betting products, while esteeming the current customer (horse bettors) while making a profit.
The best horse bettors are very intelligent people who should be esteemed. When we start working for our customer (the horse bettor), our business will grow. We have found the enemy, and it is ourselves.