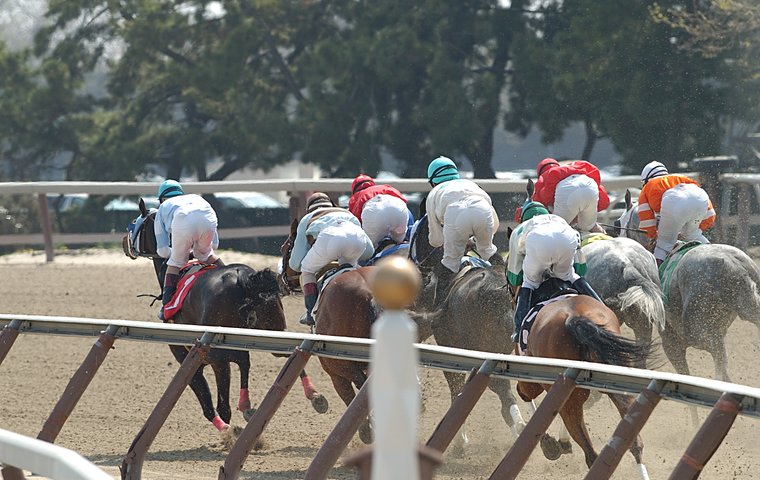 View from the Rail is a new fortnightly TRC series in which Charles Hayward gets a few things off his chest about what's right and what's wrong in the world of horse racing. He starts today with a simple answer to one of the biggest problems facing the industry in the United States.

The U.S. Thoroughbred breeding and racing industry is in serious trouble. The lack of consistent, proper, state-of-the-art regulation by the individual state bodies is a huge threat to its future. Yet there is a solution in sight that should be acceptable to everyone across all aspects of the sport, even those on opposite sides of the big sticking point - race-day medication.
The Horse Racing Integrity Act was introduced in the summer of 2015 by Congressman Andy Barr (R-KY) and Congressman Paul Tonko (D-NY) to replace the largely ineffectual network of state regulatory agencies currently managing all medication rule-making, testing and penalties for the industry.
In my view, the bill, which would put the independent U.S. Anti-Doping Agency (USADA) in charge of all anti-doping activities, was the most important development in the regulation of Thoroughbred racing for decades.
Three years later, it still hasn't been passed, but there are sound reasons for believing that a modified version of it would go all the way. But more of that later.
Clearly it will need a lot of collaborative effort from the industry to get the support to get this bill passed. There is built-in resistance from the participants of the current state regulatory structure, but there are strong arguments to be made against the current structure, or lack of it.
Look how badly it's all working at the moment:
Uniformity
To date only 11 of the 32 Thoroughbred horseracing states have adopted all components of the Racing Medication Testing and Consortium's 2012 National Uniform Mediation Program (NUMP), which deals with all medications, penalties, lab accreditation and third-party Lasix administration. Clearly, the current status quo does not want uniformity and enhanced integrity in Thoroughbred racing.
Out-of-competition testing
For any effective integrity program for drug testing, a robust out of competition testing program is essential. Of all the U.S. drug tests, less than two percent are out of competition. In England, France and Hong Kong that figure is between ten and 14 percent. Joe Gorajec, 25-year former Executive Director of the Indiana Horse Racing Commision and an industry expert and TRC contributor, was asked by the Paulick Report's Natalie Voss in an article on September 7, 2016, "What is stopping states from out-of-competition testing?"
"It is either a lack of funding or a lack of will or a combination of both," he told her. "Without out-of-competition testing, horsemen can cheat with impunity. This is a disservice to the sport and the betting public."
Owner, breeder and industry expert Barry Irwin wrote on this site in September, 2016, "Today in racing, there is abundant reason to believe that cheating is being conducted at the highest level of the game. Yet very little, if anything, is being done to detect it. As far as I can tell, there is no regulatory body that is actively involved in conducting investigations aimed at detecting cheating by uncovering physical evidence of illegal substances for which tests can be developed."
Wagering
Total wagering on Thoroughbred racing in the U.S. peaked in 2003 at $15.2 billion and it has bottomed out in the last five years, 2013-2017, to between $10.5 and $10.9 billion - an approximate decline of 30 percent.
If you owned a business or worked in a business that sustained a consistent loss of revenue of that proportion, you would likely sell or leave that business.
Confidence
As noted in an earlier commentary here, in 2015 the Daily Racing Form conducted a major survey of 1,860 industry participants and bettors that found:
78 percent believed states are not effectively catching trainers or veterinarians using illicit drugs
77 percent thought regulation and enforcement of Lasix and other race-day medication rules should reside in a national entity
60 percent believed states were incapable of adopting uniform regulations without the structure that would be imposed by the Horse Racing Integrity Act
64 percent were in favor of the passage of the Act
So what's the solution?
The original 2015 bill was silent on Lasix and race-day medication. I believe this was the proper approach. The Jockey Club, the Breeders' Cup and other industry organizations have been strong advocates of the abolition of Lasix and secondarily all other race-day medications, and this had become a controversial and divisive issue in racing.
More than 95 percent of Thoroughbreds run on Lasix in the U.S. There are strong arguments and feelings on both sides.
I have first-hand experience of this. I was working at the New York Racing Association (NYRA) when the Lasix issue became front and center. It was the most polarizing issue I have witnessed in 30 years' following Thoroughbred racing.
I took part in a NYRA Board meeting where it was agreed to keep the status quo and not eliminate Lasix. NYRA had just gotten out of bankruptcy, we had just received a new 25-year franchise and the renovation of the VLT (Video Lottery Terminals) facility was about to get underway. NYRA did not need a controversial issue that would divide the racing community and jeopardize the future of the restructured NYRA. I believe the proper decision was made at the time.
This NYRA experience does have some similarities with this current legislation. If we cannot get control of the integrity of our racing product and clean up what has become a dirty game, then it will not matter whether our horses are running on Lasix or not.
Important priority
The 2017 version of the Horse Racing Integrity Act (about 100 additional Congressmen and women have signed on to support it since it was introduced) does mention Lasix. It prohibits administration of any medications on race day, including Lasix.
Yet, to get this legislation passed, it is my strong opinion that we have to set Lasix off to the side, get USADA in place, clean up the game and deal with the Lasix issue as an important priority of the new regulatory body. Lasix has to come out of the proposed bill.
It is an important moment in time, one in which we need all industry participants to work together to support the Horseracing Integrity Act of 2017.
From my NYRA experience, I am fully aware of both sides of the issue and also the intensity of the positions for each side.
We need owners, breeders, trainers, jockeys, regulators, racing executives, front and backside employees, customers and executives/employees of related companies that support the Thoroughbred racing and breeding business to come together and support a newly revised bill that would not stipulate the elimination of Lasix.
Incidentally, many industry participants have grave concerns about getting the Federal Government involved in the Thoroughbred racing and breeding industry and, given the partisan nature of Washington at this time, I can certainly understand the concern.
However, the federal law that authorized simulcasting of racing signals over the phone, internet and over state lines is the Interstate Horseracing Act of 1978, which gives the Federal Government oversight of over 90 percent of the U.S. annual wagering business. So Washington is already deeply involved in the racing business.