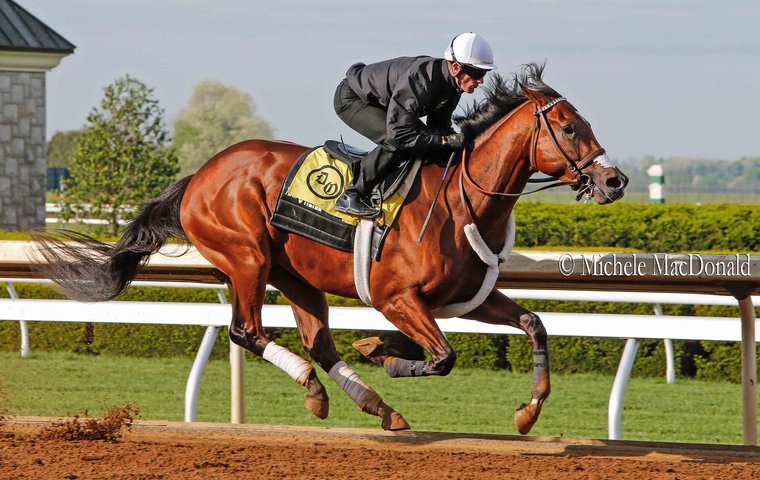 What began as something of a good-natured racetrack hustle has flowered over time into one of the most successful and enduring partnerships in contemporary American racing.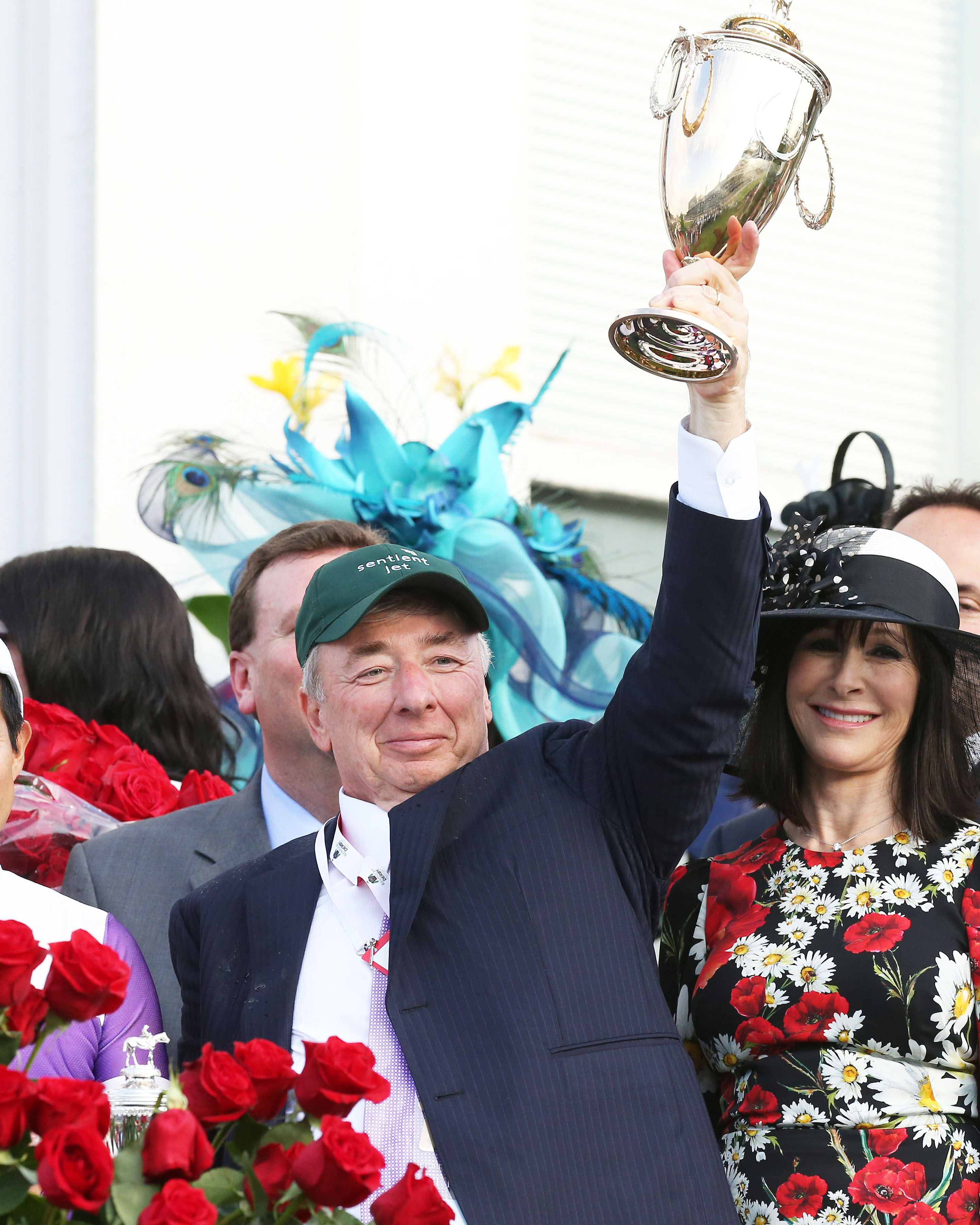 Owner J. Paul Reddam and trainer Doug O'Neill already rank among the all-time leaders in Kentucky Derby wins with their 2012 and 2016 victors I'll Have Another and Nyquist, and they are back to try to clip more roses this year with Blue Grass Stakes winner Irap.
In a world where loyalty, teamwork and constancy seem sadly out of fashion, Reddam and O'Neill have stuck together through ups and downs for 13 years, defying naysayers while reaching some of horse racing's most hallowed ground.
Reddam is tied for fourth among history's winningest Derby owners, behind only stables of yesteryear, while O'Neill enters the 143rd Run for the Roses equal with 11 other trainers in having the fourth-highest number of winners.
Their feat of winning two Derbys within five years had not been achieved by an owner-trainer combination since Lucien Laurin sent out Meadow Stable's Riva Ridge and Secretariat in 1972 and '73. William Condren, who co-owned 1991 winner Strike The Gold with Giles Brophy and Joseph Cornacchia, was listed on the '94 race chart as sole owner of winner Go For Gin, with both those runners trained by Nick Zito.
Mutual respect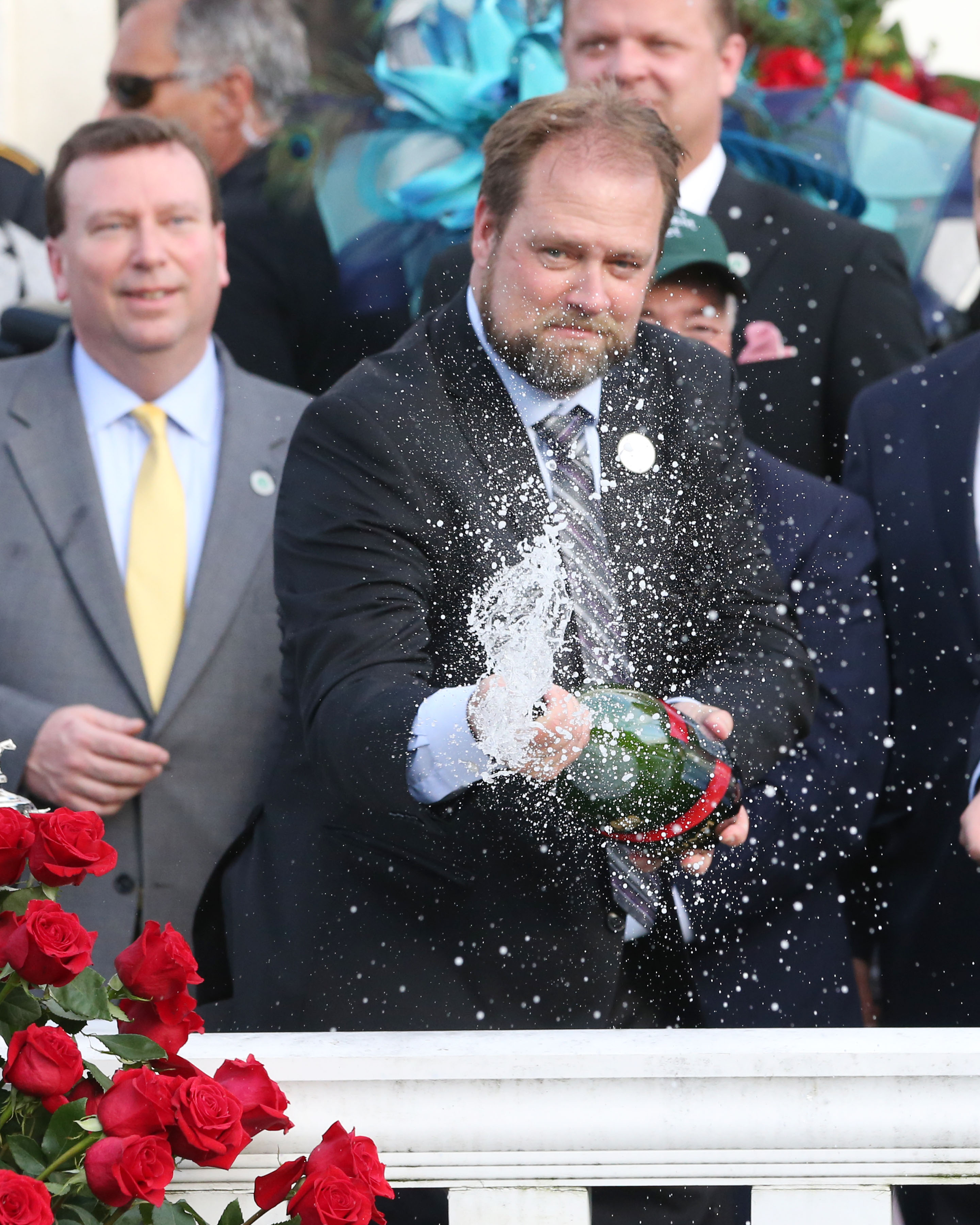 Even if only due to numbers, it is more difficult to win the Kentucky Derby in the current era than in previous decades as 20-horse fields now have become standard. Go For Gin had to defeat only 13 rivals at Churchill Downs, while Strike The Gold won in a 16-horse field and just a dozen raced against Secretariat, for examples.
O'Neill and Reddam attribute their Derby and other racing successes to communication, mutual respect and, of course, the racetrack staple of luck.
"Paul is the most loyal guy in the world. He is just always there for you," reflected O'Neill, who turns 49 on May 24. "He's just an absolute dream to have be involved with the horses."
"Loyalty goes both ways. Even though Doug is a very affable character, he takes his job very seriously," Reddam said. "Doug deserves all the credit in the world for winning those Derbys."
Reddam, 61, enjoys telling the tale of how he and O'Neill began working together in 2004. A mutual friend, owner Mark Schlesinger, phoned Reddam and asked if he would like to invest in a claiming horse that would be trained by O'Neill.
"I said, 'Sure. Why not?'" recalled Reddam, who had already campaigned G1 winner Elloluv and would co-own that year's Breeders' Cup Juvenile winner Wilko. So, on May 29, 2004, O'Neill claimed then 8-year-old Waki American for $25,000 out of a Hollywood Park sprint on behalf of Reddam, Schlesinger and Paul Lo Duca.
"Doug started calling me and reporting on the horse every day and I thought, 'This is unbelievable. How fantastic is this guy?'" Reddam said. "I had a large number of horses with other trainers and I didn't hear from them that often.
"It didn't ever dawn on me that he was hustling me until much later," Reddam added, laughing.
Leadership skills
After they had been chatting about Waki American over a period of time, O'Neill called Reddam and related that his bloodstock agent brother, Dennis, had found a juvenile filly in Florida in which they hoped Reddam and his wife, Zillah, Schlesinger and others would buy ownership interests.
"It all seemed like the most natural thing in the world. Of course, that was the plan all along," Reddam said. By 2005, "we had about 15 horses in his barn and didn't even know how it happened. And we've been together ever since."
Currently, O'Neill said Reddam has about 40 horses with him, or approximately half of the trainer's total number of trainees. While demanding a high level of performance, Reddam has inspired O'Neill to improve all aspects of his operation.
"It would be a like a War and Peace novel, really, to explain. He's been important in so many ways," O'Neill said, particularly citing how Reddam's leadership skills in acquiring and managing horses and with other business issues have filtered down to everyone in the barn.
"I've been blessed to have so many great friends and owners, but year in and year out, Paul really steps it up and is able to put some really dynamite equine athletes in our care. It's hard to explain how much that means to not only me, but to the exercise riders, the grooms, the hotwalkers — everyone who is part of it. Paul really takes care of everybody."
Communication is the key. Reddam said many trainers stay predictably upbeat about their horses in order to keep owners feeling positive despite the bills they have to pay to keep those runners in training.
"With Doug, we've kind of gone past that," he said. "I've encouraged him to be straight-out honest about how the horses are" because, in noting and dealing with problems efficiently, "that's how we'll be successful in the future."
"He's done a great job communicating with us," Reddam added.
Dealing with adversity
Not all communications in the roller-coaster world of racing can be positive, of course, but O'Neill noted that Reddam receives both ends of the information spectrum with aplomb.
"He doesn't like bad news, just like anyone else, but he handles it with so much class, and he doesn't blame and he doesn't finger-point. He wants to do whatever is in the best interest of his horses and appreciates all the people that are part of the team that surrounds each and every horse," O'Neill said.
Both owner and trainer have had to deal with more than the usual kind of adversity. When I'll Have Another was forced to the sidelines by a swollen left front tendon before he could run for immortality in the Belmont Stakes and become the first Triple Crown winner in 34 years, both were deflated like few others who have had to scratch a horse from a big event.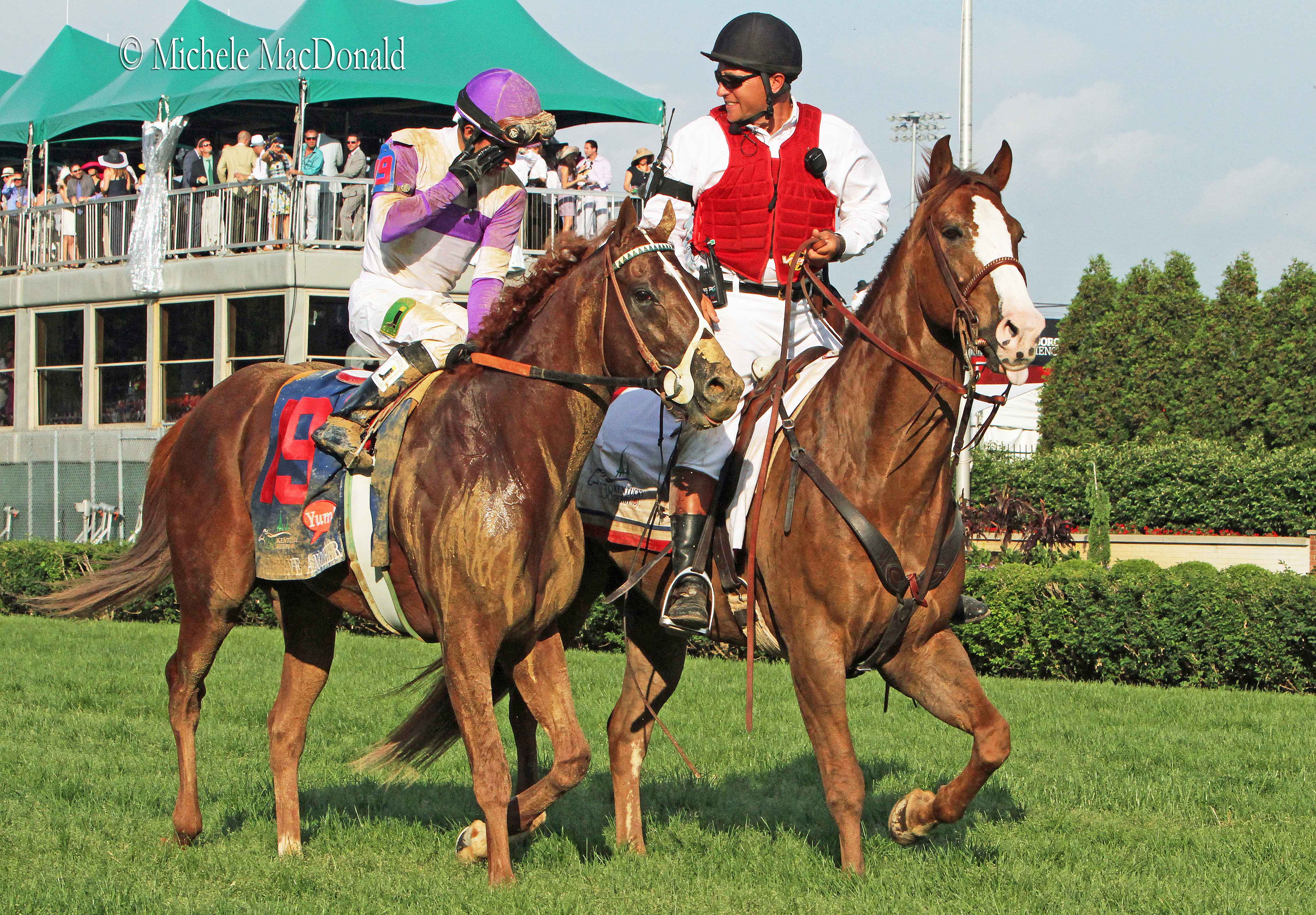 "We're all a bit shocked, but we have to do what's best for the horse," Reddam said at the time. "If he can't compete at the top level ... he's done enough."
Looking back on the incident last year, as Nyquist was preparing for the Derby, Reddam said: "I remember thinking, if the team can survive this, they can survive anything."
Although I'll Have Another was retired, ending any chance of more big wins, the son of Flower Alley — purchased as a juvenile by Dennis O'Neill on Reddam's behalf for $35,000 — had banked $2,693,600 by winning five of seven starts. Reddam then sold the colt for $10 million to Shigeyuki Okada's Big Red Farm, and I'll Have Another went on to rank as Japan's second-leading freshman sire in 2016.
With Nyquist, Reddam and O'Neill enjoyed an undefeated ride with the champion 2-year-old male of 2015 prior to last year's Kentucky Derby romp. A $400,000 juvenile acquisition by Dennis O'Neill, Nyquist made Reddam feel like the luckiest man in racing, he said after the Derby, adding, "I'm just very lucky to be with these guys."
However, two weeks later, "everything went wrong" in the Preakness for Nyquist, the owner observed, and the Uncle Mo colt never won again. Nonetheless, his future already was secured, with Reddam having sold breeding rights to Sheikh Mohammed's Godolphin operation prior to Nyquist's triumph in the Breeders' Cup Juvenile the previous year; terms were not disclosed.
Nyquist earned $5,189,200 on the track by winning eight of 11 starts.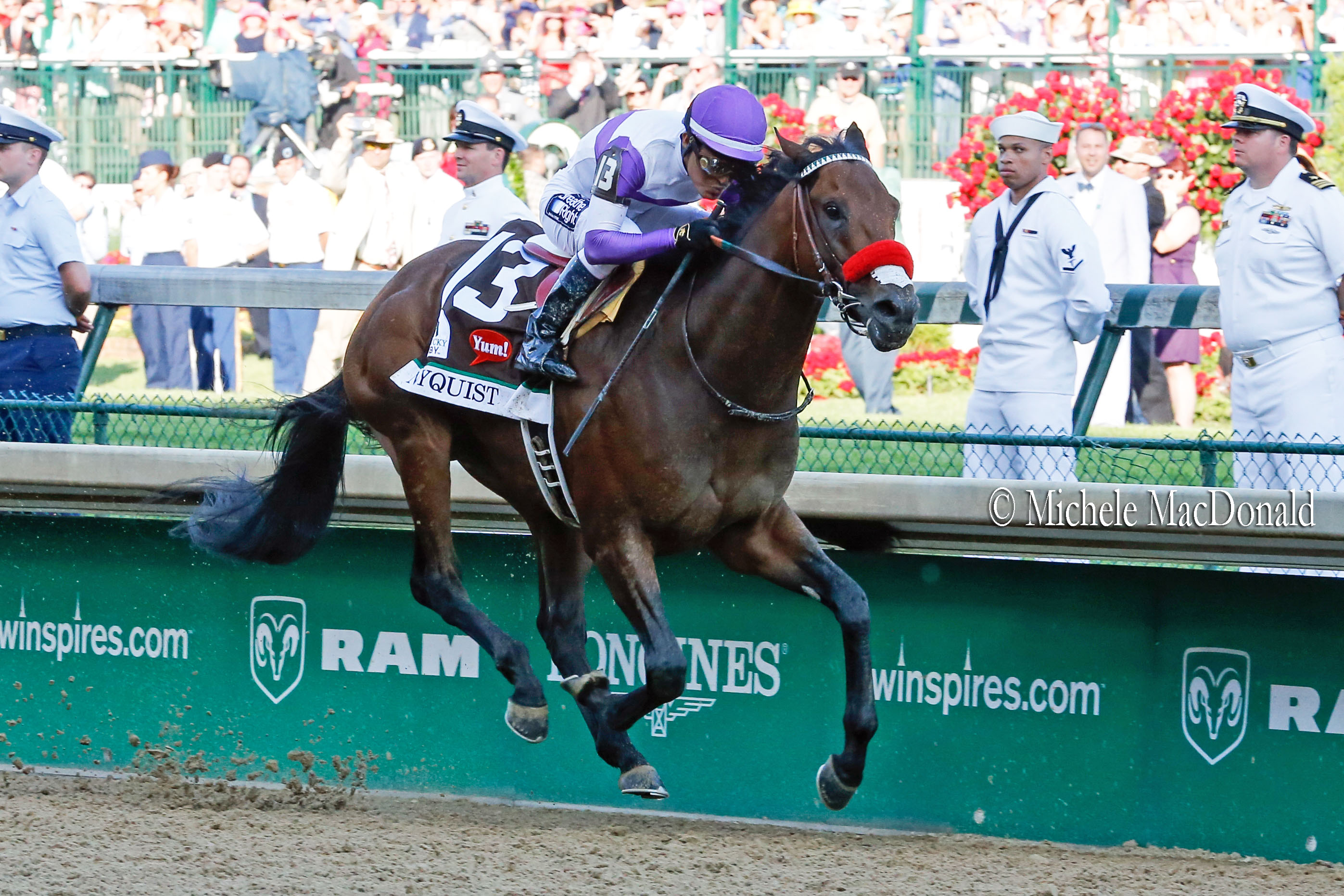 "Winning is easy, but you lose more than you win," Reddam observed, adding that how a person or group handles defeat can portend his or their future. Following Nyquist's Preakness loss, "our team was a still a team, on that night and on to today. And now we have a Derby starting spot again."
An Ontario native who holds a Ph.D. and once was a professor of philosophy at California State University, Los Angeles, Reddam founded several loan businesses and currently is the president and chief executive of CashCall Inc. Some of the business practices of CashCall, a lender at high-interest rates, have been challenged in court and Reddam has faced legal issues regarding a tax shelter designed for him by following his sale of the DiTech mortgage companies he founded.
Yet his commitment to racing and O'Neill have not wavered during any of the storms.
O'Neill also has faced career setbacks, most notably a suspension for excessive carbon dioxide (commonly called 'milkshaking') in one of his horses and later a suspension for a positive test for the anti-anxiety drug Oxazepam in another. He denied the milkshaking charge and said that, while neither he nor any of his employees had given Oxazepam to horses, he had to take responsibility as the trainer of record, emphasizing that he cares deeply about the well-being of his runners.
"His horsemanship is really underestimated," Reddam said of O'Neill, asserting that the milkshaking charge has "kind of stuck to him" and unfairly so, blurring his achievements in some quarters.
"If a horse wins the Kentucky Derby, they are tested up, down and all around," Reddam noted, observing that some of the flak that has been leveled at O'Neill through various social and other media platforms is due to the fact that "people hate others' success at a certain level".
"He has a real intuitive feel for his horses and a great deal of sympathy and empathy for them," Reddam said of the trainer.
Kick in the butt
His personal success at the highest levels of ownership has been "really the work of a craftsman taking some clay and turning it into a piece of art", he continued about O'Neill's work. "He has done such a fabulous job. I'm very proud to be associated with him."
In turn, O'Neill said Reddam has spurred him on, during good times and bad. In the year prior to Nyquist's Derby victory, the trainer remembers Reddam became irritated with him during a phone call but that a greater rapport eventually was achieved.
"There are times when he'll get a little bit angry and loud and upset, and every time, it's 100 percent like a wake-up call that maybe we, all or some of us on the team, were sleepwalking a little bit. It's a wake-up call, but out of love and support and loyalty," O'Neill said. "Every now and then, he'll give you the kick in the butt to wake up and get focused and get going, and it's a beautiful thing to be balanced."
The phone call led to O'Neill and Reddam meeting regularly, along with Dennis O'Neill and Reddam's top jockey, Mario Gutierrez, and Gutierrez's agent, Tom Knust. Gutierrez, who will ride Irap, has only ridden in two other Kentucky Derbys and he was won both, on I'll Have Another and Nyquist, making him tied with 14 other riders for having the fourth largest number of wins in America's most famous race.
The meetings have proven to be a significant factor in the scores by what they all call Team O'Neill, the trainer said.
"It's real important to stay on the same page and have a direction, whether it's right or wrong, but have a direction with each individual horse and try to move forward. And, if you're not moving forward, slow down, kick them out or whatever you need to do to re-freshen them and get them going right," O'Neill asserted.
Thinking outside the box
Reddam's very active role is unusual for owners in the sport.
"He's very much of a contrarian in that if it really makes sense to do one thing, he'll lean on what else we can do," O'Neill said. "It's a great mindset when you can have a leader take you that way because the pressure is off a little bit. You're not really doing the 'obvious' things, and he's the first one, as long as a horse is doing well, to think outside the box a little bit and come up with something challenging. If it doesn't work out, he's the first one who will say, 'We tried it. Let's make sure the horse is fine before we find another spot.'
"He likes to think outside the box, for sure. He's got a Ph.D. in philosophy and you can really see it on a daily basis in the way he will question whatever the 'norm' is," O'Neill added.
Reddam also tends to steer the group toward proactive, positive thinking.
"It's so easy — and I've been guilty of this when things aren't going right and you're spiraling a little bit — to start blaming the riders, blaming this, blaming that, blame the racing secretary, blame the track," O'Neill said. "And, when I go down any of those roads, [Reddam] puts up the stop sign like whoa, whoa, whoa. If you're not going to give the racing secretary and the track credit when you win all the time, you can't blame them every time when you don't.
"Paul has taught me to try not to go down that road very often and try to look in the mirror and think what can I do better and what's another road we can take that might have a better result," O'Neill reflected.
Irap has become the latest poster colt for their teamwork, and the blocky colt is the epitome of how they try to turn failure into fortune.
Described as a potbellied yearling by his consignors at Taylor Made Farm, the Tiznow colt bred by Aaron and Marie Jones did not meet his reserve at the 2015 Keeneland September sale, even though he was a half brother to champion and sire Speightstown.
Sold privately to pinhooker Brad Grady and his bloodstock advisor Bobby Dodd, the colt grew and transformed into a better 2-year-old and was purchased by Dennis O'Neill under Reddam's account for $300,000.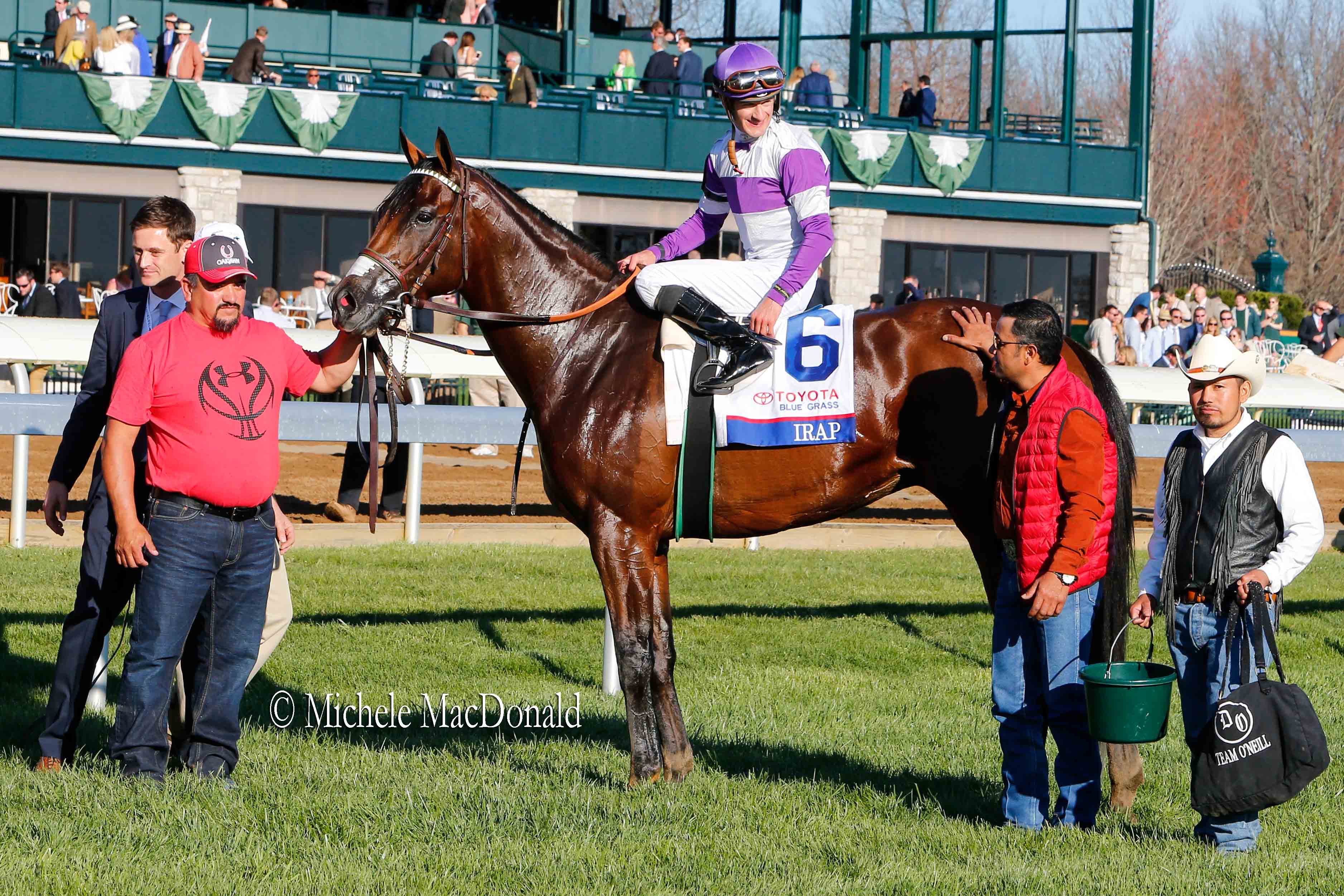 Irap clearly had talent but had not validated it by the time he made history as the first maiden winner of the Blue Grass Stakes at Keeneland on April 8. He had been "knocking on the door", as O'Neill said, finishing second in the Los Alamitos Futurity to the impressive Bob Baffert-trained Mastery in December and then second in the Robert B. Lewis Stakes to Royal Mo in February.
Dispatched to the Grade 3 Sunland Derby on March 26, Irap disappointed with a fourth-place effort to Calumet Farm's winning Hence. But then Team O'Neill hatched one of their out-of-the-box plans to try the $1 million, G1 Blue Grass less than two weeks later.
"I've got to give all the credit to Paul," O'Neill said. "After the disappointing Sunland Derby and me telling him how well [Irap] came out of it and how much energy he had coming out of that poor effort, Paul said, 'You've got my blessing, if he's doing well, to try the Blue Grass.' So, that's what got everything started."
Irap's performance (see YouTube video below) against the highly regarded and previously unbeaten McCraken, who finished third, and the multiple juvenile G1 winner Practical Joke, who was second, catapulted the Team O'Neill colt into the Derby with the fourth highest number of qualifying points in the potential field. The Blue Grass also might have just been the spark needed to ignite the talent that always seemed to be inside Irap.
"I think he's just coming around at the right time," said O'Neill. While comparing Irap to his Derby winners, the colt clearly was not as precocious as I'll Have Another or Nyquist, but he does possess their mental toughness and is a bigger, stronger specimen, he noted.
O'Neill has sent Irap out for one-mile workouts on April 21 and April 28 at Keeneland to prepare for the Derby, and he pronounced the colt "super" after the final drill.
"The Blue Grass might have really woken him up," he said before offering glimpses of his trainer's intuition.
"We treat them all like kings, but when they do something like he did in the Blue Grass, he gets the extra king treatment. So everyone at the barn is treating him like he's the big-time guy, and there's something about that energy that man and horse have — when you really believe in each other and you know you're special. He kept giving us that vibe but maybe we weren't really giving it back to him before. But now, he is the man in the barn and he's getting major-league good vibes from us. It's pretty exciting."
"That makes a lot of sense," Reddam said. "It's not unreasonable that a horse could sense confidence and caring … he's just getting that extra special attention now and he's feeding off that vibe."
Underrated chances
Reddam, who said he could never have predicted that he would be shooting for his third gold Derby trophy in six years, recalled that he was "thrilled" just to watch the first Thoroughbred he bought, a claimer named Ocean Warrior, racing as a 99-1 longshot in 1988. He is currently No. 44 in the world owners' rankings.
"I would never have believed it was possible" to win the Kentucky Derby, he said, deflecting credit to O'Neill (who is joint 54th in the global trainers' rankings).
"It's meant the world to see Team O'Neill get to the top. We've kind of been on the coattails of that and it's an unbelievable feeling," Reddam said before looking forward to Irap's bid for glory.
"I would like to say it wouldn't be a shock if he won, but, in some way, it would be," he declared. "The race is wide open and, like all Derbys, it somewhat depends on what trip you get and what post position you get.
"[Irap's] chances will be underrated," he predicted. "With I'll Have Another, we came through the back door; people dismissed us [at 15.3-1] even though he had won the Santa Anita Derby.
"With Nyquist, we came through the front door (with an undefeated champion).
"With [Irap], I think we are coming through the side door."
The "little hints of brilliance" that O'Neill says Irap has always displayed could redouble on first Saturday. No matter what happens on track, however, just getting to the race again is a win, and O'Neill is ready to put the spotlight on Reddam.
"It's a lot of luck, of course, that plays a huge part of it. It's having the ability to know where you fit in on the team and respecting your fellow team members. Paul really sets the tone for that kind of environment," he said.
"I don't talk to too many people about things like this, so it's kind of therapy for me," O'Neill added. "I remind myself as I'm talking how lucky I am and how blessed I am - and so much of it is because of Paul."