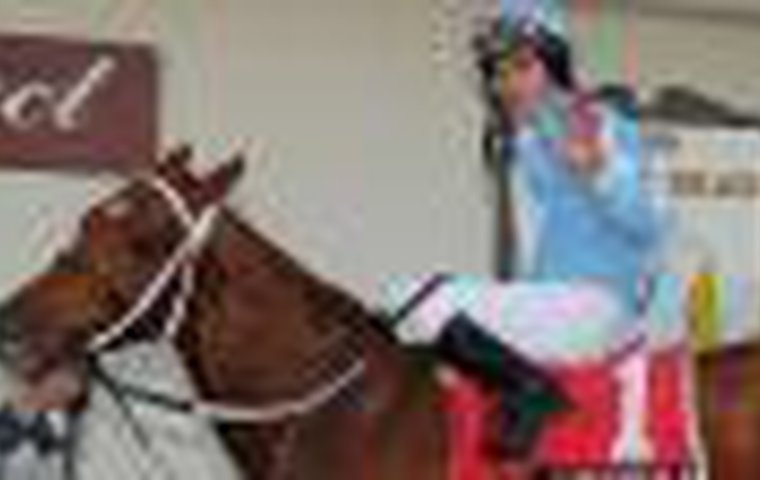 In recent years, concussion management and treatment has become a central issue in the sport safety debate in the United States and elsewhere. High-profile cases of dementia and mental impairment in American pro-athletes with a history of head injuries have led to reforms at every level of play, but what about horse racing? Teresa Genaro considers concussions in the racing context in a two-part story focusing first on Britain, then America.

Read about Dr. Michael Turner's concussion research in Britain.
The International Conference for the Health, Safety, and Welfare of Jockeys held at Monmouth Park last September lived up to its name, and featured presentations about racing in England, Ireland, France, Hong Kong, Australia, Japan, Germany, Uruguay, and the United States.
The program highlighted one of the major differences between the U.S. and many international racing jurisdictions: The lack of a single governing body to oversee the sport in America, and the way it can hinder progress on a variety of issues, including those of jockey health and safety.
The U.S. lags at least a decade behind Great Britain in its approach to concussions suffered by riders. Since 2004, all jockeys riding on British Horse Racing Authority (BHA) tracks are required to undergo baseline neuropsychological testing annually in order to be licensed. In addition, a standard protocol must be followed before a concussed jockey is permitted to begin riding, a protocol that is overseen by the BHA.
The U.S. began limited baseline testing this year, overseen and funded by The Jockey Club. This is not its first safety initiative focused on riders. In 2008, The Jockey Club created the Jockey Health Information System (JHIS), a database that stores jockeys' medical records so that they are immediately available to medical personnel at racetracks if a jockey is injured. Participation by jockeys in the database is free and voluntary, and those jockeys enrolled in the database are now eligible for the baseline testing program.
The JHIS is part of InCompass, a company formed in 2001 by The Jockey Club to develop various databases and information services for racetrack operations. Michelle Penna is the business support manager for InCompass, and she estimates that between 400 and 500 jockeys participate in the Jockey Health Information System. According to Equibase statistics, there are approximately 1,700 active jockeys in North America, a figure that includes the U.S., Canada, and Puerto Rico.
Inspired by presentations at the Monmouth conference, The Jockey Club initiated the concussion testing program, which is being coordinated by InCompass in conjunction with the Jockeys' Guild. Penna researched concussion programs and protocols and spoke with both the Jockeys' Guild and Dr. Kenneth Perrine, the neuropsychologist from New York-Presbyterian Hospital/Weill-Cornell Medical College who treated jockey Ramon Dominguez, forced to retire last year after suffering a head injury in a riding accident.
"We decided that a study on impact was probably the best way to go for now," Penna said from her Lexington office.
The program has started small by testing jockeys at Laurel Park this winter. Testing is continuing at the Keeneland meet this month and will move to Pimlico during Preakness week.
The Jockey Club is using a baseline test that is part of the ImPACT Concussion Management Model, co-developed by Drs. Mark Lovell and Joseph Maroon. Lovell is chairman of the boardand chief scientific officer of ImPACT Applications, where he was the chairman and CEO from 2002 to 2012. The founding director of the University of Pittsburgh Medical Center's Sports Medicine Concussion Program, he has developed and directed neuropsychological testing programs for the National Football League and the National Hockey League.
Maroon is professor and vice chairman of the department of neurological surgery and Heindl Scholar in Neurosciences at the University of Pittsburgh School of Medicine. He has been the team neurosurgeon for the Pittsburgh Steelers since 1981 and the medical director for World Wrestling Entertainment Corporation since 2006.
"People are really paying attention now to concussions for good reason," Lovell said. "Horses are big, strong animals, and when you're travelling at high speeds, there's always the potential for injury. And any sport where your head is out there, leaning forward, raises the risk of concussion."
The difference between horse racing and some other sports, he said, is one of proportion.
"Jockeys tend to be rather small on a very big, fast animal, and races can be unpredictable," he pointed out. The proximity of the horses to each other is another risk factor.
"Concussion comes down to anything in which there's fast movement and things can collide," he said bluntly. "And in auto racing, drivers are really protected. Jockeys are relatively exposed, and they can't control their circumstances."
Like Dr. Michael Turner, who recently resigned from the BHA to focus exclusively on concussion research, Lovell distinguishes between concussion and "concussion plus," though he doesn't use the latter term.
"A lot of people who get knocked out recover pretty quickly," he explained. "We're looking at which symptoms, particularly those that happen right after the injury, tend to be predictive of a long-term problem."
Some research, he said, suggested that people who are very dizzy after an injury tend to take longer to resolve. Similarly, the density or severity of amnesia can be an indicator of traumatic brain injury.
"It's very important," he said, "to try to get a grip on those things early so that we can treat the injury properly."
Lovell does not at this point have direct contact with the jockeys or racetracks. Rather, he acts as a facilitator to help organizations build programs tailored to their needs.
Earlier this year, Horse Racing Radio Network's Mike Penna (husband of The Jockey Club's Michelle Penna) devoted much of his Feb. 8 program to the issue of jockey health and concussion, subjects that were a primary focus of the Jockeys' Guild Assembly in Florida at the end of January. Among Penna's guests was Perrine, who, though he is not involved in the ImPACT program, has worked extensively with athletes with concussion. In addition to his work with Dominguez, Perrine is the consulting neuropsychologist for the New York Jets and the New York Islanders, and he noted that several elements of horse racing differentiate it from other sports in which athletes are at risk for concussions.
"Racing is probably one of the few sports other than skiing where you can have a catastrophic injury and not have repeated blows to the head," he told Penna.
Perrine also noted that unlike athletes in other sports, there's not a lot that jockeys can do to prevent concussions; they can't surround themselves with anything to protect themselves when they're riding. As a result, he said, the emphasis has to be on what happens to them after they've been injured, and it's there that racing is particularly deficient.
According to Perrine, every high school in New York State and most other states have mandated specific concussion protocols for players on any contact sports team. Those protocols include post-injury testing and procedures for determining when an athlete is healthy enough to return to competition.
Perrine said he's heard of jockeys who have suffered a concussion, ridden later on the card, and had no memory of those rides. In addition to slowed reaction times, concussion symptoms can include compromised balance, obviously a problem in a jockey trying to balance on tiny strips of metal atop a speeding animal.
While U.S. racing is far from having the sorts of protocols that exist at many high schools, the baseline testing program is a positive first step. The test itself is a web-based neurocognitive assessment that takes about 25 minutes to complete, measuring memory, processing speed, and reaction time. While the Jockeys' Guild has chosen not to make the test mandatory for its members, Michelle Penna said that the response at Laurel was positive.
"We got no pushback," she said. "We could have stayed longer and done more riders. We could have done the whole Laurel colony as a beta."
She likens the test to the pre-race examinations done by veterinarians to assess a horse's soundness on race day, observing that a jockey who rides while suffering from the effects of concussions doesn't only endanger himself; he endangers the other jockeys in the race and the horses, given that his neurological functioning, including decision-making and reaction time, can be compromised.
In addition to the baseline testing, Penna and The Jockey Club are working with general managers and racing secretaries so that tracks can provide a point person to have contact with EMTs or ambulance drivers, so that reliable information about a jockey's health history, including this baseline assessment, is given to hospital personnel in the event of an accident.
The National Thoroughbred Racing Association (NTRA) Safety and Integrity Alliance's Code of Standards for 2014 includes medical care recommendations by the Jockey's Guild and the Alliance's Medical Director Committee. Those recommendations include having an on-site medical director who is a board-certified physician at each track and having tracks develop a working relationship with a local Trauma Level I facility. Currently, few tracks have doctors on-site, relying instead on EMTs or paramedics.
"We need to do research," said Terry Meyocks, national manager of the Jockeys' Guild. "We need to spend money. It benefits not only the jockeys and the exercise riders, but it helps liability issues with racetracks, horsemen, and owners."
The U.S. is years from developing a nationwide program of addressing jockeys' health needs akin to that in Great Britain, and even this first step of baseline testing is in its infancy, including only a fraction of the jockeys riding at racetracks across the country every day. According to Michelle Penna, the California Horse Racing Board is looking at concussion testing, and limited though it may be for now, The Jockey Club's testing program provides a model and a structure, along with funding, for tracks who would like to get involved, even if it means playing a long-overdue game of catch-up.
"We're three touchdowns behind Europe," Meyocks said. "It might be a blow-out."
"I think we're the last sport doing this," Michelle Penna said. "Middle school soccer players have to take these impact tests, but jockeys riding a horse at 40 miles per hour have nothing."