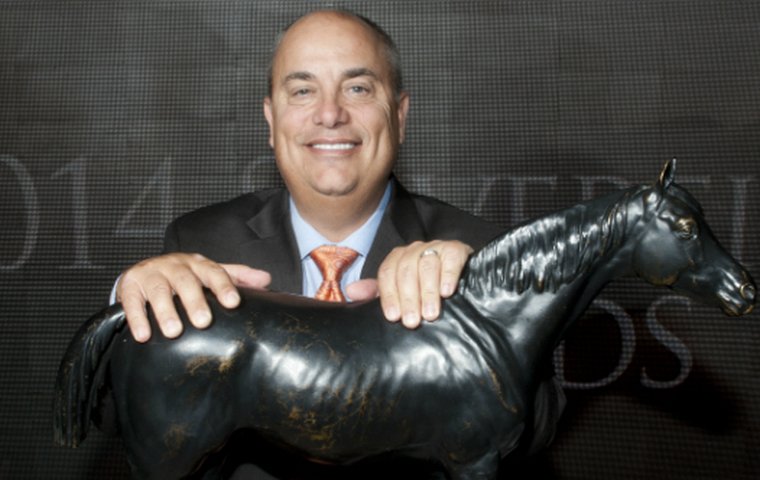 In the first part of this week's View from the Rail on Tuesday, I looked at the new era of synthetic tracks in horse racing and spoke to Michael Dickinson and his wife, Joan Wakefield, founders of the Tapeta synthetic surface, which is gaining popularity around the world.

I have more thoughts about this, but before I get to those, I would like to share some comments from true leaders in our racing industry on synthetic surfaces:
Graham Motion
Highly regarded trainer, multiple Breeders' Cup winner and Kentucky Derby winner (Animal Kingdom)
"Honestly, synthetics are better than some of the turf courses, full stop. Some of the turf courses have become overused, so synthetics might be more consistent and safer than some of the courses that are so beat up.
"It's a sounder, safer surface" - I personally don't agree with that argument. The hind-end issues … I think that some of these issues become more noticeable because you have less of the other routine injuries. In my opinion, when the synthetics were installed at racetracks, they weren't given a fair chance and probably weren't maintained properly."
Mark Casse
Highly regarded trainer, six-time Sovereign Award for Canadian trainer of the year and multiple Breeders' Cup winner
"Without doubt, fewer horses bleed on synthetics than on dirt. Every horse we run gets scoped, so I have a good idea who bleeds and who doesn't. There is a huge difference. I read so many things about hind-end injuries and soft-issues so I have an answer for that: Baloney … it's just not true. I feel like, if anybody can say it, it's me … I have the records to show for it. This year, I can tell you that we have twice as many horses that bowed on dirt as on synthetic; so it's just baloney. And it's year after year. Anybody that tells you differently doesn't have enough experience."
Bill Casner
Industry leader, owner and breeder
"In short, decisions in our industry never seem to be made in the best interest of the horse. They're always made for individual agendas. And it is catching up with us now. We're fixing to lose our industry. And unless decisions are made that are in the best interest of the horse, we will lose it."
Here are quotes from current Tapeta customers:
Matthew Ennis
Director of Finance and Racing, Presque Isle Downs. Tapeta customer since 2007
"Our continued success in regards to the safety of our Tapeta racing surface stems from the Presque Isle Downs team working continually with Michael and Joan to ensure the track remains in its peak condition for all athletes, jockeys and exercise riders.
One fatality in this industry is too many and we are committed to staying laser-focused on the track condition. Since our initial race season in 2007, we work with Michael and Joan to understand the needed replenishment and additives of the Tapeta surface each season to ensure we are providing the best possible surface every day."
David Duggan
General Manager and Vice-President, Golden Gate Fields. Tapeta customer since 2007
"In managing our Tapeta surface, we add fibers five times a year and inspect the composition and drainage every Monday. If you follow the manufacturer's instructions and recommendations, the racing surface will perform at a very high level."
Irwin Driedger
Director of Thoroughbred Racing, Woodbine Racetrack. Tapeta customer since 2016
"Regarding my experience with the Tapeta surface at Woodbine, overall it has been very good. Racing at Woodbine occurs during the entire spring, summer and fall seasons, stretching into early winter. Our temperatures are very diverse, more than any other racing jurisdiction in North America. Despite the diversity of temperature, the track remains very consistent.
Tapeta Footings have been great to work with and are very accountable for ongoing support well beyond the installation. They take a keen interest in ongoing communication with horsemen, jockeys and track administration."
Sally Goswell
General Manager, Fair Hill Training Center. Tapeta customer since 2006
"Installing a synthetic surface was one of the best decisions we ever made. After doing our due diligence, we decided in 2006 to install a Tapeta track that could be used for training year round; at the time we were maintaining our dirt track throughout the winter, which was not only costly but causing excessive wear and tear on the track itself as well as the equipment.
"Our track is now in its 14th year and seems to be getting better and better, according to trainers and riders here.
"In general, Tapeta maintenance is far less time consuming than dirt-track maintenance. We have been diligent in regularly adding recommended materials, such as fibers each summer and winterizer each fall, which has helped keep 'life' in the Tapeta material. Since our Tapeta track was put in, Tapeta Footings has made huge advances in their product and it is very exciting to see facilities making changes to their surface in the interest of what's safest for our horses."
Dr Mary Scollay
Former Equine Medical Director of the Kentucky Horseracing Commission and currently Executive Director and COO of the Racing and Medication and Testing Consortium (RMTC)
"To me, anybody who wants to race on a dirt surface has accepted the challenge of achieving a safety rate that is equivalent to a synthetic … otherwise, you do have some explaining to do."
We know that the racing industry has a serious equine injury problem. Judging from the numbers that we do know, we simply are not working hard enough to solve the problem.
In the first year of the Jockey Club Equine Injury Database, 2009, the aggregate number of breakdowns that year was 2.00 per 1,000 starters. In 2018, one decade later, that number was 1.68. That is a decrease in the catastrophic equine injury rate of only 16 percent over a decade, which is unacceptable. The numbers are even worse when you look at the breakdown rate by racing surface:
Synthetic 1.2%
Turf 1.47%
Dirt 1.97%
How can we believe that a racetrack is serious about reducing catastrophic equine injuries if it submits data to the Jockey Club Equine Injury Database but will not allow that data to be made available to the public? That suggests to me that those tracks don't want people to know the numbers because they aren't prepared to work on the issue.
Either the track participates in the Equine Injury Database or it doesn't.
I hope that some of the myths surrounding synthetic tracks can be safely discarded. Maybe, in the early days of synthetic tracks, some tracks only lasted for six or seven years. But that is not the case today.
All the synthetic tracks mentioned in these articles have been operating for a minimum of 13 years. Also, as far as those supposed hind-end and soft-tissue injuries that result from synthetic surfaces are concerned, Mark Casse is a first-class trainer in the U.S., but some may not know that he has dominated racing at Woodbine, which has had a synthetic surface, for 14 years. He has won six Sovereign Awards for the leading trainer in Canada. Earlier we read what Casse says about these so-called synthetic surface injuries: Baloney!
Time is short and the consequences are grave. Every industry organization has a stake in improving equine safety and they should think about that when the topics of breakdowns and synthetic surfaces are on the table.