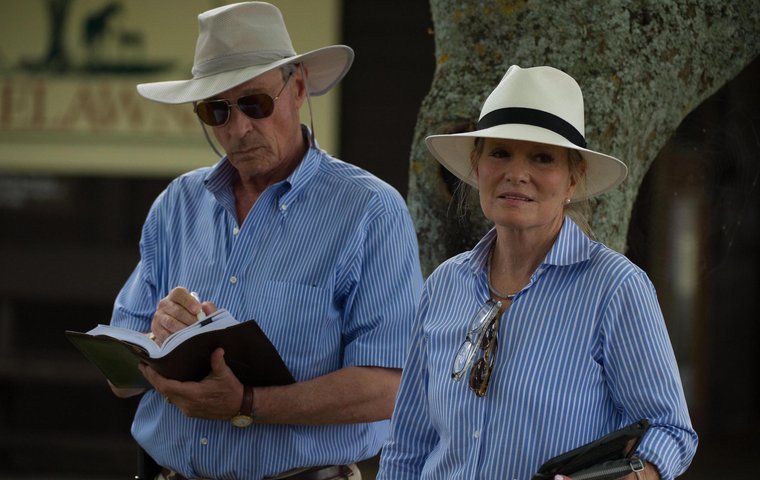 American horseman Kip Elser has packed a lifetime of experience into his 40-plus years working with Thoroughbreds. The former steeplechase rider, who operates Kirkwood Stables out of Camden, South Carolina, is currently at the New Zealand Bloodstock National Yearling Sale at Karaka as an extension of his worldwide business. Elser specialises in consigning and training young horses while his pinhooking activity has him selling 2-year-olds at various sales around the world.

Elser is there to extend his operation into the New Zealand market with New Zealand Bloodstock's North American representative, Joe Miller. He has selected local partners and took his first step on Tuesday, when he purchased a Tavistock colt for $150,000.
The athletic colt was purchased in partnership with Sam Beatson from Riversley Park in New Zealand, Miller and bloodstock agent Justin Casse and will be aimed at the annual Karaka Ready-To-Run Sale of 2-year-olds in November.
Elser is more than aware of the New Zealand Thoroughbred's reputation for excellence around the world, although this is the first time he has been in the country to see for himself.
"It's quite a funny story really as I had to send my wife, Helen, on a reconnaissance mission last year to find out what it was all about over here," he said.
"I couldn't make it over, but she came back with glowing reports and told me we had to find a way to get here in 2018."
The American couple looked at their timetable and put together a schedule that saw them land in Auckland last Friday after first visiting Cape Town in South Africa.
"We got here in time to go to the race meeting at Ellerslie on Saturday evening and had a wonderful time," he said. "It is a beautiful course, the racing was terrific and we had such a good time.
"I do have to admit I spent a fair bit of time near the paddock looking at just what type of horse was racing so that I had a little bit of knowledge up my sleeve for when we were looking at Karaka over the next few days."
Elser was impressed by the Tavistock colt and is looking for further youngsters to add to the roster over the next few days. "He was a lovely colt, a good mover from a stallion that has been very popular," he said.
"He is a November foal, so we think there is still some improvement in him and hopefully that will be evident when we bring him back in November.
"This colt and any other others we buy will be the first of what we hope is an ongoing venture here in New Zealand. We are looking to build on the model we use elsewhere in the world and we do this by working with local partners all the way."
Elser's only regret is that he and his wife won't get to sample any of New Zealand's tourist attractions during their stay.
"We could only afford a limited amount of time away, so it is strictly business while we are here," he said.
"We would love to see more as the hospitality and warm welcome we have received has been wonderful. I am looking forward to coming back to Karaka as it is a magnificent venue and probably the best in the world in the way you get to view the horses and make your way around the complex."