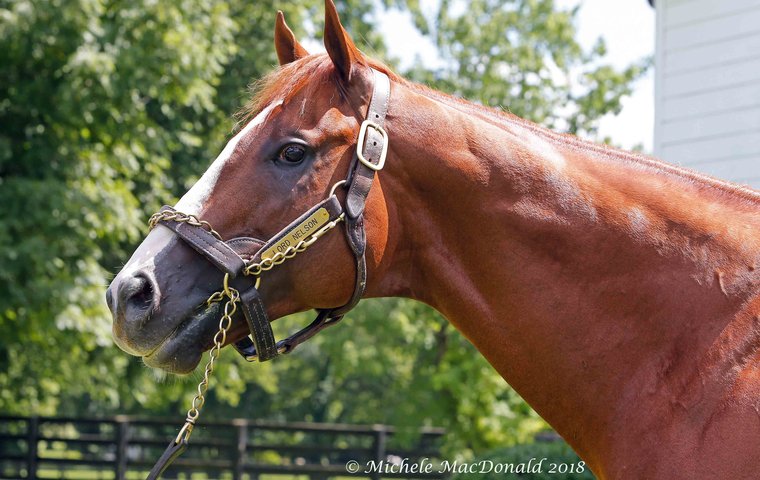 In the dark days of January in 2017, when temperatures flirted with freezing and several snowstorms wrapped Lexington, Kentucky, in a numbing embrace, a chestnut horse was standing in the Spendthrift Farm quarantine barn with his front feet in ice, waging a tense war to survive.

As the fiery plague of laminitis continued an onslaught that began in his right front foot, the ice was a first line of defense, but the battle was exacting an increasing cost to the horse's spirit.
These were the moments, with winter wind gusting ominously outside, that Wayne Howard feared the worst.
Spendthrift's stallion manager will never forget those nights and days when he and the horse, multiple Grade 1 winner Lord Nelson, grimly grappled with the lurking demons of death.
"This was the most trying time for 'Nelson' and me," Howard said. "We're icing both his feet around the clock — on average, he was spending 14 to 16 hours a day standing in ice tubs. Every time he stood up, we would ice them for three to four hours at a time.
"The stress of the constant icing and the pain from laminitis finally started to take its toll on Nelson — he was over it. Although he was responding to this treatment, it was not enough," Howard continued. "And he was telling us so."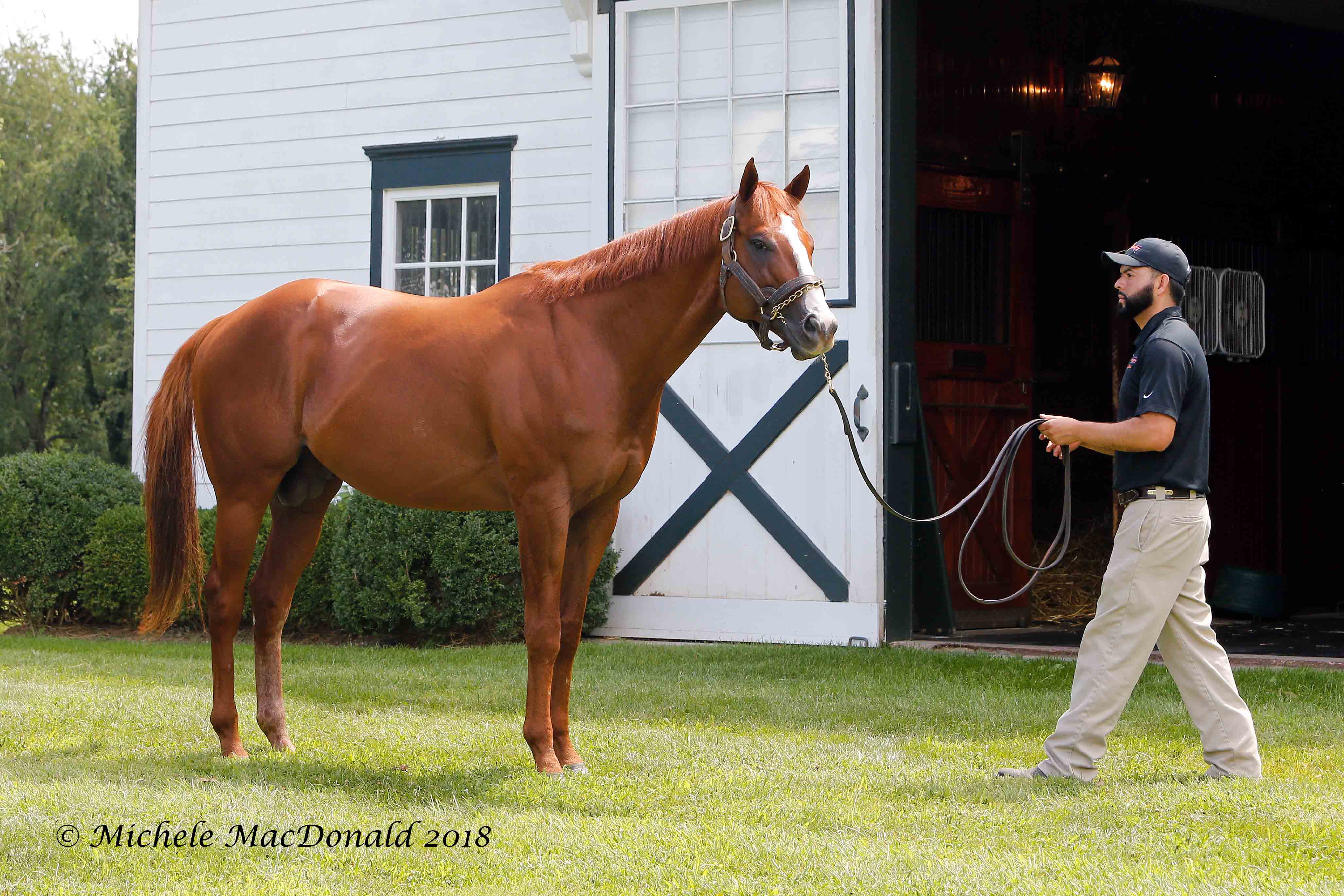 While horsemen always feel a spark of the miraculous in any horse's recovery from the clutches of laminitis, some cases are graver than others. Lord Nelson had experienced rotation of the coffin bone down into the sole of his foot, the stage that can lead to euthanasia if the stricken animal cannot endure the pain incurred by standing.
His survival thus can be counted as a huge victory against the disease. But this story is not one merely of survival.
Lord Nelson has gone on to thrive in a normal life as a breeding stallion, defying expectations in his initial season at stud this year.
The now 6-year-old son of Pulpit recovered so well that he was originally set to cover about 80 mares, as long as his health remained strong following the crisis and follow-up care.
He became so robust, with the continuing supervision of the Spendthrift staff and Dr. Scott Morrison, an equine podiatrist with Rood & Riddle Equine Hospital, that he was able to serve 127 mares and maintain a normal routine alongside his new neighbors in the stallion barn, top sires Malibu Moon and Into Mischief.
"He's a remarkable horse, I think, to pull through the laminitis the way he did," declared Spendthrift general manager Ned Toffey. "He was fortunate to have the best of care. But at the end of the day, you can't do it without the horse, and this is a horse who has just incredible fortitude. He's mentally really, really tough. He has a wonderful disposition and he's just very, very intelligent, and he was a great patient."
Displaying the mettle that would define him
Lord Nelson's struggle for life began in early November, 2016, when an infection caused by a cut in his right front leg flared, causing him to be scratched from the Breeders' Cup Sprint, for which he was the early second choice. With four consecutive wins under his girth at the time, the last three in Grade 1 races, he had been on a trajectory to capture the Eclipse Award as America's top sprinter.
Bred in 2012 by Clearsky Farms, the Lexington nursery where eventual champion Arrogate was born the following spring, Lord Nelson was sold for $340,000 to John Fort of Peachtree Stable at the Keeneland September yearling sale.
Victorious in his debut at Del Mar in July 2014, defeating nine rivals including eventual Graded stakes winner and frequent G1 contender Calculator, Lord Nelson returned to be overwhelmed by American Pharoah in the G1 Frontrunner Stakes on dirt at Santa Anita Park.
But stakes wins soon followed, and, after turning three, Lord Nelson displayed some of the mettle that would ultimately define him when he rallied after a slow start and defeated Breeders' Cup Juvenile winner Texas Red by a neck in the San Vicente Stakes.
Later that year, following a third in the G1 Malibu Stakes, won by free-running champion Runhappy, Lord Nelson was acquired by Spendthrift from Fort. Spendthrift owner B. Wayne Hughes opted to leave the colt, who he described as so good-looking that "he could win a beauty contest", with trainer Bob Baffert rather than immediately stand him at stud.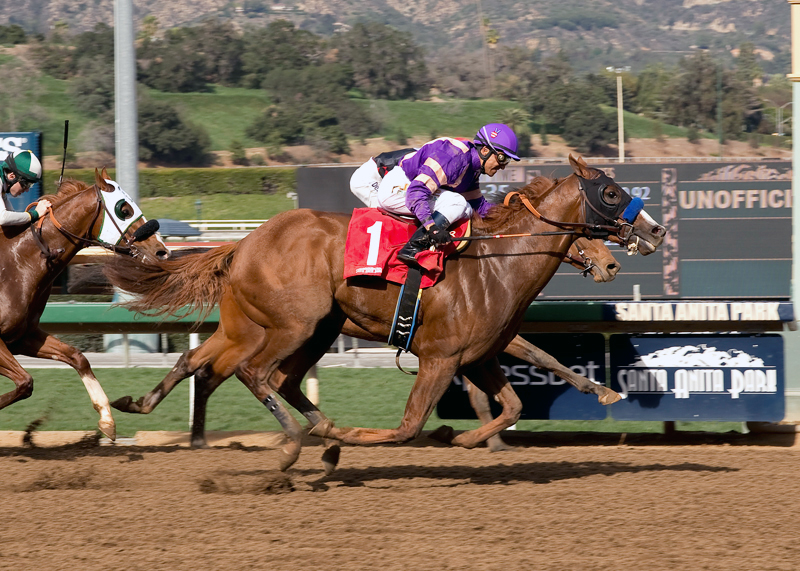 The dividends secured with that roll of the dice proved to be an undefeated campaign in 2016 that featured the G1 Triple Bend, Bing Crosby and Santa Anita Sprint Championship Stakes triumphs.
A gritty runner who often won his races narrowly, battling to the finish, Lord Nelson reeled off some blazing times, such as his seven-furlong Triple Bend in 1:21.04 and his six-furlong Bing Crosby in 1:07.65, with the latter a daylight victory by four lengths.
Baffert praised Lord Nelson as a horse who "tries so hard", a characteristic that would become even more essential when he arrived at Spendthrift fighting the infection that that led to his withdrawal from the Breeders' Cup and the end of his racing career. His record stood at seven wins in 13 starts with earnings of $958,271.
'Such a severe onset'
As Howard recalls, Lord Nelson was sore in both front legs when he came to the farm but had not shown any changes in radiographs of his feet.
During the ensuing weeks, he was limited to some light walking exercise, about one lap of a small paddock and a few hours in a pen, where he could graze and move around a bit to stimulate healing circulation in his forelegs without provoking any damage in his feet.
Then, after Lord Nelson experienced what Howard described as a slight soreness in his right front foot, laminitis catapulted him into the life-and-death struggle and hours in ice.
"Usually with laminitis, the quicker you can jump on it, the better. In Lord Nelson's case, it was such a severe onset," Toffey said. "Any time you can get on it and essentially get that horse's feet in ice, the better shot you're going to have moving forward. We put [horses diagnosed with laminitis] in ice for about three days, straight. If you've got to have somebody sit up with them all night, then that's what you've got to do. If you can do that, you've got a much better chance of stopping it."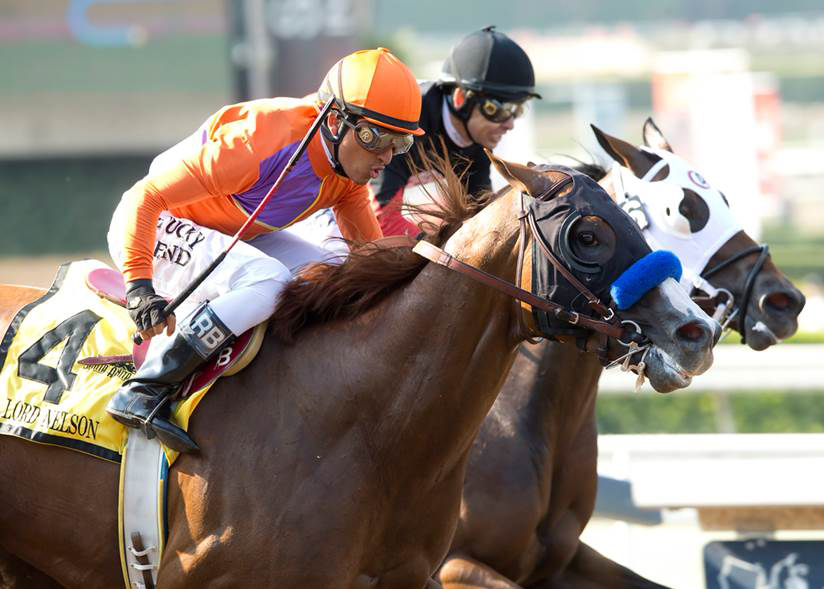 On January 20, last year, Spendthrift announced that Lord Nelson would miss the entire 2017 breeding season.
"We understand the seriousness of this disease," Toffey said in a news release. "Mr. Hughes is committed to always doing what's best for the horse, and that means Lord Nelson will be withheld from breeding mares this season. Our team has notified all of the breeders from his full book, and our focus is now 100 percent on bringing him back to good health."
As a highly accomplished son of Pulpit — a sires of sires such as Tapit, Sky Mesa and Lucky Pulpit — out of a daughter of Argentine champion and American G1 winner Miss Linda, Lord Nelson was a valuable prospect for Spendthrift, "one of the most exciting prospects we've brought here," Toffey said.
Yet even more than his credentials, his intelligent tenacity earned the respect of those who worked alongside him to save his life so that he and the farm could realize his potential as a stallion.
"One of the challenges with laminitis is the horse being able to give themselves a break — get off their feet, but not giving up and staying down," Toffey said. "When he needed to give himself a break, he gave himself a break and got off his feet."
Lord Nelson did everything right in taking care of himself, continuing to show interest in his feed after his rests, even while at the peak of pain, and thus never allowing himself to further weaken.
"When he was up, he was always eating well," Toffey said. "You could count on one hand the number of times you felt that maybe his eye wasn't [bright].
"But there certainly were times we felt that this was nip and tuck," he added. "This was a long, drawn-out process, and we were getting to a point where we were pretty concerned."
Spendthrift opted to call on Morrison to do a tenotomy on both of Lord Nelson's front legs. The procedure cuts the deep digital flexor tendon in the mid-cannon bone region to alleviate pain by decreasing the pull the tendon normally exerts through its connection to the coffin bone.
Obviously, once a tenotomy — performed under local anesthesia while the patient stands — is done, a horse will be limited in physical activity although, optimally, still able to carry on for breeding. The almost immediate relief from pain can jump-start recovery, and that's what the Spendthrift staff hoped to achieve.
'The turning point for Lord Nelson'
"I'm not sure there was a day where many of us didn't have in the back of our minds that we may get to that point [when euthanasia would be a consideration]," Toffey said. "By the time we did the tenotomy, we felt like our backs were against the wall and if we didn't do this that we may well lose him.
"You always know that's a possibility. Any time you get a laminitis, it's a devastating condition. I think any of us who have been in the horse business for a while have dealt with it. If you manage a horse farm, you're going to lose some horses to laminitis. I don't think anyone who manages horses ever takes that situation lightly. As soon as you get into using that word, laminitis, you know that it is life-threatening," he added.
The tenotomies proved to be, as Howard reflected, "the turning point for Lord Nelson and his recovery.
"You could see in his eye that he was feeling better and was more comfortable even before actual signs of improvement in his weight-bearing and laminae," he said.
"From the time we did that procedure, there was just a slow, steady improvement in the horse," Toffey observed. "That, combined with all the other good care, seemed to be what allowed his coffin bones to stabilize and for him to start on an upward cycle of growing more hoof and growing more sole depth and gradually getting more comfortable."
'You agonize over every subtle change'
The months that followed the tenotomies were filled with small steps. As the other Spendthrift stallions fulfilled their duties in the breeding shed in 2017, Lord Nelson had to be patient during a lengthy process of healing and adapting that included numerous fittings of special shoes featuring a heavy rubber pad designed to relieve pressure on his tender soles.
"It took pretty much every bit of that time for us to get where we were comfortable with him to be able to show him to breeders in the fall," Toffey said. "You agonize over every subtle change. The guys in our stallion department, and Wayne Howard in particular, were in tune with all those subtle changes.
"This horse always handled himself so well, and he always gave you a good feeling about things," Toffey continued. "It was easy to be optimistic about him, and the number of days we weren't were pretty few and far between."
When Lord Nelson was occasionally allowed to come out of the barn last fall to visit with breeders interested in his progress, his coat was shiny and his eyes alert, but he walked slowly, almost tentatively.
Howard and his crew took their time while easing Lord Nelson back into a more normal routine. Long hours were spent hand-grazing the horse within in the confines of one of the smallest of the Spendthrift stallion paddocks so that he would be become accustomed to consuming grass and the overall environment to which he would be introduced.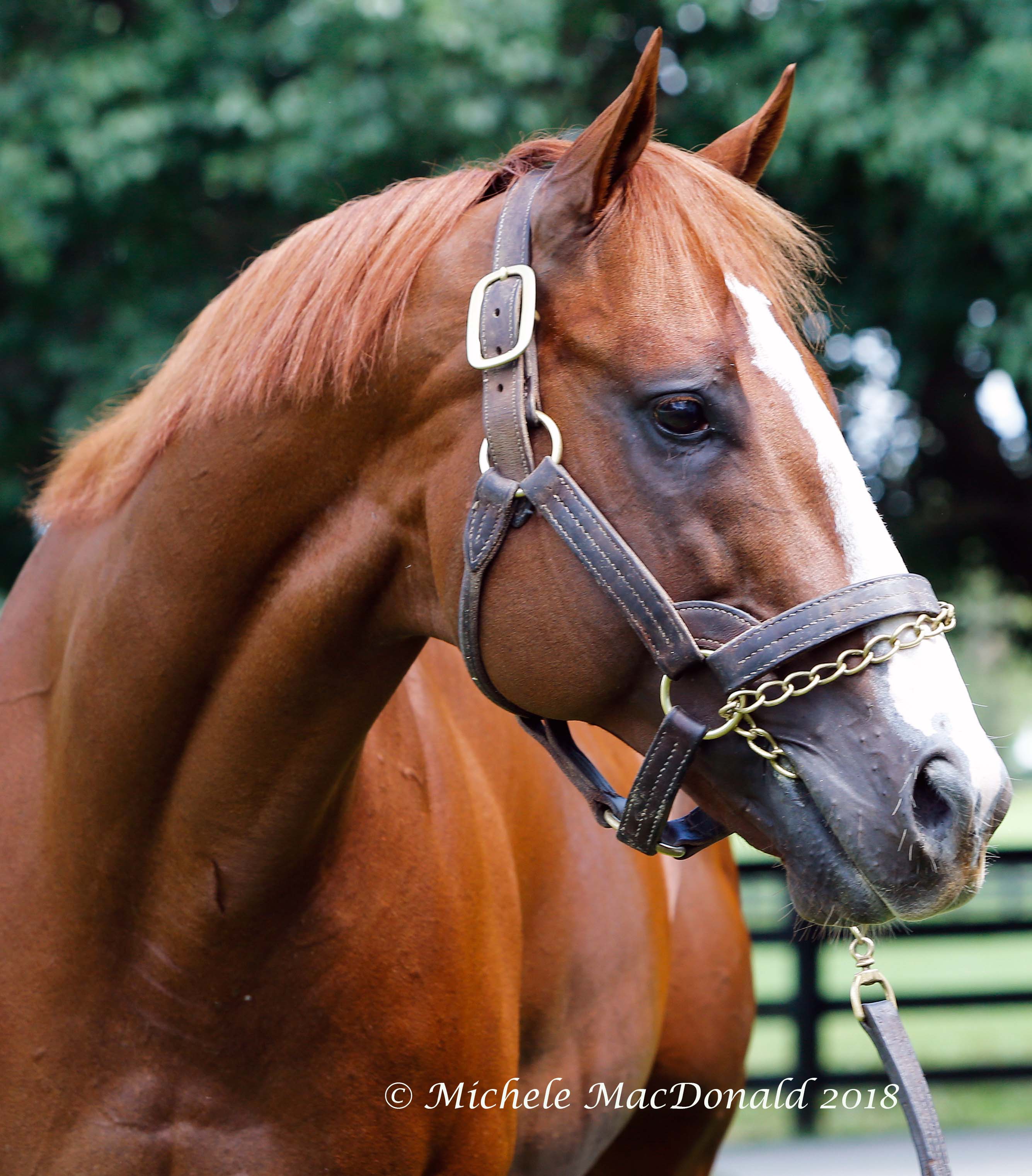 "We let him get used to the paddock to try to smooth that transition. But, at some point, you have to unhook the lead shank and cross your fingers and say a little prayer," Toffey said, recalling the trepidation before Lord Nelson was turned out for the first time. "But again, he handled that so well. Once we got him to that point, the setbacks have been very, very minor. He's done remarkably well.
"Before [the 2018] breeding season came around, he would have about a 100-yard walk from his stall to his paddock every day," Toffey said. "He's essentially — other than wearing very expensive shoes — been on a normal routine since before the start of breeding season this year. That's where being so good-natured mentally has helped him, even after being locked in a stall for so long. He did a little running when he first went out, but, again, he was smart about taking care of himself."
In trying to address every situation to safeguard the horse, Spendthrift added about eight inches of shredded rubber to the floor of its breeding shed so that when Lord Nelson began covering mares, he would have a softer landing for his front feet than the already cushiony rubberized brick pavers that had been employed.
Before the breeding season officially began, Lord Nelson was introduced to his first test mare in what was a critical juncture for Spendthrift. Yet, continuing along the extraordinary arc of his life, Lord Nelson handled the assignment "like he had been doing it for years — very professional and on his first jump," Howard said.
"All the hard work by everyone paid off. It was great to see him finally breeding."
'I couldn't be more optimistic about his future'
As the season unfolded, Spendthrift attempted to spread out mares for Lord Nelson, who stood for a $25,000 fee but was not included in the farm's Share the Upside program due to the initial uncertainty about his condition, so that he would not be too stressed on any one day.
"We had initially talked about having 80 seasons we would sell, and we would breed some number of mares ourselves. If we felt like 80 was all he could handle, then we wouldn't breed any, and if we felt like he could handle more, we had a group of mares picked out to go to him," Toffey said.
Lord Nelson was able to handle the breeding activity so well, while maintaining his condition superbly, that Spendthrift was able to accommodate breeder demand and add more outside mares to his book while also assigning 16 of its own mares to the stallion. Howard described Lord Nelson's initial season as "a complete success".
"I think certainly there were probably some people that had reservations about everything that he had been through, but by and large breeders supported him. This was a horse that a lot of people were really, really excited about breeding to," Toffey said. "The way he has handled things, and continues to handle things, knock on wood, I couldn't be more optimistic about his future.
"He ticks so many of the boxes of the things we like to see. I'm delighted that we've been able to breed — from almost a selfish standpoint — a significant number of our own mares to him because I just think he's a wonderful stallion prospect. He's got the looks, he's got the pedigree, and he more than demonstrated the ability. What else could you ask for?"
'Striding out more assuredly'
On a recent sunny summer day, Lord Nelson emerged from the Spendthrift stallion barn to meet visitors while displaying a muscled physique, a curious expression and shining coat and eyes. He no longer shuffles cautiously, but strides out more assuredly, particularly on the farm's lush grass.
When he is turned out, he enjoys the freedom and the fresh air, but remains prudent, even while those nearby are thundering across their paddocks.
"He canters when he notices Into Mischief next to him galloping around, but even now has the smarts to know that galloping is not a speed he should participate in," said Howard.
After all the "little victories and defeats … the ebb and flow of emotions," as Toffey put it, over the 14 months involved in saving Lord Nelson so he could pass along his courage to another generation, the people who stood beside him could not be more impressed with his character. There is a deep fondness between them, a near reverence for how he fought to gain more days in this world.
"He's just smart and tough. It's hard to overestimate how important those qualities are," Toffey said. "Yet, and maybe this is an old Joe Palmer line, your kids could lead him on a silk string. His personality is really exceptional."
'Running out of carrots was not an option'
Howard said, "Lord Nelson was an amazing patient. He took care of himself, never doing any more than he thought he could do without hurting himself. I cannot believe how his attitude was. He was so kind considering all the treatments, bandages, constant medications and being in a stall for so many months.
"What a heart he has, and he is so intelligent. Without a doubt, that is what saved him: he knew when he should lay down and rest. He is a very smart horse, kind, but no pushover — he's still all man," Howard continued before adding another small insight into their relationship.
"He did become very dependent on receiving a carrot before and after any particular treatment. Running out of carrots was not an option," he said.
In these days, the transformation is complete. Hope for survival has evolved into the promise of what may be awaiting in the future.
"If he stamps his foals with his heart, intelligence and athleticism, we will be hearing a lot more about Lord Nelson," Howard said.