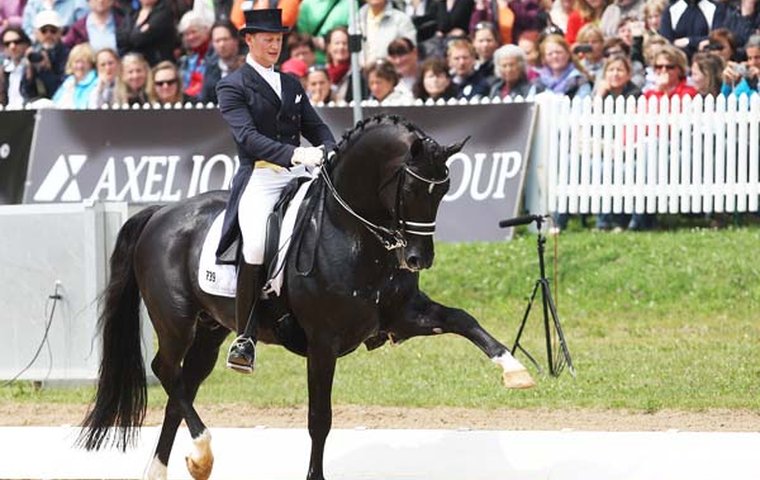 Yoga can refresh the mind and restore the human body, and champion Sydney trainer Chris Waller has adapted those principles for some of his equine stars in recent years.

Waller knows many racehorses can struggle with the rigours of training, especially in Australia, where the developed surrounds of most metropolitan tracks consign Thoroughbreds to routinely working in circles around tracks rather than the rolling gallops of places such as Newmarket and the Curragh.
While the supermare Winx hasn't required any such rejuvenation during her 12-win rampage to the top of Australian racing, some of Waller's best horses in the past five years have responded to programs involving a diversion to dressage work.
While dressage his little to do with racing, Waller says the discipline has helped some of his stars return to their best form, reinvigorated with the mental and muscular benefits of the change of routine.
Waller said dressage as both therapy and a training tool emerged in simple chats with other equestrian participants "a few years ago" with the information having two enormous benefits for his horses.
Muscle formation
"Whether you're a horse trainer or ride horses or work with horses, you're always looking at what other people are doing," Waller said.
"When you get a horse that you can see its muscle formation is not right, you want to fix it, so you ask questions. Through working with horses, you meet a lot of people and you talk to a lot of people, and it would have been just passed on to me through advice to try a bit of dressage.
"Firstly, it helps get them more subtle because most back problems or muscle loss problems are basically due to secondary issues where horses are getting off the front joints, knees, favouring something or working left-handed and right-handed constantly.
"The dressage does seem to build up their muscles properly and in a more controlled way.
"Secondly, the horses love it. They think, 'gee this is pretty good' and they get on a bit of a high and a bit of a buzz.
"When you're doing dressage, you're not pounding around the racetrack, but it's still a form of fitness. It's a bit like yoga for humans, it involves a bit of meditation as well – but without the music. It's just something different."
Stable stars that have benefitted
Outstanding galloper Shoot Out is one of Waller's success stories with dressage to help the issues he developed in his time before he joined the champion trainer in 2012 after wins in the G1 Australian Derby and Randwick Guineas for his previous trainer, John Wallace.
Shoot Out went on to win three more Group 1s and more than $A1.3 million for Waller with the aid of dressage work, while Boban won five Group 1s and $A2.8 million after joining Waller as a talented but wayward 3-year-old.
Dressage helped Royal Descent return to winning after a 20-month winner drought following her 10-length triumph in the G1 Australian Oaks in 2013 while Arinosa progressed from a restricted-class mare to a terrific Group performer while mixing up her routine.
The regimen fits perfectly with conventional trackwork and pre-training while Waller's version of dressage does not require the removal of a horse from the stable for lengthy periods, enabling a racing preparation to continue smoothly.
"We got Shoot Out right and he had chronic back problems. We used it with Royal Descent, Boban, Arinosa and they're the bigger-named ones but it's just a good way to get a horse right again," Waller said.
Positive side effect
"You're pretty restricted with what you can do training in the city. You've got to go out and find some grass somewhere so you just do what you can and dressage doesn't take up much space. You can do it in a car park with a safe fence so they don't get out on the road.
"We'll get them to do it at the pre-training farms, especially if they're recovering from injury, and as well as a bit of trackwork as well."
Waller says the dressage training has a positive side effect, with his staff enjoying the variation in work with the horses, making them happy to put in the extra effort with the stable's residents.
"The staff love their dressage riding and horses learn to drop the bit, switch off and relax," Waller said.
"It's an individual thing because the horses seem to concentrate better on their own. It takes a few days to get them used to it but then they love it."
While dressage produces terrific effects with Waller's horses, the winner of the last six Sydney trainers' titles says it won't achieve the ultimate miracle in Thoroughbred racing.
"It's quite labour intensive and you do it with your better horses because it won't make slow horses run faster," he said. "If they've got ability, you work with them to do the best they can."