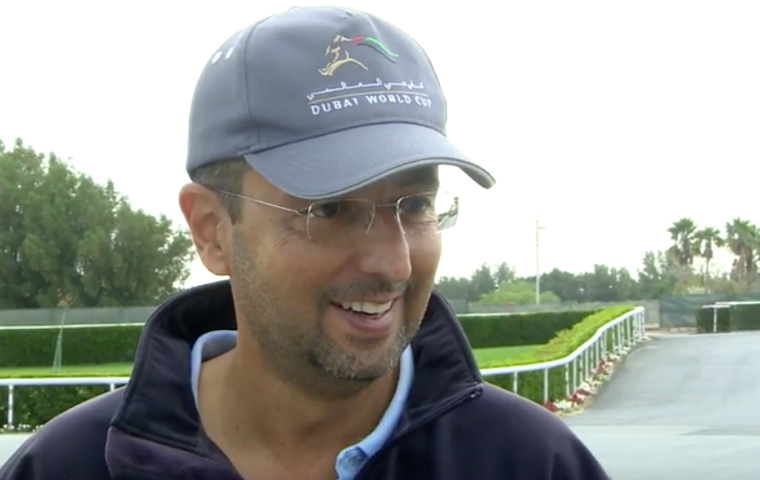 It's a fairly safe bet that there isn't another trainer like Fawzi Nass.

The 47-year-old from Bahrain won a Group 1 with his very first horse when Krypton Factor stormed the $2 million Dubai Golden Shaheen at Meydan in 2012. It was some way to put his country on the racing map.
Laid back and seemingly unflappable, Nass is enjoying his best season, numerically, with six winners so far in the UAE. When we catch up with him, he's supervising three of his horses cooling down after galloping at Meydan.
"I think last season was our best," he says, helping an unraced 3-year-old load onto a lorry. "Only five winners, but more [Dubai] Carnival winners. We were hoping that we'd have a better year, but we've had a few incidents and lost a few big horses."
They include Jordan Sport, winner of the 2018 G3 Mahab Al Shimaal, who passed away due to complications from colic.
Nass has found some smart replacements though, not least Mazzini, who cost 90,000 guineas at the Tattersalls October Horses-in-Training Sale and has since earned more than $250,000, thanks to two wins and a third in turf sprints at the Carnival. He will line up in the G1 Al Quoz Sprint on World Cup night, spearheading a strong Nass team, which could also include dirt sprinter Nine Below Zero in the Shaheen and Musawaat in the G2 Godolphin Mile, both also Horses-in-Training Sale purchases.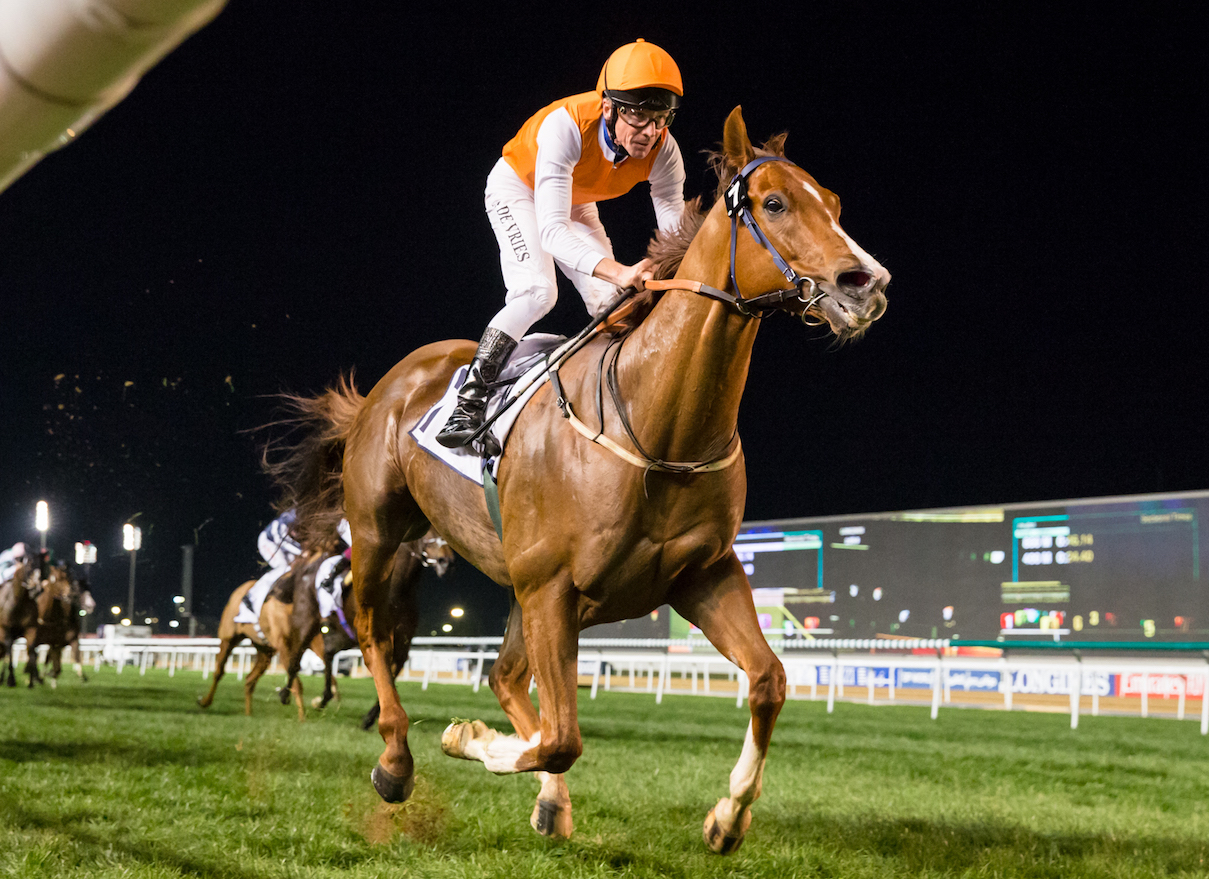 With Krypton Factor a similarly shrewd buy, costing just 115,000 gns, it's a method that works well for Nass, who trains for himself and a few friends, including Bahrain royalty.
"I like to pick up horses in training; they do thrive in Dubai for some reason. The track is one of the reasons, probably, and the weather helps a lot too."
The wins of Krypton Factor, Jordan Sport, Mazzini and Nine Below Zero have earned Nass the nickname 'Sprint King' in the local press, something he views with typically self-deprecating humour.
"I suppose it's not too bad, but my son makes fun of me sometimes," he laughs. "I seem to have more sprinters. They're easier to buy at the Horses-in-Training Sale. They have a much larger market for the stayers ... so there are a lot more sprinters available at more affordable values."
With around 20 horses currently at his Desert Stables base, where he shares the dirt training track with UAE champion trainer Doug Watson, among others, this is Nass's largest Dubai team to date. He juggles training them with a much bigger string at home in Bahrain, where he lives, literally surrounded by his horses, just seconds from the racetrack.
"Twenty is the largest number we've had here for many years. We've always had seven or eight horses before, but 20 is a manageable number. I'm here at least twice a week, especially when we come to Meydan, obviously, but that's just from January to March."
He rarely misses runners at Meydan, however, where his attire can range from a ironically-sloganed t-shirt and baseball cap to pristine local dress. An executive director of the huge engineering and manufacturing company the Nass Group, he originally had horses in training in Dubai with Watson. The pair tasted success with Boston Lodge in the G3 Burj Nahaar at Nad Al Sheba back in 2007.
So, with that system working, why did he go it alone?
"I like to be hands on with the horses, and I spend a lot of time with them. I think that's the most fun part of having a horse," he says, holding a bucket for a thirsty Legendary Lunch, a 35,000-guinea Newmarket July Sales purchase who recently won the listed President's Cup in Abu Dhabi. "It's no fun having them with others training them."
Newmarket base
Perhaps with that in mind, Nass recently announced the closure of his Newmarket base, Eve Lodge, where George Peckham trained. Their successes included with the filly Inshiraah, winner of two class 2 handicaps.
"We've closed down our private training yard and distributed the few horses I've got to other trainers," he explains. "Roger Varian has a couple, Sir Mark Prescott, James Fanshawe and George Scott have got a few. I think that's just easier for me to manage, as having three places is quite difficult.
"The prize money in the UK doesn't cover many expenses; it hardly covers the horse-box fees to the track, so having the overheads of a private training yard, with such a small number of horses, was not feasible at all. You don't need a calculator to work out that you can save money by giving them to different trainers."
With a record of 21 winners from just 298 runners, his small Dubai string is holding its own. At home in Bahrain, though, he's one of the major players. Running under the name of assistant Hesham Al Haddad, the stable is third in the trainers' table, behind perennial champion Allan Smith. He's also enjoyed recent big-race success with the ex-Aidan O'Brien-trained G1 winner Deauville, whom he bought privately.
"Deauville won the King's Cup Trial and Euginio [ex Richard Hannon] was second. They both run in the King's Cup on Friday [today] and are owned by Sheikh Nasser, who is very keen to win his father's race. But it won't be easy as it's quite competitive in Bahrain and there's a nice horse called Shogun, trained by Allan Smith, who's been dominating since last year, so he will be hard to beat.
"Deauville will be a stallion at some stage, although I'm not sure where, maybe in Bahrain."
Unlike in the UAE, where Thoroughbred breeding has never really taken off, the tiny island state of Bahrain has stuck at it. Nass stands five stallions there, including the 2014 G2 UAE Derby second Asmar, and is starting to see the benefits.
"It's going well; we won the the Bahrain Oaks and the Bahrain Derby, this year and last year, both with fillies. It's quite an achievement for a small breeding operation. Halkin was responsible for the winner last year and Raggas this year. Five stallions is a bit too many, but I like to collect them for some reason."
No-one has yet tried to campaign a Bahrain-bred outside of their native country. Nass, you suspect, wouldn't shirk the opportunity. "If we get a really good one, then we might give it a try; it's never been done before."
Nass once joked that when he retired stable star Krypton Factor "we'll sit and have a drink together in the evenings". It's not far from the truth. "Krypton is retired and well in Bahrain; he's enjoying the sand paddock. He's got a pony friend that he goes out with, so he's loving life."
Nass's wife, Victoria, and children Abdulla, 14 and Haya, 12, live in Bahrain but are regular visitors to the UAE and the UK during school holidays. Victoria is from Derbyshire, which explains the lilt to her husband's flawless English.
"My son is a good form man. If I need to know anything about a horse or a jockey then I don't need to search on Google, Abdulla knows it all. He's very switched on with racing. He doesn't ride, he plays tennis, but he follows racing very closely."
So the future of the Nass racing empire might well be secure, although Fawzi has plenty of unfinished business before then.