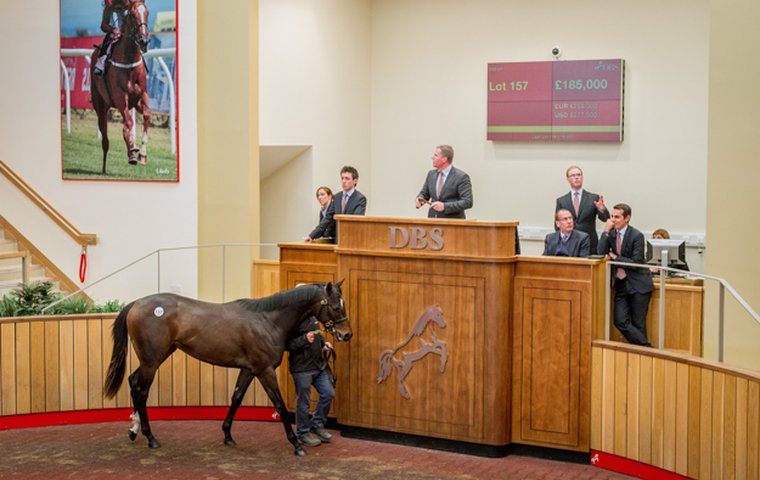 There might have been no record-breaking transactions at this year's DBS Breeze-Up Sale in Doncaster but such was the depth of trade for the better horses that the auction house ended the day by celebrating a record average and median.

Top billing went to a son of Footstepsinthesand bought for £185,000 by agent Stephen Hillen to compete in the colours of Frank Gillespie, made famous by The Grey Gatsby. Although the top mark fell well short of last year's sale record of £340,000, set by an Exceed And Excel filly, Qatar Racing's subsequent debut winner Likely, nine lots made six figures, compared to six in 2014, and were bought by eight individual buyers.
Of the 147 horses offered, 129 - 88 percent - changed hands for a total of £4,995,500, up 7.5 percent from 2014. The average rose 6 percent to £38,725, while particularly strong was the median, which increased 36 percent to £30,000.
"Last year's record breaking DBS Breeze-Up was always going to be a hard act to follow so we are simply delighted to have made advances again, with a new record for both average and median flowing from a sale that sold nine £100,000-or-over lots, compared to six last year," said DBS Managing Director Henry Beeby.
"While the record £340,000 was out of reach, it is extremely satisfying to return an improved average without such a high as it clearly demonstrates a stronger overall market and that feeling is backed up by another advance in the clearance rate to an excellent 88 percent."
The sale-topping Footstepsinthesand colt was one of 58 lots that made money on paper, meaning that just over half the pinhooks sent through the ring were profitable for connections. As is often currently the case at breeze-up sales, the market was unforgivingly selective; if the horse 'ticked all the boxes,' a major return was on the cards but several horses were also friendless in the ring to the extent that they failed to raise the minimum bid of £5,000.
"Everyone is falling on the same horses, and it seems you have to pay a premium to get those ones," said Eamonn Reilly of the BBA Ireland. "For those horses, it's extremely strong.
"I thought the standard of horses was good - plenty breezed well. I was underbidder on three horses, which is frustrating. It's very selective, but strong."
Agent Anthony Stroud was of a similar view. "It's a selective market but good," he said. "Perhaps it wasn't so strong during the morning but it definitely picked up in the afternoon."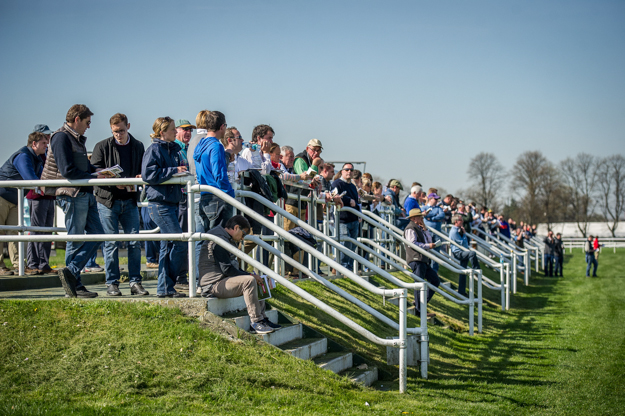 Sold near the end of trading, the sale-topper provided a great result for vendors Sherbourne Lodge Stud, having cost €15,000 through George Mullins at last year's Arqana October Sale. Bred by Northern Bloodstock, he is out of Brazilian G2 scorer Notting Hill, a daughter of Jules, who also ran third in the 2004 G1 John C. Mabee Handicap. She is the dam of three winners, including Brazilian G2 winner Notting Tomorrow.
Another colt to provide a memorable payday for his connections was a son of Ashford Stud's Scat Daddy. Bought for $37,000 at last year's Keeneland September Sale by Alex Elliott of E.B.S., he was resold through Lynn Lodge Stud for £170,000 to The Cool Silk Partnership and Matt Coleman, of Anthony Stroud Bloodstock.
The colt was one of three purchases for The Cool Silk Partnership, headed by Scunthorpe United Football Club chairman Peter Swann and Barbara Wilkinson, alongside a Dutch Art colt, who cost £110,000 from Tally-Ho Stud, and a Kodiac filly, who cost £50,000 from Oak Tree Farm.
The Scat Daddy colt is set to join James Given, also trainer of the partnership's recent multiple all-weather winners Royal Bajan and Oriental Relation. Out of the winning Candy Ride mare Champion Ride, he is a half-brother to the stakes-placed Charlie Thomas and from the immediate family of Malibu Stakes winner Twirling Candy and his recent Spiral Stakes-winning brother Dubai Sky.
On what was a good day for Eddie O'Leary's Lynn Lodge Stud, John and Jake Warren went to £160,000 for their Raven's Pass colt out of Holly's Kid. Out of a winning sister to Del Mar Oaks heroine Rutherienne, he provided a good turnaround, having been retained for £45,000 as a yearling.
While those vendors with a good colt could expect to be rewarded, it was harder going for those offering fillies. Overall, fillies sold for an average of £32,780, 21 percent less than the £41,446 average realised by colts. Only two fillies made it into the top 15.
Leading the way was a Canadian-bred Street Cry half-sister to G3 winner Necessary Evil who was knocked down for £125,000 to Richard O'Gorman, acting on behalf of Darley. She was seemingly Darley's only purchase.
She was actually part-bred by Darley with the Ontario-based Anderson Farms and knocked down to Marc Detampel for $75,000 at the Keeneland September Sale.
A daughter of Kodiac sold by Tally-Ho Stud for £68,000 to Blandford Bloodstock was the other filly to break into the top 15.
The O'Callaghan family's Tally-Ho Stud, which has been selling at the DBS Breeze-Up since its inception in 1977, ended the sale as leading vendor, thanks to 14 lots that realised a total of £507,000.
Peter and Ross Doyle bought eight lots for a total of £361,000 to end the day as leading buyer. It was a fitting result given that the pair also came away from Thursday's sale having received the DBS Willie Stephenson Award, an annual prize awarded to those whom the DBS board feel have done most to promote the company during the year.
Last year's leading buyer, David Redvers, whose five purchases in 2014 included Qatar Racing's highly regarded 3-year-olds Flaming Spear and Likely, wasn't quite so active this time around, striking just the once when going to £60,000 for a Holy Roman Emperor filly. However, he was among the underbidders on a number of occasions.
Acceptable performances on the clock naturally continue to dictate this area of the market but the lure of sire power shouldn't be underestimated. Leading European second crop sire Lope De Vega returned an average of £66,000 for two sold, both of whom returned notable profits for their vendors. Also worthy of mention are Kodiac and Showcasing, both stallions who get a large proportion of early 2-year-olds capable of turning in fast times at this time of year.
Led by a £110,000 colt bought through Anthony Stroud on behalf of Simon Crisford, Kodiac was responsible for 10 juveniles that sold for an average of £47,600. Showcasing, meanwhile, was the sire of 11 2-year-olds that sold for an average of £42,818 for a 100 percent clearance rate. More impressively, nine of those 11 returned a profit for their vendors.