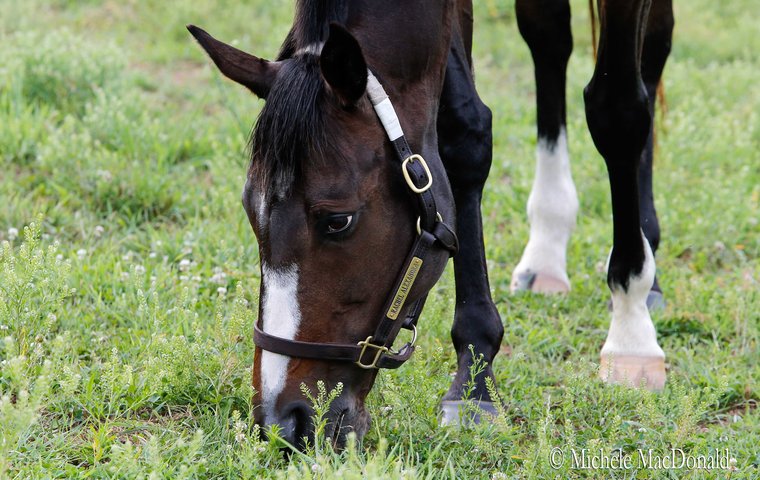 Eyes bright with curiosity, she dips her head and gently skims the visitor's hands. Finding nothing, she turns away as a shadow of disappointment, tinged with annoyance, crosses her face. It's mid-morning and Rachel Alexandra is already late in getting on with her daily routine at Barbara Banke's Stonestreet Farm in Lexington.

The least she could have received in return for this postponement of grazing time was some peppermints, which she clearly expected, and being the racing royalty she is, she quickly is given some by the farm staff to assuage her dismay.
Seven years have passed since the daughter of Medaglia d'Oro soared through an undefeated 8-for-8 season quite unlike any other 3-year-old filly in North American racing history, establishing herself as nothing less than a phenomenon.
Her exceptional feats on seven different tracks that year included defeating older males to become the first female winner of the historic Woodward Stakes; romping wire-to-wire as the first filly to win the Preakness Stakes since 1924 while beating Kentucky Derby winner Mine That Bird; drawing away from champion and Belmont Stakes winner Summer Bird in a stirring Haskell Invitational Stakes in the slop, and cantering victories by around 20 lengths in both the Kentucky Oaks and Mother Goose Stakes, the latter in stakes record time and the former close to record time.
Induction ceremony
For those unforgettable efforts, Rachel Alexandra will be inducted in the National Museum of Racing and Hall of Fame in Saratoga Springs tomorrow, even as her life today quietly moves at the most leisurely of paces.
Far from crowded grandstands rocking to cheers in cadence with her powerful strides, she hears only the chatter of birds and an occasional whinny or nicker, along with the casual patter of her caretakers and the visitors who every so often still gather to greet her.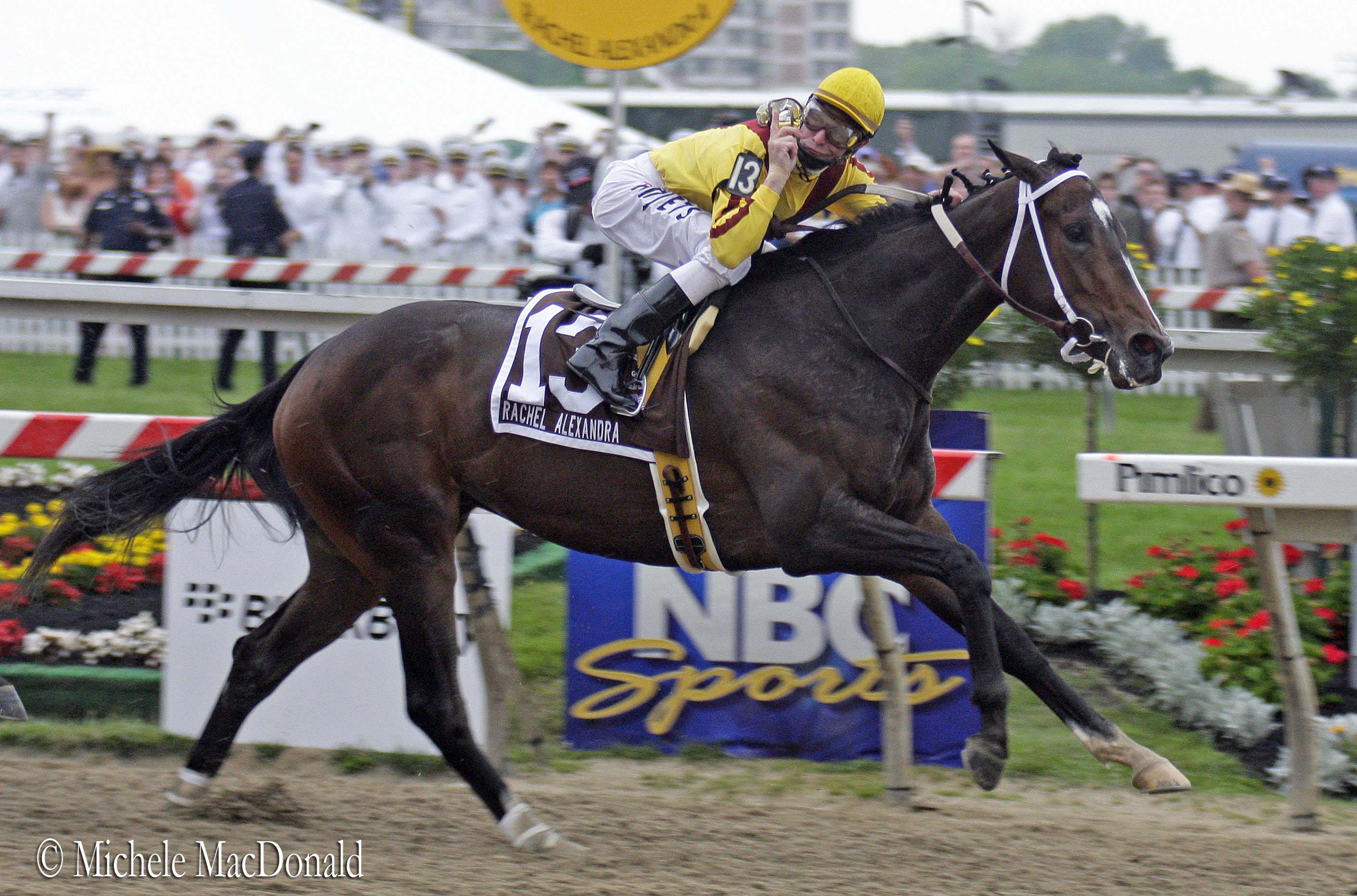 Now 10, Rachel Alexandra spends most of her time nibbling grass in a gently sloping 25-acre paddock. Her companions are two retired Stonestreet broodmares, 25-year-old Luminare, dam of Argentine champion and American G1 winner Miss Loren and world-record setter Mr. Light, and 23-year-old Profit Column, a graded stakes winner and producer and half sister to multiple G1 winner Muhtarram.
She is brought into her spacious stall, a virtual equine suite that overlooks the serenity of tree-shaded grass, twice a day for meals of three quarts of grain. She rests there for 90 minutes in the mornings and is groomed in the afternoon.
Brush with mortality
Her coat blooms with dapples and she exudes a robust strength in her still athletic frame that belies her brush with mortality in 2013 after delivering her eventual G1-winning daughter Rachel's Valentina. She has not been bred since that incident, and while Banke was quoted earlier this year saying that she probably would breed Rachel Alexandra again, she confided recently that keeping her American hero healthy is more important than trying to obtain another foal.
"I don't know; not now," Banke says when asked about breeding Rachel Alexandra again. "I have had vets tell me that she could be bred and maybe once, when memory dims a little more, we'll investigate that scientifically. But, at this point, she's happy and we're happy. We have her son, we have her daughter, I have her sister — I think we're good for now.
"She is very healthy," Banke points out before emphasizing that nearly losing the mare Stonestreet refers to on its website as "Rachel the Great" after her colon was damaged in the delivery of Rachel's Valentina is "not an experience I would ever care to relive".
Surviving that ordeal against the odds is perhaps Rachel Alexandra's most incredible achievement.
Surgeon's 'spectacular job'
"It was sort of out of the blue because she had the filly and everything was good. Less than a day later, it was really not good," Banke recalls. "When we went in (to Rood & Riddle Equine Hospital), the veterinary surgeon (Dr. Brett Woodie) had to open her up and then he said, 'There really is nothing I can do - it is very difficult.' Statistically, it was just not good."
Damage to her small colon, part of which had lost its blood supply, had allowed bacteria to be released into Rachel Alexandra's abdomen.
"I just said, 'Can you try?' Banke implored Woodie at that time. "And he said, 'Yes, I can try'.
"Hours later, he finished the surgery. He did such a spectacular job — way, way beyond the standard of care — that she is here today," Banke says, describing the ordeal that continued on through weeks of nerve-wracking recovery with the simple word "terrible". She acknowledges that Stonestreet, and racing and breeding at large, could forfeit future stars if Rachel Alexandra does not produce any more foals, but that is not her main concern.
"Certainly her health is the biggest factor, and we'll continue to keep that at the forefront. That rules what we do," she says.
The public's enduring love
For Banke and the Stonestreet staff, Rachel Alexandra is something of a national treasure. They see constant evidence of the public's enduring love for her in the delivery of fan mail that arrives at the farm several times a week, and in the visits of fans at the farm's open-house occasions and in their engagement through social media, and Banke has made it a priority to allow access to the mare.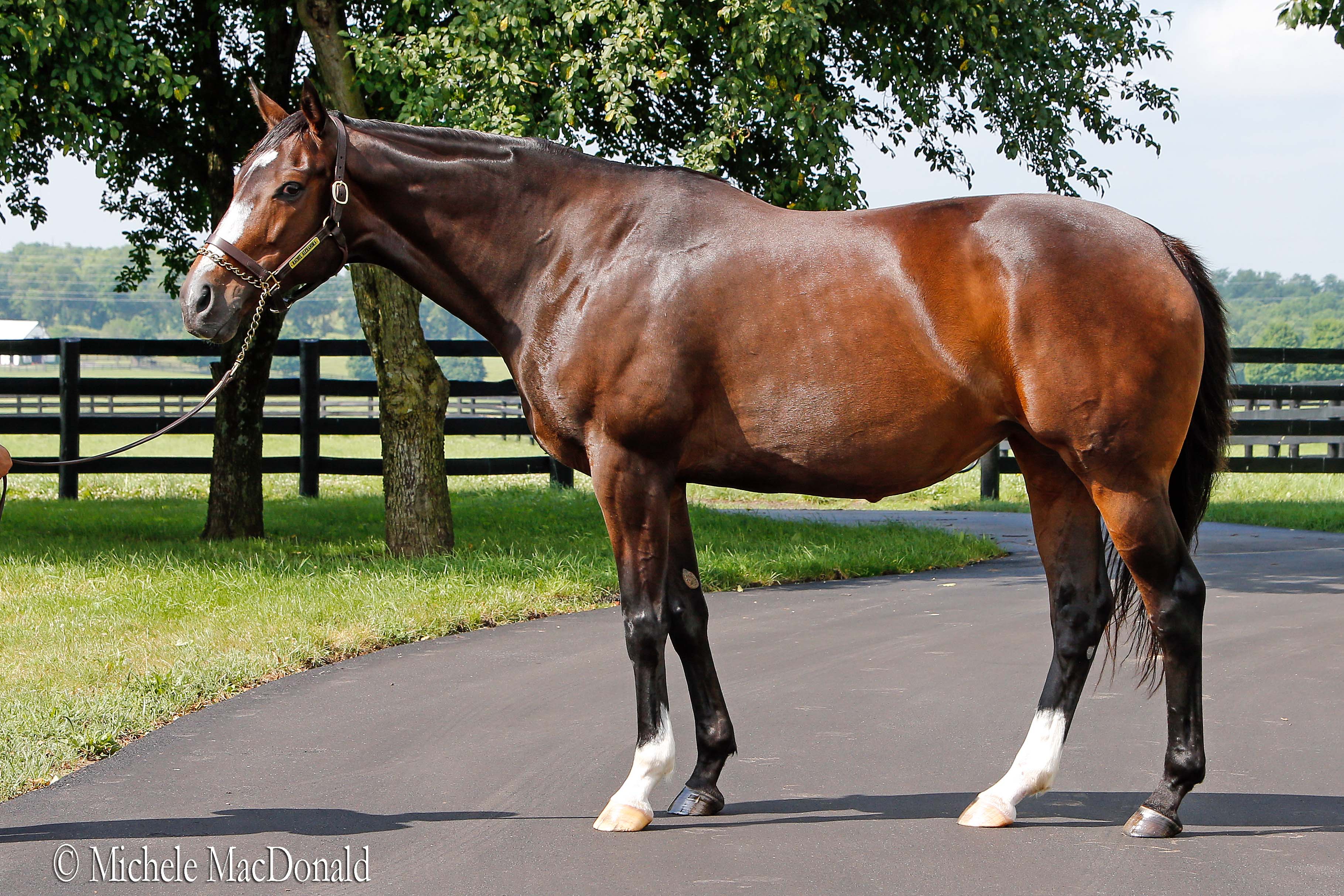 "I definitely feel that it is good for our whole sport to make her available to her fans, and she seems to enjoy it, too, when people come to the farm and meet her. She's used to posing for the cameras. So I think it's a win-win," says Banke, who also has supported Lexington charities by donating Meet Rachel Alexandra parties that include wine sipping on the patio of Stonestreet's guest house.
"I like to entertain people at Stonestreet because I think that that puts our sport in a very favorable light for people to see the breeding farms and the mares and the young horses and how much they love to run in the fields. It's a good thing to do."
This year, a couple visited Stonestreet who had met at Saratoga Race Course when they attended a Rachel Alexandra race. They subsequently married and had a daughter, bestowing on her the name Rachel Alexandra, and they brought their little girl to visit the mare who had inspired them.
Regal grace
For her part, Rachel Alexandra handles the adulation just as she does her quiet paddock time with her senior companions. She possesses a regal grace befitting of her champion and Horse of the Year status for her 2009 campaign.
"She does have her own presence about her …. she very much knows she is somewhat of a celebrity," says Stonestreet Broodmare Manager Louis Logan, who oversees the farm's herd of over 100 mares. "It's not very often that you come across an individual that had her racing talent. You could probably count on one or two hands the number of horses who had the athletic ability that this mare had, and it's a real honor for us to have her here."
"She has her sassy moments. When you turn her out, you can almost see her on the track — she has never turned into that full-blown broodmare," adds Brent Comer, the former Rood & Riddle medical technician who stayed up day and night with Rachel Alexandra when she was recovering from surgery and for whom, as Banke put, the mare developed a "big crush".
"She was such a fighter that I don't think she even realized how sick she was. I think she just went on. We had our routine every day; we did the same routine all the time and I think it kept her mind off it," Comer recalls. "She was always bright and happy; her attitude never really changed."
Strong-willed nature
Comer followed Rachel Alexandra back to Stonestreet to continue to oversee her recovery and, after 30 days, he accepted a full-time farm position in equine health. Today he lives at Stonestreet, where he says one of the perks of his work is seeing Rachel Alexandra every day, including some of the occasions when she meets fans.
"She loves it," Comer says. "When it's show time, she knows it and she's great about it."
Rachel Alexandra follows every movement of visitors with her eyes, and she indulges them by holding her head, with its distinctive broken white blaze, high and keeping her ears pricked, as if she is back in the winner's circle.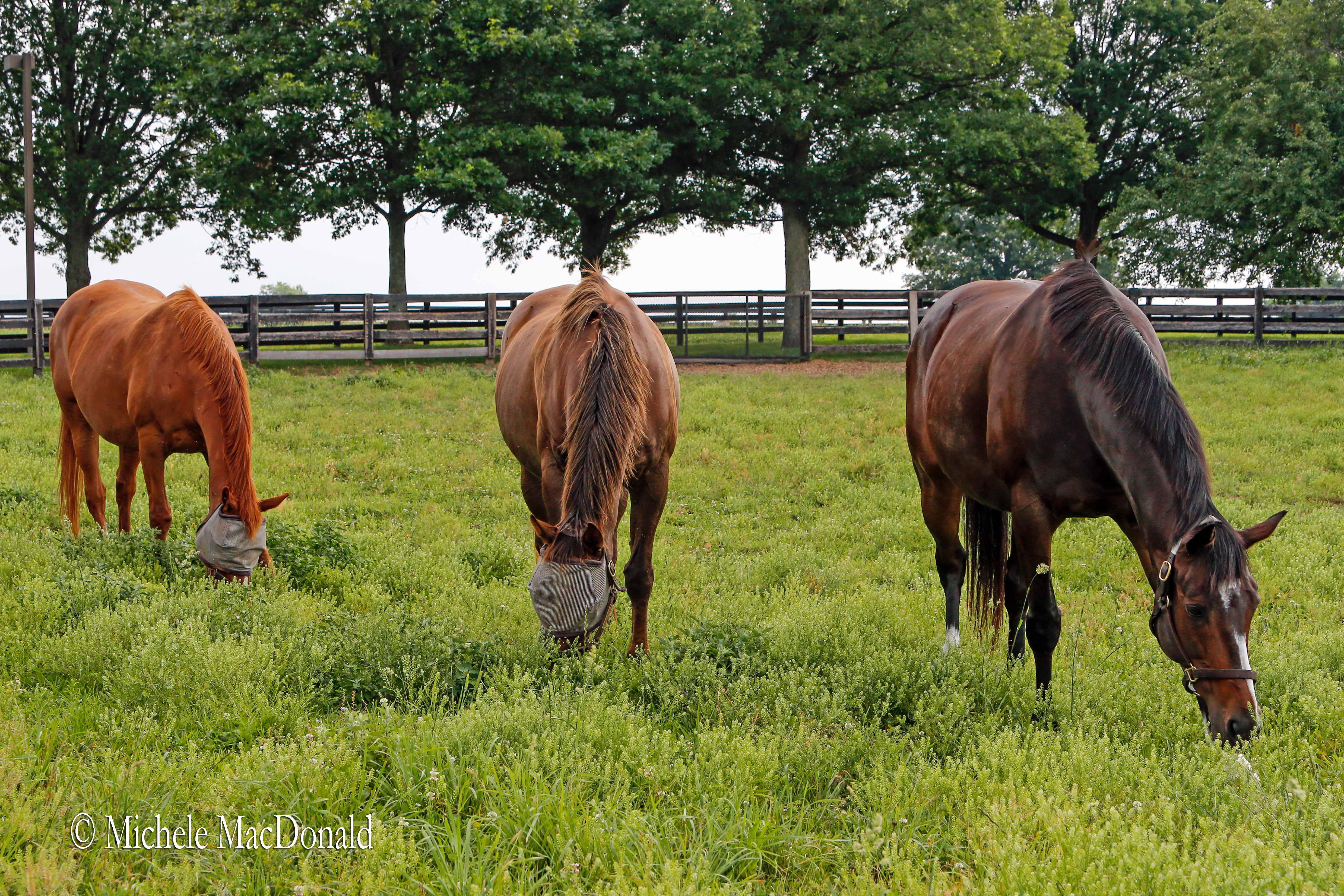 Banke, who in the past described Rachel Alexandra as a diva with such a strong-willed nature that she could, at times, be "a pill", says the mare has softened over time.
"She still likes her mints and she doesn't like you to show up empty-handed. And she loves her friends in the paddock, so I think she's enjoying life and is much more mellow these days," Banke says.
Tedious photoshoot
One of the biggest displays of Rachel Alexandra's pique during her racing days came while a Vogue photographer was trying to take glamour shots of her after she won the Preakness, which magazine editor Anna Wintour had attended. Rachel Alexandra was roused from a nap for the special shoot and clearly was miffed by the tedious nature of being asked to pose in front of a special backdrop.
"She just had had it. She didn't want to have anything more to do with that photo shoot. She was leaving the ground, rearing up – she was mad," Banke recalls with a laugh.
Rachel Alexandra entered Banke's life when her late husband, Stonestreet founder Jess Jackson, purchased the then 3-year-old filly in a bold move after her breathtaking Kentucky Oaks victory. Banke and Jackson had just completed campaigning 2007 and 2008 Horse of the Year Curlin, and Jackson thought that the filly would not only be an outstanding mate for the stallion but that she also was talented enough to be a racing champion — and he wanted to run her in the Preakness.
"It's a fun story. It was our wedding anniversary on the fourth of May, and Jess and I were at Dudley's restaurant in Lexington. We had seen her win the Oaks," Banke relates. "Then John Moynihan, my bloodstock agent, called and said, 'I have to see you right away.' I said, 'We're at our anniversary dinner,' but he said, 'No, I have to see you right away.' So I said, 'We're at Dudley's, come on over.' I think he came in gym clothes.
Astounding sum
"He said, 'The owners of Rachel called me and said they will sell her, but only to you.' So, Jess said, 'Great!' That was pretty much it. We talked to them and arrived at a deal. It was a very fast transition because we were trying to make the Preakness less than two weeks later."
Banke confirms that it took an astounding sum, around $10 million, to acquire Rachel Alexandra from her breeder, Dolphus Morrison, and his partner, Mike Lauffer. Jackson then offered a 10 percent interest in the filly to his old friend, Harold McCormick, of Birmingham, Alabama, who had not previously been involved in racing.
"(Jackson) called him up and said you can have 10 percent of this racehorse because, if you're going to get into this business, you might as well start at the top," Banke says with a laugh.
In recalling those moments, along with the price, Banke observes that there is no way to place a value on the experiences Rachel Alexandra gave to her and Jackson, their children and McCormick.
Asmussen's emotion
Rachel Alexandra dazzled those around her in 2009. Hal Wiggins, who trained her through her Oaks triumph, indicated he felt she was better than any of the colts running in the Kentucky Derby that year, but after watching her storm down the stretch at Churchill Downs, he said she had outperformed even his highest hopes.
Steve Asmussen, who took over training following the purchase by Stonestreet and who will enter the Hall of Fame with Rachel Alexandra, struggled to find words for her flourishes of speed and courage.
"I've never seen anything like her," declared Asmussen (who also trained Curlin) after the Woodward, in which Rachel Alexandra fended off unrelenting challenges from male rivals from the beginning until the end of the race. "I cried — I've never cried at a horse race. It moved me."
While the official margin of Rachel Alexandra's Woodward win over the closing Macho Again, winner of the Stephen Foster Handicap, was only a head, the verdict was never in doubt, according to Robby Albarado, who rode the runner-up.
"I never thought I had her," Albarado said after dismounting. "No matter what they throw at her, she'll beat them."
Rachel's finest hour
Rachel Alexandra's own jockey, the now retired Calvin Borel, famously got off his Kentucky Derby winner, Mine That Bird, to stay with the filly in the Preakness. After the Oaks, Borel had breathlessly declared: "I've been in this business for 30 years and I've never been on a horse like her," and he pleaded with Jackson and Banke to let him continue to ride Rachel Alexandra.
Banke, who will give the acceptance speech at Rachel Alexandra's Hall of Fame induction, says that the Woodward was Rachel Alexandra's finest hour.
"She was certainly spectacular," Banke recalls. "She was tackled by four different horses (during various stages of the race) and beat horses of all ages. It was really something."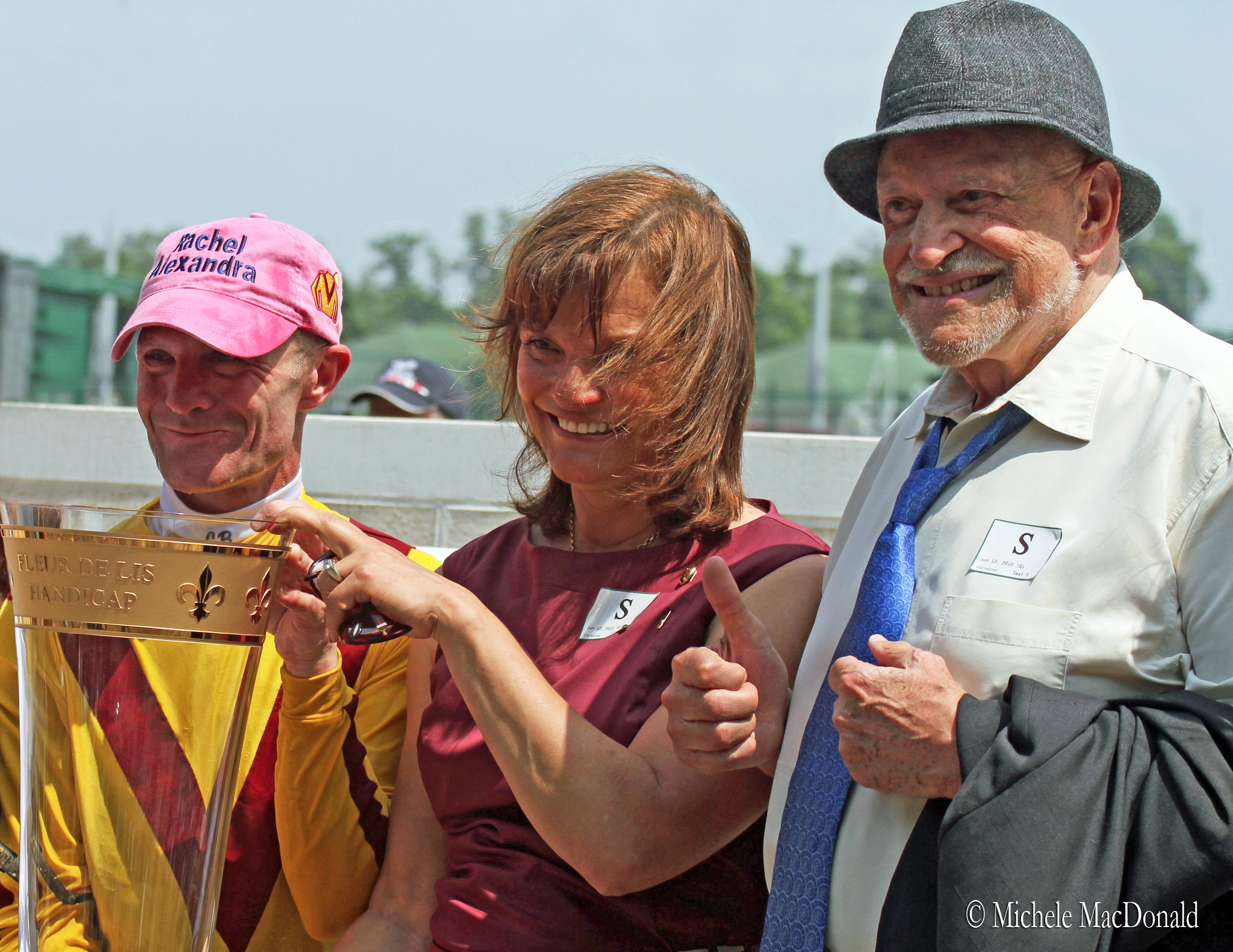 However, Rachel Alexandra was never quite the same afterwards. Rested until she was four, she won the Fleur des Lis Handicap at Churchill Downs and the Lady's Secret Stakes at Monmouth Park, but finished second in three other races.
"(The Woodward) did take a lot out of her, and she really didn't come back quite as well as we had hoped, but it was just the nature of that race. She was certainly feisty enough afterward, but maybe she didn't want to participate quite as much," Banke says.
End of her racing career
Jackson called time on her career in September 2010, after Rachel Alexandra faded a bit from pace-setting efforts to finish second to Persistently in the Personal Ensign Stakes at Saratoga.
"She set standards and records that no filly before her ever achieved. And I suspect it will be quite a while before a 3-year-old filly ever equals or surpasses her achievements. Although her fans were thrilled by a series of spectacular victories, I believe they, as we, were simply awed time and again by her sheer beauty, courage, and athleticism," Jackson said at the time.
Jackson followed his heart and bred his Horses of the Year, Rachel Alexandra and Curlin, the following February. Just two months later, he passed away from cancer at age 81.
Rachel Alexandra delivered a dark bay colt by Curlin who weighed 125 pounds at birth on January 22, 2012. Six days later, mare and foal were taken to Rood & Riddle so that Rachel Alexandra could be treated for pain associated with that delivery, although she did not experience the complications that led to surgery the following year after producing Rachel's Valentina, a 140-pound filly by Bernardini.
A dream mating realised
During both her hospital stays, she was attended to by internal medicine specialist Dr. Bonnie Barr, who also visits Stonestreet to care for mares.
Rachel Alexandra's colt was named Jess's Dream after fan voting announced by Banke and Jackson's son Chris, who said: "It was always my dad's, and her husband's, dream to breed Rachel and Curlin together. He believed he could create a super horse, one that was truly capable. We're going to love Jess's Dream regardless of what his racing career is."
In his only race to date, Jess's Dream stormed from last to win a maiden special weight event at Saratoga in storybook fashion last August for Stonestreet and trainer Kiaran McLaughlin. He needed some time off afterward but has returned to training at Saratoga with McLaughlin.
Rachel's Valentina won her first start at two and followed up with a G1 triumph in the Spinaway Stakes prior to finishing second to champion Songbird in the Breeders' Cup Juvenile Fillies.
While Rachel's Valentina did not win in 2016, she displayed plenty of mettle while battling with eventual Kentucky Oaks winner Cathryn Sophia in the Ashland Stakes at Keneeland; Weep No More eventually caught both rivals to win by a neck over Rachel Alexandra's daughter, with Cathryn Sophia another neck back in third.
Family representatives
Banke decided to retire Rachel's Valentina, who she describes as having an unusually kind nature, after she endured a rough trip and a stumbling start while unplaced in the Mother Goose Stakes on July 2. "We look forward to sharing her babies with you, carrying on the legacy of Rachel the Great," read a statement distributed by Stonestreet.
If Banke opts never to breed Rachel Alexandra again, she does have the breeding futures to anticipate with the champion's daughter as well as her sister, Samantha Nicole, a 5-year-old also by Medgalia d'Oro and out of the Roar mare Lotta Kim.
A $700,000 yearling purchase by Stonestreet, Samantha Nicole won a pair of races prior to retirement in February and subsequent breeding to Bernardini in hopes of repeating the genetic gold that produced Rachel's Valentina.
As time moves on, Banke doesn't foresee another experience quite like the extraordinary saga of Rachel Alexandra.
"I'm much more of a breeding operation and I love racing homebreds. I do purchase some horses, but I'm not really a $10 million purchaser at this point. I'm a little more cautious, I guess," she reflects.
Yet, at the same time, Rachel Alexandra will always serve as the high standard for Stonestreet's endeavors in racing and breeding.
"We'll keep looking for that next Rachel or Curlin, like everybody else in the business," Banke says, even while knowing that there may never be another filly who can match what Rachel Alexandra accomplished in the whirlwind that was her 3-year-old season.