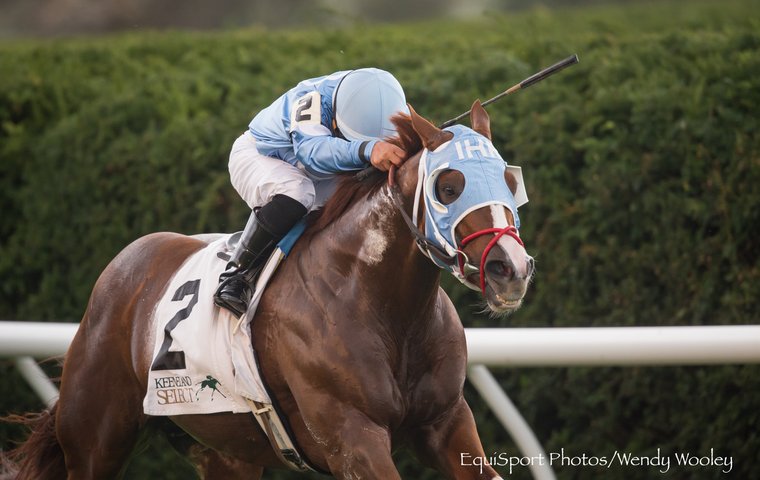 The team behind Bucchero has been cast in an ultimate underdog, David vs. Goliath role heading into Tuesday's G1 King Stand Stakes at Royal Ascot, and they are okay with it. After all, it's nothing new.

"Let's face it, it's sort of true," said trainer Tim Glyshaw. "Most of it is because the ownership group isn't Bill Gates-rich; the trainer isn't known for winning Graded stakes races, even though I have; and the horse is an Indiana-bred. I think that's why so many people like him. People appreciate that I think.
"Every major race he has run in, he has been 25/1 or more, that's just what you get. When he is 30/1 at Royal Ascot, he won't know his odds. That's what he's always been in these kinds of races."
To date, Bucchero's biggest victory was an upset score in the Woodford Stakes at Keeneland last October. After his win in that Grade 2, he finished a close fourth in the Breeders' Cup Turf Sprint in his next start, where he was beaten by just over a length. One of the horses finishing behind him that day was none other than two-time Royal Ascot heroine Lady Aurelia.
"We've had a lot of attention put upon us coming to Royal Ascot, and it's been kind of a whirlwind," said owner Harlan Malter, the managing partner of Ironhorse Racing Stable. "We were 26/1 in the Woodford, and we were 29/1 in the Breeders' Cup. We kind of like that. If Bucchero could talk, if he was a person, I definitely think he would be that type of person who wanted to be told he couldn't do it and then show up and do what he could do."
Beating the odds
Bucchero's story is one that involves beating the odds both on the track and also just by existing.
The 6-year-old son of Kantharos was bred by Greg and Karen Dodd's Southern Chase Farm. Along with a partner, the Dodds purchased Bucchero's dam, Meetmeontime, for $15,000 at the 2003 Keeneland November breeding stock sale. In 2008, the decision was made to dissolve the partnership and sell her at the Ocala Breeders' Sales Co.'s January winter mixed sale, which they did.
The following year, the mare was rescued by the Marion County Humane Society when she was found among 33 neglected horses, not all of which survived, on a farm in Florida. When they realized what had happened, the Dodds immediately offered Meetmeontime a home and nursed her back to health.
Having recovered from her ordeal, a once-again healthy Meetmeontime returned to broodmare duties for the Dodds, and Bucchero was the second foal she produced after her return.
Although the Dodds are based in Florida, Meetmeontime was shipped to Indiana to deliver Bucchero because of the state's breeding incentive programs. As a 2-year-old, he was offered at the OBS June sale, and that is when Ironhorse decided to take a chance on him.
"I think in this business, finding people you really trust means you are at a huge advantage," said Malter, who is a financial planner. "Karen and Greg told me the horse had a little bit of an issue, and you know the way the 2-year-old sales are now, if a vet can find an issue, they are off the list. They said he was a horse who may fall through the cracks because of it.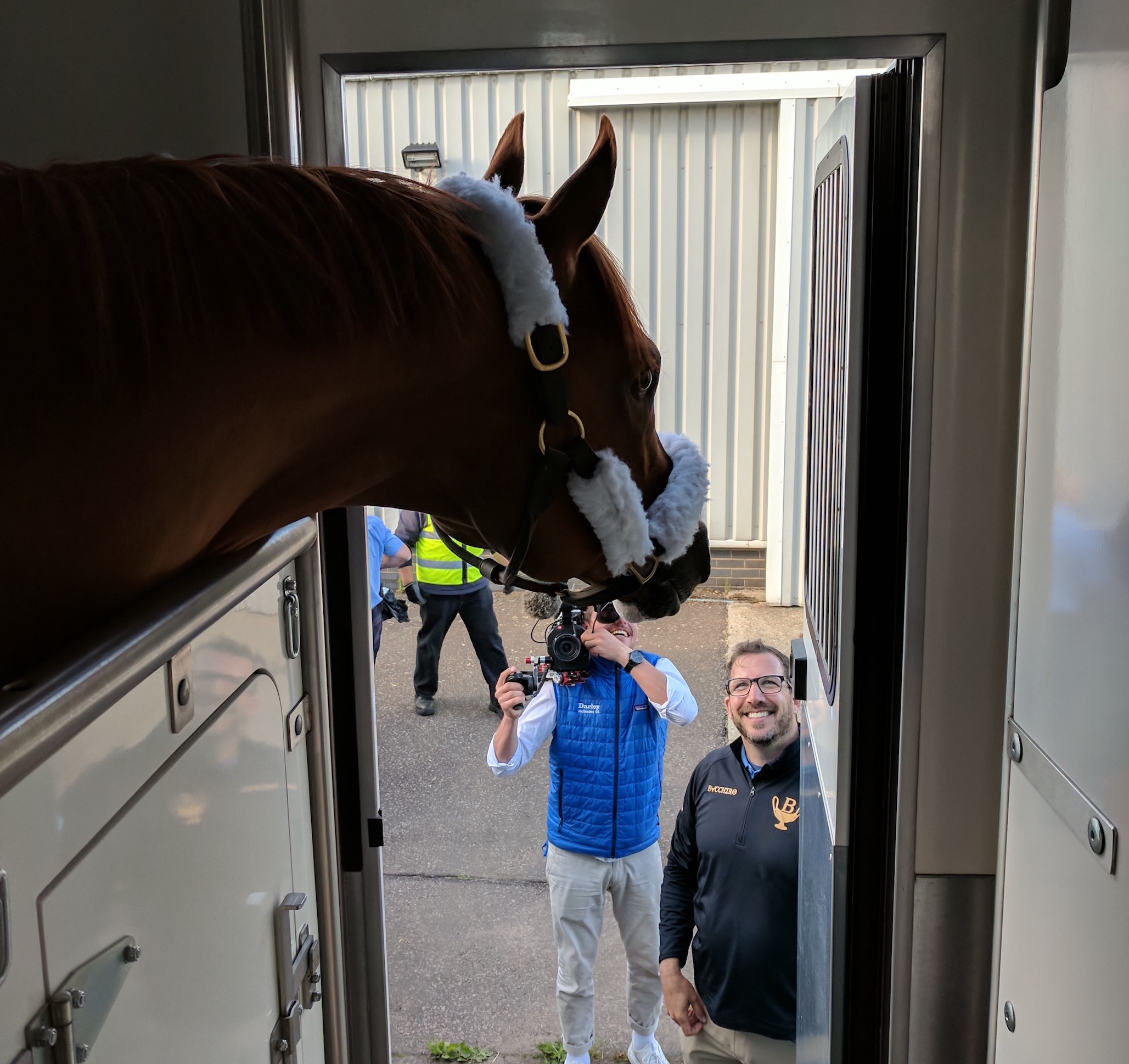 "I was on the phone with Greg, and I told him I didn't think I could swing more than $40,000. It's one of those classic stories where we got to $40,000, and then it went up. When we hit $43,000, I said, 'This is it Greg, I am not going higher. I can't do it. I don't have the authorization or the money.' Luckily the bidding stopped. At $43,000 this was absolutely the most expensive horse we had ever bought."
When it came time to name Bucchero, Malter wanted it to be meaningful.
"Rarely do horses that have silly names become great stallions, so I really wanted to give this horse a name of substance," Malter said. "Kantharos is a type of Etruscan vase, and bucchero is the type of pottery, a glossy black pottery, that a kantharos is. It's unbelievable that this is the run Bucchero has taken us on."
Bucchero, a multiple stakes winner, has won ten of 27 career starts, finished second or third in nine more, and amassed $789,741 in earnings. He was named the 2017 Indiana-bred Horse of the Year and is believed to be the first Indiana-bred to ever compete at Royal Ascot.
Highs and lows
There are five partners in on Bucchero. Ironhorse, which has two principle partners, currently only has four horses at the racetrack — including Bucchero and his 2-year-old full sister, Skyphos — along with a handful of younger horses.
"Bucchero and his connections have been some of the best ambassadors for the Indiana Thoroughbred Breed Development Program that you could ever ask for: a beautiful and talented horse, passionate owners, and a trainer with the best intentions for his horses," said Megan Arszman, the Indiana Horse Racing Commission's communications coordinator. "To have a representative from Indiana racing on one of the largest international stages is so exciting.
"It'll be interesting to see how he likes the straight course for the sprint. He's used to having to deal with a turn and traffic with sprint races here in America."
Like his charge, Glyshaw was also born in Indiana. A graduate of Indiana University, he was a teacher for two years before deciding it wasn't the path for him. He decided to take part in Taylor Made Farms' internship program and then worked his way through the ranks before opening his own stable in 2004 with four horses that he and his wife, Natalie, claimed.
"Not only is Bucchero one of the two best horses I have ever had, but he's an Indiana-bred, and I am from Indiana, so it's a pretty big deal," he said. "I get the impact of it and that we may never have a horse good enough to come back here again. I am very excited about it, but I still have a job to do with Bucchero and with my horses back home, too."
In a sport known for its drastic ups and downs, Glyshaw has experienced both this year. In April, his stable star, G1 winner Bullards Alley, was catastrophically injured while racing at Keeneland.
"It was one of the worst days of my life," Glyshaw said. "Bullard and Bucchero were my best two horses, ever, and now we only have one of them."
Small fish, across the Pond
One of the deciding factors in sending Bucchero to Royal Ascot is that he is a good shipper and generally handles things in stride. He arrived at Abington Place in Newmarket a week before his race after a smooth trip.
"He ships well, van or airplane," said Glyshaw. "I knew he would be okay doing it, but still that number of hours takes a lot out of you. You could tell he was tired when he got here, but he isn't tired anymore. He's normally a calm horse, but he has some pent-up energy.
"Back home we never have to put a lip chain on him, but here we have had to. It's all new; he's looking at all of it and wanting to play around. He looked out there, and it looked like a never-ending pasture to him."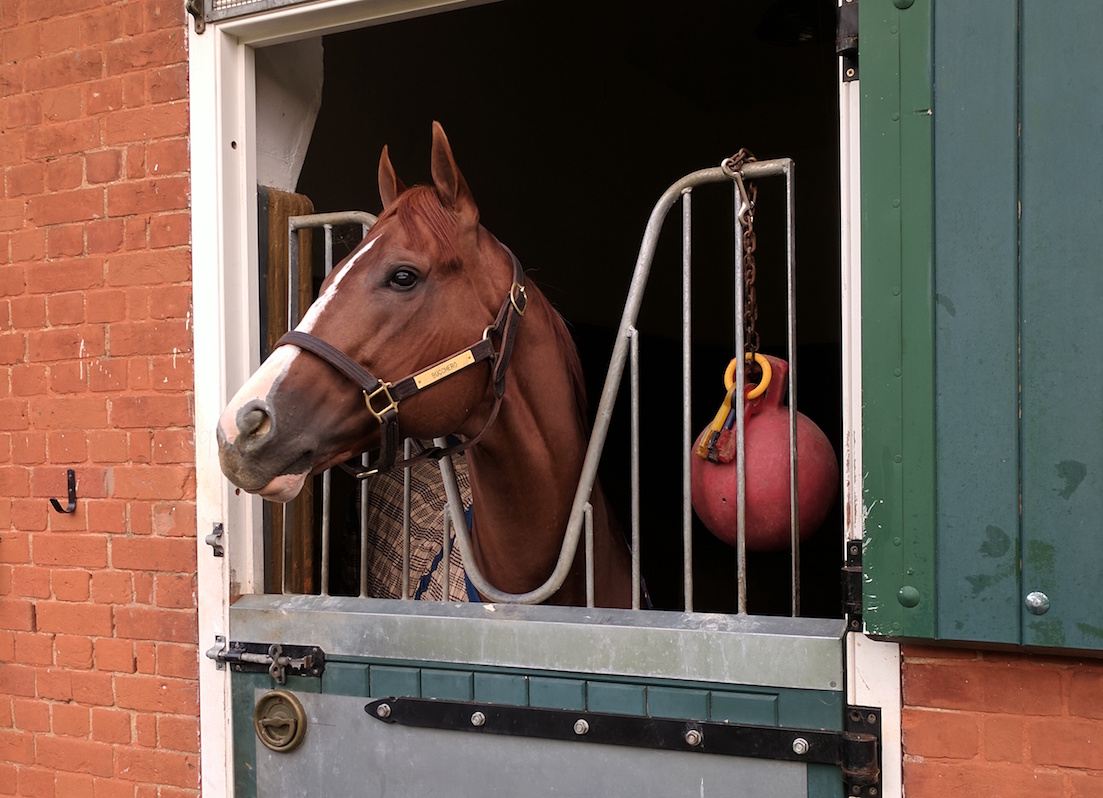 Malter also arrived in England early to take in the experience, as he did with the Breeders' Cup.
"Newmarket is just an absolutely amazing place," he said. "This is why I wanted to come over early. I am kind of a hands-on owner and like to soak it all in. I have to think for a horse being in Newmarket is like being in Disneyland. I'm sure Bucchero thinks it."
While the King's Stand is expected to be a showdown between defending champion Lady Aurelia and Battaash, Bucchero's connections are confident their horse, who will be ridden by Jose Ortiz, the eighth-ranked jockey in the world, will run well. Although he finished third in the Twin Spires Turf Sprint in his last start, it was a roughly run race, and he fought on after being significantly bumped.
"All of the partners in this horse are handicappers, we all came to the game that way, and we are very realistic," Malter said. "We are a very, very small operation, and we also know there are a limited amount of efforts a horse can give. Every level Bucchero has run at, he has deserved to be there, and he steps up every single time.
"If we didn't think he had the ability to step up to this stage, we would not have put him through it. We feel strongly that, if he can run his race, he is going to be very competitive. I absolutely love this horse. The attention we are getting, that he doesn't understand he's getting, I love that he is getting it. It means so much to me that people are going to look at him and say, 'That's Bucchero.' "