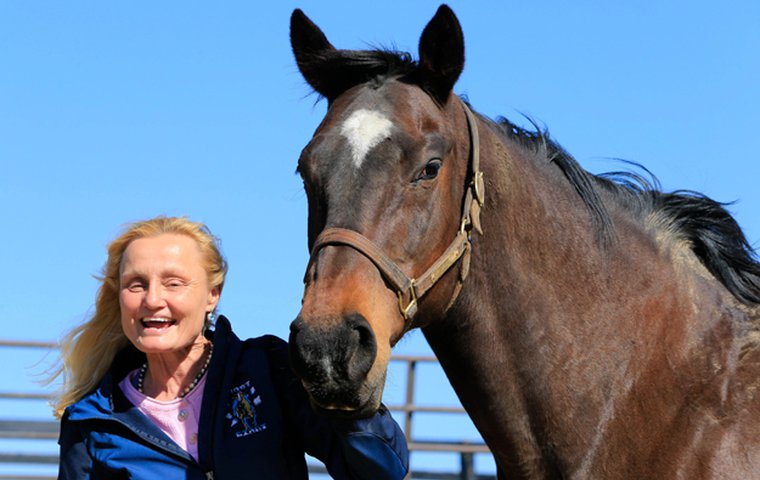 Birds were beginning to sing to the dawn when the plane fell out of the clouded summer sky, shattering lives and scorching a swath of sweet Kentucky bluegrass.

Almost nine years since Comair Flight 5191 crashed after takeoff in Lexington on Aug. 27, 2006, tears still well up in Emilie Fojan's brilliantly blue eyes at the memory of that morning, which never leaves her.
She lost George Brunacini, her fiancé and partner in the Thoroughbred business, amid the wreckage, and very nearly lost her will to carry on from day to day. But as she sees it now, from the gentle hills of their Bona Terra Stud near Georgetown, Kentucky, she gained a heavenly spirit who is blessing her in many ways, including showering good luck down upon undefeated Kentucky Derby contender Dortmund.
"It was really, really hard," Fojan says softly of the crash aftermath. "I had 170 horses at the farm and in two barns at the training center; all I could do was take one day at a time. The horses kept me going, because I had to take care of them. I probably would have committed suicide without the horses. George was the love of my life."
A native of Austria who as a little girl named her first horse Flicka and who followed a dream born when she saw the movie Gone With the Wind to live in the United States, Fojan says the horses gave her a living link to Brunacini, pulling her out of the darkness. As a smile lights up her glistening eyes, she says Brunacini is very much a part of the story surrounding multiple G1 winner Dortmund.
Fojan bred, foaled, raised, and sold Dortmund, a son of Kentucky Derby and Preakness Stakes winner Big Brown out the stakes-winning and graded stakes-placed mare Our Josephina, by Tale of the Cat. Brunacini bred and raced Our Josephina, and Fojan trained the speedy mare, who earned $190,584 for the couple in a solid career that might have gone even further if she had not been hampered by a knee chip.
Brunacini, a New Mexico-based property developer, and Fojan had acquired Our Josephina's dam, the Danzig mare Ropa Usada, a daughter of champion Lakeville Miss, for the bargain price of $30,000 at the 2000 Keeneland January sale. Thus, their history with this family goes deep.
"George is always with me, and he's definitely with Dortmund," Fojan said. "I feel like I have an angel on my shoulder."
In the years following Brunacini's death, Fojan faced many challenges in keeping their farm and the horses they loved together. Our Josephina was one of the mares she was determined to protect under any circumstances, as she had done in the past.
Fojan recalls that she and Brunacini had a tiff after Our Josephina finished a strong second in the G3 Chicago Breeders' Cup Handicap at Arlington, ahead of G1 winner Mayo On the Side, and they had been offered $850,000 for the then 4-year-old filly. Fojan pouted and stomped her feet, irate at the idea of parting with Our Josephina.
"I remember him saying, 'I could sure use the money, but I know I am going to lose my sleeping partner.' And I said, 'Yes, baby, you are!'" Fojan recalls, laughing.
Our Josephina stayed at Bona Terra and produced five foals, including Empress d'Oro, by Medaglia d'Oro, with three becoming winners but none special athletes. Fojan then chose Big Brown as a mate for the 17.1-hand Our Josephina for several reasons: She admired his brilliance as a racehorse; she believed his athletic, more refined 16.1-hand frame was a good match for the hulking Amazon, and she loved combining his blood, as a grandson of the prepotent sire Danzig, with that of the mare, whose dam was by Danzig.
Fojan was alone with Our Josephina on the night the mare delivered the Big Brown colt. With the sky clear and temperatures hovering around freezing at 2:30 a.m. on Feb. 7, 2012, she knelt in the stall next to the bay mare, who was restless.
When Fojan saw the front feet of the foal begin to emerge, she caught her breath in shock.
"I thought, 'Oh my God. I'm not going to be able to do this.' It looked like the feet of a Clydesdale!" she exclaimed. "But [Our Josephina] was patient, and I helped her a little, and she popped him out.
"He got up right away—she had done the same thing when she was born 12 years earlier—and he shook himself and started screaming. It was like he was saying, 'I'm here! I'm here!'
"When the babies get up quick like that, I'm always thinking George is there, lifting them up in spirit. I thought of George on the night Dortmund was born, and it just made me cry. I felt like he was lifting him up—he always wanted to see what the foals looked like."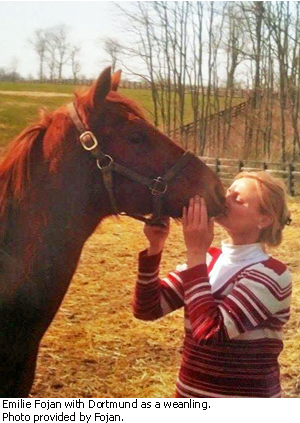 By the time the chestnut colt was two days old, Fojan says he already was used to her kissing him on the nose, a bonding they continued to share as he grew and which she has documented in many photos that are now treasures.
Fojan clearly loves her horses, and she tells stories about many of them that are punctuated with intimate details. She calls them by nicknames, like "Moosehead," which she uses affectionately for Our Josephina, and they nicker and trot towards her when they hear her voice.
Tucked away from main roads on a peaceful 160 acres, Bona Terra also is home to dogs, chickens, and a goose named Suzie, who all respond when called, as well as 17 pensioned horses that Fojan considers part of her family.
As Fojan steps into the barn where Dortmund grew up and past a sign with the hand-written declaration "Horses, dogs, and chickens always come first!" the first thing she remembers about the colt is his kind nature. When he was a foal, Fojan could sit beside a sleeping Dortmund in the straw and "he would lay his head over my lap just like dog." He let a small rooster share his feed bucket and he would romp in his field, playfully racing a rescued cow who was in an adjacent pasture. Fojan recalls that she could put only a light shank on the colt and he would follow her placidly.
"He was always a teddy bear," she said.
Dortmund grew rapidly into the 17.1-hand stature he already possesses as a young 3-year-old. By the time he was a weanling, he looked like some 2-year-olds, and that scared off potential buyers even though his X-rays were clean; he was listed as an RNA at $85,000 during the 2012 Keeneland November sale.
Fojan says her records show Dortmund never needed anything other than vaccinations, and his feet were so good that he did not wear shoes while she had him. When she took him to the Fasig-Tipton Kentucky July yearling sale in 2013, he was already nearly 17 hands tall, and the 5-foot, 9-inch tall Fojan has photos with him looming over her, making her look petite.
Although she said goodbye to Dortmund at Fasig-Tipton when Jim Chapman's Breaking Point Farm bought him for $90,000, she always followed what the colt was doing, from the time agent Donato Lanni paid $140,000 for him on behalf of owner Kaleem Shah at the Fasig Midlantic juvenile sale to his first breeze for trainer Bob Baffert.
Six months before his first race, Fojan says she told Andrew Cohen, who purchased a majority interest in Big Brown late last year prior to moving him from Kentucky's Three Chimneys Farm to stand at Dutchess Views Farm in New York, that Dortmund was special.
She watched on television as he impressively won his debut at Santa Anita Park in early November, and she drove to Churchill Downs to witness him annihilate rivals in an allowance/optional claiming race two days after Thanksgiving.
"It was that day that I knew he was going to go to the Kentucky Derby," she said. "When he made his move around that turn, I thought, 'Oh my God. You are going to be here next year.'"
Victories in the G1 Los Alamitos Futurity, G3 Robert B. Lewis Stakes, and G2 San Felipe Stakes followed, and then Fojan flew to California for the G1 Santa Anita Derby on April 4. Shah invited her to watch the race with his family, and she joined them and Cohen in the winner's circle with Dortmund, who prevailed with ease.
Even though his life is much different now, Dortmund still recognizes Fojan. He playfully grabbed her scarf and nodded his head enthusiastically when she visited him at Churchill last year, and he leaned into her as she gave him his favorite kind of massage before the Santa Anita Derby. Baffert's team has embraced her, with Dortmund's exercise rider Dana Barnes declaring after meeting Fojan and seeing her interact with the colt that she now knows "why he is so spoiled."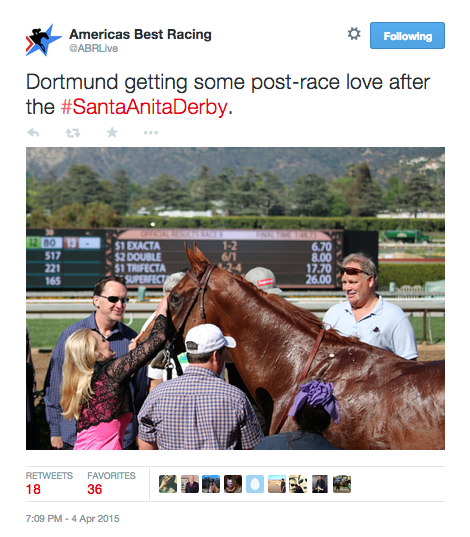 For her part, Fojan gives all credit to Baffert for a masterful job managing the towering colt she once found difficult to sell but who, under the trainer's tutelage, already has earned $1,289,400.
Ever since Dortmund stepped on to a racetrack, Fojan has been experiencing every breeder's dreams turning into splendid reality, with the upcoming Kentucky Derby a pinnacle few reach.
"I'm so proud and I'm so nervous. I wake up every morning with a knot in my stomach," said Fojan, who has turned down sizable offers for Our Josephina, now in foal to Malibu Moon and blissfully sharing a spacious Bona Terra field with her half sister Our Matilda.
"I think of the walk over from the barn to the paddock for the Kentucky Derby—that has always been my fantasy. I just want to be there and walk over with my baby," Fojan said.
She won't be alone.
While Brunacini and Fojan raised some outstanding horses at Bona Terra—from Travers Stakes winner Flower Alley, sire of champion I'll Have Another, to Kentucky Derby winner Mine That Bird and his multiple G1-winning half brother Dullahan—they never had a Kentucky Derby runner carry their names as breeder. So, she feels that, in spirit, Brunacini will be with her and Dortmund as they begin the walk from the Churchill Downs backstretch toward the twin spires on the first Saturday in May.
"Everything is coming together. This is not so much for me, it's almost like the final chapter for George," she said. "I'm thinking of all the people up there in heaven's gambling room—and I know there is one in heaven—and they're all cheering for Dortmund.
"I really miss George. I really wish he could see this happening—he always wanted to have a Derby horse. I hope Dortmund does it for him—and for all those people who perished that day."