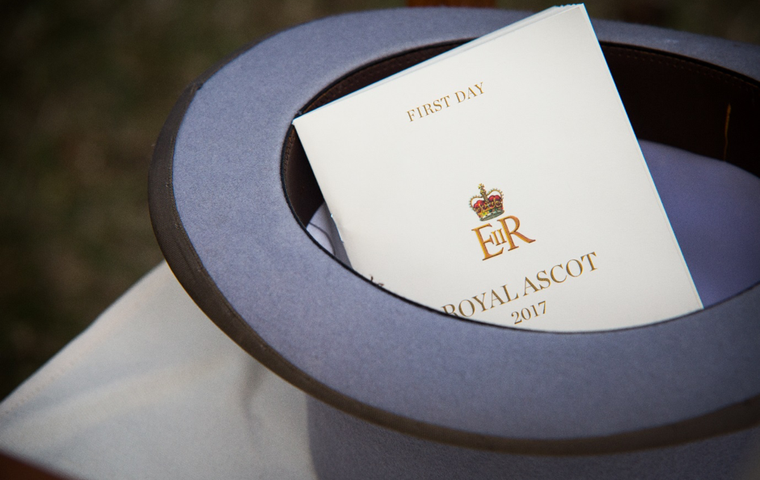 The jewel in the crown of British racing, Royal Ascot, has never been enjoyed so widely across the world as it is today. The five-day spectacular, which stages eight Group 1 contests, is viewed in over 200 countries worldwide, with NBC's Sports Network becoming the most recent broadcaster to launch coverage of the world-famous fixture in 2017 after signing a multi-year TV deal.

No coverage can compare, however, to experiencing the spectacle first-hand. The atmosphere is electric, the fashion is unique in this day and age, the fine dining on offer is first class. Indeed, while the quality of the racing is almost unparalleled, the experience is about so much more than just the action on the track.

A trip to the royal meeting may be a pipe-dream for many an international racing fan, but what would racing be without a healthy dose of dreaming?

With that in mind, and for those lucky enough to be plotting a lifetime trip to Royal Ascot in the near future, here Great British Racing International (GBRI) presents a guide to the ultimate Royal Ascot, and explains how the team can help to ensure that an international traveller's experience of Britain's historic race meeting is as seamless and special as possible.

'Fail to prepare, prepare to fail'
Part of the joy of Royal Ascot is in the anticipation of the build-up to such a world-famous sporting and social event: noting which horses will turn up from overseas, planning one's outfit, perhaps making plans to see long-lost friends from far-flung corners of the globe.
But first, the all-important logistical aspects of an international racing trip, notably the travel, accommodation and choice of ticket and hospitality. Well-thought-out arrangements – or a lack of them – can either make or break a visit to the royal meeting. With up to 70,000 racegoers attending each day, visitors should take heed of the phrase 'fail to prepare, prepare to fail'.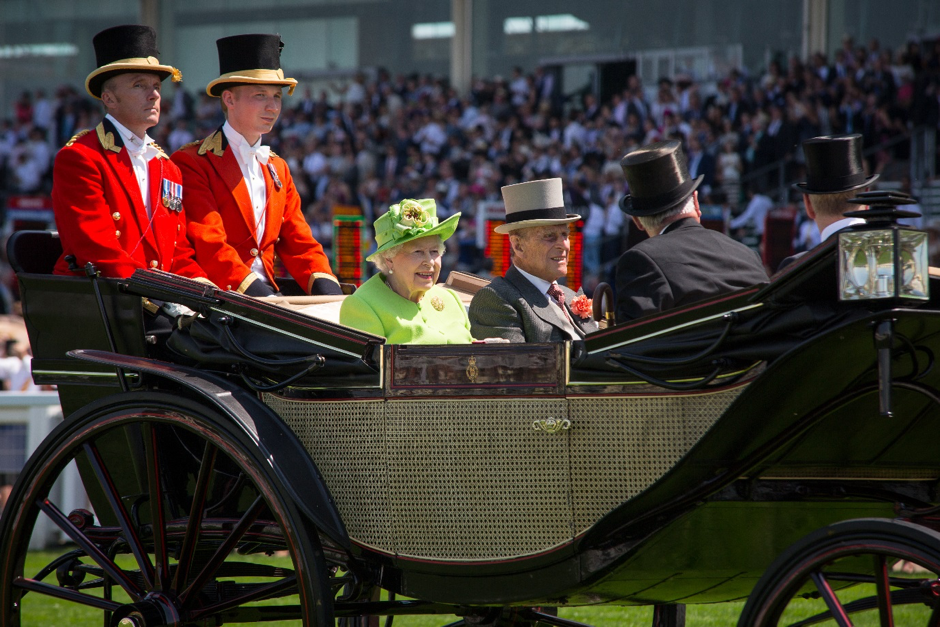 Ascot's location, around 25 miles outside of West London, means that those who wish to take in the bright lights of the city as well must compromise a little on the convenience of a quick journey into the racecourse. A direct 40-minute train service runs from London Waterloo, however a seat and a comfortable journey cannot be guaranteed unless you're prepared to arrive early. There is a short uphill walk to the magnificent sight of the racecourse greeting racegoers on arrival.
Worries about such a journey can be immediately alleviated, however, with the help of Season Car & Chauffeur Hire. Great British Racing International's preferred chauffeur service employs drivers who are whizzes when it comes to knowing the best places to drop-off and pick-up their passengers at Ascot, making for a smooth and enjoyable beginning and end to your day. The company's fleet includes some of the world's most sought-after cars, from the more discreet Mercedes S Class to the infinitely stylish and quintessentially British Bentley Bentayga and Rolls Royce Ghost. Make an entrance or simply glide seamlessly into the action: the choice is yours.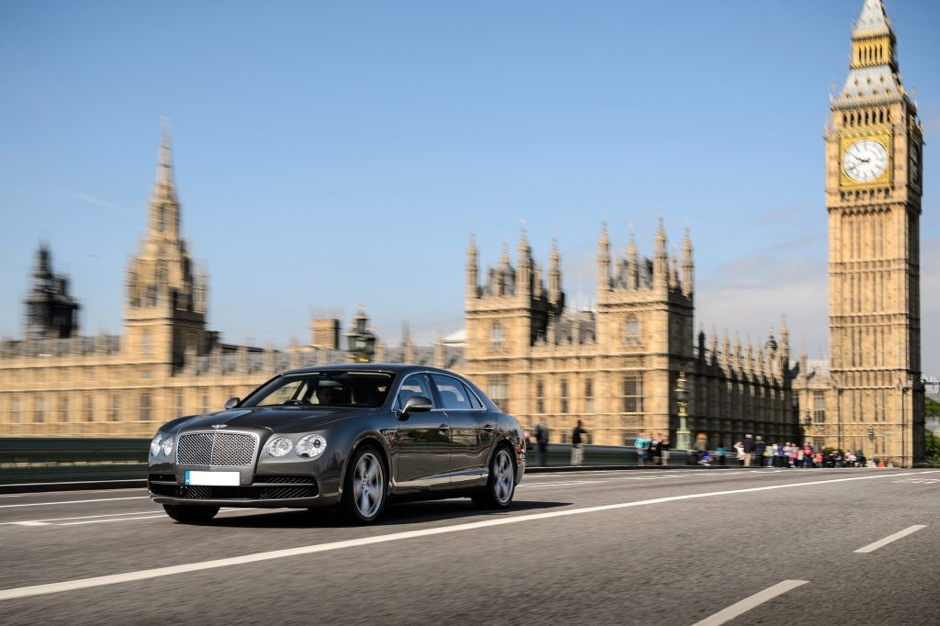 If you really want to push the boat out, dBB Aviation can offer you a range of privately chartered helicopters to fly directly to and from the racecourse. With a flight time of only 15 minutes from central London to Royal Ascot, you can arrive relaxed and ready for a day's racing.
If you do indeed wish to make the most of London, there is no hotel more quintessentially British than The Ritz. With its lavish rooms and suites, a sumptuous casino in the basement, its own cigar shop and accompanying smoking terrace, as well as a world-famous afternoon tea and its enviable proximity to the West End and landmarks like Buckingham Palace, it is the pinnacle of British hotels. Furthermore, on Friday and Saturday nights, guests can attend a dinner and dance with a live jazz band in the Michelin-starred Ritz Restaurant.
For those wanting a more refined hotel in London, look no further than Egerton House Hotel in Knightsbridge, just a stone's throw away from Harrods and London's best museums. The five-star boutique townhouse hotel, located on a quiet tree-lined street, also channels classic British style.
If the fresh Berkshire air and a home-from-home is more up your street, True Luxury Sport can help you to find your perfect countryside retreat in close proximity to Ascot.
GBRI works closely with these companies and hotels and would be delighted to facilitate an introduction.
The Royal Ascot experience
Visitors to the royal meeting are spoilt for choice when it comes to hospitality. The 14 restaurants around the racecourse feature some of the country's most distinguished Michelin-starred chefs, such as Raymond Blanc OBE, and each of the three enclosures offers a different atmosphere. For an international visitor, this abundance of options can be daunting.
The pinnacle of the Royal Ascot experience is offered to Royal Enclosure badge holders. The Royal Enclosure Gardens, nestled among the tall ancient trees of the Old Paddock Lawns, offer an idyllic atmosphere and an impressive selection of bars and dining options. What's more, the enclosure's spectacular viewing in line with the winning post is incomparable.
For those attending the Royal Enclosure, GBRI would suggest two fine dining options: the Balmoral Restaurant and the Green Yard.
The Balmoral Restaurant, located trackside with a head-on view down the home straight from the outside decking and private lawn, offers the choice between a flexible three-course lunch menu or the freedom to wander between chef stations that boast classically British summer food. Afternoon tea and a complimentary bar are included, with prices start from £619 + VAT per person.
The Green Yard is a more intimate restaurant for just 60 guests, located in an enviable position in the Royal Enclosure Gardens overlooking the pre-parade ring and serving a four-course lunch. The Green Yard also serves afternoon tea and offers a complimentary bar. Prices start from £569 + VAT per person.
For those looking for a slightly more laid-back experience, and the opportunity to swerve the stricter of the Royal Ascot dress codes, the Queen Anne Enclosure's Furlong Restaurant has been upgraded to a full fine dining option for 2018. Located in a bespoke marquee overlooking the track at the east end of the Grandstand, this contemporary setting offers a similar lunch offering as the Balmoral Restaurant, with a three-course lunch served to your table or chef's stations available. As with the other restaurants, afternoon tea and a complimentary bar are included. Prices start from £539 +VAT per person.
All hospitality options, including private boxes, can be viewed here.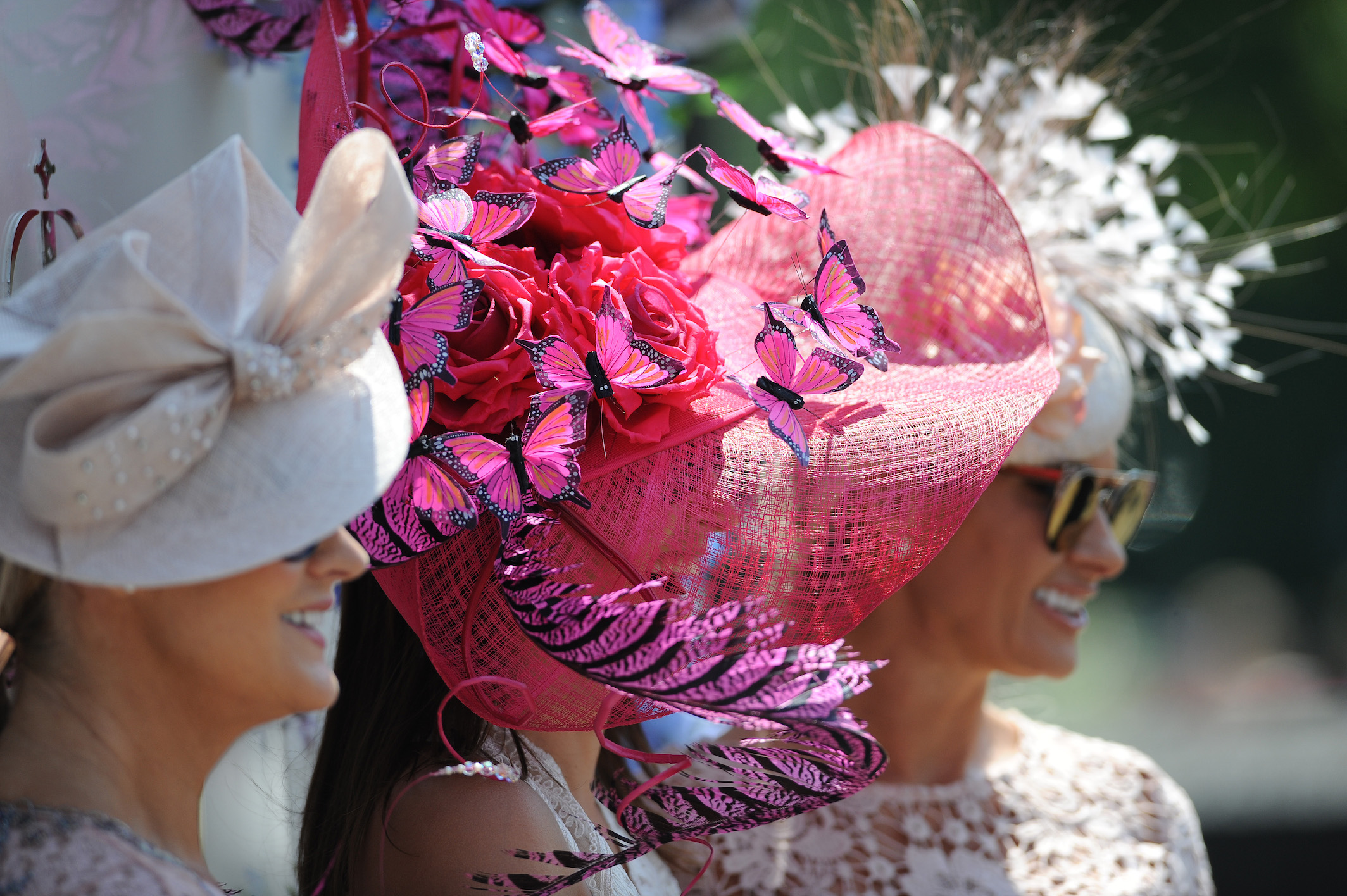 The style stakes
At no other racing festival in Britain is so much time, effort and money invested in sartorial elegance and outright glamour. The most recent economic review conducted by Ascot estimated that over half of the direct spending of racegoers at the royal meeting goes on fashion and related beauty treatments.
Those lucky enough to be attending the Royal Enclosure must give extra thought to their attire, as hats must be worn and outfits must adhere to certain regulations. Such elegance and style is rarely found in today's world, and looking around under the trees of the Royal Enclosure Garden, one could be forgiven for thinking that the clocks had turned back a few decades.
Travelling from overseas with the necessary glad rags, particularly hats, can pose obvious problems. Why not, then, organise your hat on arrival?
GBRI recently partnered with Emily Baxendale's bespoke millinery, Emily-London, to offer international visitors to Britain's premier racing festivals an introduction to a top-quality designer. Emily-London's creations have been spotted at race meetings the world over, and will soon grace the royal wedding.
With a studio based in Wimbledon in South-West London and a store at the heart of Knightsbridge in Harvey Nicholls, Emily-London is perfectly situated for guests to collect their bespoke ordered headpieces in the run-up to the big week.
Fun fact: Baxendale rides out racehorses at Jim Boyle's stables in Epsom, home of the Derby.
For those who wish to hire a ready-made headpiece, look no further than The Hat Club. Owned and run by Newmarket-based Sophie Brown and Zoe Fowlston, The Hat Club offers an impressive selection of colours, shapes and sizes, and makes collection and drop off as convenient as can be.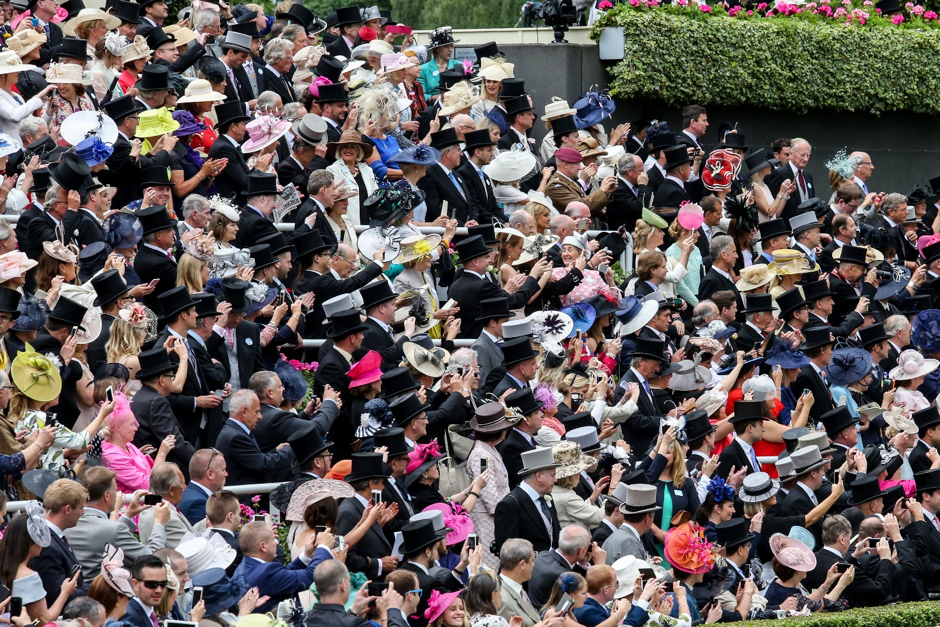 As for the gentlemen, hats as well as morning suits can be hired from Oliver Brown, partner of Royal Ascot. The former is renowned for providing the highest-quality silk top hats, which can also be bought at the shop on course should you feel particularly suave in the traditional attire and wish to take one home with you.
Last but not least, GBRI recommends Glow & Dry for those ladies who wish to indulge in a spot of beautification at the hands of a professional on the morning of racing. This luxury mobile styling concierge company employs the finest professionals within the beauty, hair and fashion industry to ensure that you look your best with minimum effort: a truly spoiling way to start the Royal Ascot experience.
See the Royal Ascot Style Guide for details of full dress code and inspiration.
Beyond the boundaries of Royal Ascot
Overseas visitors to the Royal meeting who follow this advice can be sure of a spectacular experience at the track. The fun does not stop there, however, and those wishing to truly make the most of a stay in Britain during Royal Ascot week should think outside the boundaries of the racecourse, as there are plenty of other opportunities on offer to those who wish to explore a little further afield.
The QIPCO Goffs London Sale, staged on the eve of Royal Ascot just a stone's throw from Kensington Palace in Kensington Gardens, is a unique and glamorous bloodstock sale that offers high-class horses-in-training and breeding stock to buyers assembled from all over the globe. The majority of these horses-in-training hold entries at the royal meeting that same week, meaning that those in attendance are afforded the rare and exhilarating chance to become a last-minute owner of a Royal Ascot contender and see their colours grace the hallowed turf as soon as the following afternoon.
The event's partners, such as Chateau Léoube and Selfridges, ensure that even those who miss out on a purchase leave feeling fully charged with anticipation for the imminent racing action. The event is by invitation only. Please contact GBRI if you are interested in attending.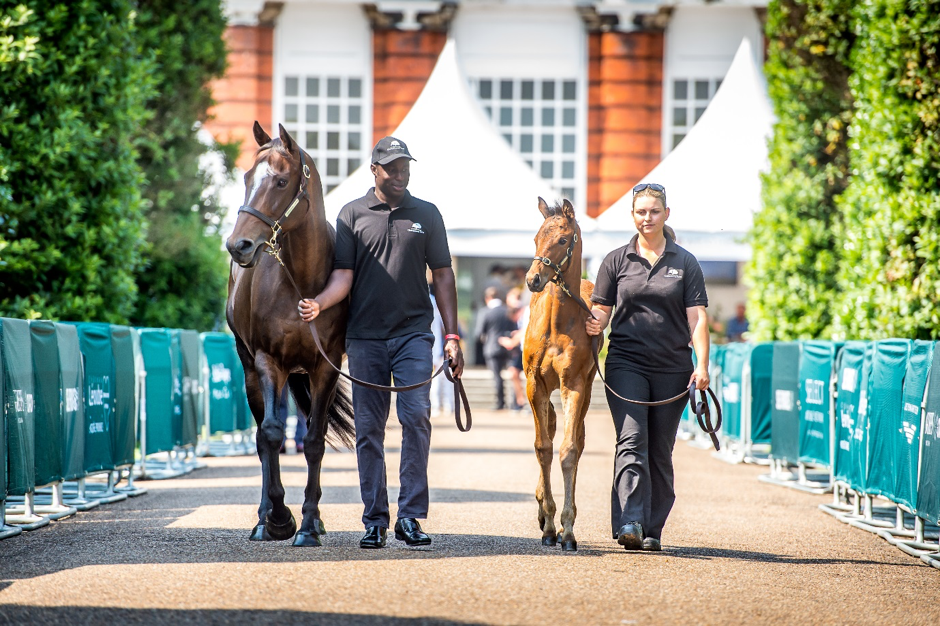 If you are more taken by the idea of what goes on behind the scenes at home, why not contact GBRI to organise a bespoke visit to a stable or stud farm during your stay in Britain? GBRI works with trainers and studs up and down the country to showcase the care and effort that goes into the well-being and development of the 14,000 racehorses in training in Britain, and what it is like to have a horse in training in Britain.
Waking up to an early morning trip to the gallops with one of Britain's leading trainers, or to see one of the country's most successful stallions, makes for an unforgettable day. Please note, Royal Ascot week is one of the busiest of the year for trainers, and not all requests can be accommodated.
For the city swinger wishing to soak up more of London, a personal shopping experience at Harrods or the renowned afternoon tea at The Ritz come highly recommended as ways to wind down from a highly-charged afternoon at the races.
To find out more about any of the above, contact Amanda Bossom, GBRI Client Services & Development Manager, at abossom@greatbritishracing.com.
Great British Racing International provides a bespoke service for individuals seeking to become an integral part of the prestigious and intricate sport of Thoroughbred horse racing.
Whether you want to enjoy the luxury of one of Britain's top sporting days, such as Royal Ascot or the Cheltenham Festival, or experience the competitive sport as an owner, sponsor, or breeder, GBRI will guide you on your life-changing journey.
By utilising the assets and capacity of the British horse racing industry as a whole, GBRI provides a transparent and neutral resource that is innovative, service-orientated, accomplished at hospitality and marketing, and dedicated to generating economic activity in the British racing and breeding industries.