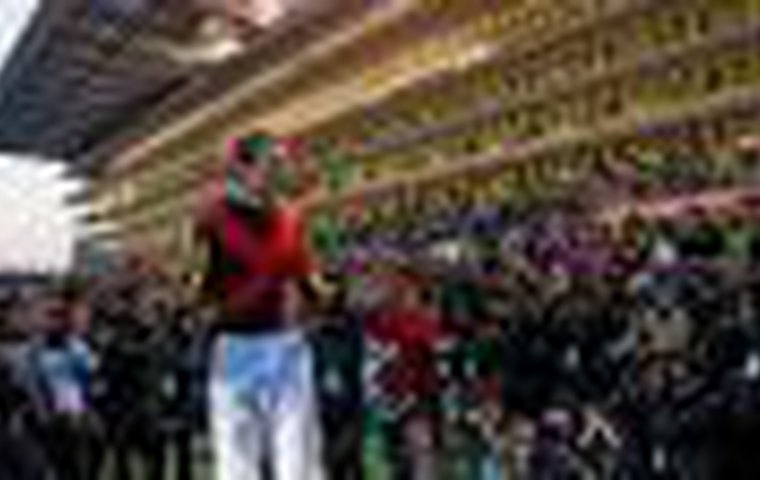 Widely recognised as one of the world's top jockeys, Ryan Moore's riding talents were on spectacular display in 2013 – a year in which he won nine G1 races on three continents. Following that banner year, Thoroughbred Racing Commentary's Paul Haigh interviewed Moore on the subject of the rider's global dominance and future aspirations.

Read "Analysis: Could Ryan Moore be the world's finest jockey?"
----------
We live in an age of overstatement and exaggeration. It's one in which helpless laughter is considered the ideal default position; tears of joy or horror are more or less mandatory, and "OMG!!!" is the normal reaction to even the mildest bit of new information. Reserve, on the other hand, is often misinterpreted as arrogance. Shy people are mistaken for "stuck up." People who play life mostly with a straight face are often dismissed as dull. Or even – ridiculous misapprehension in this case - dim-witted.
Ryan Moore has never been an air puncher. In his youth, already recognised as something of a successor to the incomparable Lester Piggott, not just in terms of talent, but in his reluctance to deal with the media, he got a reputation for being "difficult." What was that about? Was it shyness?
The question amused him.
"I think I'm still difficult," he said, smiling. "No, it wasn't that exactly. Early on I was a bit shy. And then I was told I wasn't very good at talking to camera. So I thought 'OK.' I just like to think about things more than I like to talk about them I suppose. That's all it is."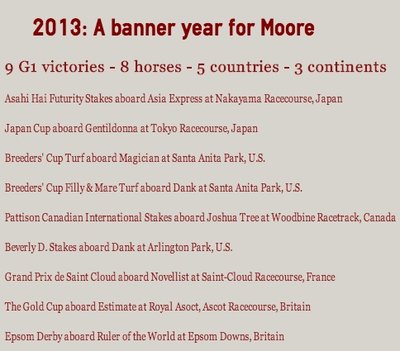 In the last few years, he's become the most successful international jockey, almost the go-to man for leading trainers on every continent with a horse they want ridden with minimum fuss, maximum confidence, and that late burst of fierce athleticism that so often makes the difference between victory and defeat. Moore claimed to vaguely remember an interview he gave about seven years ago at a rain-swept Wolverhampton Racecourse when, already British champion at the age of 23, he said his main ambition was not so much to retain that title – a task that requires determination to put up with incessant travelling as much as brilliance – but "to ride good horses in big races," wherever he could find them.
Now, 38 international G1 races later – nine of them in his most productive year of 2013 – he wants to correct any impression he may have given then that he has anything but respect for the British title he's relinquished several times since – sometimes because of other commitments, sometimes because of injury.
"I still think England is the best shop window for any rider. Well, England and Ireland really. But racing is a global thing now, with the biggest prizes in Asia and America. So you go where you're wanted."
Who organises Moore's globetrotting? His agent, former jockey Tony Hind?
"No," he said. "I do that myself."
What about clashes between overseas opportunities and his commitments to Sir Michael Stoute whose powerful British stable has first claim on his services?
"There aren't too many clashes really. Most of the big races don't clash. But now and then, there are slight ones. The Japanese Derby, for example, comes just a week before [the Epson Derby]. Sometimes Hong Kong, and Singapore too. Mostly if there are clashes, it's in Europe. But people are very good about it. They're very understanding."
Moore is big in Japan, of course. Famous jockeys tend to be. Has he noticed any change in the way he's treated since he became something of a global celebrity – in racing terms anyway?
That question amused him even more, made him laugh in fact, and it's genuine laughter too, not the calculated sort designed to impress.
"I'm definitely not a celebrity," Moore said. "Not even a racing one. One thing you notice if you go to different places is that most countries are very localised. They know their own jockeys and that's about it. I mean not many in America would follow what's going on in Europe. Not many in Asia would know much about what's going on in America. So no one is a global celebrity in racing."
Not even in Japan, where Yutaka Take used to be treated like a rock star?
"Well you do find a few who wait for you at airports and stations and places like that. But only a very few are crazy enough to do stuff like that."
He doesn't have to add that this does not appeal. What does motivate him then, if not fame? What keeps him going through endless drives round Britain and whistle stop tours around the world? Is it (one thinks again of Lester) mainly the money?
"Not really," Moore said. "I simply want to be the very best I can. I mean I want to make sure I'm as good as I can be, not feel I haven't tried hard enough. I do think I'm still improving. I'm 30 now, and most sportsmen - footballers and people like that- hit their peak when they're around 28 or 29."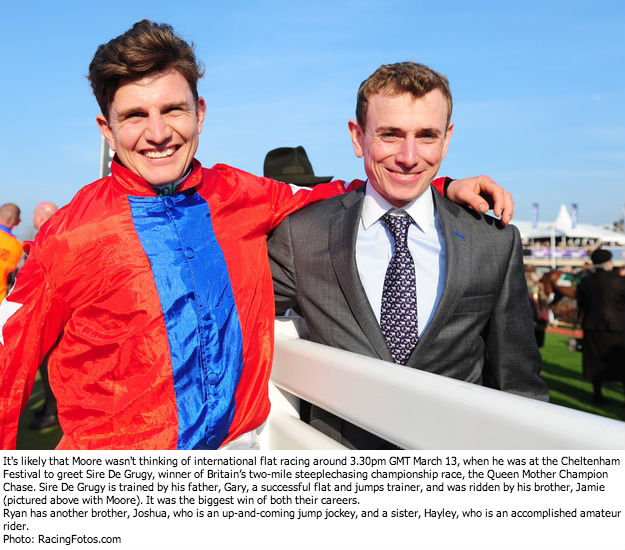 Like most jockeys though, Moore has had injuries to deal with, most notably a broken shoulder two years ago that made it look as though he wasn't going to be able to partner Epsom Derby winner, Workforce in defence of the Prix de l'Arc de Triomphe they won in 2010.
"I came back just before the race, and maybe that was a bit quick because there was a dislocation, too," Moore said. "But I didn't want to miss the Arc because it's the most important race in the world. In the end, it didn't matter who rode him because he wouldn't have won in any case, but I wanted to make sure I'd ride him if I could. There was quite a lot of metalwork in my shoulder and it took a while after that came out to get my body right again. Then I had another injury the following year. But I feel good now."
Results in 2013 suggest Moore is rather more than good. Which of his nine G1 winners around the world last year gave him the most pleasure? (The mental bet was that he'd say Gentildonna, because her Japan Cup was the ride that drew the wildest plaudits).
"That's a difficult one," he said, and you could almost hear him running through them in his mind: the Epsom Derby on Ruler of the World; the Breeders' Cup Turf on Magician. "But I think I'd have to say the Gold Cup at Ascot on Estimate, just because the Queen was the owner. That made it a special occasion."
And which of the races he hasn't won would he most like to win?
"I had a ride in the Kentucky Derby last year [on Lines of Battle for Aidan O'Brien], and I like the atmosphere of those dirt races in America. There's such a great feeling of anticipation before the gates open. So I think I'd say that one, or the Breeders' Cup Classic. Either would be good."
Moore fans would have little doubt that if he'd been on Declaration of War at Santa Anita in November one of those ambitions might already have been realised. Joseph O'Brien rode an impeccable race in almost every respect, but the margins were a couple of heads and when it comes to the turbo finish, Ryan Moore he is not.
Mention of the fact that writer and racing analyst James Willoughby is writing a piece for Thoroughbred Racing Commentary in which he hopes to prove through advanced mathematics that R. Moore is now the best jockey anywhere elicited yet another chuckle, and a relatively explosive: "How on earth is he going to do that?"
When you admit you can't pretend to know, but invite him to agree that it's pretty nice that anyone should think it might be possible, he paused for another moment's thought, then said: "Yeah…. Yeah, I suppose it is really."
He's never going to be effusive, never going to be one to show politically correct jubilation, never going to be a purveyor of the sort of sound bite TV producers love. But as a quiet, clever, surprisingly modest man dedicated to excellence in his field, Ryan Moore already has no superior in this sport.
Read "Analysis: Could Ryan Moore be the world's finest jockey?"