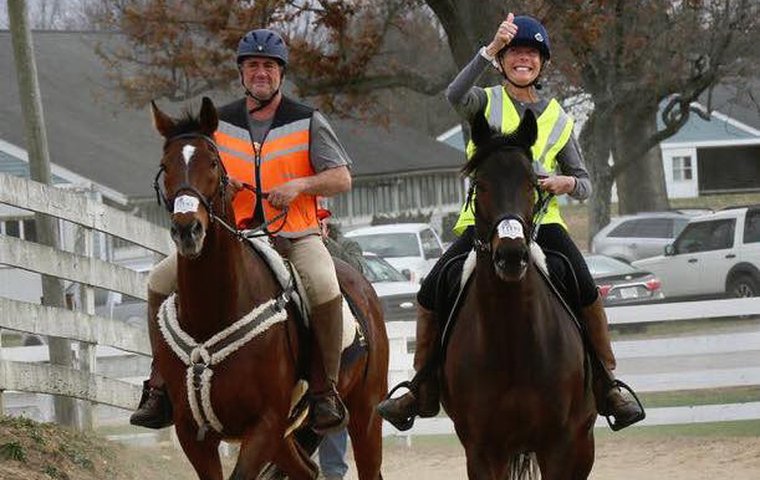 The plot is cinematic: a 60-year-old woman and her boyfriend jump on two former racehorses and ride from Northern California to Virginia, a journey of 3,500 miles. Along the trail, the woman breaks numerous bones but rides on anyway. The twist is that the story is true and took place in 2016.

Valerie Ashker has been retraining Off-Track Thoroughbreds for years and showing with the best of them. Her daughter, Laine, inherited the love of horses from her mother and represented the United States in the Junior Olympics before being long listed as an Olympic rider for the United States Equestrian Team. Her best mount? A former racehorse, who has since competed at Rolex CCI three-day events four times.
"What people don't realize is that sometimes the second and even third careers of our Off-Track Thoroughbreds can often be more illustrious than their first ones," Valerie Ashker said. "People go to Europe to spend money on well-trained horses, but we have them right here in our backyard at the local racetrack."
Ashker started thinking about a grand gesture to convince people that retired racehorses were worth a second look. "I was tired of talking the talk. I knew I had to put my boot down on cement and walk the walk," she said. The idea of riding across the country along Highway 50, educating people in cities all over America as well as on social media, was born.
Something new and adventurous
Horse people call the retraining of the Thoroughbred a "makeover", so Ashker named her expedition "2nd Makes Thru Starting Gates".
"When horses are done racing, they are young and ready to do something new and adventurous. They get makeovers into the sport horses or pleasure horses they can be," she said. "It's a matter of reprogramming them."
While the thought of traveling for six months of her life seemed daunting, Ashker knew her former racehorses could handle it. Her Crow's Ear Farm in Georgetown, California, is located at an elevation of 2,500 feet and borders a highway. "I hand-walk my weanlings and yearlings all around the trail system," Ashker said. "We have sheet rock that no one would dare ride horses on and I'm walking my horses on it. The horses learn to trust me."
From her 11 current racing retirees, Ashker chose two California-breds for the journey.
Seventeen-year-old Solar Express, by Bold Badgett, broke his maiden at the Fresno fair in 2002, but broke his right foreleg and had to be retired. The Monashee Mountain son Primitivo ran four times in 2012, but an apparent lack of talent sent him off the track.
Ashker rode Solar Express in eventing competitions for a dozen years, but an internal sugar storage problem necessitated his retirement from the show ring. Primitivo, meanwhile, matured as he aged, and is now the fastest horse Ashker has ridden. "He would have been a late maturing router, if the trainers had just been patient," she said.
The journey begins
On May 9, Ashker and partner Peter Friedman, who had barely ridden before, mounted up and began their cross-country journey. On helpful advice from endurance expert Karen Chaton, whose mount Granite Chief is in the American Endurance Ride Conference Hall of Fame, Ashker learned to let her horses gain their own fitness as the days wore on, rather than before the trip. "We started off with easy days. First were a couple 12-mile days, then 15 miles a day, then 20, and one day we went to 28 miles on the Pony Express Trail. The horses let you know how they are doing."
Others who have done the grueling ride warned of various ailments, such as equine dehydration. "We usually ride seven days and give them off one or ride 10 days and give them off two," Ashker explained. "It depends on finding good facilities to stay."
When a devoted legion of social media followers or family and friends aren't taking them in, Ashker and Friedman use a portable pipe corral transported from site to site by Willy Gass, who drives Ashker's horse trailer stocked with feed and supplies. Like Ashker and Friedman, Gass willingly gave up six months of his life for the cause. The need for supplies is high, as the fit horses consume up to 18 pounds of grain per day.
Although Ashker started the lengthy trail ride without any apprehension, she has since suffered a series of injuries that jeopardized the end result.
Overwhelmed with emotion
First, she fell while inside the trailer, knocking the wind out of her. A week later, she was kicked in the ribs, cleanly breaking five of them, and while at the hospital a mass was discovered on her right lung. At first, doctors suspected cancer, so Ashker had to deal with that dread before it was ultimately determined to be a blood clot from falling a week before. The next day, Ashker was back in the saddle, riding 25 miles.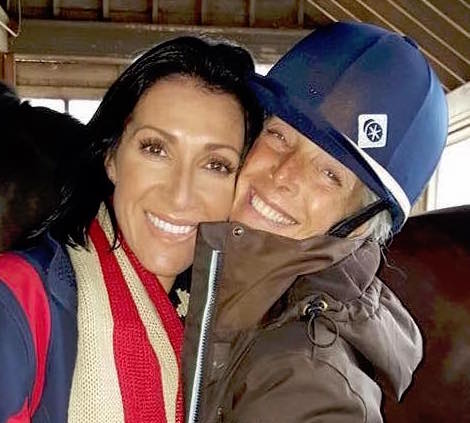 Later in the trip, she came right off Primitivo when he spun unexpectedly, snapping her clavicle, and she suffered major damage to her elbow. In late October, while entering the state of West Virginia, Ashker was overwhelmed with emotion at being only one state away from her final destination, got distracted, and hit her head on a highway sign, re-breaking her clavicle and three ribs again.
The overwhelming number of injuries never derailed the journey, but they did shake Ashker's confidence.
"It really did hurt," she said. "I'm bummed because I should never have been stupid enough to put myself in harm's way. All of the accidents happened at the end of the day, when we are very tired, very emotional, and we've been on the road a long time. I was so spunky at the beginning but things like that knock the wind out of my sails a bit."
World-class horses
Her parents, George and Lillian, joined the final part of the journey, which concluded at Laine's farm in Virginia in mid-November.
Ashker will be relocating her California operation back to Virginia, where she first started out years ago. Videos and photos can be viewed on the Facebook page "2nd Makes Thru Starting Gates", where Ashker posted updates several times each day.
Despite the hard weeks and months, the journey has already been worth it.
"A girl on Facebook said I inspired her to get another Off-Track Thoroughbred," Ashker said. "It's that kind of gesture that is the reason why I did it. If one horse gets cleared from a bad life after racing, then I've done my job. I'm here to tell you that there's nothing like an Off-Track Thoroughbred. Whether you're on a jump course or on a busy highway or riding in the mountains, if you need just a little more, you can ask and they will give it to you. They are apart from any other breed, they are stoic, brave, enduring, and passionate about their jobs.
"You can pick them up for pennies off the track, when they're really world-class horses."