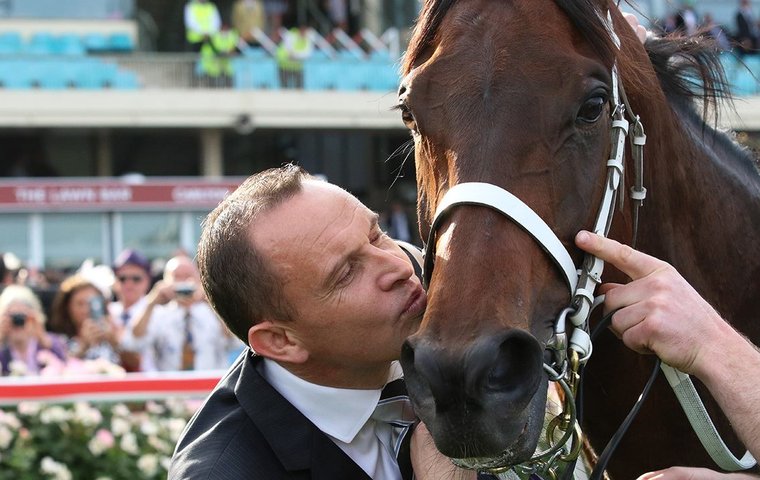 The mighty mare - 'officially' the world's best on turf in 2016 - stepped out for the first time in 2017 at Randwick yesterday. The queen, Winx, had been kept waiting as this meeting and her race - the G2 Apollo Stakes - was postponed from Saturday, when Sydney's temperatures exceeded 40 degrees in places.

The wait was worth it. She won her 14th consecutive race, matching a winning sequence put together by Australia's most revered racehorse some 90 years ago.
That's a long time ago. But just about everybody, kids included, in this country knows Phar Lap.
Now they all know Winx. The Australian Turf Club switched the race (over 1400 metres) from 3.10 pm on the holiday Saturday to 5.40 pm on the workday Monday to ensure that as many as possible could see her post work and school.
That plan worked with the crowd swelling, after 5 pm, by perhaps 2,000, despite peak-hour traffic and a temperature that was still well and truly high enough to justify a trip to the beach, which is just ten minutes from Randwick.
Souvenir tickets
Hundreds gathered around her stall an hour or so before the race, but there wasn't much to see, with trainer Chris Waller preferring to keep her away from fuss for most of the afternoon. "Where is she? He's a funny one that Waller," asks one punter. She was out the back, in the shade, behind the bank of stables where the saddling up is done.
Waller saddles up, with an assistant, each of his five runners after carefully removing and hanging his jacket. Winx is done last and it seems all done in 30 seconds. No fiddling, no further adjustments after the trainer is happy all is well. He appears to be at ease; businesslike. But he does break into a smile when a punter calls out, "ten each-way you reckon, Chris."
Nobody's backing her each way. She's $1.14 or 1-7. The souvenir tickets are win only.
The second favourite, Hartnell, strolls right past. The only one of her rivals to do so. That's the nearest he'll get to her this afternoon.
Dibayani digs his toes in and refuse to leave the saddling area. "I think he knows who he's racing," says his handler. Dibyani is starting to lose the plot (as he can do) and Winx is now the only horse behind him. She's not bothered. Head down, ambling and eventually she makes her way to the parade ring. "Let's just hope she has a trouble-free run," Waller says.
A huge throng, relative to the overall crowd number, gathers for the parade at the rather grandly named Theatre of the Horse. It's the mounting yard. Many are videoing the mare in her preliminaries including some you might have thought far too cynical to be so moved - like Mark Richards, former jockey and TV presenter and Hong Kong Jockey Club yearling buyer.
She is clearly now one of those horses who's become public property. Even casual fans probably know that Chris Waller was, like Phar Lap, born in New Zealand. They know he's the number one man; they know he gets a bit emotional on race-day and they expect him to ensure that this mare keeps winning.
That's a bit of pressure, and the trainer later spoke of the intensity of expectation that came with handling the mare, likening it to that faced by a premiership-winning football coach. Another 48 hours potentially to fret in this case, but Waller remained unflappable ... enough. Those close to the coalface say he has been volatile, in the past, in the lead-up to major races, but yesterday he seemed as at ease as anybody could be in the situation.
Winx wins effortlessly (YouTube video above), finishing 2.75 lengths clear of Hartnell now that the walking has turned to racing. Four lengths further back was Endless Drama (now also with Waller but formerly based in the UK where his CV included a G1 Lockinge third and taking Gleneagles to less than a length in the Irish 2000 Guineas.
It was a bad day for Hartnell's owners, Godolphin. Jockey James Doyle had a nasty fall in the following race on their 4-year-old mare Pearls. Godolphin confirmed later that Pearls, a G3-winning daughter of Exceed And Excel, had to be put down after suffering multiple, inoperable shoulder injuries. Doyle, meanwhile, is out of action for up to four weeks after sustaining a fracture to his right hand in the fall. This is tough for Godolphin, who drafted in Doyle to replace the suspended James McDonald.
Winx is likely to run next in the G1 $600,000 Chipping Norton Stakes (1600m) at Randwick on February 25. Her main autumn goal is the $4 million Queen Elizabeth Stakes (2000m) at Randwick on April 8.
Waller says "there's improvement come" in terms of fitness, as trainers are inclined to say when horses return from spell. But if he's right, then the winning sequence looks as though it's rolling on.
How European stayers were key for Waller
Waller has been the dominant training figure in Australia since 2010, from his Sydney base. Challenged only, in the last couple of years, by Darren Weir from Victoria.
Just ten years ago, he was practically unknown. He'd moved from New Zealand to try his luck. He hadn't trained a G1 winner. Now he has 65. He is also the fourth-ranked trainer in the world, and, of course, #1 in the Australian list.
The New Zealander moved to Sydney 16 years ago. Unlike so many of his contemporaries, his father was not a racehorse trainer but he did have exposure to livestock from an early age. "My father was a dairy farmer and mum a school teacher," he said, "and I pretty much spent every day of my life on the farm until I moved to Sydney. My grandfather did breed and race a few horses, which was the only strong family connection to racing."
He has six consecutive Sydney trainers premierships to his name. Last season, despite a reduction in the number of city race meetings, he trained a record 169 metropolitan winners, who earned A$19 million prize money.
You could say his dominance was Bradman-esque (referring to the cricketer Don Bradman, widely regarded as the greatest batsman ever) . His tally was more than twice that of runner-up John O'Shea, who prepares the Godolphin team, and O'Shea's season was excellent by any measure other than comparison with Waller.
Void in the staying ranks
A tally of 29 Group 1 winners in the two seasons, before the current racing year, is Aidan O'Brien-esque. And 23 of the 29 were provided by horses other than Winx.
Recognising a void in the staying ranks in Australia and also securing the support of major owner Bob Ingham (his Ingram Racing is now #34 in the world owner's standings) were probably the two key drivers to Waller's success.
His success with inexpensive staying horses acquired from Europe gained him recognition and popularity with prospective owners across the board. He seized not only on the fact that the local staying horses were limited but also that few of his rivals trainer were inclined to focus on them in a county where speed is king. And he was buying before the hordes followed and prices escalated.
Ingham supported Waller with a large number of yearlings from 2008 after selling his Woodlands Stud racing and breeding operation to Sheikh Mohammed's Darley operation (read Godolphin) that year for a reported $500 million.
Ever the diplomat
"It is a privilege to train for Mr Ingham, and I am also extremely thankful to all my other owners in the stable who have helped us to become what we are today," said Waller, who is ever the diplomat, constantly thanking his supporters and acknowledging the efforts of his staff.
Waller started his racing career in Foxton (New Zealand) with trainer Paddy Busuttin. He was travelling foreman for Busuttin and had an association with stable veteran Castletown, who ran third in the 1992 Melbourne Cup. He then took over Busuttin's stables when Busuttin moved to Singapore.
He won with the first horse he shipped from New Zealand to run in Sydney, and the rest is history. He began permanent operations at Rosehill (Sydney) with four horses in his care and now has more than 120 in work and many more on the books.
"I had four winners in my first year, then eight, then ten, 16, 40 - and we've grown from there," Waller says.
In a 2011 interview, at the time when he and the now in-sabbatical Peter Moody were the nation's top two trainers, Waller said: "What he's done is totally amazing. He's a notch ahead of me at the moment."
Not now.
Cheap imports
And not bad for a bloke who says: "I came across with no money and a credit card with about a 10-grand limit that was maxed out. I found an application for another one and maxed it out again.
"I had to work out how to survive when EI [equine influenza] struck. That's why we went to Europe. We couldn't afford the horses here, whereas over there we could get one for $30,000."
Waller's cheap imports won numerous Saturday and midweek staying races before he upped the ante and secured imports, including My Kingdom Of Fife, who won major races.
My Kingdom Of Fife, bought from Queen Elizabeth, won the race named in her honour at Royal Randwick in 2011. It was the first G1 win for Waller with a horse he'd secured from overseas.
The Queen Elizabeth Stakes, then worth $500,000 and now with a $4 million purse, is the race firmly on Winx's agenda this year. It's the race she bypassed last year when Waller was happy to put her welfare ahead of the money.
"She'd just had enough after she'd won the Doncaster and had to back up a week later. It wasn't the right thing to do," he says.
This year's edition looks to be at her mercy after yesterday's performance.