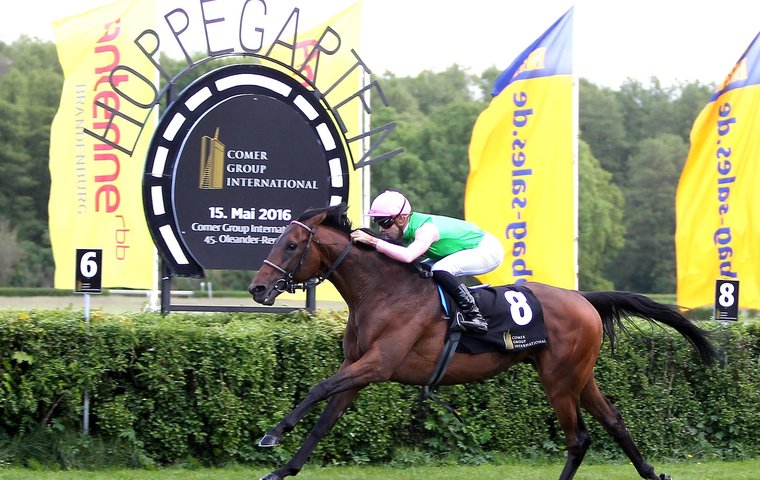 The New York Racing Association has announced a three-year partnership with one of Germany's premier racetracks, Hoppegarten Racecourse in Berlin, to host a unique, intercontinental stakes series beginning in 2017.

Through the agreement, NYRA will offer the winning 3-year-old filly of the 2017 G2 Diana-Trial, contested at 2,000 metres on the turf at historic Hoppegarten on June 4, an all-fees-paid invitation to the 1¼-mile, G1 $1 million Belmont Oaks Invitational, one of the pre-eminent turf stakes in North America, on Stars & Stripes Day, July 8, at Belmont Park.
The Belmont Oaks Invitational is ideally timed 34 days after the Diana-Trial and 29 days before the G1 German Oaks, allowing the Berlin winner to compete in both races.
Likewise, the winner of the G2 Comer Group International Oleander-Rennen for 4-year-olds and upwards, held at 3,200 metres on May 14, will receive an all-fees-paid invitation to compete in the two-mile, G3, $400,000 Belmont Gold Cup Invitational, during the Belmont Stakes Racing Festival on June 9.
The Comer Group Internationial Oleander-Rennen, Germany's premier extended distance race, is upgraded to G2 for the first time in 2017 and will launch its winner onto an international campaign.
Additionally, NYRA will offer a generous travel allowance for each qualifying horse and hospitality on the race day.
"The New York Racing Association is thrilled to enter into a relationship with Hoppegarten Racecourse. As we look to elevate our international presence, this agreement connecting these races made a lot of sense in trying to further promote both of our racing programs," said Martin Panza, NYRA's Senior Vice President of Racing Operations.
"The timing is ideal and the race conditions match. The story behind Hoppegarten Racecourse is most fascinating and we look forward to working together in our efforts to bring German-based horses to race in New York."
"I am delighted with this exciting new partnership, which offers owners excellent prize money and raises our international profile," said Gerhard Schöningh, Owner and Chairman of Hoppegarten Racecourse. "In addition, winning connections can experience a unique race day at Belmont Park in iconic New York."