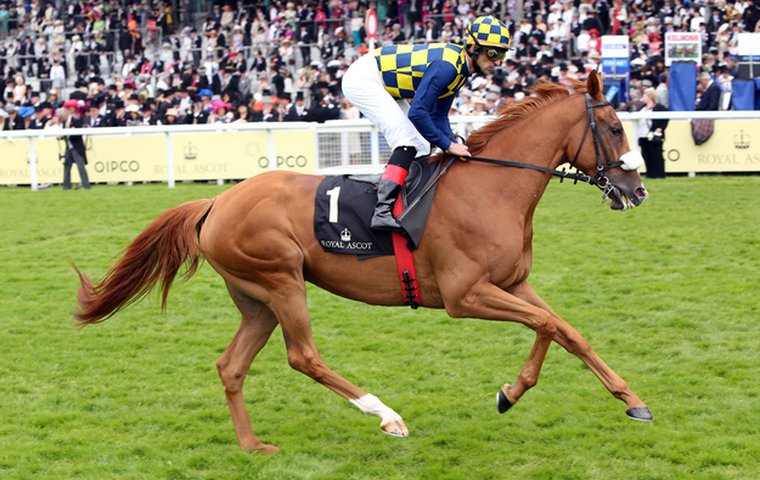 July 23, 2018 note: Saturday's G12 Darley Irish Oaks winner Sea Of Class (by Sea The Stars) became the fourth classic winner out of Holy Moon.

The sad decline of our once noble racing nation over the past few years has left Italians with very little to celebrate. Yet there is one area where surely we can be excused a warm glow of pride -- because of the emergence of two outstanding Italian-based broodmares whose influence is likely to be felt around the world for generations to come.
Indeed, such has been the impact of Holy Moon and Claba Di San Jore that I suggest they would be worthy of inclusion in an elite category of mares based on a famous theory outlined in the early '60s and still basically relevant today. But more of that later.
The fact is that the pair have produced three Oaks winners and two Derby winners in the past 11 years. (OK, so these are the Italian versions of these classics, but a Derby is still a Derby, an Oaks still an Oaks). That is a level of success to rank them among the very best.
Holy Moon
A daugher of Hernando, Holy Moon is responsible for the three successive Oaks d'Italia winners.
Cherry Collect, an Oratorio filly, won the €400,000 mile-and-a-half G2 in 2012 and also took the €100,000 G3 Premio Regina Elena, Italy's equivalent of the 1,000 Guineas.
The following year, Charity Line, a daughter of Manduro, won not only the Oaks d'Italia, but also the €240,000 G1 Premio Lydia Tesio, an all-aged race for fillies and mares, over a mile and a quarter. (Cherry Collect had finished second in that race in 2012.)
That same double was completed last year by yet another daughter of Holy Moon, the Dylan Thomas filly Final Score.
The three fillies were bred by the Botti family's Razza Del Velino stud and owned by Milan insurance broker Felice Villa and raced by his Scuderia Effevi. Villa bought Cherry Collect (€65,000) and Charity Line (€70,000) at Italy's SGA sales and bought Final Score privately. They have since been sold as broodmares to different members of the Yoshida family of Japan, so you can expect the Holy Moon effect to emerge there too soon.
And it's entirely possible she can make it four Italian Oaks in a row via her 3-year-old Rock Of Gibraltar daughter, Wordless, who is in training with Stefano Botti. Wordless is already one of the favourites for this year's renewal after an impressive victory in an allowance race over 2,000 metres (10 furlongs) in Milan on March 28. She is unbeaten after two races.
Holy Moon also has a Pour Moi colt, born in 2013, in training with Stefano Botti. A Nathaniel colt was on the ground last year, and she is now in foal to Sea The Stars. She is due to be covered by Australia next.
Holy Moon herself was bred in Ireland by a Norwegian operation, Stall EOS, and bought as yearling at Goffs in October 2001 by Alessandro Botti, son of Giuseppe. Raced by Giuseppe and his brother Alduino under their ownership name of Dioscuri and trained by Alduino, she ran seven times in Italy, the highlight a listed win as a 3-year-old in 2003.
Claba Di San Jore
The daughter of Barathea has the rare distinction of having produced two Derby winners.
The Almutawakel colt Awelmarduk triumphed in the Derby Italiano in 2007, when the mile-and-a-half classic was a G1 with €550,000 prize money. Four years later, when Claba Di San Jore's Shamardal colt Crackerjack King won, the race had been demoted to G2 - but its prize money had increased to more than €800,000.
Crackerjack King achieved G1 success the following year, however, landing the €200,000 Premio Presidente della Repubblica over a mile and a quarter.
Claba Di San Jore was bred by the late Riccardo Zanocchio, former president of the Italian Owners Association, at his Azienda Agricola San Jore. She was bought in foal to Dubawi for 575,000 guineas at the 2012 Tattersalls December Sales by Charlie Gordon-Watson on behalf of Lord and Lady Lloyd-Webber and she is now at their Watership Down Stud in England.
The filly she was carrying at that sale, La Mortola, is now two and has gone into training with John Gosden. Claba Di San Jore produced a colt, also by Dubawi, last year and is currently in foal to Dubawi again. She will visit him once more this year.
But her story doesn't stop there either. A Claba Di San Jore grandson has put himself firmly in this year's Derby Italiano picture with two important victories already this season. Circus Couture (by Intikhab out of Claba Di San Jore's Orpen daughter Bois Joli) won a race for newcomers over 2,000 metres at Pisa in February and an allowance race at Milan over the same trip by seven lengths on March 21.
The colt, owned by Scuderia Effevi and trained by Stefano Botti, is likely to be one of the favourites for Italy's premier classic.
The elite mares theory
In his 1964 book Breeding Racehorses from Cluster Mares by (J.A. Allen, London), bloodstock writer Dennis Craig wrote: "I have found that some 66 percent of the 861 winners of the eight most important races in England up to the end of 1960 trace, within six generations, to only 130 broodmares. Out of these, 80 broodmares produced winners of five or more of these races and I have called them Star Cluster or more simply Cluster mares – while the remaining 50 broodmares produced winners of three or four of these races and I have called them Star Mares. My final conclusion is to inbreed not to the same stallions, but to the same cluster or star mares within three to five generations."
Dennis Craig's findings may be more than 50 years old, but they surely still apply today. And I wonder how he would have categorised Holy Moon and Claba Di San Jore. We certainly don't have to wait six generations to see the extent of their influence. Indeed, I strongly believe another, even more elite category could be added -- Super Cluster Mares -- and that both Holy Moon and Claba Di San Jore should be included in that.
Pedigree notes
Holy Moon is inbred 4x4 on Flaming Page, who produced only three foals. One was the 1970 English Triple Crown winner Nijinsky and another was Fleur, dam of 1978 Epsom Derby winner The Minstrel.
Holy Moon's second dam, New Generation, is the dam of Bright Generation, who won the 1993 Oaks d'Italia. Bright Generation's Royal Academy daughter Rumored produced the Hat Trick colt Dabirsim, a dual G1 winner at two in France. The third dam of Holy Moon, Madina, won the G1 Prix Morny in 1967.
Claba Di San Jore is an example of an outcross, but bear in mind that her fourth dam, Crenelle, a daugher of Crepello, was a hugely successful broodmare.
She was the dam of: Cerreto, who won the 1973 Derby Italiano; Croda Alta, champion Italian 3-year-old filly in 1978 and dam of 1986 Oaks d'Italia third Crodas; and Croda Rossa, winner of the G1 Premio Lydia Tesio in 1970.
Croda Rossa was the dam of Dancing Rocks, winner of the 1982 Nassau Stakes at Glorious Goodwood, then a G2, who herself produced Glatisant, dam both of 2005 English 2,000 Guineas winner Footstepsinthesand and Frappè, who is the dam of 2012 Irish 2,000 Guineas winner Power.
Cerreto provides a link with the legendary Federico Tesio, breeder of Ribot. Cerreto's sire, Claude, was bred from a family closely associated with Dormello Olgiata, the stud of Tesio and his business associate Marchese Mario Incisa della Rocchetta.
Claude was a son of Hornbeam, who also sired Windmill Girl, who, like her relative Claba Di San Jore, produced two Derby winners, although in her case it was the Epsom Derby (Blakeney in 1969 and Morston four years later).