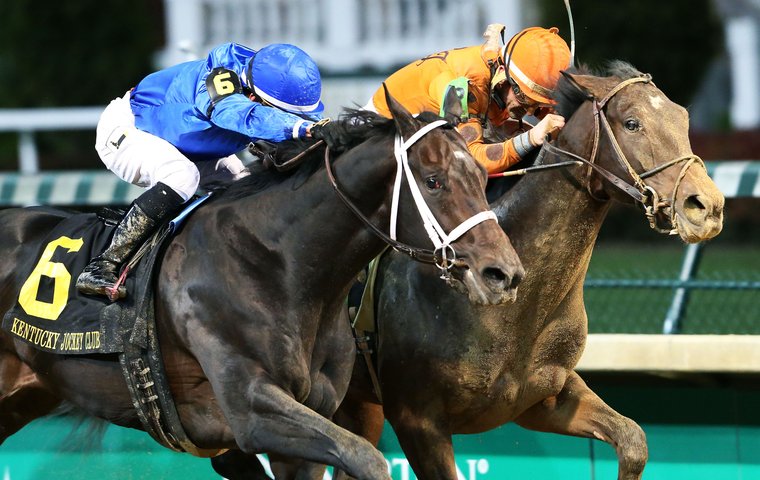 In a season when million-dollar purchase Good Magic captured the Breeders' Cup Juvenile while a handful of other high-priced colts failed to live up to expectations, trainer Dale Romans enjoyed training two 'pocket-money purchases' both shaping up to be live Kentucky Derby hopefuls - Tiz Mischief and Promises Fulfilled.

Having cost just $92,000 combined, they caught the eye when running second and third in the G2 Kentucky Jockey Club at Churchill Downs last month. Yes, Godolphin's impeccably bred colt Enticed got the better of them, but the impression was that he might find it hard to uphold the superiority if they meet again in 2018.
Romans secured these bargain talents at the Keeneland September Sales. Tiz Mischief, an Into Mischief colt out of the well-related winner Indivia, cost $55,000, while the hammer fell at just $37,000 when Romans got the final bid for Promises Fulfilled. This is a son of 2011 Preakness winner Shackleford, one of the best runners developed by Romans.
Today, the two colts, both foaled in May, are established among the most talented youngsters in North America. So much for the argument that one should shy away from the cheapest bloodstock at high-profile sales.
Contrasting performances
Tiz Mischief and Promises Fulfilled produced contrasting performances in the Kentucky Jockey Club. Promises Fulfilled raced far too keenly on the lead, pulling hard and giving rider Alex Canchari a seriously tough time, while Tiz Mischief was more settled for Robby Albarado towards the back of the 14-runner field.
The favorite, Enticed, coming off a third behind Firenze Fire and Good Magic in the Champagne Stakes at Belmont Park, enjoyed a perfect trip in third spot. Promises Fulfilled still led approaching the home turn but he continued to be awkward and looked more like a candidate to 'hit the wall' than one that would hit the board.
His run was full of promise, no doubt about that. Passing the furlong-marker, he was overtaken by Enticed and Tiz Mischief, though he did not hit the wall. Instead, Promises Fulfilled kept on and reached the winning post 2½ lengths behind the winner, who was fortunate to hold on from Tiz Mischief.
The latter did his best work late and failed by just a head. Another stride or two and Tiz Mischief would have been the winner. He galloped out by far the best. If there was a Kentucky Derby winner on show it was probably him, right? Not necessarily.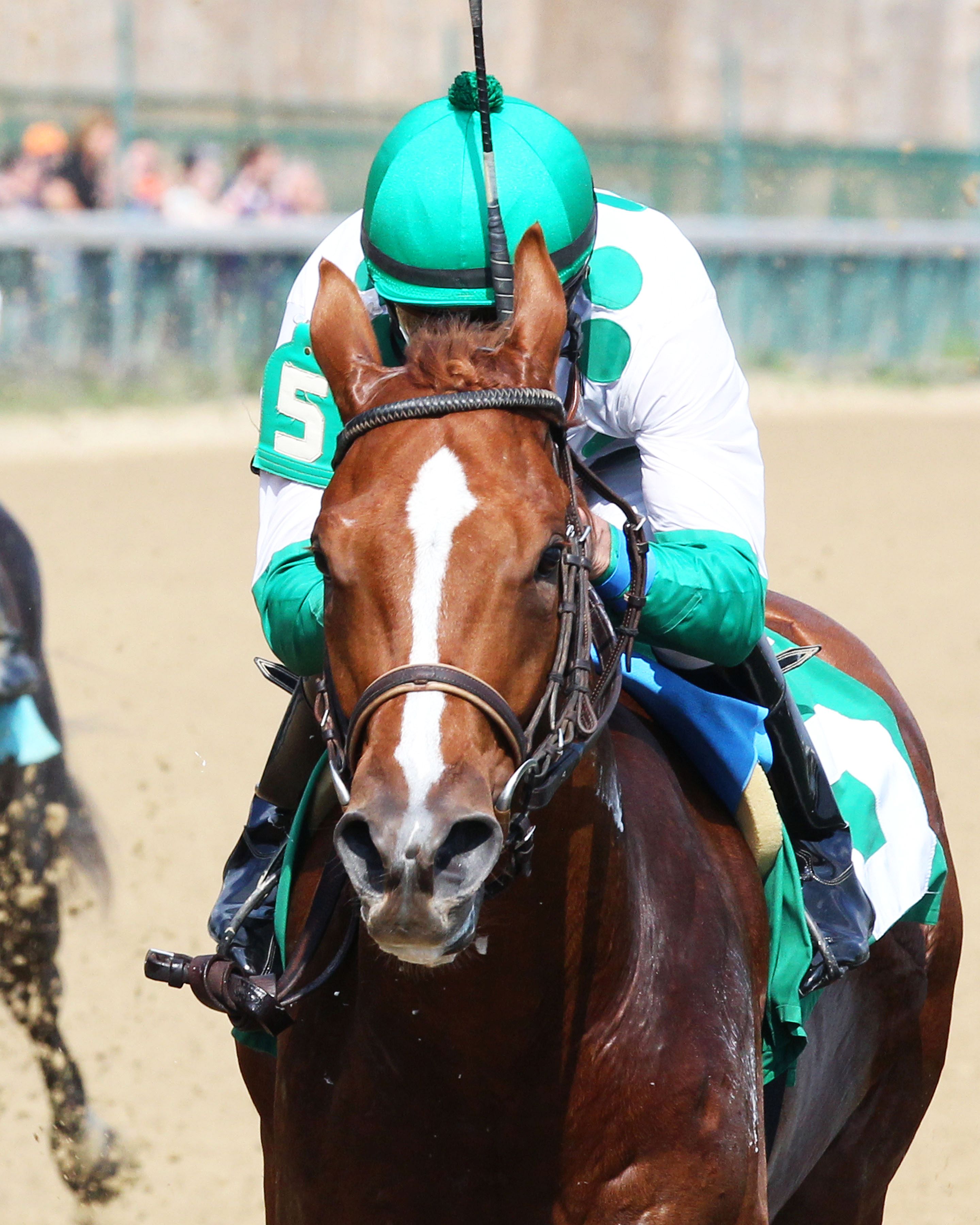 Considering how much energy Promises Fulfilled wasted by refusing to settle, perhaps he is the one to take out of 2017's Kentucky Jockey Club. He finished well clear of the fourth, High North, who was coming off a win at Keeneland having previously split Avery Island and Biblical in a strong maiden at Belmont. Avery Island subsequently won the Nashua and, a week after the Kentucky Jockey Club, he progressed to take second in the Remsen, beaten only by the impressive Catholic Boy. These are solid formlines.
"You can still buy cheap horses with talent, even at the big sales," Romans says. "But you have to put in the hours and sort through them all. This year, I bought around 30 horses at Keeneland. The two cheapest both cost $10,000 and the most expensive cost $800,000 [a Curlin half-brother to Hawkbill and Free Drop Billy]."
"We have a system for buying the expensive ones, but I always go to the back ring, with Frank Smith, to look for cheaper ones. I may have bought a dozen or so that way last year, and Tiz Mischief and Promises Fulfilled were among them. I really liked Promises Fulfilled when I saw him. He was small but had all the right parts. I did not know the family. That he was by Shackleford was obviously what got my attention. He is the same color and has the same markings as his father."
The two colts were both May foals, how much does Romans look at foaling dates?
"All the time. Sometimes May foals get overlooked, and it's a big difference between being foaled in January and May. You have to factor that in."
Tiz Mischief is a son of a Into Mischief, a stallion Romans has a lot of time for. He is a bigger horse than Promises Fulfilled, and Romans points out that they are both still growing.
"The Into Mischief colt was being led around the back ring by a young kid," Romans recalls, "and I got talking to him. The kid knew what he was talking about. I liked the way he explained everything about the horse and you could say he gave a good sale pitch. I liked the horse, so I bought him for $55,000. He has developed really well and turned into a big horse. Everything has gone right for him, and he will continue to improve."
Romans normally buys the cheaper horses himself, then sell them on to his clients. Frank L. Jones, Vice-President of the Kentucky Horsemen's Benevolent & Protective Association and also on the Kentucky Racing Commission, ended up as the owner of Tiz Mischief.
Winter in South Florida
"He was one of my father's best friends and has had horses for about 50 years," Romans explains. "Robert J. Baron, a businessman from upstate New York, owns Promises Fulfilled. He is quicker than Tiz Mischief, and has been more precocious, but things went wrong for him in the Kentucky Jockey Club. Something fired him up, I don't know what, it could have been a shadow or something, and he was fighting his jockey the whole way. He has not done it before when racing. Going into the home turn I thought he'd be last. He's talented".
Romans, who trains around 100 horses, including 25 juveniles, does have more expensive young horses in his care too.
The winning-most trainer in the history of Churchill Downs (706 winners) has a strong hand heading into next year's Kentucky Derby preps. He trains G1 Breeders' Futurity winner Free Drop Billy, a $200,000 Keeneland graduate, as well as Hollywood Star ($550,000 / Keeneland) and Dak Attack ($625,000 / Keeneland). The latter beat subsequent G1 Hopeful Stakes winner Sporting Chance to break his maiden before taking the Ellis Park Juvenile.
Hollywood Star was runner-up in the G3 Saratoga Special and G2 Iroquois Stakes, then ran sixth in the Breeders' Cup Juvenile at Del Mar, where the short straight was very much to his disadvantage.
"These were more expensive horses," the trainer says, "but I'd put Tiz Mischief and Promises Fulfilled in the same class. They are all good horses and we will put them on the Kentucky Derby trail.
"I have no plans for races for them yet, that's too early, but we will train them as 1¼-mile horses until we are proven otherwise. They will winter in South Florida."
Will Romans trainees be prominent when we get to the most important preps leading to Churchill Downs in May? Quite possibly, but when picking out your favorite, do not look at the price tag. Champions can come from all parts of the sales books. Still.
Pedigree notes: Promises Fulfilled
His sire, Shackleford, himself a Keeneland graduate bought for $275,000, was a tough and durable runner for the Romans barn, producing several top-notch performances at three and four.
A son of Forestry, he often sweated up badly in the preliminaries, but it didn't affect his racing. Having lost a photo finish against Dialed In in the 2011 Florida Derby and checked in fourth in Animal Kingdom's Kentucky Derby, Shackleford gained revenge when beating the Derby winner by half a length to capture the Preakness.
He later on won the Met Mile and the Churchill Downs Stakes, before signing off with a fitting win over Take Charge Indy in the Clark Handicap back in his trainer's hometown, Louisville. With high-class wins from seven to nine furlongs, he was a versatile runner with both speed and stamina.
Shackleford had his first sophomores on the track this year and the Darby Dan stallion appeared to have a Kentucky Derby contender when his son Malagacy impressed in the G2 Rebel Stakes, but this rather speedy colt raced just once more in 2017, finishing fifth to Classic Empire in the G1 Arkansas Derby. Malagacy seems to be on his way back now, having breezed twice at Palm Meadows in recent weeks.
Shackleford's best daughter, Dream It Is, unbeaten in three starts and a wide-margin winner of G3 Schuylerville at Saratoga, is an exciting prospect trained by Barbara Minshall in Canada.
Promises Fulfilled's staying ability helped him a great deal in the 8½-furlong Kentucky Jockey Club and he should have a good chance of coping with a test of stamina. The way he ran at Churchill Downs certainly indicated that he will get further. The bottom half of his pedigree gives mixed messages as far as stamina in concerned. Then again, that's often the case these days. Let's take a closer look.
His dam, Marquee Delivery, a daughter of Marquetry, was a versatile lady, efficient on synthetics, dirt and turf. She won five times over seven and eight furlongs from three to five, producing her most valuable form when runner-up in G3 Gardenia Handicap over a mile on dirt at Ellis Park and when third in the G3 Arlington Oaks over nine furlongs on the Polytrack.
Her daughter Marquee Miss (by Strub Stakes / San Pasqual Stakes and Oak Tree Mile winner Cowboy Cal) has four wins to date. Marquee Miss was also successful on the all-weather in Chicago, taking the listed seven-furlong Arlington-Washington Lassie as a juvenile. She trained on well at three, landing the listed six-furlong Dixie Bell Stakes and the listed one-mile Martha Washington, both on dirt at Oaklawn Park, and was subsequently third to Wonderment in the G3 Bourbonette Oaks over a mile back at Arlington.
Still in training with Ingrid Mason, Marquee Miss has four wins from 25 runs and has earned $273,318. Her sister, Marquee Cal Gal, trained like the dam Marquee Delivery by David Sims, is a pure sprinter plying her trade in allowance company, mostly at Presque Isle Downs. With 11 wins from 30 outings to date, she has been successful from 4½ to 6½ furlongs.
Marquee Delivery's fourth winner, a Stephen Got Even gelding named Dave Got Even, won twice over a mile and was placed in allowance company. He was also trained by Sims.
So there you have it. Promises Fulfilled does not come from what one would call a fashionable family, though he is related to some game and hardy performers.
His second dam, Fast Delivery (Little Missouri), won seven races, including back-to-back editions of the listed My Charmer Stakes over a mile at Turfway Park. She finished in the first three in 18 of her 23 races. One would think she was the main inspiration to the naming of this $37,000 colt, who had won both his starts prior to stepping up in class in the Kentucky Jockey Club.
His next promise to fulfill will be to agree to settle in his races. Then we'll find out how good he really is.
Pedigree notes: Tiz Mischief
A son of the successful Spendthrift stallion Into Mischief, Tiz Mischief needed three starts to break his maiden and he has improved with every run. A fourth over 6½ furlongs at Ellis Park and a second over a mile at Churchill Downs led to a win over 8½ furlongs at Keeneland in October, when he came with a strong run from well off the pace to win by a length.
Romans had seen enough to aim him for the Kentucky Jockey Club. The horseplayers agreed that it was a good idea, sending him off as the 5-1 second favorite, and Tiz Mischief lost absolutely nothing in defeat.
Tiz Mischief is out of the Tiznow mare Indivia, a winner over nine furlongs at Keeneland for trainer Kelly Ackerman as a 3-year-old. This is a black type-producing family. Indivia is a half sister to G2 Black-Eyed Susan Stakes winner Payton D'Oro – a classy performer who was also runner-up to Awesome Maria in the G1 Ogden Phipps Stakes. Payton D'Oro made over half a million dollars in her career. She won from eight to nine furlongs.
Tiz Mischief's second dam, Jealous And Jaded (Jade Hunter), was not a money-spinner. Claimed for $20,000 after winning over six furlongs at Solana as a 3-year-old, she was out of Cosmic Tiger, a successful runner for trainer Charles Lewis back in 80s. Cosmic Tiger (a daughter of the Nashua son Tim The Tiger) took the G3 Tempted Stakes over 8½ furlongs at Aqueduct as a 2-year-old, having finished third to I'm Splendid in the G1 Selima Stakes over the same distance at Laurel two months earlier.
Cosmic Tiger was useful also at three, when she won an allowance heat at Laurel, though her precocity meant that five of six career wins came in her first season. Judged on how her great grandson, Tiz Mischief, has performed as youngster, he will be one going the other way. He is just the type to progress at three.
--------------------------------------------------
​Geir Stabell, founder of www.globeform.co.uk, has been a Thoroughbred writer and handicapper for 35 years. With his main focus on international racing, Stabell was the first handicapper to compile a handicap giving a direct comparison of European and North American horses, when his first Globeform Annual was published in 1991. Stabell has written 14 books on Thoroughbreds, giving analyses of form and breeding, and his freelance articles have been published throughout Europe, in the U.S., Dubai and Hong Kong over the years.