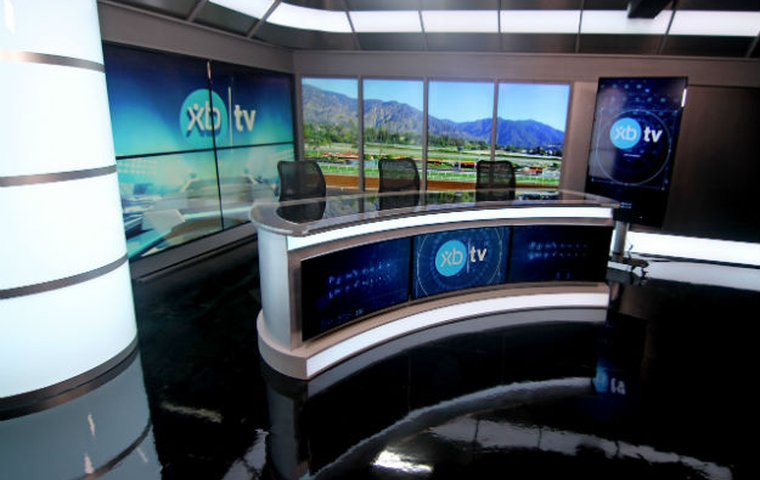 For the serious horseplayer, daily TV racing coverage in the U.S. is about to reach unprecedented heights. Currently, TVG and TVG2 do a professional job; they're informative, and insightful. But, within the next 90 days, there will also be two new daily sources for content and analysis.


TVG - TVG2
TVG are, unquestionably, the major players in this space. Their 1999 launch made them the first widely available, nationwide racing channel in the U.S., accessible in tens of millions of homes, thanks largely to an agreement with many regional sports networks.
Initially, though, their senior management chose to target everyone. Everyone, that is, except handicappers. In 2000, their then-Executive Producer told me: "We don't care about the horseplayer. Those guys will watch, no matter what."
So, in those days, TVG saw themselves as entertainment, with many different shows aimed at the so-called "casual fan", ranging from the thoughtful, well-produced Legends to the absurdly inane Late DDouble.
"Sometimes we get it right or sometimes wrong," says Kip Levin, named in 2014 as CEO of Betfair U.S., and TVG. "Some worked, and some did not."
But the TVG of today work quite well. They now speak to the handicapper in a meaningful, impactful way, particularly since their February 2015 acquisition of HRTV, which had debuted in 2003, from the Stronach Group.
Some of the top HRTV on-air talent joined TVG's already impressive roster. Caton Bredar provides invaluable pre-race analysis from Gulfstream, while TVG now blanket Santa Anita with an array of engaging hosts and reporters, who intelligently discuss handicapping.
Additionally, the HRTV buyout placed TVG, and the newly-created TVG2, in 55 million U.S. homes, with a virtual monopoly on daily TV coverage.
"We have a tremendous amount of television real estate," says Levin. "When we sat down with our colleagues at the Stronach Group to discuss this transaction, our goals were to put racing's best foot forward to the public in terms of the quality and availability of racing's television product. We think we did that. We are providing a quality, consistent and widely available daily home for televised horse racing."
XBTV
Prioritizing the handicapper, as TVG and TVG2 now do, is a winning strategy. So much so, that there will soon be not one, but two additional offerings, both claiming they'll provide unprecedented amounts of betting information and analysis.
In early spring, the Stronach Group will unveil XBTV, which will be available only online at first. Though XBTV will feature several former HRTV on-air personalities, such as Jeff Siegel, they say that is where the similarities will end.
"HRTV had much more of a focus on the casual racing fan. This new digital startup, XBTV, is going to be completely focused on serious horseplayers," says Kim Flum, Director of Digital Media and Marketing for XBTV.
"It's not that there isn't a place for the people who go to the track for hats and cocktails," she adds, "but that's not our market. If you are not there to wager, we're not for you. We're there for players. We're not for the person who doesn't understand how to make a bet."
For their debut, and for several weeks after, XBTV - which will be available 24/7, free of charge - will only cover Santa Anita, augmented with weekend programming focused on stakes action. If all goes smoothly, they will then add Gulfstream coverage. For the rest of the day, xbtv.com will offer a variety of on-demand programming. It's a "walk before you run" strategy, emphasizing quality, not quantity.
But it begs the question: why didn't the Stronach Group simply keep HRTV, and repurpose it? Why build a brand for 12 years, sell it, and then begin anew with a startup one year later?
Flum responds: "As much as I think there was a lot of brand equity with HRTV, we are not going to cling to that old model. The tagline for HRTV was 'The Network For Horse Sports'. And that's very much not what we are. This is 'Your Way To Watch, Your Way To Play'. This is for horseplayers. We're going to take the best of what we had there and distill it down into something amazing for horseplayers."
NYRA - MSG Plus
Similar thoughts come from the New York Racing Association (NYRA), which, like the Stronach Group, have a new endeavor that promises never-before-seen levels of coverage.
NYRA and the MSG Plus Network have a multi-year agreement for live, daily racing programming (their show is still unnamed), starting May 18. It airs each racing day, except when there is an NBC or NBCSN broadcast, through October 2, from 4pm - 6pm during Belmont, and from 4pm - 6:30pm during North America's premier race meet, Saratoga.
"Great, live programming from an iconic racetrack like Saratoga is really important for us," says Jeff Filippi, Senior VP of Production and Executive Producer of MSG Networks. "I mean, Saratoga. You just say that word and it makes you smile."
Both NYRA and MSG Plus say the show (a NYRA production) is built on the insight and appeal of NYRA's on-air hosts.
"You need to be able to talk to the horseplayers," says Fillippi, "in an engaging and entertaining way. We think Maggie Wolfendale, Andy Serling, Jason Blewitt, and Richard Migliore do just that. It's going to be great programming for us."
"Having great trip handicappers like Andy and jockeys like Richie talk about replays is going to be invaluable," says Dan Silver, NYRA's Senior Director of Television. "We're going to provide you with all the tools you need to form a completely educated opinion on our races. Presumably, your goal in wagering on races is to make money. Your best bet is going to be watching our show on MSG Plus."
Like XBTV, there will be nuanced handicapping discussion. Like XBTV, NYRA will only air races from its own track(s). But, unlike XBTV, Silver also wants NYRA's show to resonate with the masses.
"We're going to have lots of graphical enhancements for that casual viewer, the person who doesn't necessarily watch horse racing," says Silver. "We're going to have a feature, to show them what it means when, for example, Maggie says a horse may really like the turf more than the dirt. We're going to have incredible analysis but, at the same time, we also see the need to educate people, and that's what our team is really good at."
The future
For now, TVG's Levin takes a big picture view. On XBTV, he says: "It does not impact what we are doing with TVG or TVG2. Everyone in the industry, including TVG, is trying to innovate, which, overall, is healthy for the game."
As for NYRA's upcoming MSG Plus show, Levin sees no negatives, noting the ongoing, long-term strength of TVG's agreements with many regional sports networks nationwide, including MSG Plus.
The startups, though, both say strikingly similar things; downplaying comparisons to TVG, while also hinting at bigger things to come.
NYRA's Silver says their show is clearly different from TVG, thanks to "expert analysis from handicappers, from paddock analysts, from a former jockey who's watching the horses warm up. These are all things that TVG doesn't offer on each track. They can't. So, we're catering to different audiences."
But, looking forward, he says: "We're always looking to expand into new types of programming. We want NYRA to be the industry leader. Hopefully, these shows will help us towards that goal. Assuming these shows are successful, then we'll look towards what's next."
XBTV will soon be available on over-the-top streaming platforms, such as Roku and Apple TV. However, says XBTV's Flum: "We're not going head to head. We're not saying, 'don't watch TVG'. Our content is for the person who wants some real analysis, and some real insight that they can't get anywhere else."
As for XBTV's potential, though, Flum is quite blunt. "Our grand vision for this is a national sports network, with extensive coverage of all Stronach tracks, and partner tracks. When people see how different it is - what we're putting out there - there won't be any competition."
Of course, TVG's Levin has no plans to sit idly by. "We are always trying new ideas and will continue to do so in the future. We will continue to innovate and are not afraid to try new things, so stay tuned."
Follow Stu Kirshenbaum on Twitter @StuKirshenbaum