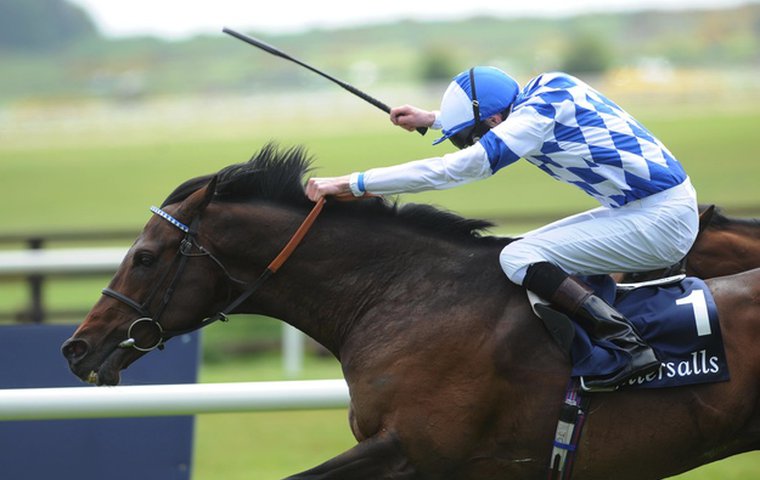 In the end it was not to be.

Al Kazeem's designs on the G1 Qipco Champion Stakes at Ascot, in which he succumbed to Noble Mission after a photo-finish last October, were thwarted when owner John Deer took the pragmatic option last month to retire the 7-year-old.
The decision was taken with a heavy heart. Although Al Kazeem had rebounded manfully from one setback after another, the suspensory injury he suffered in winning the G1 Tattersalls Gold Cup in May persuaded connections to draw stumps. He had made a full recovery, but Deer was unwilling to return his battle-scarred veteran to the fray one more time.
In normal circumstances, Al Kazeem, winner of the Princess Of Wales's Stakes and Eclipse Stakes among four G1 races, would be much coveted as a stallion prospect. But normal circumstances have never really applied to this son of Dubawi.
Al Kazeem has already travelled that road. He spent the early months of last year covering mares at the Royal Studs at Sandringham. Trouble was, his fertility wasn't anywhere near what it should have been. So, when the insurance claim was settled, Deer bought Al Kazeem back from the insurers and returned him to training with Roger Charlton.
It says much about Al Kazeem's mettle that he came back almost as good as new. Very few horses get within hailing distance of their best after a stint at stud. Witness George Washington: champion miler in Europe in 2006 failed to win a G1 race in four post-covering starts the following year.
But Al Kazeem was different. His lust for the fight burned bright. "All the way through, he kept surprising us," Charlton reflected. "After everything he'd been through, it was remarkable he was still running to within a length or two of his best."
That included his battling triumph in the Tattersalls Gold Cup, when he left subsequent King George VI and Queen Elizabeth Stakes hero Postponed and Irish Champion Stakes and Prix du Jockey Club winner The Grey Gatsby in his wake.
Despite low fertility returns, Deer always planned to take Al Kazeem back to his Oakgrove Stud in south Wales to resurrect his stallion career in a private capacity. The horse impregnated 25 mares last year, but while a bay filly foal out of Artful will one day carry the royal silks on the racecourse, none of the three mares Deer sent to his pride and joy returned in foal.
However, Deer corrected that unjust omission when he bought the Tiger Hill mare Antica Medusa, in foal to Al Kazeem, for 85,000 guineas at Tattersalls last year. And Antica Medusa duly gave birth to a filly foal earlier this year.
Although Deer is still working on a precise game-plan for Al Kazeem's second stallion stint, he is committed to giving his homebred another chance with broodmares he owns. Careful veterinary management of mares will see them covered by Al Kazeem at optimum ovulation time to increase the chances of conception. This time-consuming and costly exercise is impractical to implement on a commercial level, but Deer is determined to maximize Al Kazeem's prospects of siring a son good enough to take up stallion duties in the future.
Charlton and Deer's devotion to a horse who constantly defied the odds is hardly surprising. Al Kazeem was all but sold to Hong Kong interests towards the end of his 3-year-old season until veterinary inspection revealed a slight pulse in one of his feet. "It was nothing really," Charlton recalled, "but it was enough to raise an element of doubt in the buyer's mind."
Having stayed put, Al Kazeem opened his 4-year-old season with a stunning victory in the G2 Jockey Club Stakes in April 2012. Yet fate would intervene for a second time. He swerved right across the track en route to winning by 4½ lengths, after which X-rays revealed he'd suffered a hairline pelvic fracture. He was sidelined for 12 months.
True to form, Al Kazeem rebounded with signature resilience in 2013, when he was raised in class for the Tattersalls Gold Cup. "He'd already won his Group 2," Charlton said, "and we thought if he could get placed in a Group 1 race we might find him a role at stud as a sire of jumpers."
Al Kazeem exceeded those expectations in putting the previous year's 2,000 Guineas and Derby winner, Camelot, to the sword. And victory in Ireland prefaced a triumphal summer march, during which he won the Prince Of Wales's and Eclipse Stakes.
Indeed, so high was his stock that the Queen stepped in to purchase Al Kazeem before syndicating him to stand at Sandringham at a fee of £18,000. However, it wasn't long before his sub-fertility was diagnosed, after which he returned to Charlton's famed Beckhampton Stables in Wiltshire.
"At first, we thought we needed to manage the situation," the trainer reflected. "On his second day back, we rode him out and wondered whether he'd be rearing up the whole time, perhaps shouting and screaming with it. But there was none of it. He just went along as he'd always done before he went to stud."
Charlton had had previous experience of handling a failed stallion. In 2001, Tamarisk rejoined the yard, from where Charlton had saddled him to win the G1 Haydock Sprint Cup three years earlier.
"Like Al Kazeem, Tamarisk was perfectly well behaved when he came back to us," he said. "The difference was that Tamarisk was inconsistent. Even on good days he never showed the level of ability he had before."
Conversely, you could set your watch by Al Kazeem, who won 10 of his 23 starts and finished runner-up in seven more. Typically, however, Charlton takes none of the credit.
"I wish I could say it was some very clever training on my part that got him back," he said. "The truth is simply that he never once looked at a filly."
Charlton believes the key to Al Kazeem's sterling deeds was his iron constitution. "Some older horses can be a bit arthritic and potter around the place like they don't want to get out of bed," he said, "but this horse always moved so well. He had his ears pricked all the time, and he loved his racing."
Not for the first time, Al Kazeem's future is uncertain. His cause as a commercial stallion may be lost, but Deer is determined to ensure he is no lost cause. After all the horse has been through, a happy ending to the saga would be most befitting.